Yves here. I wanted to emphhsize a factor to consider in the difficulties Latin American (and developing) countries have had in trying to manage their affairs, namely, the impact of advanced central bank monetary operations on them. Our guest writer Ignacio Portes mentions it in his post below, but it is worth discussing at greater length.
Remember how for at least 18 months before the 2014 Bernanke "taper tantrum" that markets around the world were following a "risk on/risk off" trade, with reactions based largely on the latest central bank oracle reading? And that emerging economies were the ones most whipsawed by these trades?
None other than that card-carrying Communist, former IMF chief economist Raghuram Rajan complained about it when he was the head of the Central Bank of India. From a 2014 post in which we first quote a Rajan interview with Bloomberg and then add further comments:
Rajan is blunt by the standards of official discourse…Some of his key points:

Emerging markets were hurt both by the easy money which flowed into their economies and made it easier to forget about the necessary reforms, the necessary fiscal actions that had to be taken, on top of the fact that emerging markets tried to support global growth by huge fiscal and monetary stimulus across the emerging markets. This easy money, which overlaid already strong fiscal stimulus from these countries. The reason emerging markets were unhappy with this easy money is "This is going to make it difficult for us to do the necessary adjustment." And the industrial countries at this point said, "What do you want us to do, we have weak economies, we'll do whatever we need to do. Let the money flow."

Now when they are withdrawing that money, they are saying, "You complained when it went in. Why should you complain when it went out?" And we complain for the same reason when it goes out as when it goes in: it distorts our economies, and the money coming in made it more difficult for us to do the adjustment we need for the sustainable growth and to prepare for the money going out

International monetary cooperation has broken down. Industrial countries have to play a part in restoring that, and they can't at this point wash their hands off and say we'll do what we need to and you do the adjustment. ….Fortunately the IMF has stopped giving this as its mantra, but you hear from the industrial countries: We'll do what we have to do, the markets will adjust and you can decide what you want to do…. We need better cooperation and unfortunately that's not been forthcoming so far.

Narrowly, Rajan is correct, but the underlying problem is much bigger and most orthodox economists are unwilling to confront it because it conflicts with their free markets religion. Carmen Reinhart and Ken Rogoff, in an analysis that got much less attention that their work on debt levels and growth, looked at 800 years of history of crises and found a strong correlation between the level of international capital flows and the frequency and severity of financial crises. That's implicit in his discussion of the impact of hot money flowing in and out. The Reinhart/Rogoff finding was confirmed by a 2010 paper by Claudio Borio and Piti Disyatat of the BIS that argued that what drives financial crises is not net capital flows ("global imbalances") but gross capital flows (too much financial "elasticity" as they called it, or what most of us would describe as too much speculation). But Rajan may in fact be referring to remedies like capital controls when he says, basically, that the industrial economies may not like the remedies that emerging economies implement.
Back to the present post. Voters in countries in Latin America hold their officials accountable for economic performance. Yet the destabilizing impact of hot money in and outflows, brought to them by the tender ministrations of neoliberal orthodoxy, means that the degree of control is limited.
By Ignacio Portes, formerly the economy editor of the English-speaking daily Buenos Aires Herald. He has also published at Pando Daily and NSFWcorp
The world's attention over the last few months has been focused on the rise of right-wing movements across the first world, and the struggle of the previously-ruling liberal establishment to understand the nature of what hit them. Somewhat buried below those news, however, one can also read about what seem to be the last pangs of another regional alliance going haywire, though with somewhat different protagonists.
It wasn't long ago that South American governments were seen as the biggest political alternative in a world moving mostly to the right, as parties backed by unemployed and landless movements, trade unions, indigenous groups and socialist organizations took power and pushed for certain re-distributive policies.
Now, the continent's two biggest economies, Argentina and Brazil, are ruled by coalitions packed with center-right businessmen. And in Venezuela — the country which arguably started to turn the continental political tide to the left back in 1998 — Hugo Chávez's heir Nicolás Maduro is barely holding to the presidency, losing by a landslide in the last mid-term elections amid frightening levels of social disarray.
Unpacking what went wrong for them will be key for whoever ends up being the next leftist movement to have a shot at power. And much of what went wrong was about the economy.
The fact that those three collapses took place almost simultaneously had a lot to do with the end of the commodity price supercycle that made life so much easier for governments across Latin America throughout the 2000s. But it wasn't simply a stroke of bad luck with the region's primary exports.
Wherever you looked, voters also had the growing perception that the malaise was also explained by local policy. And that was much harder to accept both for officials and for their most ardent supporters, who preferred to focus on outside factors, be them the global economy or some kind of internal or external political conspiracy.
Not that some degree of conspiracy couldn't be a factor. Dilma Rousseff's ousting in Brazil was largely an exercise in hypocrisy from a political opposition mired in corruption scandals and with several past episodes of embellishing the budget's figures. Yet it accused the government of exactly those two things, first to switch sides from congressional allies to staunch enemies and then to impeach Rousseff.
But none of that would have worked hadn't Rousseff's government also been under growing popular pressure since the country fell into a recession in 2014. Rousseff had already lost most of the middle class before that. Her response of a Greek-style, slow austerity plan during the next two years only helped her lose a large part of her harder-core electoral base. With the recession deepening and unemployment soaring, Rousseff's approval ratings plunged below 20%. Her former allies turned on her and there was no way back from there.
Brazil's Workers' Party fell into the classic emerging market boom and bust. The capital that had flown into the country with the commodities at high prices made it easy for the government and the private sector to take on debt and finance a larger expansion. The hype made Brazil an easy sale. In 2009, The Economist famously printed Jesus' statue at the top of Rio de Janeiro's Corcovado mountain taking off from the ground as if it were a rocket, illustrating a story about the country's supposed transformation. The government seemed to believe it too, embarking into grandiose, costly projects to host the 2014 football World Cup and the 2016 summer Olympic Games announcing Brazil's arrival into the global center stage, while also playing up the significance of the massive (but hard to reach) oil deposits discovered off the Brazilian coast.
But the foundations of the boom weren't really solid. The country's currency, the real, appreciated beyond what many local industries could resist in the long run due to the sudden influx of foreign capital. Protectionism and subsidies to some of Brazil's top business owners tried to compensate for that, but the costs of doing so started to mount.
When commodity prices stopped helping, the underlying problems surfaced. By 2013, The Economist ran exactly the opposite cover than in 2009, with Jesus' statue crashing down after a failed launch. Short-term investors panicked and moved their cash elsewhere. Suddenly, re-financing public and private debt became much harder. Millions of Brazilians started struggling with defaulted loans for the consumer goods they had recently purchased, and repayments only got harder when the Central Bank also raised interest rates to try cut inflation. Subsidies to companies became hard to sustain too, while basic services and infrastructure, which never improved much, started suffering even more, with the tightening budgets focused on completing the billionaire Olympic and World Cup stadiums and luxury hotels. Even oil failed to deliver, both due to the plunge in international prices and the massive corruption schemes uncovered in the state-run Petrobras, which threw the company into disarray.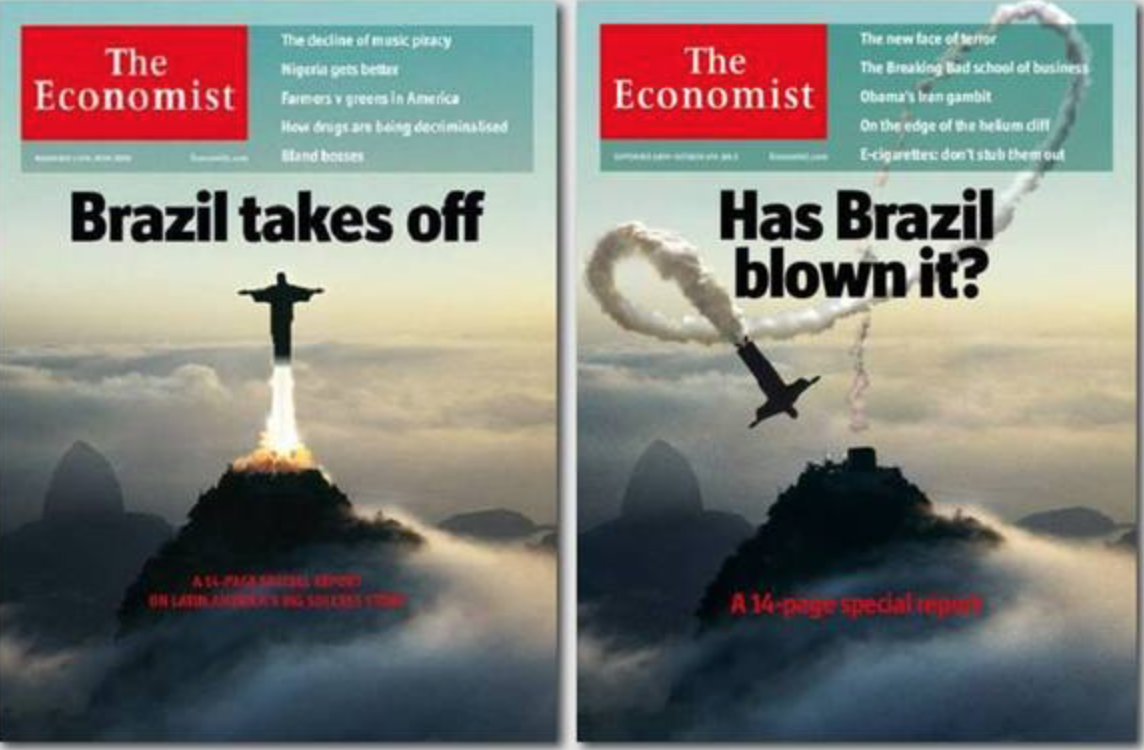 The question, then, is why did the Workers' Party go for policies that would end up destroying its popularity and its grip on power?
A tentative answer, unglamorous as it might be, is that they didn't know what else to do. Their problem could be seen as another manifestation of a general failing of the post Cold War left: the lack of a trusted economic programme of its own, which forced them to borrow from here and there as circumstances presented themselves.
They used a bit of orthodoxy to avoid "scaring" the markets when they first took office in 2003, tried to take advantage of those first moves by leveraging the credit they were given as a result, and added some re-distributive policies when there seemed to be room for them, all of that almost inevitably mixed with the endemic corruption schemes and inefficiency troubles that seem to mar all of the region's politics (but that hardly came to the surface during the boom times).
When the crises came, the government tried some countercyclical moves at first, but Brazilian laws made them less effective than normally expected, as private and public debt could not be diluted due to indexation clauses written into contracts, keeping the burden high despite some stimulus. So they resumed the international bond market appeasing as a (failed) last-ditch effort, with political scandals erupting in the background as capital flight and coalition disbanding made the end increasingly inevitable.
Brazil's elites decided for a transition behind the backs of the electorate, backing Rousseff's former VP Michel Temer, a man from the ideologically flexible PMDB party, to take her place after a largely ridiculous impeachment process where the charges against the President were barely even mentioned. Unconcerned about his lower-than-Dilma popularity, the possibility of re-election or the need to be loyal to his voting base, Temer is now enacting a much more thorough austerity program that has slightly turned markets around, but which has seen unemployment continue to skyrocket, now reaching 13% percent, up from 7% just a couple of years ago.
Could it have gone differently? In the most short-termist of views, it's hard to see how the Workers Party could have held on. Falling governments are the norm amid huge economic crises with no seemingly end in sight, and this was Brazil's largest recession on record. In a European-like parliamentary system, the situation would surely have led to a vote of no confidence, used in similar circumstances to oust Prime Ministers in more democratically-friendly fashion.
But as we'll see in parts II and III, the multiple roads taken by other left-of-centre coalitions in Latin America showed that the Workers Party's long-term approach was just one of many possibilities.