Yves here. As Wolf alludes in this post, one of the reason so many real world retailers are hitting the wall so hard is that private equity leverage and asset stripping made them particularly vulnerable. While the losses to online retailers would have forced some downsizing regardless, the fact that so many are making desperate moves in parallel is in large measure due to the fact that the tender ministrations of their private equity overlords have made them fragile.
Eileen Appelbaum and Rosemary Batt, in their landmark book Private Equity at Work, described a real estate looting strategy that as of 2014 had already ruined some formerly viable retail and restaurant chains. As we summarized their observations:
For instance, one way that private equity overlords enrich themselves at the expense of the businesses they acquire is by taking real estate owned by the company, spinning it out into another entity (owned by the PE fund and to be monetized subsequently) and having the former owner make lease payments to its new landlord.

The problem with this approach is usually twofold. First the businesses that chose to own their own real estate did so for good reason. They were typically seasonal businesses, like retailers, or low margin businesses particularly vulnerable to the business cycle, like low-end restaurants. Owning their own property reduced their fixed costs, making them better able to ride out bad times.

To make this picture worse, the PE firms typically "sell" the real estate at an inflated price, which justifies saddling the operating business with high lease payments, making the financial risk to the company even higher. Of course, those potentially unsustainable rents make the real estate company look more valuable to prospective investors than it probably is.
Eileen Applebaum provided examples of how this worked (and regularly left bankruptcies in its wake) in an interview with Andrew Dittmer.
Now here is the cute part. First, remember that the private equity fund manager makes out regardless of whether their investors do well, since nearly 2/3 of their total fees are not related to performance. We've posted on how private equity fund managers get rich on management fees alone.
However, private equity fund managers do have an incentive not to burn private equity limited partners, since they want to raise more funds. The real estate asset stripping op co/prop co model is analogous to the discredited dividend recap strategy, which was widely criticized after Clayton & Dubilier quickly bankrupted Hertz that way. But leveraging up a company in a very big way and extracting a lot of cash, which the op co/prop co model does, allows the private equity fund manager to make a big distribution to investors early on, producing a handsome IRR on that deal.
And if the deal goes bad, what happens? The end result to the private equity investors depends on how much cash was returned, between the real estate sale and any positive cash flows afterward, before the company goes bust. It could turn out to be pretty profitable to a bit of a turkey.
The real losers are the lenders to the retailer. And who might they be?
Increasingly they are the very same investors as in the private equity funds. Private equity fund managers offer credit funds, which lend in large measure to private equity deals.
However, the effect for an investor like CalPERS is to distort which pocket made the money. The private equity deal looks better by virtue of dumping losses on the credit fund, which are seldom recouped even in case of seemingly obvious fraudulent conveyance (those cases are costly and difficult to win and even then, recoveries are almost always partial). So from the perspective of reporting investment strategy returns, the private equity gains are coming at least in part from bankruptcy-induced diminished returns at credit funds held by the same investors.
By Wolf Richter, a San Francisco based executive, entrepreneur, start up specialist, and author, with extensive international work experience. Originally published at Wolf Street
Mall traffic is sagging. Department store sales have been in decline since 2001. Most retailers are loaded up with debt. Many have been losing money. Now they're running out of options. Store closings numbered in the thousands last year. This year they promise to get much worse. "Zombie malls" have become reality, their vast parking lots rented to car dealers to store their excess vehicle inventory.
But ecommerce sales are booming, including online sales by some brick-and-mortar retailers, such as Walmart and Macy's: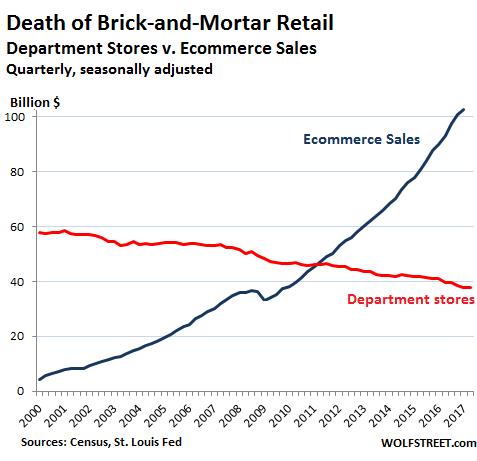 Over-indebted retailers are notoriously difficult to restructure and many end up being liquidated. Unsecured creditors, such as suppliers and junior bond holders, are often left out in the cold. Even secured creditors can end up holding the bag.
April so far is huge for brick-and-mortar meltdown:
April 21 – Bebe Stores, a fashion retailer, announced, after four years of losses, that it would close all its 180 stores by the end of May and liquidate all merchandise and fixtures in the stores. It might also file for bankruptcy to get out of the store leases. It will only sell online.
Barely a month earlier, Bebe said it had hired a financial adviser to look at "strategic alternatives" and a real estate adviser "to assist with options related to its lease holdings," at which point its shares plunged.
April 19 – Neiman Marcus, the luxury retailer with 42 stores around the country and two Bergdorf Goodman stores in Manhattan, announced that, in order to preserve cash, it would not pay interest on a bond issue in cash, but "in kind." The payment-in-kind (PIK) option had been written into the bond covenant. At the time, creditors didn't care. Now they'll get the coupon on these $600 million in 8.75% notes for the next six months in form of more bonds of uncertain value. The already beaten-down notes traded at 56.7 cents on the dollar.
On March 3, sources told Reuters that Neiman Marcus has hired investment bank Lazard Ltd to help restructuring its nearly $5 billion in debt though it was, these sources insisted, in no immediate risk of bankruptcy.
The company was acquired by private equity firms in a leveraged buyout before the Financial Crisis and is now owned by Ares Management and the Canada Pension Plan Investment Board. They were going to dump it into the public's lap, but the IPO was scrapped when the problems could no longer be hidden.
April 17 – Marsh Supermarkets was preparing to file for Bankruptcy, sources told the Wall Street Journal. Three weeks earlier, it stopped paying rent on six Indianapolis stores. Here too, there's a private equity angle. Sun Capital Partners acquired Marsh in 2006 for $88 million in cash and the assumption of $237 million in debt. At the time it had 120 stores. Ten years of asset stripping later, the chain is down to 67 stores and going bankrupt.
April 11 – Arhaus, a furniture retailer that designs its own furniture and contracts out manufacturing, with 67 stores in 25 states, has appointed a "chief restructuring officer, two sources close to the situation said," according to Debtwire. "This complements the co-advisory roles of Piper Jaffray and Candlewood Partners to explore a refinancing."
In early March, Arhaus announced that CEO Adrian Mitchell, after just 13 months on the job, would be replaced by co-founder and Chairman John Reed. In 2014, private equity firm Freeman Spogli made a minority investment.
April 4 – Rue21, a teen apparel chain with over 1,000 stores, missed principal and interest payments on its debt and is preparing to file for bankruptcy as soon as this month, said "people familiar with the matter," according to Debtwire.
Once again, there is a private equity angle: the company was acquired by PE firm Apax in 2013 for about $1 billion. Back in September 2013, problems were already piling up when JPMorgan, Bank of America, and Goldman Sachs had trouble selling the junk debt they pledged to sell to fund the buyout.
April 4 – Payless Inc., the discount shoe retailer with almost 22,000 employees and over 4,000 stores in 30 countries, filed for Chapter 11 bankruptcy. It plans to slash its debt in half. It said its restructuring plan has the support of creditors holding two-thirds of its first-lien and second-lien term debt. It said it would immediately shutter about 400 stores in the US and Puerto Rico. CEO W. Paul Jones blamed "the continued challenges of the retail environment, which will only intensify."
Here too, a PE angle: Payless was acquired by PE firms Golden Gate Capital and Blum Capital Partners in 2012 when publicly traded Collective Brands was broken up.
And this is the March meltdown:
On March 20, Sears, the big whale that everyone is waiting for to wash up on the beach, came closer to washing up on the beach by acknowledging that it will likely wash up on the beach, when it said in its annual report that it had "substantial doubt" about its ability to keep operating as a "going concern." It lost over $10 billion in recent years.
When will Sears finally file for bankruptcy? Not before the second half of 2017. That was our verdict in December, and we're sticking to it. If it files before July 8, 2017, it might run afoul of the bankruptcy code's two-year look-back period governing "fraudulent conveyance," concerning what happened to Sears' real estate.
On March 11, Gordmans Stores, with over 100 locations in 22 states, filed for Chapter 11 bankruptcy with plans to liquidate its inventory and assets. By the end of March, Stage Stores jumped in and offered to buy at least 50 of the stores.
Gordman's is another PE firm asset-stripping special. It was acquired by PE firm Sun Capital in 2008 at the end of the leveraged buyout boom for an undisclosed price. In 2010, Sun Capital sold 30% of this shares in an IPO. Gordman's got nothing. In 2012, Sun Capital sold more shares, slashing its ownership to 50%. In 2013, Sun Capital forced Gordman's to issue a $70 million special dividend, of which Sun Capital got half. Of that dividend, $25 million came from cash holdings; $45 million was borrowed money. In total, Sun Capital obtained $140 million, likely exceeding the purchase price by good margin. And the party may not be over yet.
On March 10, Gander Mountain, after a failed expansion drive, filed for Chapter 11 bankruptcy. It will shutter 32 of its 160 stores. It had been taken private in 2010 by Gratco, a holding company controlled by Gander Chairman and CEO David Pratt, and Holiday Station stores, a gas-station retail operation.
On March 8, RadioShack, owned since 2015 by General Wireless, filed for bankruptcy for the second time. It will close about 200 stores and evaluate options on the remaining 1,300.
On March 6, hhgregg, an appliance and electronics retailer, filed for bankruptcy, after announcing a few days earlier that it would close 88 of its 220 stores, shutter three distribution centers, and shed 1,500 jobs.
On March 1: BCBG Max Azria filed for bankruptcy. The fashion retailer that once had more than 570 boutiques globally, including 175 in the US, started closing 120 of its stores in January.
The January and February meltdown:
Michigan Sporting Goods Distributors said it will liquidate its 68 stores and lay off its 1,300 workers.
Eastern Outfitters, the parent of Bob's Stores and Eastern Mountain Sports, owned by PE firm Versa Capital, filed for bankruptcy.
Wet Seal filed for the second time in recent years. The teen retailer closed all its stores.
Limited stores, another victory for PE firm Sun Capital, shuttered all its 250 stores.
American Apparel, a manufacturer with 110 retail stores, which had filed for bankruptcy for the second time last November, said that it had started to lay off 2,400 workers and that everything would be shut down. Only the brand name was acquired by a Canadian firm.
This thermometer for discretionary spending is the first to react when consumers hit their limits. Read…  Restaurants in Worst Tailspin since 2009/2010