By Lambert Strether of Corrente
Trade
"The Trouble with TISA" (PDF) [Jane Kelsey, University of Auckland, New Zealand]. From the executive summary:
Team TiSA want global rules that allow them to run e-commerce and global supply chains seamlessly across the world using digital platforms and new technologies. TiSA would require governments to remove national and local government laws and practices that the corporations see as barriers, including protections for workers – or at least freeze them at their current level, and promise never to adopt new regulations that might restrict existing and new services or technologies (think of drones, robots and driverless vehicles). TiSA's transparency annex would give other TiSA governments and corporations rights to lobby against proposed regulations that affect their interests.
This is an extremely important report and you should at least read the executive summary (four pages). Every time you read a snippet on the supply chain, or shipping, or "drones, robots, and wireless vehicles," think of TiSA providing a trans-national and post-democratic legal and institutional framework or, as bullet one of the sidebar "What TiSA Aimes to Do" has it: "enable the global reorganisation of capital through new technologies and digital platforms." Lori Wallach needs to kill TiSA with fire.
"Robert Lighthizer's swearing-in ceremony, scheduled for 3 p.m. today at the White House, caps a months-long nomination and confirmation process, and finally gives President Donald Trump a complete trade policy team. But even as the White House is chomping at the bit to launch its long-promised renegotiation of NAFTA, procedural boxes must be checked before things can get started" [Politico]. "Lighthizer's immediate task will be meeting with four congressional committees: House Ways and Means and Senate Finance, which have jurisdiction over trade in their respective chambers, as well as an advisory panel in each chamber comprised of the chairman and ranking member of multiple committees that deal with trade. Each of those meetings is mandated under Trade Promotion Authority, passed in 2015" ("Fast Track").
"The trade ministers of the now 11 TPP countries are planning to meet later this month in Vietnam in a test of their resolve to bring the high-standard agreement into force amid concerns about protectionist sentiment being fanned by Trump's "America First" policy and Britain's decision to exit the European Union" [Japan Times]. "Preceding that meeting, the Group of Seven finance chiefs apparently failed to narrow the gap between the Trump administration's call for 'fair' and 'reciprocal' trade and other members' concerns about its stance, which is widely viewed as protectionist."
Politics
2017
"Tom MacArthur Town Hall in Willingboro, NJ (5/10/17)" [YouTube]. This is an extraordinary speech from a citizen that you should circulate widely (this version):

There are several versions of this running around, but some of them edit out MacArthur's advocacy of single payer (11:11. "Single payer has problems, but it's also got elections").

"John Kasich and Bernie Sanders to debate Obamacare repeal during CNN town hall" [Columbus Business Journal]. May 16! "Sanders and Kasich will appear during a town hall discussion on CNN on Tuesday, May 16 at 9 p.m. The cable network's Jake Tapper and Dana Bash will moderate the event….. Sanders and Kasich will appear during a town hall discussion on CNN on Tuesday, May 16 at 9 p.m. The cable network's Jake Tapper and Dana Bash will moderate the event."

"How a Prairie Populist Could Redraw Montana's Electoral Map" [Politico]. "In the past four cycles, Montanans have elected two Democratic governors who cared as strongly about women's reproductive rights as they did gun rights. One of these governors, Steve Bullock, won in a Trump wave year when Democrats nationally were floundering to understand their electorate. Our senior senator unseated a conservative incumbent in 2006 and fended off a challenge from our state's Republican representative in 2012; he championed traditional liberal causes like labor and even survived being called the deciding vote for President Barack Obama's Affordable Care Act. Montana may be a state that leans conservative—the Legislature is 60 percent Republican and 40 percent Democrat, and the state has voted for a Democratic presidential candidate only twice since 1952—but our voters have repeatedly chosen to elect populist candidates who embrace progressive causes to statewide and national offices." Author is a debate coach!
Trump Transition
"Trump's grade on the economy: a B, for now" [Yahoo Finance]. "Our Trumponomics Report Card assesses the performance of the economy on six key measures, comparing Trump's record to that of six prior presidents at the same point in their first terms. We limited this analysis to first terms only, since that's when most of the policy changes a new president might favor are likely to go into effect. So we measure Trump's performance against that of Barack Obama starting in 2009, George W. Bush starting in 2001, Bill Clinton starting in 1993, George H.W. Bush starting in 1989, Ronald Reagan starting in 1981 and Jimmy Carter starting in 1977. Prior to that, the data is less consistent and in some cases unobtainable. The blue dots in the graphic above represent the performance of the Trump economy, relative to that of the other presidents. Since we're comparing Trump with 6 other presidents, there are 7 dots, including one for Trump and 6 for the others. The one exception is exports, because that data only goes back to 1993; so we have only three presidents to compare Trump against, or 4 dots total. Moody's Analytics is providing the data for the report card, and offering analysis on the current state of the economy to help explain the results.

Trump gets a 'B' on the economy, for now @rickjnewman https://t.co/Yo1TgR82xY pic.twitter.com/cmvNJIqfI9

— Yahoo Finance (@YahooFinance) May 15, 2017

Hmm.
Realignment and Legitimacy
"The unknown Tocqueville in America" [Global Inequality]. "Several years ago, a friend presented me with a small volume entitled 'Quinze jours dans le désert' written by Alexis de Tocqueville in 1831 when he visited (the only time ever) the young United States…. This is a short book of some 100 pages… 'The desert' in the title does not refer to the physical 'desert' but to the civilizational desert. …. Here is how Tocqueville describes the settlers he met: 'It is not only Indians whom the American pioneers take for fools. We were ourselves every day victims of their extreme avidity for profit. It is true that they never steal. They have too much of intelligence to do such an impudent thing. Yet I have never seen the owner of a hotel of a big city [in Europe] overcharge with such shamelessness as these inhabitants of the desert in whom I expected to find primitive honesty and patriarchal simplicity of manners' (p. 57)." Again, to see Trump clearly, we need to abandon liberal "othering" and surrender the idea that he is in some way aberrational. As H. Rap Brown did not quite say, Trump is as American as cherry pie.

"But more recent psychological research, some of it presented in January at the annual meeting of the Society of Personality and Social Psychology (SPSP), shows that it's not so simple. These findings confirm that conservatives, liberals, the religious and the nonreligious are each prejudiced against those with opposing views. But surprisingly, each group is about equally prejudiced. While liberals might like to think of themselves as more open-minded, they are no more tolerant of people unlike them than their conservative counterparts are" [Politico].
Stats Watch
Empire State Manufacturing Survey, May 2017: "Activity in the New York manufacturing region is flattening out this month following a run of unusually strong growth" [Econoday]. "But the strength in prior orders is keeping production up." But: "Below consensus expectations … and the lowest reading for seven months" [Economic Calendar]. And: "The Empire State Manufacturing Survey again declined and now is in negative territory. Important internals likewise declined and also returned to negative territory" [Econintersect]. "I am not a fan of surveys. Seems to me that this survey was a return to earth from the overly optimistic levels we have seen since Trump's election."
Housing Market Index, May 2017: "New home sales have been one of this year's best surprises and home builders are reporting strong activity this mont" [Econoday]. "Even though traffic is nearly 30 points behind sales, it is still the highlight of the report. This is its best run by far of the expansion."
Housing: "The Federal Reserve Bank of New York's 2017 SCE Housing Survey indicates that expected home price growth over the next year has increased compared with twelve months earlier, and is at its highest level since the survey's inception in 2014" [Liberty Street]. "Five-year growth expectations have also risen, albeit more modestly. In line with these findings, the majority of households continue to view housing as a good investment. Respondents expect slightly larger increases in mortgage rates than they did in last year's survey. Renters' perceived access to mortgage credit continued to ease."
Housing: "The National Association of Home Builders (NAHB) reported the housing market index (HMI) was at 70 in May, up from 68 in April. Any number above 50 indicates that more builders view sales conditions as good than poor" [Calculated Risk].
Debt: "Forecasts for 2017 reflect flat or declining sales. In fact, increased prices on new and used cars, as well as a shift in consumer demand away from sedans to sport utility vehicles (SUVs), have pushed new car inventory levels to the point to where some manufacturers are reducing production and offering larger incentives to buyers" [Federal Reserve Bank of Atlanta]. "With margins narrowing and underwriting standards declining, banks have pulled back on auto lending. In the Sixth Federal Reserve District, auto loan growth turned negative in the third quarter of 2016. In the January 2017 Senior Loan Officer Opinion Survey, some banks reported decreased demand for auto loans in the fourth quarter as well as a tightening of lending standards. A significant fraction expects to see deterioration in asset quality in 2017, and a modest fraction expects terms to tighten further. Some banks have started moving their portfolios off the balance sheet and into asset-backed securitizations (ABS)."
Debt: "[Trucking o]perators trying to trade in their vehicles are taking financial hits following one of the steepest plunges in used-truck prices since the recession. [T]ruckers are being sideswiped from two directions: Many are trying to downsize their fleets to combat the excess capacity that's kept freight rates low, but that's flooded the used-truck market. Many carriers are 'upside down' on their trucks, says one expert, owing more on vehicles than the rigs are worth" [Wall Street Journal]. Hmm…
Shipping: "Bigger box ships calling at fewer ports puts serious pressure on hinterland connection" [The Loadstar]. "'The three alliances have fewer port-to-port connections,' explained Olaf Merk, of the International Transport Forum. 'There has been a clear reduction between January and April on the major lanes. 'Shippers have less choice, and there is less service frequency. Weekly Asia-EU, for example, has gone down. That leads to more peaks and troughs in terminals. Sometimes they are used intensively, other times they are under-used.' … 'The problem is the hinterland and railroad. In Germany there is a law that trucks can't go on the road on Sundays. So everyone knows what happens on a Monday morning [after a big ship has been in]. The public infrastructure is not there to handle it.""
Shipping: "As a strong dollar makes U.S. commodities more expensive globally, American farmers are finding it tougher to compete in export markets. Now some worry that a recent restructuring of the ocean shipping industry will make it more difficult and costly just to deliver U.S. commodities abroad" [Wall Street Journal].
Supply Chain: "'Everything we do comes from the customer,' [Bernd Schwenger, director of Amazon Logistics] said. 'I don't like this term 'supply chain', because for Amazon it is very much a 'demand chain"" [The Loadstar]. Hmm.
Supply Chain: "[Amazon] is making a major push into furniture and appliances [and] plans to build at least four massive warehouses focused on handling the bulky items that trucking companies sometimes call ugly freight and parcel carriers see gumming up their operations" [Wall Street Journal]. "Furniture is one of the fastest-growing segments of U.S. online retail, growing 18% in 2015, second only to groceries, and some 15% of the $70 billion U.S. furniture market has moved online. Players are struggling to get the market right, however. Delivering couches and dining sets is more complicated and expensive than handling conventional parcels, and that may provide a fresh challenge to Amazon's budding self-controlled logistics network."
Supply Chain: "The key advantage that Amazon has over any other enterprise service provider — from UPS and FedEx to Rackspace — is that they are forced to use their own services. UPS is a step removed from backlash due to lost/destroyed packages, shipping delays, terrible software and poor holiday capacity planning. Angry customers blame the retailer, and the retailer screams at UPS in turn. When Amazon is the service provider, they're permanently dogfooding. There is nowhere for poor performance to hide. Amazon has built a feedback loop as a moat, and it is incredible to watch the flywheel start to pick up speed" [Tech Crunch].
The Bezzle: "Texas Bill Targets Activist Investors, Advisors" [The Harvard Law School Forum on Corporate Governance and Financial Regulation]. As the late, great Molly Ivins put it: "Texas, National Laboratory for Bad Government."
The Bezzle: "Judge orders Uber not to use technology taken from Waymo" [Seattle Times]. "Judge William Alsup in San Francisco says in the ruling that Waymo has shown 'compelling evidence' that a former star engineer named Anthony Levandowski downloaded confidential files before leaving Waymo. The Judge also says evidence shows that before he left Waymo, Levandowski and Uber planned for Uber to acquire a company formed by Levandowski."
Rapture Index: Closes down 1 on Satanism. "The lack of activity has downgraded this category" [Rapture Ready]. Record High, October 10, 2016: 189. Current: 181.
Today's Fear & Greed Index: 64 Greed (previous close: 61, Greed) [CNN]. One week ago: 49 (Neutral). (0 is Extreme Fear; 100 is Extreme Greed. Last updated May 11 at 12:28pm. Last updated May 15 at 11:38am.
Health Care
"Big Medical Expenses Set Women Further Back Than Men" [Bloomberg].
Gaia
"Pressure Mounting For Humans To Step Down As Head Of Failing Global Ecosystem" [The Onion (KF)]
Guillotine Watch
"Why rich Chinese are more eager to invest after Kushner family visas-for-sale controversy" [South China Morning Post].
"The Society of Grownups wanted to teach "adulting" to millennials. Their mistake was trying to do it IRL" [Quartz]. I was sure this was a parody, but Mass Mutual funded "The Society of Grownups" to the tune of $100 million! That's quite some grift.
News of the Wired
"One of Descartes' most famous ideas was first articulated by a woman" [Quartz]. Teresa of Ávila!
"6 Ridiculous Myths About the Middle Ages Everyone Believes" [Cracked].
Internet of Things, meet ransomware:
This WILL happen:
Watch out for #Ransomware #WannaCry pic.twitter.com/Blv7zo4w5I

— Mark Stephens (@MarksLarks) May 13, 2017
Of course, ransomware is really the IoT business model anyhow…
* * *
Readers, feel free to contact me with (a) links, and even better (b) sources I should curate regularly, and (c) to find out how to send me images of plants. Vegetables are fine! Fungi are deemed to be honorary plants! See the previous Water Cooler (with plant) here.
And here's today's plant: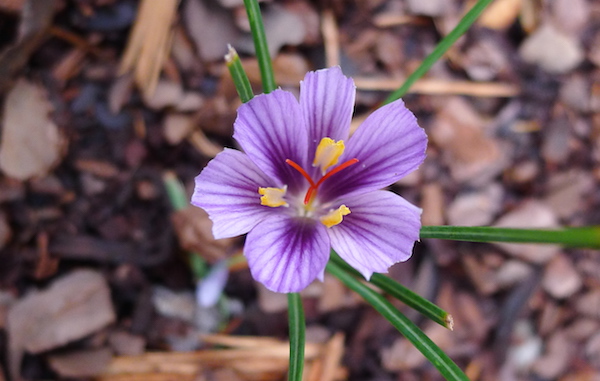 Because Yahoo doesn't want to download files for me right now [snarl], here is a crocus from 2015!
* * *
Readers, Water Cooler is a standalone entity, not supported by the Naked Capitalism fundraisers. Please use the dropdown to choose your contribution, and then click the hat! Your tip will be welcome today, and indeed any day. Water Cooler will not exist without your continued help.