By Lambert Strether of Corrente
Trade
"It's happened: More than four months after his nomination, Robert Lighthizer was confirmed as U.S. trade representative Thursday afternoon in an 82-14 vote. Three Republicans — Sens. John McCain, Ben Sasse and Cory Gardner — turned on their party and joined with 10 Democrats and independent Sen. Bernie Sanders to oppose Lighthizer, who otherwise generated significant bipartisan appeal" [Politico]. "The long delays mean that Lighthizer now faces a staggering series of tasks that his fellow administration officials have been waiting for him to complete. Foremost on the list is the long-promised renegotiation of NAFTA."
Politics
Policy
"Tennessee makes community college free for all adults" [CNN]. "Lawmakers approved legislation Wednesday that will expand the Tennessee Promise program that launched in 2014. It made tuition and fees free for recent high school graduates enrolled in a community college or technical school. Now, adults who don't already have an associate's or bachelor's degree can go for free, too, starting in the 2018 fall semester." Look! A Republican Governor universalizing a direct material benefit. You would think would be a Democrat idea.

"Attorney General Jeff Sessions overturned the sweeping criminal charging policy of former attorney general Eric H. Holder Jr. and directed his federal prosecutors Thursday to charge defendants with the most serious, provable crimes carrying the most severe penalties" [WaPo]. That's a kick in the teeth for Trump's working class voters.

"President Trump denies Pa.'s disaster relief request for March snowstorm" [Penn Live]. Another kick in the teeth.
Corruption
"Does Money Buy Votes? Most Americans Say Yes; A New Study Says They're Right" [International Business Times]. "But in a new study, researchers led by Thomas Ferguson believe they found a group of public officials that illustrates money's impact: Democrats who changed their mind about Dodd-Frank. Ferguson and his team assert that they were able to document exactly how the finance industry, which lobbied heavily to undo parts of the historic 2010 law, was able to spend money to increase the chances that House Democrats would vote to undo legislation they previously supported."
2018
"How Democrats can roar back" [The Week]. "The 2018 election is still 543 days away. But already, it seems clear that Democrats are poised to sweep Republicans out of power in the House." But this argument for a "wave election" is premature triumphalism. It's based on a national poll ("If the midterm elections were held today, 54 percent of Americans would vote for Democrats"). That poll could mean that 2018 will be nationalized, but it doesn't necessarily, and 542 days is a long time in politics. Most elections are fought by state, district, precinct; Clinton, in 2016, did quite well in the national polls, and in the popular vote. She still lost. The Democrats also seem to be trying to nationalize the election with Putin Derangement Syndrome and by delegitimizing Trump. That didn't win in 2016 either. Ryan goes on: "To this day most Democrats do not grasp that even the pre-2008 economic status quo was awful for a great many Americans. The crisis of economic inequality is still largely treated as a boutique issue, ranked below growth or "equality of opportunity," or other such hoary centrist notions. In reality, inequality means the country is failing to function for much of its citizenry."

"The Secret Weapon Democrats Don't Know How to Use" [Politico]. On Illinois representative Cheri Bustos: "It remains to be seen, though, whether [ party's most powerful shot-callers ultimately will actually implement key tactics of hers in time for the 2018 midterms. Democratic Congressman Ron Kind, who's won for 20 years in western Wisconsin in a district Trump won, too, talked in an interview of 'a growing openness and willingness in the caucus' to incorporate some of what has worked for Bustos and others like her—Kind ran unopposed last year—but he worries, he told me, about his party succumbing to 'the temptation to lurch to the left in response to Trump.'" By "left," I think Kind means "toward identity politics."
2017
MT-AL (at large): "Lean Republican. With two weeks to go before the May 25 special election, both Democrat Rob Quist and Republican Greg Gianforte are well-known, as are their substantial flaws. A Democrat hasn't won Montana's House seat since 1994, but Democrats' outrage in the wake of the AHCA's House passage and Trump's personnel moves make the race less of a sure thing. Both parties now acknowledge that Gianforte's lead has tightened to the high single digits" [Cook Political Report]. "In a late April Garin-Hart-Yang poll taken for Senate Majority PAC, Gianforte led Quist 49 percent to 43 percent. The AHCA and turmoil surrounding Trump's firing of FBI Director Jim Comey could add uncertainty in the final two weeks, but Quist's considerable baggage may prevent Democrats from taking advantage. Still, both parties are treating this as highly competitive contest, and for that reason it moves to the Lean Republican column."
2016 Post Mortem
"Black voter turnout fell in 2016, even as a record number of Americans cast ballots" [Pew Research]. "The 7-percentage-point decline from the previous presidential election is the largest on record for blacks. (It's also the largest percentage-point decline among any racial or ethnic group since white voter turnout dropped from 70.2% in 1992 to 60.7% in 1996.) "How surprising. What could have been the problem? (See the "Resource Allocation" column in the "matrix of failure" here.)

"Rep. Ro Khanna: DNC acted improperly in primary by tipping scale" [Medium]. In response to a question on Twitter about that pesky lawsuit against the DNC and Debbie Wasserman Schultz that our famously free press doesn't seem to be covering.

Winning the internet:

bernie would have one pic.twitter.com/5CSJMS0xhO

— Mike Tunison (@xmasape) May 11, 2017
Realignment and Legitimacy
"Requiem for a Lightweight" [Jacobin]. "Two months out from the shock demolition of the Democratic Party, the most faithful acolytes are not getting it. Someone like Moulitsas, an irrelevancy himself, can only be a real, pressing threat when marching in lockstep with the rest of a vast zombie horde — a sea of dead flesh which somehow is still upright, clogging the highways, trapping those still alive and trying to break out, in a waking nightmare without end. It is the only way of explaining a Democratic Party, from Markos Moulitsas to Cory Booker to Rahm Emanuel, cheering the demise of decent health care as a going concern for many Americans" (a reference to Kos's famous headline: "Be Happy for Coal Miners Losing Their Health Insurance. They're Getting Exactly What They Voted For.") Fun stuff.

"American voters, who gave President Donald Trump a slight approval bump after the missile strike in Syria, today give him a near-record negative 36 – 58 percent job approval rating, according to a Quinnipiac University national poll released today. Critical are big losses among white voters with no college degree, white men and independent voters" [Quinnippiac]. Trump, from a Republican perspective, is not without accomplishments: TPP is dead, we aren't at war with Russia, Gorsuch is on the court, various regulations and agencies are being gutted. But Trump also ran on jobs. Where are they? "The wall." Where is it? And TrumpCare makes ObamaCare worse. In other words, Trump isn't delivering on his unique selling proposition: MAGA. And so the voters who gave him his margin of victory are turning thumbs down. Will they flip to the Democrats or stay home?
Stats Watch
Consumer Price Index, April 2017: "Strength in Wednesday's import & export price report and Thursday's producer price report proved to be head fakes as consumer prices failed to show much traction in April" [Econoday]. "Softness in the details is striking including continued price weakness in medical care, down 0.2 percent in the month, and continuing contraction for communications where providers are in a price war. Apparel is down for a second month with transportation showing only a fractional gain after two prior months of contraction. Owners' equivalents rent, which is closely watched in gauging the housing sector, rose only 0.2 percent. This report is not only bad news for policy makers who are trying to reflate the economy but also businesses which are paying higher costs for inputs but apparently not getting much price recovery on the selling side." And: "Using these measures, inflation was soft in April. Overall these measures are mostly close to the Fed's 2% target (Core PCE is still below)" [Calculated Risk]. And but: "Consumer spending hasn't lived up to all the strength being shown in confidence readings, at least not yet" [Economic Calendar]. And: "The general trend in the Michigan Sentiment Index since the Financial Crisis lows has been one of slow improvement.The survey findings since December 2015 saw gradual decline followed by a bounceback later in the year with its interim peak in January of 2017" [Econintersect]. And: "Many elements of the CPI moderated this month lead by commodities – but the energy sector showed significant inflation" [Econintersect].
Business Inventories, March 2017: "[T]he inventory-to-sales ratio which held steady at a still healthy 1.35" [Econoday]. "The build at auto dealers should be relieved in April based on this morning's solid vehicle gain in the retail sales report. Businesses are doing a good job of keeping inventories to a minimum during a time of slow economic growth." And but: "[N]ow inventories no longer remain at recession levels… Our primary monitoring tool – the 3 month rolling averages for sales – improved and remains in expansion" [Econintersect].
Consumer Sentiment, May 2017 (preliminary): "Consumer sentiment remains strong, beating expectations" [Econoday]. "Consumer spending hasn't lived up to all the strength being shown in confidence readings, at least not yet." Yet again, the disjunction between surveys and data.
Retail Sales, April 2017: "Retail sales did recover in April but not as much as expected" (under consensus) [Econoday]. "Nonstore retailers continue to outperform with electronics & appliances showing a second strong gain. But showing a third month of weakness and hinting at lack of demand for basic goods is the general merchandise category where the department store subcomponent, in an echo of company news out of the sector, shows only marginal strength." And: "The increase in April was below expectations, however sales for March were revised up. A decent report" [Calculated Risk]. But: "Retail sales were up according to US Census headline data. Our analysis shows the opposite" [Econintersect]. "The three month rolling averages of the unadjusted data declined. This series underwent their annual revision this month, but there was little change to trends. The relationship between year-over-year growth in inflation adjusted retail sales and retail employment are now correlating."
Housing: "Nearly 40 percent of 18 to 34 year olds live with mom and dad in California. Most are working but just do not earn enough to rent let alone buy a home" [Dr. Housing Bubble]. "Back in 1980 20 percent of young Californians lived at home. It was actually lower than the national number of 22 percent at that time. Even in 2005 the state and national figures were similar. But fast forward to today and you have nearly 40 percent of young Californians living at home versus 34 percent nationwide. Make no mistake though, this is a national trend."
Commodities: "Global silver production dropped last year for the first time since 2002 driven by lower by-product output from the lead/zinc and gold sectors, as well as a sharp decline of scrap supply to the market, which hit its lowest since 1996" [Mining.com]. But: "Demand from the solar industry was up 34% last year."
Commodities: "[P]roducers of liquefied natural gas seem to be in an especially strong position to gain from new trade flows. Dozens of companies are seeking permits for new, billion-dollar LNG facilities, setting the U.S. to become a net exporter of gas by next year" [Wall Street Journal].
Rail: "Rail Week Ending 06 May 2017: A Relatively Good Week" [Econintersect].
Shipping: "Tells me we still are experience an obvious lack of aggregate demand. We haven't even gotten back prior highs and growth of these components has slowed dramatically from where it was before the crisis" [Mosler Economics].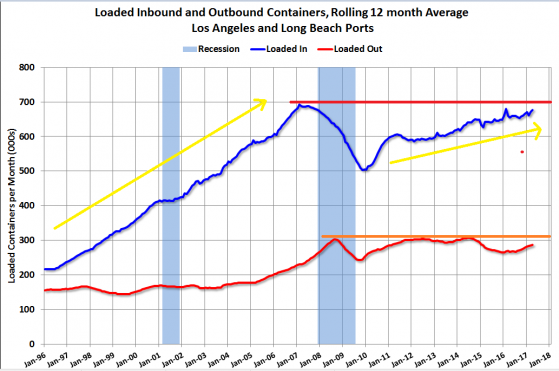 Shipping: "Maersk Line says the worst is over for the global container shipping industry… The recovery isn't coming fast enough to boost the bottom line at the world's biggest container carrier, which lost $80 million in the first quarter because of higher bunker fuel costs. But Maersk says average freight rates were up 4.4% in the first quarter, bolstering reports from industry groups and other carriers that show operators are seeing more equilibrium in the shipping market" [Wall Street Journal]. With shipping capacity largely stable, the carriers just need a modest boost in demand to give a lift to their earnings." Concentration plus the breaker's yard…..
Shipping: "The capability for organisations or people to follow individual items on a map very much exists. However, the cost of attaching an individual piece of kit to anything other than a very large shipment simply isn't economically viable. Say an organisation chooses to track their logistics via mobile phone networks, a number of issues quickly emerge. Choosing one network is just the start. If supply chains cross multiple borders, that means either high roaming charges, or taking up contracts with multiple network operators. And this assumes all of the network operators have sufficient levels of coverage. Whether companies choose to track the movement of goods via 3G, SMS or GPS/Satellite, not only are these technologies expensive, but serious connectivity issues exist" [Lloyd's Loading List].
Shipping: "[T]he Maersk-Alibaba deal, and others that will follow, has huge significance to the process of container shipping and the ensuing commoditisation of the carriers. When you look at the operating models of Alibaba, Amazon and many other companies acting as trading platforms, you will notice that there is an immense value being created in the form of data and data services that Alibaba and Amazon can profitably re-sell to shipping market participants. You might think that I am talking about the data related to the transaction itself, but you would be wrong" [Splash 247]. "The data that is so valuable for resale relates to failures and behaviours. While the carrier will only see the data on transactions relevant to their own offering, the platform will see everything that happened before and after the transaction was booked. They will see behaviours of specific shoppers: what is the origin, what is the destination, the quantities considered, conditions of carriage the shopper was looking for, the price sensitivity of each unique shopper, the seasonal patterns of the searches, circumstances of the shopper abandoning the shopping cart, subsequent searches after the booking has been made, and many other aspects of shopper's searching behaviour. The value of this this profiling data far exceeds any profits to be made from being a middleman in the final transaction."
Shipping: "How many original bills of lading must I surrender to get release of cargo..??" [Shipping & Freight Resource]. I had no idea there was such a thing as a negotiable bill of lading.
Shipping: "Poland's hauliers alone now carry one-quarter of international road freight in the EU and account for 30% of the cabotage market" [Lloyd's Loading List].
The Bezzle: "America has become so anti-innovation – it's economic suicide" [Guardian]. The example? Juicero. I think the author has vanity projects funded by stupid money confused with innovation. And speaking of innovation (sorry about the family blog violation):
Leftists: can we just get healthcare and sick leave like every other [family blogging] country

Capitalism: innovation is a Bluetooth salt shaker pic.twitter.com/tzWfj2P2J7

— Butt Praxis (@buttpraxis) May 8, 2017
Five Horsemen: "Apple blasts past Alphabet on new iPhone anticipation" [Hat tip: Jim Haygood].
Today's Fear & Greed Index: 62 Greed (previous close: 63, Greed) [CNN]. One week ago: 47 (Neutral). (0 is Extreme Fear; 100 is Extreme Greed. Last updated May 12 at 11:29am
Dear Old Blighty
"Jeremy Corbyn speech at Chatham House" [Labour Press].
Imperial Collapse Watch
"The Ugly Origins of America's Involvement in the Philippines" [JSTOR Daily]. A little history lesson
Health Care
"Aetna CEO in private meeting: 'Single-payer, I think we should have that debate'" [Vox]. "What Bertolini seems open to is a version of single-payer where the federal government would contract out certain functions private companies, such as Aetna. These insurers would, in his own words, become a 'back room for government.'" No. Kill Aetna with fire. Nevertheless, it's remarkable when an insurance company CEO wants to have an, er, national conversation about single payer when Clinton, Pelosi, and the likes of Jon Ossoff are all "never, ever" on the topic. Eh?
"Towards Health Autonomy: Interview with Dr. Frank MD" [Mask]. This is very interesting. Picking out the policy paragraph:
We talked about this at Woodbine ["Woodbine is a hub for building autonomy in the Anthropocene"] recently, during a Trump lecture series. The Affordable Care Act increased coverage for people, up to forty million people, but there is still at least twenty million people uninsured. It covers preexisting conditions and limited what health insurance companies could reject. A lot more people come to the ER with insurance, which is great, but they come because they don't have access to the other services that they are paying for, like primary care or referral services. The ACA increased access to coverage but it did not increase access to health care, which are separate things often lumped together. Now more people have insurance coverage, but health infrastructure was not increased. People have a primary care doctor but often coverages say they can only see their primary care once every six months. This begs the question: if they cannot easily access their primary care doctor, do they even have one? It mandated coverage for birth control and maternal health – each beneficial for greater society, but the problem is that it enshrines insurance coverage. It enshrines the idea that people need a third party to get health care.
Class Warfare
"How Homeownership Became the Engine of American Inequality" [New York Times]. "Almost a decade removed from the foreclosure crisis that began in 2008, the nation is facing one of the worst affordable-housing shortages in generations. The standard of "affordable" housing is that which costs roughly 30 percent or less of a family's income. Because of rising housing costs and stagnant wages, slightly more than half of all poor renting families in the country spend more than 50 percent of their income on housing costs, and at least one in four spends more than 70 percent. Yet America's national housing policy gives affluent homeowners large benefits; middle-class homeowners, smaller benefits; and most renters, who are disproportionately poor, nothing. It is difficult to think of another social policy that more successfully multiplies America's inequality in such a sweeping fashion."
"Two progressive champions—Senators Bernie Sanders (I-Vt.) and Kirsten Gillibrand (D-NY)—are teaming up to put their weight behind a pair of federal bills to make employee ownership more accessible. And—believe it or not—this is a policy idea that might actually have a chance, since prominent Republicans like Ronald Reagan have long favored employee ownership, which leverages firm structure, rather than social programs, to improve family economic outcomes. In an era of hunger for solutions to inequality, this may be an idea whose time has finally come" [Common Dreams]. "And—believe it or not—this is a policy idea that might actually have a chance, since prominent Republicans like Ronald Reagan have long favored employee ownership, which leverages firm structure, rather than social programs, to improve family economic outcomes. In an era of hunger for solutions to inequality, this may be an idea whose time has finally come." Co-op geeks? How is the bill?
"Power to the workers: Michelin's great experiment" [Financial Times]. Lots of interesting ideas about "worker-led initiatives." I don't find the word "profit," though I do see "Almost from the start, the company chose to reward its best workers with shares."
"In early 1938, the city of San Antonio arrested over a thousand of its residents during what the police chief called a "revolution." In the city's hundreds of pecan sheds, a mostly mexicano, mostly female workforce husked the nuts on their way to market for poverty wages. On January 31, after a pay cut by "Pecan King" Julius Seligmann, the shellers up and walked off the job" [Scalawag]. "The upheaval among the pecan strikers built bridges across ethnic lines with some Anglo labor organizers, and later with Black civil rights activists in San Antonio's East Side. To the southeast, a particularly active chapter of the NAACP in Houston pushed civil rights causes, while civil rights unionists fought simultaneously for economic gains for Black workers and for the integration of labor unions."
"Creative Commons' New Strategy for a Collaborative Organizational Structure" [Shareable]. "While mainstream economic policies continue to support privatization and the enclosure of public resources, it is important that there is a vanguard to keep such practices from encroaching on us any further. The Creative Commons community is a vibrant network of people around the world who are on the frontlines of fighting for a free, open cultural commons. The fact that such a large and active network is re-inventing itself to become more open and collaborative is impressive. It is also very promising for those of us who advocate for the realization of an alternative approach to the economy, one that is based on sharing, community, and progress — a solidarity economy."
"False Consciousness" [S-USIH]. A useful summary (but doens't include Gramsci on hegemony, of which ideology is surely an aspect; ask any macro-eononomist.)
News of the Wired
"Interview with Simon Stâlenhag" [Abduzeedo (2013)].
Home showing at 2139 Mill Roadhttps://t.co/epuXYV6iYd pic.twitter.com/GLdYN1iI7v

— Simon Stålenhag (@simonstalenhag) April 24, 2017
"Are Books Superior to TV?" [Medium]. That depends…
"How porn has been secretly behind the rise of the internet and other technologies" [South China Morning Post]. True, I would argue, for all media, human nature being what it is.
"A federal court has ruled that an open-source license is an enforceable contract" [Quartz] (ARTIFEX SOFTWARE, INC. v. HANCOM, INC).
"First-Ever LSD Microdosing Study Will Pit the Human Brain Against AI" [Vice]. I have heard that set and setting matter greatly in such circumstances. And isn't this set and setting pretty weird, even for micro?
* * *
Readers, feel free to contact me with (a) links, and even better (b) sources I should curate regularly, and (c) to find out how to send me images of plants. Vegetables are fine! Fungi are deemed to be honorary plants! See the previous Water Cooler (with plant) here.
And here's today's plant (via):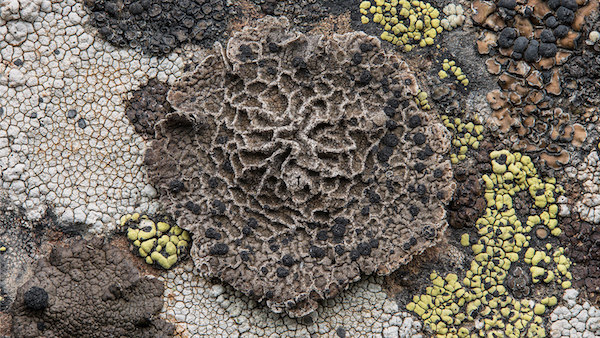 Umbilicaria polaris, or lesser salted rocktripe
* * *
Readers, Water Cooler is a standalone entity, not supported by the Naked Capitalism fundraisers. Please use the dropdown to choose your contribution, and then click the hat! Your tip will be welcome today, and indeed any day. Water Cooler will not exist without your continued help.