By Lambert Strether of Corrente
Politics
2020
"Hillary Clinton launches political action group Onward Together" [Guardian]. Please kill me now.
New Cold War
I don't often "talk of court news" these days, but over the weekend I had occasion to watch CNN as the lastest tsunami of outrage over Trump was breaking, and it was quite something. (CNN is extremely loud, and clearly engineered to stoke the maximum of fear and outrage in its viewership. Hilariously, James "Not Wittingly" Clapper, seems to have become a paragon of truthtelling and a Hero of the Republic. I suppose this is not unlike rehabilitating George W. Bush, Hero of the Iraq War, because he has a lovely family. Liberals seem increasingly strange to me.) Be all that as it may, the current cycle of outrage has gone through four phases: (1) the original story, (2) reactions to the original story, (3) Trump's tweets, and (4) reactions to Trump's tweets. Obviously I'm not going to be able to process everything, even if I could stand it, in the time available for Water Cooler, but I'll try to hit the salient points in each phase.

(1) The original story from WaPo, headline: "Trump revealed highly classified information to Russian foreign minister and ambassador." There are two sections that seem salient to me. The first concerns process after the meeting:

Senior White House officials appeared to recognize quickly that Trump had overstepped and moved to contain the potential fallout. Thomas P. Bossert, assistant to the president for homeland security and counterterrorism, placed calls to the directors of the CIA and the NSA, the services most directly involved in the intelligence-sharing arrangement with the partner.

One of Bossert's subordinates also called for the problematic portion of Trump's discussion to be stricken from internal memos and for the full transcript to be limited to a small circle of recipients, efforts to prevent sensitive details from being disseminated further or leaked.

This certainly suggests an effort by White House worker bees to (mixing metaphors) put the toothpaste back in the tube. But the nature of the toothpaste is unclear. Here it is, still from the WaPo story:

Trump went off script and began describing details of an Islamic State terrorist threat related to the use of laptop computers on aircraft

The "laptop computers" part makes sense to me; speculating freely, I bet Trump got an earful about the laptop ban from his golfing buddies, since the ban would make international business travel more painfui even than it already is. Murdoch's Daily Telegraph (Australia) is somewhat more skeptical:

The information in question is now said to have been about ISIS plots to sneak a bomb on to an airliner in a laptop, a plot device easily imagined by any Hollywood TV writer or paperback spy thriller author.

Fine. The rest of the story is that anonymous officials in the intelligence community are very, very unhappy about "the information in question" and how Trump went off-script (assuming the story is correct). I won't bore you with the details, since my expertise in intelligence tradecraft — rather like, I suspect, most of the scribes in the Beltway — comes from John LeCarré novels. The bottom line — and this may be one reason I don't write much on court news these days — is that I see no reason whatever to regard intelligence sources, especially anonymous ones, as credible, nor access journalism based on those sources. If these stories are that important — and remember, in strong form, one theory pushed by these anonymous sources is that Trump is, quite literally, a Russian agent — than it's more than a little incongruous that sources that claim to have evidence for them will show neither the evidence, nor their faces. WaPo's new motto is: "Democracy dies in darkness." Very well. Then let its sources come out into the light, where the public can see their faces.

(2) Reactions to the original story. Of the various reactions, this one from Bloomberg seems to me most level-headed: "Trump's Best Defense on Russia Is Incompetence," from Eli Lake:

But in light of that, it's also important to get some perspective. Let me make a prediction here. Whichever allied intelligence service had its sources and methods endangered will not end intelligence sharing with the U.S. I base this on the fact that in the last seven years, the U.S. has endured worse. American allies were also exposed by the State Department cables shared with the world by WikiLeaks and the NSA documents provided to journalists by Edward Snowden. The Obama White House blamed a 2012 Associated Press story on another threat to airlines for disclosing a source from an allied intelligence service within al Qaeda in the Arabian Peninsula. Today we remember this incident primarily for the extraordinary steps the Justice Department took to monitor the phone records of AP reporters in its subsequent leak investigation.

And importantly, Bloomberg's "McConnell Calls for 'Apolitical' FBI Director, Less Trump Drama." McConnell is the big dog here. He doesn't have to set his hair on fire to get people to pay attention.

(3) Trump tweets (naturally). Here they are:

As President I wanted to share with Russia (at an openly scheduled W.H. meeting) which I have the absolute right to do, facts pertaining….

— Donald J. Trump (@realDonaldTrump) May 16, 2017

And:

…to terrorism and airline flight safety. Humanitarian reasons, plus I want Russia to greatly step up their fight against ISIS & terrorism.

— Donald J. Trump (@realDonaldTrump) May 16, 2017

(4) Reactions to Trump's tweets. I can only quote a few, but they're all alike. CNN's Chris Cilizza, quoting the Post's Ashley R. Parker, is the best:

Trump confirmed the story only if you believe that "facts" (Trump) are "literally" (Parker) the same as "highly classified information" (WaPo). Of course, if you're an access journalist in the Beltway, you may actually believe that. (Parker is also wrong that what Trump says contradicts what McMasters said: "At no time, at no time, were intelligence sources or methods discussed. And the president did not disclose any military operations that were not already publicly known." Not all "facts" have to do with "intelligence sources or methods" or "military operations!" The upside is that you can cross both Cilizza and Parker off your list of journalists worth reading (if they were ever on your list).

Presidents come and go, even bad Republican Presidents. Look at Obama! But the damage that is being done to the Constitutional Order right now — and not only by conservatives — will last for a long time. We're seeing many, many figures in the press using "any stick to beat a dog tactics"; and we're seeing the "intelligence community" emerging as a Praetorian Guard. It's possible to make the argument that Trump is so bad that any means, extra-constitutional or no, are appropriate to get rid of him (although Nazi gleischaltung went down as far as picking the leadership for stamp collectors' clubs, and Trump has yet to populate the blanks on the Justice Department org chart). But those who make that argument need to be very, very careful about getting what they wish for. Overturned elections have consequences.

UPDATE "McMaster: Trump's sharing of sensitive intelligence with Russia was 'wholly appropriate'" [WaPo].

"In the context of that discussion, what the president discussed with the foreign minister was wholly appropriate to that conversation and is consistent with the routine sharing of information between the president and any leaders with whom he's engaged," McMaster said. "It is wholly appropriate for the president to share whatever information he thinks is necessary to advance the security of the American people. That's what he did."

Remember that McMaster was the guy The Blob allowed Trump to install after they defenestrated Flynn. So some of those anonymous sources in the intelligence community must be ticked.

Oh, and the story is from — drumroll, please! — Ashley Parker. She writes:

McMaster's pushback came just hours after Trump himself acknowledged Tuesday morning in a pair of tweets that he had indeed revealed highly classified information to Russia — a stunning confirmation of the Washington Post story and a move that seemed to contradict his own White House team after it scrambled to deny the report.

Read Trump's tweets. If words have meaning — granted, we're talking Trump, here — Trump's words do not say what Parker says they say. "Facts" and "highly classified information" just aren't the same, any more than toast is the same as avocado toast.
Stats Watch
Housing Starts, April 2017: "A topping out from lower-than-indicated expansion highs is the news from the April housing starts report where levels, though still healthy, are disappointing" [Econoday].
Industrial Production, April 2017: "The manufacturing sector did in fact surge during April, to more than reverse contraction in March. Industrial production rose a stronger-than-expected 1.0 percent with the manufacturing component, after falling 0.4 percent in March, also up 1.0 percent. These are the strongest monthly gains for both of these readings since February 2014" [Econoday]. "Gains are spread throughout the manufacturing sector led by motor vehicles where volumes surged 5.0 percent in the month. And business equipment, in a positive indication for second-quarter business investment, rose a very sharp 1.2 percent. Production of consumer goods was even stronger, up 1.5 percent…. April is proving an uneven month for economic data, led on the positive side by this report and the monthly employment report but offset by weakness in retail sales, housing starts, and consumer inflation. But for manufacturing, today's news is very positive and helps vindicate what has been a long run of very strong signals from regional reports including the Philly Fed."
E-Commerce Retail Sales, Q1 2017: "Online shopping, after a slow fourth quarter, picked up sharply in the first quarter" [Econoday].
Today's Fear & Greed Index: 66 Greed (previous close: 64, Greed) [CNN]. One week ago: 50 (Neutral). (0 is Extreme Fear; 100 is Extreme Greed. Last updated May 16 at 12:40pm.
* * *
Readers, feel free to contact me with (a) links, and even better (b) sources I should curate regularly, and (c) to find out how to send me images of plants. Vegetables are fine! Fungi are deemed to be honorary plants! See the previous Water Cooler (with plant) here.
And here's today's plant (ChiGal):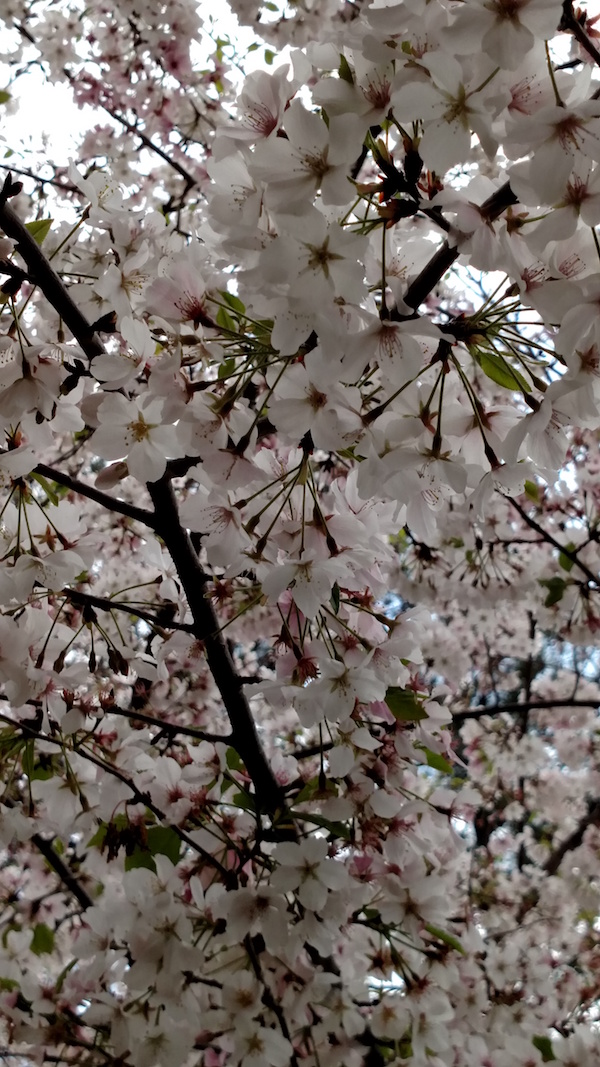 In March. I love the Spring cycle of flowering plants.
* * *
Readers, Water Cooler is a standalone entity, not supported by the Naked Capitalism fundraisers. Please use the dropdown to choose your contribution, and then click the hat! Your tip will be welcome today, and indeed any day. Water Cooler will not exist without your continued help.