By Lambert Strether of Corrente
Trade
"Apple commits $1 billion To U.S. manufacturing fund: With an eye toward empowering 'the next generation of developers,' Apple CEO Tim Cook announced late Wednesday that his company will be pouring $1 billion into a fund designed to encourage advanced manufacturing in the United States" [Politico]. In (nominally) offshore cash? [Politico].
Politics
Obama Legacy
"The Center" [The Obama Presidential Center].
Through participatory and immersive experiences, the Center will tell Barack and Michelle Obama's story, while lifting the hood on the mechanics of change and inspiring visitors to spark their own.
You don't lift the hood on mechanics. You lift the hood on a car, and mechanics work under that hood. And are users really going to "spark their own" "mechanics of change"? Will the mechanics be bending over when they get sparked? Honestly, the whole site is full of hollow-sounding, Orwellian deadness, and the projects is obviously going to suck up a great deal of money (for Google VR to handle those "participatory and immersive experiences," for example). Ka-ching.
"This evening, Obama discusses his Center and his two-terms in the White House in a closed-to-the press dinner before Chicago's wealthy and civic elite, the Civic Committee of the Commercial Club of Chicago" [Chicago Sun-Times]. "The dinner will take place at The Chicago Club, 81 E. Van Buren. Obama's speech was not publicly announced by either the Obama Foundation or his post-presidential office. Obama has come under some criticism for taking a $400,000 speaking engagement later this year. An Obama source told the Sun-Times Obama is not charging for his appearance before the Civic Committee of the Commercial Club of Chicago." Well, no. He's collecting for it, right? I mean, come on.
2020
"Stars turn out for Planned Parenthood gala honoring Clinton" [AP]. It's like she never left, isn't it? Readers, this is perhaps the time to explain that last night I had a dream, and this was my dream: I was speaking to Hillary Clinton — she was wearing a tweedy, Chanel-style heather-colored jacket — and told her that while I supported her in 2008 (true!), "I don't think you should run in 2020." Although she said nothing, her face froze; her body language was very, very negative. The bright side is that now I can file all the Clinton stories under 2020.

"I Tattooed Chelsea Clinton's Face on My Body and I Regret Nothing" [Vice].
2016 Post Mortem
"The first thing I remember feeling about the 2016 US election was a kind of speechlessness. On 9 November, no one had any idea what to say in the bars and pubs in New York. Conversations could take place only in the form of mutual interrogation. No one had any declarative sentences to offer. The only consensus was that no one knew what happened" [Guardian]. "That consensus is now gone – every woman on the street can riff on the Russians, James Comey and the creaky electoral system – but the anxiety remains. The engine of all argument right now is a very bitter sort of fear we felt right after the whole thing blew up." "We"? " woman"?
Our Famously Free Press
"Facebook enters war against psy-ops and fake news, acknowledges election hijinks" [Ars Technica]. OK, if state-sponsored psy-ops in the news-flow need to be eradicated, does that include the Bush administration's WMDs operation?

"There are two big problems with America's news and information landscape: concentration of media, and new ways for the powerful to game it" [The Atlantic].
Democrats in Disarray
Not happy about this:

Bernie Sanders, Elizabeth Warren, Cory Booker etc sign letter criticizing UN's "mistreatment" of Israel, condemning #BDS. #FreePalestine pic.twitter.com/kVTDjglCgG

— Dronie Swag (@Delo_Taylor) April 30, 2017
Realignment and Legitimacy
"Meet the Left Radical Who Will Likely Be Jackson, Mississippi's Next Mayor" [In These Times]. A bit more interesting than Ossoff, no?

"Jackson, Mississippi, Just Nominated Radical Activist Chokwe Antar Lumumba to Be the Next Mayor" [The Nation]. A chance for the left to deliver on potholes…

"Campus Politics and the Administrative Mind" [Current Affairs]. Let's be open to the possibility that protesting to try to get college administrators to do stuff doesn't translate well to other political environments…

"The Zogby Poll: Trump overall approval down, but up among Hispanics" [Zogby Analytics].
Stats Watch
Readers: Lots of material today, because I'm including yesterday's Stats, too. –lambert
Productivity and Costs, Q1 2017 (First Estimate): "It took more hours to produce at a slower rate in the latest quarter in what is yet another unfavorable productivity report" [Econoday]. "Weak productivity raises the cost of labor which came in well above expectations at an annualized 3.0 percent." You say "raises the cost of labor" like that's a bad thing!
Factory Orders, March 2017: "Factory orders, like much of the economy, fizzled in March, up only 0.2 percent and skewed higher for a third month in a row by aircraft" [Econoday]. "Aircraft had a weak year last year and have been making up lost ground so far this year. But how long Boeing can give total orders a lift is uncertain, and the performance of the wider factory sector, despite sky high strength in many anecdotal reports, has been no better than mixed." And but: "According to the seasonally adjusted data, it was military aircraft that caused the increase" [Econintersect]. "The data in this series is noisy so I would rely on the unadjusted 3 month rolling averages which was improved. Note that when one inflation adjusts, the numbers are good but not as good as the headlines. Backlog improved – but remains in contraction year-over-year."
ADP Employment Report, April 2017 (yesterday): "ADP's estimate isn't going to rattle any nerves ahead of April employment, at 177,000 and right in line with expectations for what is expected to be solid payroll growth in Friday's report" [Econoday]. "There is little immediate reaction to today's results."
Jobless Claims, week of April 29, 2017: "Week-to-week volatility has been pronounced but the trend in jobless claims is clearly favorable" [Econoday].
Gallup Good Jobs Rate, April 2017: "The U.S. workforce participation rate essentially held steady at 67.6 percent in April, little changed from 67.8 percent in March. The rate is roughly the same as a year ago, when workforce participation was 67.3 percent" [Econoday]. "The percentage of the population who is underemployed rose to 14.0 percent in April, up from 13.5 percent last month. The current underemployment rate is roughly equal to that of January (14.1 percent) and February (13.9 percent), as well as a year ago (13.8 percent). Underemployment is still far better than its high point of 20.3 percent recorded in March 2010."
Challenger Job-Cut Report, April 2017: "Challenger's layoff count for April is a moderate 36,602, right in line with recent trend and pointing to healthy conditions in the labor market ahead of tomorrow's employment report" [Econoday]. "Retail has been at the top of the layoff list all year and is once again in April, at 11,669. Next is autos at 3,424 and health care at 3,153." And: "Employers have announced a total of 162,803 planned job cuts through the first four months of 2017. That is down 35 percent from the 249,061 job cuts tracked during the same period a year ago. It is the lowest January-April total since 2014, when the opening four months of the year saw 161,639 job cuts" [Econintersect].
Gallup U.S. Job Creation Index, April 17 (yesterday): "Gallup's job creation index reading was plus 36 in April, one point off the record high of plus 37 in March. The Midwest led the regions at plus 42 — the first time any region has topped plus 40 in the nine-year history of the index" [Econoday]. "Workers in the Midwest became increasingly likely to say their companies were hiring rather than firing in April, even as workers elsewhere reported more stagnant job creation patterns. In the other three U.S. regions, the East, South and West, the job creation index dropped one point each from March." Hmm. Trump country.
Purchasing Managers' Services Index, April 2017 (yesterday): "Order growth is described as subdued and, in what is a negative indication for Friday's employment report, the sample reported the weakest growth in hiring in nearly 7 years" [Econoday]. "Despite the late April bounce in the headline, there are plenty of red signals in this report that don't point to a second quarter surge for the economy."
Institute For Supply Management Non-Manufacturing Index, April 2017 (yesterday): "Two different samples and two very different results from PMI services, which was released earlier this morning and was very soft, and ISM non-manufacturing which is pointing to sharp acceleration" [Econoday]. "O]ne detail both this report and PMI services do agree on is that hiring during April was slow. This is not a positive indication for Friday's employment report where solid growth is the expectation." But: "This suggests faster expansion in April than in March" [Calculated Risk].
International Trade, March 2017: "Breaking down the data between goods and services shows a small widening in the goods deficit to $65.5 billion offset in part by a modest looking but still constructive $0.4 billion dollar rise in the surplus on services. The overall decline in exports and imports is a concern, but today's report has several positives, not only the surplus on services but also the rise in capital goods exports" [Econoday]. "On the import side most components are lower especially capital goods in what, along with capital goods shipments and nonresidential construction spending, is another contrast with the first-quarter GDP surge in nonresidential investment." And but: "But the data in this series wobbles and the 3 month rolling averages are the best way to look at this series. The 3 month averages are accelerating" [Econintersect]. "This data will have minimal impact on 1Q2017 GDP." And: "Exports are 15% above the pre-recession peak and up 9% compared to March 2016; imports are 1% above the pre-recession peak, and up 7% compared to March 2016" [Calculated Risk]. "In general, trade has been picking up, but has declined slightly the last two months."
Bloomberg Consumer Comfort Index, week of April 20, 2017: "The consumer comfort index, like other confidence readings, continues to hold at expansion highs" [Econoday].
MBA Mortgage Applications, week of April 28, 2017 (yesterday): "Rose a seasonally adjusted 4 percent" [Econoday]. "The strong rebound in purchase applications stands in sharp contrast to refinancing."
Credit: "Borrowing by small U.S. firms stalled in March, as business owners remained cautious about investing amid policy uncertainty, data released on Monday showed" [Reuters].
Retail: "Retail Bankruptcies Are Rising Fast: 10 Companies That May Be Next" [247 Wall Street]. This article is dangerously close to stock-picking, but I'm including it because — granted, I may be showing my age, here — the only brand I recognize is Sears. And you can certainly argue that Sears — despite owning the most depressing store I have ever entered, at the Bangor Mall — is a "squillionaire with bright ideas" story, not an "Internet's killing retail" story.
Auto: "[Motor vehicle sales were] low and worse than expected, and inline with the deceleration in bank auto lending, as previously discussed, which doesn't bode well for other sales measures tied to credit expansion" [Mosler Economics].
Auto: "Big Summer Shutdowns Loom for U.S. Auto Plants as Sales Sputter" [Bloomberg]. "Manufacturers used to shut plants for a week or two in July for maintenance and to keep inventories in check. As sales boomed in recent years, most factories cranked out cars without a break. This summer, widespread closures may be back, and for weeks longer than before. The reason: four straight months of declining sales and little expectation the trend will reverse anytime soon." This too is Trump country.
Auto: "A surprising drop in U.S. auto demand is sending shudders through the industry's global supply chain. GM's sales declined 5.8% in April from a year ago, and Ford and Fiat Chrysler reported drops of around 7%, leaving a glut of unsold cars and trucks on dealers' lots. The weak figures threaten a nearly eight-year winning streaK for the auto industry, and some manufacturers are already shutting down some production… Auto makers have already scaled back work on passenger cars as fuel prices have remained low, shifting factory output to gas-guzzling trucks and SUVs. But demand for those vehicles is looking shaky as well, putting assembly-line workers and parts suppliers on notice" [Wall Street Journal].
Shipping: "Significance of Stack Date and why it is important" [Shipping and Freight Resource]. For container geeks. And something to consider for those trying to automate the supplly chain…
Shipping: "Leading shippers are increasingly using supply chains as strategic tools – as a business enabler, revenue driver and differentiator, according to supply chain expert and author Mark Millar, who says the latest strategic thinking is that "supply chain is the business" of many companies that are not ostensibly logistics specialists" [Lloyd's List]. "'Twenty-first-century supply chains have transformed into worldwide inter-connected supply-and-demand networks – exposed to the vulnerabilities of our uncertain world – and with profound interdependencies,' he adds. 'This has led to greater deployment of collaborative partnerships, frequently involving outsourcing and off-shoring, creating elongated webs that embrace multiple stakeholders.'" The author is a consultant talking his deck. But it's an interesting deck.
Shipping: "The U.S. maritime regulator has rejected an application by Japan's three biggest shipping companies to operate as a merged company while their transaction is still being finalized back home" [Wall Street Journal].
The Bezzle: "Uber's 'upfront' pricing is helping it overcharge passengers" [Quartz]. An Uber driver agreed to share their data: "Over 165 trips from early March to early April, Uber overcharged this driver's passengers by a total of $85.54. In other words, the total upfront fares paid by riders were that much higher than the fares used to calculate driver pay. The company lost money overall on UberPool, its carpooling service, but more than made it up by overcharging customers who booked trips on UberX and its other private ride options."
The Bezzle: "Uber and Waymo Duel at Key Hearing Over Driverless Car Technology" [New York Times]. "At stake is what Uber and Waymo both believe a multibillion-dollar opportunity in the transportation industry in which autonomous cars move people around without the need or expense of human drivers."
The Bezzle: "Major NYC Crime Ring Used Fake Uber Drivers to Hide Drug Deals: Sources" [NBC New York]. "As part of the operation, the six suspects placed fake Uber logos and stickers on vehicles to fit into the neighborhoods and not raise suspicions, according to sources. Heroin and cocaine were sold to more than 100 customers in upper Manhattan and the Bronx, the sources said. The dealers weren't drivers for Uber and it appears they didn't use the Uber app, but they did utilize the company's logo to disguise their vehicles while making deliveries, sources said." That's so meta. Is there something about the sharing economy that attracts crooks?
The Bezzle: "The Art Market's Modigliani Forgery Epidemic" [Vanity Fair]. "The only question is: How many Modiglianis are fakes?" The catalogue raisonné situation seems volatile, to say the least. I Googled ""Travis Kalanick' Modigliani" but no such luck…
Political Risk: "CFR Sovereign Risk Tracker" [Council on Foreign Relations].
Five Horsemen, May 4, 2017:
Today's Fear & Greed Index: 47 Neutral (previous close: 51, Neutral) [CNN]. One week ago: 50 (Fear). (0 is Extreme Fear; 100 is Extreme Greed). Last updated Apr 28 at 12:01pm. "Put and Call Options" are registering Extreme Greed. Safe Haven Demand is registering Extreme Fear. Mr. Market placing a bet with his broker on Line 1, with the realtor handling his mountain redoubt in Montana on hold?
Health Care
Readers: I don't think the House vote will have taken place by press-the-submit-button time, but the media's whip counts were converging on passage. –lambert
UPDATE "House Passes Measure to Repeal and Replace the Affordable Care Act" [New York Times]. 217-213. "As Republicans crossed 217 votes, Democrats heckled them with 'Nah nah nah nah, hey hey hey goodbye.'" Classy! I understand the endowment effect, but if ObamaCare was so great, why the heck didn't Clinton run on it? "You never had it so good," as the slogan goes….
"The American Health Care Act: the Obamacare repeal bill the House will vote on, explained" [Sarah Kliff, Vox].
"Trump Health Care Plan Would Give Wealthy Republican Lawmakers A Tax Break" [International Business Times].
"GOP Health Bill Jeopardizes Out-of-Pocket Caps in Employer Plans" [Wall Street Journal]. "Many people who obtain health insurance through their employers—about half of the country—could be at risk of losing protections that limit out-of-pocket costs for catastrophic illnesses, due to a little-noticed provision of the House Republican health-care bill to be considered Thursday, health-policy experts say. The provision, part of a last-minute amendment, lets states obtain waivers from certain Affordable Care Act insurance regulations. Insurers in states that obtain the waivers could be freed from a regulation mandating that they cover 10 particular types of health services, among them maternity care, prescription drugs, mental health treatment and hospitalization."
"Proposed High Risk Pool Funding Likely Insufficient to Cover Insurance Needs for Individuals with Pre-Existing Conditions" [Avalere]
"Compare Proposals to Replace The Affordable Care Act" [Kaiser Health News].
"Infographic: How Does U.S. Health Care Stack Up to the Developed World?" [Foreign Policy]. The horror has come to the attention of The Blob…
"If You Give a Health Policy Maker a Cookie" (from former Obama health care adviser Bob Kocher) [Vox]. I know! I know! Pick me! Pick me! The answer: They'll never mention single payer, not once, and they'll lie about universal coverage! (This is actually a vomit-inducing screed children's book-style apologia for ObamaCare's markets-first, neoliberal solution, along the lines of "Why Mommie Is A Democrat.") For example: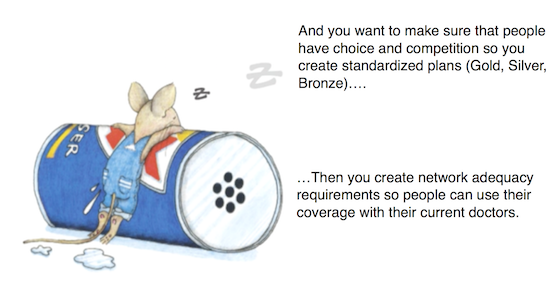 Excellent anecdotes on this tweetstorm. Neoliberals should read it:
Lot of folks talking about the Bad Old Days before the ACA- pre-existing conditions, sick babies using up lifetime limits in a week,

— Hell Frasier (@dubsteppenwolf) May 4, 2017
Black Injustice Tipping Point
"Texas Police Officer Fired for Shooting and Killing 15-Year-Old in a Car Driving Away" [Slate]. "'After reviewing the video, I don't believe that [the shooting] met our core values,' [Balch Springs Police Chief Jonathan Haber] said at a press conference Tuesday." Some might disagree…
Gaia
"The strongest earthquake in Oklahoma's history likely was caused by oil and gas operators injecting vastly increased amounts of toxic wastewater underground three years before it struck, a new study suggests" [Inside Climate News]. "Scientists from the U.S. Geological Survey analyzed injection data from the most active disposal wells in the area where the 5.8-magnitude earthquake hit last September. They found that there had been a sudden and dramatic increase in the amount of wastewater injected in the first half of 2013 at some of the wells. That contributed "a fair amount of stress on the fault and would have accelerated the natural faulting process significantly," said Andrew Barbour, a USGS geophysicist who led the study."
"Announcing the Radical Mycology Mixtape Project" [Radical Mycology]. "So, from now until August 1, 2017, Radical Mycology will be accepting demos for consideration from all music genre and audio performance types – with the only filter being that the piece should relate to or be inspired by (radical) mycology in some manner."
Guillotine Watch
"The Wrongest Profession" [Dean Baker, The Baffler]. "Even the great progress for the world's poor touted in the famous "elephant graph" turns out to be largely illusory. If China is removed from the sample, the performance of the rest of the developing world since 1988 looks rather mediocre. While the pain of working people in wealthy countries is acute, they are not alone. Outside of China, people in the developing world have little to show for the economic growth of the last three and a half decades. As for China itself, the gains of its huge population are real, but the country certainly did not follow Washington's model of deficit-slashing, bubble-driven policies for developing countries." I'm picking out the quote on the "elephant graph," but it's all very good. Fun stuff!@
"H-1B limits is 'stupidest policy in the entire American political system,' says Google's Schmidt" [CNBC]. Wowsers. Really?
"Google's Getting Students Into US History With VR — And Free "Hamilton" Tickets" [BuzzFeed]. "The six-week #EduHam course brings American Revolution–themed studies to life as a part of students' regular history classes using curriculum developed by The Gilder Lehrman Institute of American History." More "participatory and immersive experiences."
Class Warfare
"Coastal liberals often paint rural voters in broad strokes, but the truth is there are large groups of socially aware and intelligent young people living in forgotten rural areas all over the country" [Vice]. And they can't all move to Brooklyn and become artisanal pickle makers. Or sell blood to Peter Thiel. Well worth a read.
"Teen socialist idols" [Harpers (1999)]. Buffy the Vampire Slayer….
"Sold for Parts" [Pro Publica]. As policy, open borders ⊂ cheap labor.
"A farm town weighs protections for immigrants" [High Country News]. Open borders ⊂ cheap labor.
"Digital divide persists even as lower-income Americans make gains in tech adoption" [Pew Research (PDF)]. "Roughly three-in-ten adults with household incomes below $30,000 a year don't own a smartphone. Nearly half don't have home broadband services or a traditional computer. And a majority of lower-income Americans are not tablet owners. By comparison, many of these devices are nearly ubiquitous among adults from households earning $100,000 or more a year…. In 2016, one-fifth of adults living in households earning less than $30,000 a year were "smartphone-only" internet users – meaning they owned a smartphone but did not have broadband internet at home. This represents an increase from 12% in 2013. In contrast, only 4% of those living in households earning $100,000 or more fell into this category in either year. This reliance on smartphones also means that the less affluent are more likely to use them for tasks traditionally reserved for larger screens."
News of the Wired
"Programming as a Way of Thinking" [Scientific American]. "The power of modern programming languages is that they are expressive, readable, concise, precise, and executable." Python vs. Fortran.
"The second 6 months of 2016 was the first time that a majority of American homes had only wireless telephones. Preliminary results from the July–December 2016 National Health Interview Survey (NHIS) indicate that 50.8% of American homes did not have a landline telephone but did have at least one wireless telephone (also known as cellular telephones, cell phones, or mobile phones)—an increase of 2.5 percentage points since the second 6 months of 2015" (PDF) [National Center for Health Statistics].
""Jesus' Invaded Home, Prayed with Man, Stole Golf Cart, Asked to Fornicate with Police: This May Be Greatest Criminal Narrative of All Time" [Cleveland Scene]. OK. but why the golf cart?
* * *
Readers, feel free to contact me with (a) links, and even better (b) sources I should curate regularly, and (c) to find out how to send me images of plants. Vegetables are fine! Fungi are deemed to be honorary plants! See the previous Water Cooler (with plant) here.
And here's today's plant (Kokuanani):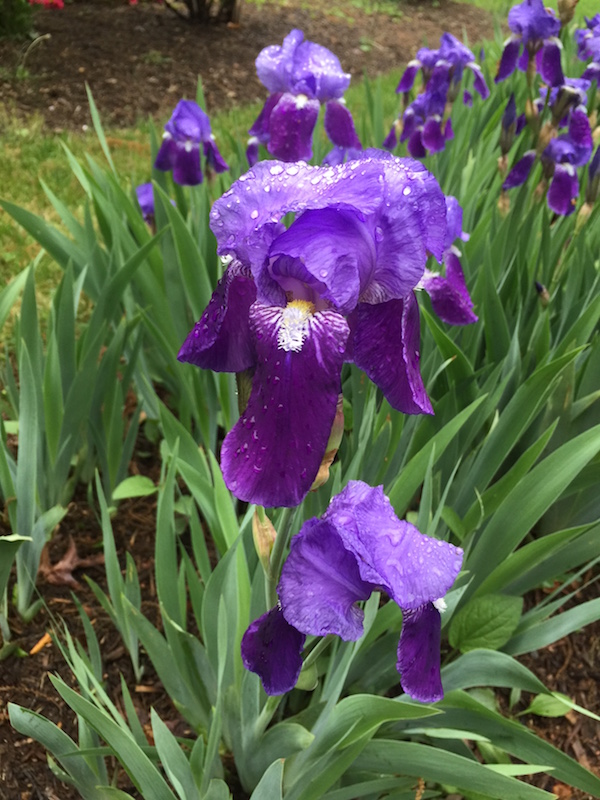 My favorite flower, and I stupidly planted the last batch of bulbs too near the strawberry patch, which invaded their space…
* * *
Readers, Water Cooler is a standalone entity, not supported by the Naked Capitalism fundraisers. Please use the dropdown to choose your contribution, and then click the hat! Your tip will be welcome today, and indeed any day. Water Cooler will not exist without your continued help.