Yves here. I wish I could present this post as a critical thinking test, but instead I'm going to give you the punch line first and perhaps readers will have debate the issue of the prejudices of the comfortable versus the realities of being financially stressed (wonk speak for "desperate") at greater length.
This post tries wrapping what amounts to morality (the old deserving versus non-deserving poor) and trying to legitimate it by making psychological claims. The study claims, in only slightly more neutral language, that "households" that exhibit "lack of conscientiousness, stress resistance, non-impulsiveness, or grit" are more exposed to "financial fragility". In other words, people of poor character are more likely to be poor!
One big problem is that the authors used a questionnaire to assess personality traits. I've know some therapists, and one with serious academic chops stressed that just about no survey instruments are "well validated". Translation: most are bunk.
Second is at best all they are doing is measuring a correlation. How about "having your finances fall apart" which can be through no fault of your own (illness + medical bills, dealing with death, divorce, or other emotional and financial stresses) makes you an emotional basket case? Anyone who has dealt with a supposedly successful men (the prototypical "big producers") will tell you that their professional performance almost without exception takes a big hit when they are getting divorced.
Third is that the idea that poor people should be able to function like middle class people is unrealistic middle class prejudice. As Cathy O'Neil wrote on her blog in 2014:
I've long thought that the "marshmallow" experiment is nearly universally misunderstood: kids wait for the marshmallow for exactly as long as it makes sense to them to wait. If they've been brought up in an environment where delayed gratification pays off, and where the rules don't change in the meantime, and where they trust a complete stranger to tell them the truth, they wait, and otherwise they don't – why would they? But since the researchers grew up in places where it made sense to go to grad school, and where they respect authority and authority is watching out for them, and where the rules once explained didn't change, they never think about those assumptions. They just conclude that these kids have no will power.

Similarly, this GoodBooksRadio interview with Linda Tirado is excellent in explaining the rational behavior of poor people…

Among the things she explains is why poor people eat McDonalds food (it's fast, cheap, and filling), why they don't get much stuff done (their lives are filled with logistics), why they make bad decisions (stress), and, what's possibly the most important, how much harder work it is to be poor than it is to be rich. She defines someone as "rich" if they don't lease their furniture.
By Gianpaolo Parise, Economist, Bank for International Settlements and Kim Peijnenburg, Associate Professor in Finance, HEC Paris. Originally published at VoxEU
Cognitive skills are often considered the key to financial wellbeing. Less weight is put on noncognitive skills. This column shows how a lack of conscientiousness, stress resistance, non-impulsiveness, or grit can explain economic fragility in households. When members possess these noncognitive skills, the household is more likely to save, less likely to have excessive unsecured debt, and less likely to be in financial distress.
Policymakers try to improve the financial wellbeing and resilience of households, especially of the most vulnerable. A recent Federal Reserve Board survey finds that almost half of US households would not be able to cope with an unexpected expense of $500 (Federal Reserve Board 2016). What drives heterogeneity in financial wellbeing in the first place? Recent research has shown that income differences are driven, in part, by noncognitive abilities (Heckman et al. 2006, Lindqvist and Vestman 2011). Using household survey data from the Netherlands, we find that these 'character' skills influence the financial wellbeing of households beyond the income differences they cause (Parise and Peijnenburg 2017).
It is hard to measure the strength of noncognitive abilities, particularly because there is no exact definition of what they are. We use emotional stability and conscientiousness as measures of noncognitive abilities, which are both derived from the 'big five' personality traits. This is a model of personality developed in psychology in the 1980s (Costa and McCrae 1985, Goldberg 1992), in which survey questions can measure personality traits, that has been applied in economics. 'Emotional stability' is the ability to remain calm when faced with pressure and stress, and also means not becoming anxious easily, or acting impulsively. This skill is important for making carefully thought-through financial decisions. 'Conscientiousness' describes the tendency to be organised, practical, dependable, and self-disciplined. This skill is important for keeping household finances in check and assessing the feasibility of purchases, for example whether it a good idea to buy a car on credit.
Noncognitive Abilities as a Source of Heterogeneity in Financial Choices
A savings buffer to cope with future bad times is key to protecting a household from financial fragility. Conscientious people are better planners and organisers, and this may mean they build up a savings buffer so they are less financially fragile. If these households are faced with job loss or unexpected health expenses, they tend to cope better. In our study, we find that people with lower noncognitive abilities tend to save less. Figure 1 illustrates this.
Figure 1 Percentage of individuals who save, by noncognitive ability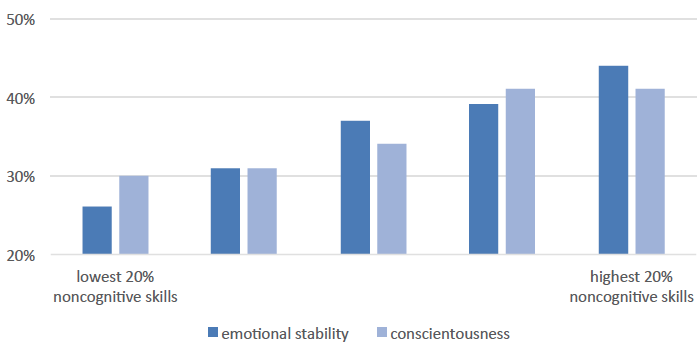 The rise in unsecured borrowing over the last decade has led many households to face severe financial distress, and even bankruptcy (Carrell and Zinman 2014). The annual costs of unsecured borrowing are sometimes more than 100% of the loan amount, leading to a vicious circle of financial strain. Figure 2 shows that noncognitive ability explains in part why some households refrain from building up this costly debt, while others decide to borrow.
Figure 2 Percentage of individuals with unsecured debt, by noncognitive ability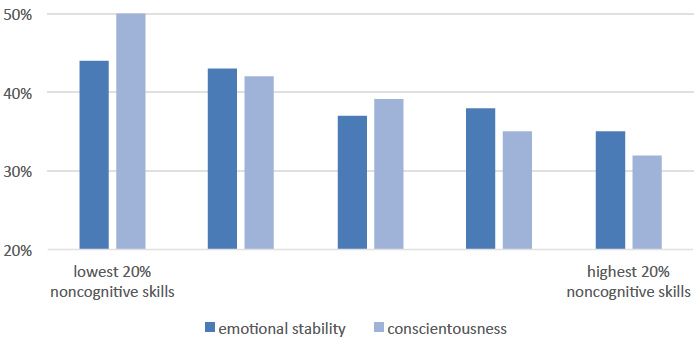 The difference in character skills has important implications for inequality in income, wealth, and health. People with less-developed character skills not only have lower incomes and make worse financial choices, but also tend to be in worse health (Heckman et al. 2017). In aggregate, differences in character skills have a significant detrimental effect to equality. This comes at a time in which polarisation is already considered a problem.
The Detrimental Effect of Low Abilities on Financial Distress
Our research shows that households that fall in the lowest categories of noncognitive abilities are nine times as likely to be in financial distress than people in the highest category (Figure 3). Financial distress can be measured in several ways, but all paint the same picture. Noncognitive abilities influence payment delinquency – both in the short and long term – the probability of having been visited by a debt collector, or of not being able to pay an unexpected expense of €500.
Figure 3 Percentage of individuals in financial distress, by conscientiousness and emotional stability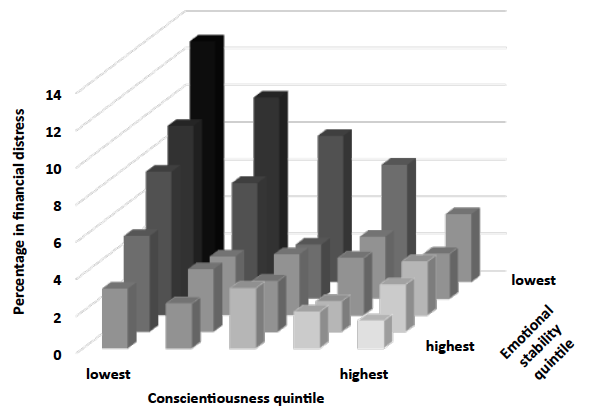 Where Do Abilities Originate From and Why Do Abilities Matter for Households' Finances?
Character skills are part genetics and part the influence of early childhood experience. In adulthood, these skills are hard to change. Using panel data, we find that a person's noncognitive skills are highly correlated over time. More research, however, should be devoted to whether traumatic events can alter a person's abilities, either in the short run or even permanently.
By what channel do noncognitive abilities influence financial choices? An answer would suggest how to incorporate noncognitive abilities in economic models, and would provide insight for policymakers on if, and how, noncongitive abilities could be improved. We find evidence that character skills influence the productivity of effort, and the cost of effort of financial decision making. For example, a more conscientious person is better at gathering and processing information on different investment opportunities, and at making an informed decision. A more emotionally stable person can calmly decide how to invest pension wealth.
Opportunities to Improve Households' Financial Health
Two types of policies might enhance household financial wellbeing. Since in adulthood character skills are harder to change, policies for adults should be geared towards limiting the negative effect of existing low abilities. For example, people could be provided with stimuli to save sufficiently for retirement, or advice on how to invest their pension.
Also targeting young children to design educational programs that develop noncognitive abilities would be highly cost-effective. Recent research shows the return on investment in education from birth to age five is 13% (Garcia et al. 2016). High-quality education should not only foster cognitive skills, such as the ability to acquire and retain knowledge (Heckman et al. 2013, Cunha et al. 2010). Character – perseverance, motivation, self-esteem, emotional stability, and conscientiousness – is important too, as this research has shown. Improved noncognitive abilities will greatly influence financial wellbeing, income, education, and health throughout the life of an individual.