By Lambert Strether of Corrente
Trade
"Terry Branstad is likely on his way to confirmation. The Iowa governor's nomination to serve as U.S. ambassador to China is expected to easily clear the Senate Foreign Relations Committee this morning before moving to the Senate floor as soon as later this week" [Politico]. "Branstad, who has served as chief executive of the Midwestern state for more than two decades, has a long relationship with Chinese President Xi Jinping, though he pledged during his confirmation hearing not to let that affect his willingness to get tough in future negotiations. His confirmation would make him only the third ambassador in place at the still-relatively-empty State Department…." Filing under trade for Big Ag.
"Should an international trade agreement determine how our elected officials may spend our domestic tax dollars? Absolutely not! But today's "free trade" agreements forbid popular Buy Local and Buy American policies. And they expose renewable energy, prevailing wage and other labor and environmental requirements common in government contracts to attacks as illegal trade barriers" [Public Citizen].
Politics
Obama Legacy
"Obama on Tuesday is expected to give a keynote address to the Seeds and Chips Global Food Innovation Summit" [The Hill]. "The theme of the summit this year is 'The Impact of Technology and Innovation on Climate Change and Food Availability Around the World.'" In Italian: "Obama a Milano, visita al Duomo poi l'incontro con Renzi" [La Stampa (DG)]. Of course, I see the word "innovation" and my hackles rise; the conference theme seems to be "foodtech": "Industry watchdog site FoodTech Connect tallied about $6.8 billion in global foodtech investments in 2015, though that report largely analyzes delivery services. The biggest player in the game right now is German-based Rocket Internet, whose acquisition of several delivery services (Zomato, Just Eat and Grubhub) has made it the most prominent delivery startup in the world" [GeekTime]. Here are the "Partners" for the Seeds and Chips conference; I don't see Monsanto, but I do see PepsiCo, Microsoft, and FaceBook. And UberEats. The whole thing seems a little skeevy to this MOFGA and permaculture fan. Readers, any thoughts? Of course, one wonders if these guys, too, stumped up $400K.
New Cold War
"The Daily 202: 10 important questions raised by Sally Yates's testimony on the 'compromised' Michael Flynn" [WaPo]. This morning it was five and six. Now it's ten.

"Comey testimony on Clinton emails inaccurate: report" [The Hill]. No comment on the report from the FBI as of this writing….
2016 Post Mortem
"Inside Clintonworld, Insiders Are Agonizing About What Comes Next" [Vanity Fair]. Mmm, good, schadenfreude. "More pressing within Clintonworld, of course, is the notion that Clinton might soon be launching a new political action committee to help fund groups and candidates that are forming in opposition to Trump. This, in some ways, would appear to cement the family's role as grandees and party patriarchs—forces above the fray, but very much involved in organizing it. 'This is about political power,' one person close to the Clintons affirmed. 'They want to retain influence. They want to build and expand their network. . . . They want to retain political influence in the process and that's where it gets dicey. They want to retain influence because that's what they do. That's why scorpions sting. People underestimate this.'" I have a suggestion: ClintonWorld should dry up and blow away. The country will be better off for it. So will the Democrat Party. Isn't one generation of policy disaster enough?

"Bill Clinton to publish a presidential crime thriller with James Patterson" [The Telegraph]. Grifters gotta grift…

"Clinton Campaign Chair John Podesta on President Trump" [Der Spiegel]. "SPIEGEL: How did Hillary Clinton cope with the result of Nov. 8? Podesta: I think she went walking a lot in the woods. But now she's back." Indeed.

"A 2016 Review: There's Reason to Be Skeptical of a Comey Effect" [New York Times]. A good wrap-up. And as I keep saying, nobody has investigated the effects of ObamaCare price hikes, which began to kick in at the same time as the Comey letter.
2017
MT: "Rob Quist calls Montana 'The Purple State,' and is still slightly behind- but is gaining on his opponent by strides" [Gravis Marketing].

VA: "Nash: Make 'em take the pledge: no more snuff boxes" [The Roanoke Times]. "Just last week a new group, Activate Virginia, announced that 55 Democratic House of Delegates candidates and a handful of Greens and independents, too, have pledged never to accept campaign contributions from Dominion Energy or Appalachian Power — the state-regulated monopolies. Dominion is Virginia's top corporate election financier."
Realignment and Legitimacy
"Trumpism: It's Coming From the Suburbs" [The Nation]. "Trump's real base, the actual backbone of fascism, isn't poor and working-class voters, but middle-class and affluent whites. Often self-employed, possessed of a retirement account and a home as a nest egg, this is the stratum taken in by Horatio Alger stories. They can envision playing the market well enough to become the next Trump. They haven't won "big-league," but they've won enough to be invested in the hierarchy they aspire to climb. If only America were made great again, they could become the haute bourgeoisie—the storied "1 percent." Trump's most institutionally entrenched middle-class base includes police and Border Patrol unions…" I've argued that Trump's margin of victory was provided by working class voters who flipped from Obama to Trump. That is not at all incompatible with the idea that the suburbs are Trump's base, and indicates that Trump's coalition — if there even is such a thing — is fragile.

"A group of Obama veterans are banding together to invest in tech that can help Democrats win" [Recode]. If the Democrats had a decent message — universal direct material benefits, for example — they could communicate using tin cans connected with string, and win elections.

"Historically, even alliances between explicitly white power groups do not last. A coalition of MAGA rubes, neo-Nazis, trolls, ethno-nationalists, ex-GamerGaters and other reactionaries will be all the more volatile. Friction between ideals is tearing them apart, or members are forced to clear an increasingly high bar to prove their loyalty. It's a familiar form of scene policing called a "purity spiral," and it's what attentive people have already seen happening on various imageboards and forums for the past few weeks" [Gizmodo]. And then, of course, there are the agent provocateurs….

"People can't stop being inspired by this fake clip of a little girl insulting Trump" [WaPo].
Stats Watch
NFIB Small Business Optimism Index, April 2017: "The small business optimism index fell 0.2 points in April to 104.5, a smaller than expected drop maintaining the bulk of the record-setting increases of the post-election months that pushed the index up to the highest level in 12 years" [Econoday]. " Although analysts were expecting a more sizeable decline, and the reading indicates the continuation of a very high level of optimism among small business owners, a key component of the index, expectations for future business conditions, did fall 8 points, perhaps reflecting discouragement from Congress' failure to repeal and replace Obamacare in March… If the failure to remedy the high cost of healthcare was indeed behind the drop in optimistic future expectations, then last week's narrow passing by the House of a bill to repeal most of Obamacare could bring that reading up again in the May survey, though any progress on tax reform or lack thereof is also likely to have a big impact on this volatile component." And but: "Overall, capital expenditures were solid after displaying some modest exuberance in the prior two months. The percent of owners planning capital outlays in the next 3 to 6 months dropped 2 points to 27 percent, just below the highest reading in the recovery but well below historical levels for periods of growth" [Econintersect].
JOLTS, March 2017: "There's plenty of help-wanted signs but still too few qualified applicants. Job openings in March totaled 5.743 million, up from a revised 5.682 million in February and well ahead of hirings which totaled 5.260 million" [Econoday]. And: "The labor market conditions index has posted firm gains for the past three months and there have been notable upward revisions to data for the past two months which suggests that official data is struggling to capture labour-market improvement" [Economic Calendar].
Wholesale Trade, March 2017: "Wholesale inventories came in at a consensus 0.2 percent increase led by a sharp build in autos, excluding which March inventories were unchanged" [Econoday]. "Sales in the wholesale sector were unchanged in the month though the mismatch with the inventory build does not lift the stock-to-sales ratio which holds at a healthy 1.28." But: "The growth this month was in automotive. Overally, I believe the rolling averages tell the real story – and they improved this month. There is an obvious growth trendline in wholesale – and the unadjusted data looks much better than the adjusted" [Econintersect]. "Inventory levels returned into normal territory for times of expansion this month."
Credit: "Banks Reportedly Eased Most Terms On Commercial And Industrial Loans For Large And Middle-market Firms" [Econintersect] (original Fed report PDF). But: "On balance, banks reported tightening most credit policies on CRE loans. A significant net share of banks reported increasing spreads over their cost of funds on all three major types of CRE loans surveyed. Significant net percentages of banks also reported lowering loan-to-value ratios on construction and land development and on multifamily loans, while a moderate net share of banks did so on nonfarm nonresidential loans." And but: "Banks, on balance, reported weaker demand for most consumer loan categories during the first quarter. Specifically, moderate net fractions of banks reported weaker demand for credit card and auto loans, while demand for other consumer loans remained basically unchanged on net."
Real Estate: "Leading Index for Commercial Real Estate Decreases in April" [Calculated Risk]. "The index is still up solidly year-over-year."
Real Estate: "The share of home mortgage loan payments that are 30 days or more past due fell from 5.5% in February 2016 to 5.0% in January 2017. That's the lowest 30-plus delinquency rate since September 2007" [247 Wall Street].
Commodities: "Any US stimulus now appears further in the distance and over the weekend it also became apparent that Chinese support for the [copper] sector is waning as imports of the metal, widely used in the construction, manufacturing transportation and power industries, decline sharply" [Mining.com]. "The price is now back to where it started 2017."
Commodities: "Cheap Chinese Aluminum Is a National Security Threat" [Foreign Policy]. "The U.S. industry has been hollowed out. Just one remaining smelter can produce the material used in F-35s and F-18s."
Shipping: "Dramatic Jebel Ali crane collapse caught on video" [Splash 247]. New video genre: Crane collapses!
The Bezzle: "AI may just create the illusion of good credit decisions" [The American Banker]. That's cool. Now we can create accounting control fraud by tweaking parameters. An algo does the rest!
The Bezzle: "Price-bots can collude against consumers" [The Economist]. "As more and more purchases are made online, sellers rely increasingly on sophisticated algorithms to set prices…. The rapid reaction afforded by algorithmic pricing means sellers can co-ordinate price rises more quickly. Price-bots can test the market, going over many rounds of price changes, without any one supplier being at risk of losing customers. Companies might need only seconds, and not days, to settle on a higher price."
The Bezzle: "Greyball is the most concrete piece of evidence yet that Uber genuinely believes itself to exist somewhere beyond the silly laws of mere mortal companies. The Ayn Rand-themed car service that lives on your phone is such a complete and total Silicon Valley baby that it not only keeps trying to get away with sh*t that no one else would, it keeps acting shocked and persecuted when it gets caught. Kalanick waged passive-aggressive cold wars with cities, states and nations, creating chaos in most of them and winning in even more, but many of his enemies have gone full stalking horse, waiting for their moment to exact revenge. Dumb hubristic sh*t like 'Greyball' is akin to handing them an invite that reads in embossed cursive "You may f*ck me back now'" [DealBreaker]. More schadenfreude!
The Bezzle: "DeepMap Inc., which was founded by mapping veterans of Alphabet Inc., is building systems enabling self-driving cars to steer through complex cityscapes. DeepMap plans to license its map-building software to automakers and technology companies looking to teach cars how to drive" [Bloomberg]. I'd be interested to understand the technology. In my experience, Google Maps, on average, are reliable to the street block level and require human judgment for "the last meters." But a map for a fully autonomous vehicle would need to be accurate within centimeters, yes? What experiences do readers have with Google maps? Am I being too cynical?
The Bezzle: "Mobile ad revenue was $6.7 billion, up 58% and represented approximately 85% of ad revenue. Desktop ad revenue grew 22%, despite a decline in desktop usage, and was aided by our recent efforts to limit the impact of ad blocking technologies, which we began in Q3 of last year" [Facebook, First Quarter 2017 Results Conference Call, May 3, 2017].
Adverising: "Tech groups are displacing TV companies at a rapid clip. In 2012, only Google and Facebook were in the top ten. In 2016, half the top ten were digital: Verizon Communications Inc. joined with its pending acquisition of Yahoo, as did Baidu Inc. and Microsoft Corp. And the shift of marketing dollars from old media to new isn't even over. Online ad spending will surpass television this year for the first time" [Bloomberg].
Labor Power: "It turns out that $1 trillion may not get you what it used to. A growing labor shortage in the commercial real-estate industry is driving up the costs of some projects, the WSJ's Peter Grant reports, and contractors say that could complicate lawmakers' plans for a big, new infrastructure-spending program. Construction businesses, excluding those building single-family homes, reached their highest employment level in April since November 2008, according to a builders' group, and contractors are starting to see shortages of electricians, carpenters and other subcontractor laborers. That's helping drive construction labor costs up 4% to 5% annually, outpacing inflation, and the industry still needs 500,000 more workers" [Wall Street Journal].
Political Risk: "Despite these geopolitical risks, global financial markets have reached new heights. So it is worth asking if investors are underestimating the potential for one or more of these conflicts to trigger a more serious crisis, and what it would take to shock them out of their complacency if they are" [Nouriel Roubini, Project Syndicate]. " It is well known that markets can price the "risks" associated with a normal distribution of events that can be statistically estimated and measured. But they have more trouble grappling with "Knightian uncertainty": risk that cannot be calculated in probabilistic terms."
Political Risk: "JPMorgan Chase & Co. has some advice for regional banks: A deposit drain is coming, so merge while you can" [Bloomberg]. "The company's investment bankers are warning depository clients that they may begin feeling the crunch in December, thanks to a byproduct of how the U.S. Federal Reserve propped up the economy after the financial crisis, according to a copy of a confidential presentation obtained by Bloomberg News and confirmed by a JPMorgan spokesman. JPMorgan argues that some midsize U.S. banks — those with $50 billion in assets or less — could face a funding problem in coming years as the Fed goes about shrinking its massive balance sheet, according to the 19-page report the New York-based bank has begun sharing with clients."
Five Horsemen: "Apple pulls ahead of Alphabet in the Charge of the Five Horsemen" [Hat tip: Jim Haygood].
Today's Fear & Greed Index: 50 Neutral (previous close: 49, Neutral) [CNN]. One week ago: 51 (Neutral). (0 is Extreme Fear; 100 is Extreme Greed). Last updated May 9 at 12:59pm.
Health Care
As I said this morning, now Republicans have permission to talk about single payer:
.@matthewjdowd to @ThisWeekABC: "We need to actually ask the question: should we go to a single-payer system?" https://t.co/AvSHzDOShP pic.twitter.com/gNUbfC12zQ

— ABC News Politics (@ABCPolitics) May 8, 2017
Gaia
"Analyzing the [Antarctic] ice, Dr. Campbell and his colleagues have discovered that in the last century, plants have been growing at a rate far faster than at any other time in the last 54,000 years. Writing in the journal Nature, they report that plants are converting 31 percent more carbon dioxide into organic matter than they were before the Industrial Revolution" [New York Times] (original study).
"Understanding What Makes Plants Happy" [New York Times]. This, a thousand times this:
So if we think about the way plants grow in the wild, it helps us understand how different our gardens are. In the wild, every square inch of soil is covered with a mosaic of interlocking plants, but in our gardens, we arrange plants as individual objects in a sea of mulch. We place them in solitary confinement.

So if you want to add butterfly weed to your garden, you might drift it in beds several feet apart and tuck some low grasses in as companions, like prairie dropseed, blue grama grass or buffalo grass.

Start by looking for bare soil. It is everywhere in our gardens and landscapes. Even in beds with shrubs in them, there are often large expanses of bare soil underneath. It's incredibly high-maintenance. It requires multiple applications of bark mulch a year, pre-emergent herbicides and lots and lots of weeding.

The alternative to mulch is green mulch — that is, plants. This includes a wide range of herbaceous plants that cover soil, like clump-forming sedges, rhizomatous strawberries or golden groundsel, and self-seeding columbine or woodland poppies.
I have always hated bark mulch. Now I know why! Plants are social!
"We may have the evolution of beauty completely wrong" [The New Scientist]. Darwin in his book The Descent of Man, and Selection in Relation to Sex" proposed female choice as the driving force behind much of the animal world's visual exuberance. And then along comes Richard Prum to tell you there's more to it than that. Prum is an ornithology professor at Yale University and a world authority on manakins, a group of sparrow-sized birds whose dazzling males perform mate-attracting gymnastics on branches in the understories of Central and South American forests. Years of watching the males carry on until they nearly collapsed convinced him that much of the selection is linked to nothing except a female love of beauty itself, that the only force pushing things forward is female appreciation. This, he says, has nothing to do with functionality: it is pure aesthetic evolution, with 'the potential to evolve arbitrary and useless beauty.'"
Guillotine Watch
"Japanese luxury sleeper train trip a mere $10,000 — one way" [Yahoo News]. It's a lovely train. Versailles is a lovely palace.
Class Warfare
Intersectionality is not the same as identity politics, despite Clinton's crude attempt to co-opt it:
Intersectionality was never about focusing on one "most oppressed" identity. It is about a matrix of systems of domination (Crenshaw).

— Brotha B (@BlakeDontCrack) March 11, 2017
Do note that "economics" is a very obvious element to include in such a matrix…
News of the Wired
"Amazon enables free calls and messages on all Echo devices with Alexa Calling" [TechDirt]. Free? So you're the product, right?
* * *
Readers, feel free to contact me with (a) links, and even better (b) sources I should curate regularly, and (c) to find out how to send me images of plants. Vegetables are fine! Fungi are deemed to be honorary plants! See the previous Water Cooler (with plant) here.
And here's today's plant (KH):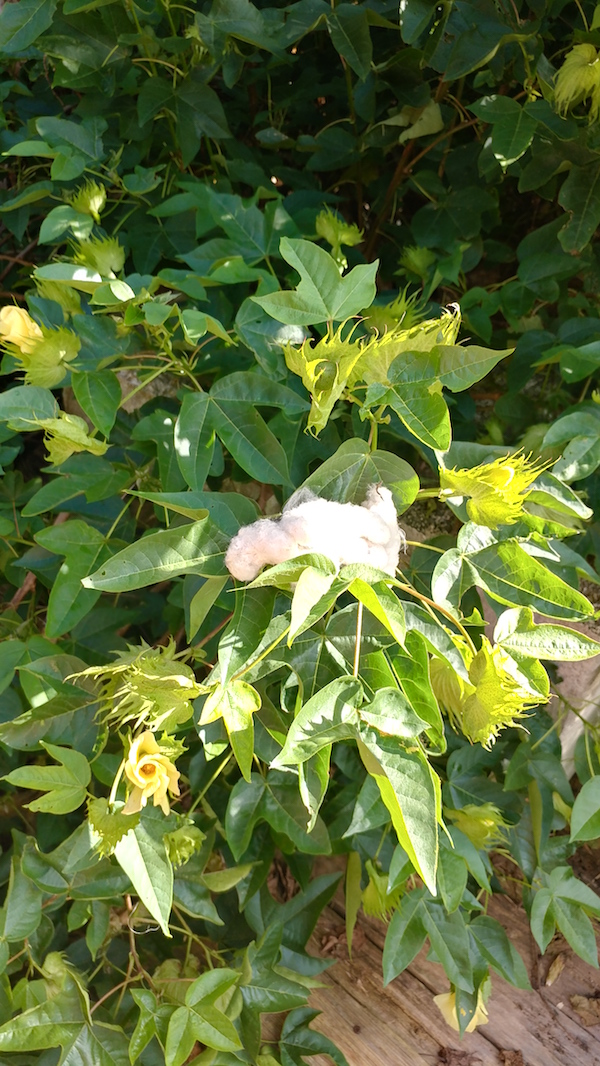 KH writes: "Harvest from our front yard. I spin and use for weaving and knitting. After all Ghandi freed India that way, sort of. Aloha!"
* * *
Readers, Water Cooler is a standalone entity, not supported by the Naked Capitalism fundraisers. Please use the dropdown to choose your contribution, and then click the hat! Your tip will be welcome today, and indeed any day. Water Cooler will not exist without your continued help.