By Lambert Strether of Corrente
Readers, this will be a somewhat abbreviated Water Cooler, because this is my last day in London, and I have to run around and do some things. I will rant about "contactless payment" tomorrow. In the meantime, talk amongst yourselves. Oh, and the Ossoff race ends tomorrow. Should be interesting, either way. –lambert
Not the only dubious claims in Piccadilly, I'd say: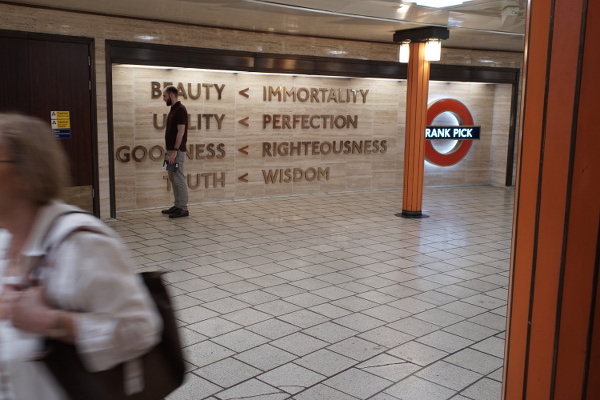 Politics
Policy
"Senators Rand Paul (R-KY), Corey Booker (D-NJ) and Kirsten Gillibrand (D-NY) on Friday introduced a bill in the U.S. Senate that would remove the federal prohibition on medical marijuana and ease restrictions on cannabis research" [247 Wall Street]. Bernie?
2018
"Doing nothing only cements the idea that the Resistance is successfully blocking all Trump's initiatives and will win more adherents to its supposedly successful efforts. Only legislative motion will change that narrative. If the Republican-controlled Congress cannot pass conservative reform legislation, then the party has all but conceded the 2018 midterm elections, which will usher in Democratic efforts to impeach the president. And if Republicans cannot act when they control both the Congress and the White House, then what good are they anyway as a party?" [Victor Davis Hansen, American Greatness]. (I'm not as adept with the conservative taxonomy as I should be, but I think Hansen is a neocon, given that he's a military historian in favor of the Iraq War. Readers?)

"Two years ago, they couldn't look away. Now some Trump supporters are tuning out" [WaPo]. "'Okay, so something happened — get over it and move on,' said David Vanauken, an engineer. 'That's what middle-class people do every day: You have a struggle, you resolve it, and you move on. Don't keep hanging on it'" [WaPo].
2017
GA-06: "The poll shows Democrat Jon Ossoff with 49.7 percent among likely voters in the historically Republican district, while his opponent Karen Handel is right at his heels with 48 percent" [The Hill]. "The race is the most expensive House race in history, with both candidates spending around $50 million."

GA-06: Ossoff to press: "We're doing everything we can to make sure know when and where to vote and how. And making the case for given what's . And that sending another to D.C. going to change anything" [The Hill]. I've helpfully underlined the clichés. But "ain't," Jon. "Ain't." Really?

GA-06: "'Now the unhinged left is endorsing and applauding shooting Republicans. When will it stop?' the ad states. 'It won't if Jon Ossoff wins on Tuesday, because the same unhinged leftists cheering last week's shooting are all backing Jon Ossoff. And if he wins, they win'" [Washington Examiner]. Both Ossoff and Handel condemned the ad.

GA-06: "In public, the [Democrat] party insists that the mere act of keeping the contest close in a district the GOP routinely wins by over 20 points is a victory in itself. But behind closed doors, operatives and lawmakers expect a withering round of internal second-guessing if they come up short after pumping enough money into the pro-Ossoff effort to make it the most expensive congressional race ever" [Politico]. "[I]nternal second-guessing" the Democrats have hitherto successfully avoided, even after Shattered.

GA-06: "A source familiar with the Ossoff campaign said their modeling shows that 10 to 15 percent of Republican voters could break to Ossoff, who is also winning virtually every Democratic voter. Analysis by a GOP analytics firm after the April primary showed that Ossoff was already attracting a small but significant share of cross-party support at that point" [Politico]. As I keep saying, the Ossoff campaign is the Clinton 2016 post-Convention pivot to the right all over again, except with a more attractive candidate (not, granted, a high bar).

GA-06: " If Jon Ossoff is able to win Tuesday's congressional election he'll owe the victory in large part to , many of whom — — have spent dozens of hours a week volunteering for the 30-year old Democrat" [USA Today]. As I was saying…
Realignment and Legitimacy
"Trump's job performance wins approval from only 35 percent of the public, while 64 percent disapprove, according to a new poll released late last week from The Associated Press and the NORC Center for Public Affairs Research" [The Hill]. "Republican strategist Dan Judy argued that voters who had backed Trump with some ambivalence over Democratic nominee Hillary Clinton last November were among those most likely to be put off by the various controversies to afflict the White House, and by the president's incendiary style. 'A lot of people — the 'Not Hillary' Trump voters — knew who Donald Trump was, they knew what kind of person he was,' said Judy, who worked with the president's GOP primary rival Sen. Marco Rubio (Fla.) last year. 'They were willing to tolerate some of the theatrics and some of the disruption it led to, as long as it led to a policy agenda they supported. 'The longer he goes without real policy victories, the less patience they are going to have.'" Which is, of course, a happy side effect of Putin Derangment Syndrome. It's hard for a lawyered up White House staff to function, and gridlock is our friend.

Trump voters are not a "deplorable" monolith:

7. Good reporting needs to be able to distinguish between Trump's Bannonist base (20-25% of the country) and all Trump voters (46%).

— Nate Silver (@NateSilver538) June 5, 2017

"By running for president as a Republican and frequently campaigning with rhetoric borrowed from the Democratic playbook, Mr. Trump has brought into question the entire architecture of modern American politics. Because he did so at a time when the Democrats (and their nominee, former Secretary of State Hillary Rodham Clinton) campaigned on issues congenial to urban elites and university liberals rather than the blue-collar voters FDR brought into the Democratic coalition, this is the perhaps the pre-eminent question in American civic life today. The way it is answered will shape American politics long after Mr. Trump fades from the scene" [RealClearPolitics]. Some of the non-Bannonite Trump voters are Obama voters who flipped to Trump in 2016. So far as I can tell, the Democrats are offering these voters nothing but the usual message: "You have no place to go." I'm not sure that's a good idea, especially given that these voters are both policy-driven and willing to put party aside. "'Tis better to be vile than vile esteemed" is Shakespeare's acute take on the politics of smear artistry…

"The $2 Billion Powerhouse Behind Jon Ossoff" [Mother Jones]. And the deck: "ActBlue wants to use Bernie-style fundraising to win in Georgia—and across the country." Not necessarily an unalloyed good. Suppose all the candidates leveraging ActBlue support Ossoff's anti-MedicareForAll position?

"How the Deep State Built Its Field of Dreams" [American Thinker]. It's interesting to watch the ease with which conservatives adopt and transform liberal memes ("deep state," "fake news"), and also worth asking why that's so.

"Victories against Trump are mounting. Here's how we deal the final blow" [Rebecca Solnit, Guardian]. If Solnit is for #MedicareForAll, I can't find a link, so I suppose Solnit is in the "never, ever" camp. I don't have a lot of patience with soi disant liberals who don't put saving the lives of Americans by getting them health care anywhere on their list of priorities.

"Yes, Democrats need a civil war: Believe it or not, it's the only real path back to power" [Salon] (lower case "c," lower case "w," not the way I originally read the headline. "Democrats waste millions on corporate marketing techniques that work only for the other side. Their technology contains the seeds of their defeat. The 2012 Obama campaign was hailed for its advances in data mining and narrowcasting to niche markets. But saying different things to different people isn't how you get change. It's how you stop it. The way you get change is by engaging a whole nation in a single debate." Bill Curry, amazingly enough, was counselor to President Bill Clinton. Now he's a single payer supporter….
Stats Watch
Shipping: "Drewry predicts a second wave of mergers soon involving medium-size carriers – leading to even fewer options for shippers – as Japanese lines' merger progresses" [Lloyd's Loading].
Shipping: "Charleston reopens after 'dirty bomb' box threat" [Lloyd's Loading]. "The original reporting source of the "threat" has been detained by authorities for further questioning, [the US Coast Guard] added."
Concentration: "Amazon's $13.7 billion purchase of Whole Foods Friday also took a major customer away from its closest rival in the cloud. Whole Foods is a Microsoft Azure Active Directory and Office 365 customer [Supply Chain 247]. "It looks like Amazon is going to operate Whole Foods independently, like it has with other major acquisitions like Zappos and Twitch, but at some point it will be hard for the Whole Foods tech group to ignore the value of its parent company's services. Also, Amazon Web Services already hosts a lot of Whole Foods technology through the grocer's partnership with Infor, a software-as-a-service company that is helping Whole Foods replace 12 separate and different legacy systems with one cloud-based system."
The Bezzle: "Winners and losers in Amazon's $13.7B purchase of Whole Foods" [TechCrunch]. I skipped the cheerleading to pull out this: "As Instacart has grown, it has faced a ton of costly backlash from contractors and customers who have been frustrated with its . But still, it is growing and has built something that more than Amazon will want to have." And this: "…[T]he kind of operations that Blue Apron has used to propel itself to an imminent IPO with ." And: "[N]ow there is a price out there for Slack — and it's pretty high. It might attract buyers out of the woodwork, especially some that could make a pitch if Amazon is off the table after spending this kind of money on Whole Foods."
The Bezzle: "Real name policies and ruling the world" [The Artificial Intelligence Blog]. "Facebook's real name policy is inherently naive, dangerous and evil. Ever since Silicon Valley was empowered to strive for real-world domination, there have been countless attempts to disrupt lives by collecting, storing, redistributing personal information to turn a profit and grow power… The reason for having a real name policy is straightforward. The business goal of Facebook – and most any other Silicon Valley company – is to collect, aggregate, redistribute and sell personal information. As opposed to basic meta-data collection, real person information is a goldmine. Being able to track and profile two billion real identities (monthly active users) makes for a per-user value of $219. Non-real-name platforms like Twitter are currently valued at $38 per user." However, there's no link to the $219 figure, nor any mention of a source. Readers?
The Fed: "[G]iven the current yield curve, it looks like it may be very difficult, if not impossible for the Fed to shrink its balance sheet without affecting the federal funds rate inadvertently. Which means, practically, the Fed may not be able to shrink its balance sheet in the current environment as much as it wants to, if at all" [247 Wall Street].
Today's Fear & Greed Index: 59 Greed (previous close: 50, Neutral) [CNN]. One week ago: 55 (Neutral). (0 is Extreme Fear; 100 is Extreme Greed. Last updated Jun 19 at 10:24am. Ten point swing to greed. Maybe Mr. Market thinks that London's financial bottom feeders are going to move to Manhattan after Brexit, and not Frankfurt or Paris? I mean, if they want "light touch" regulation, it's hard to beat our "CEOs never get prosecuted for anything, ever" approach (thanks, Obama!).
Water
"The Clash Over Water in Waukesha, Wisconsin" [JSTOR]. Fascinating read. Everything old is new again…
News of the Wired
"If companies interviewed tech recruiters the way they interview programmers" [Medium].
"Death pools can bring financial security for the long-lived" [The Economist]. A tontine, premise of The Wrong Box, one of the funniest movies I've ever seen. "When I die, my son… All this will be yours." "Yes, Father" [pushes father's wheelchair downhill].
Speaking of complexity, metabolic pathways (image). Reminds me of the First Speaker's map of the Seldon Plan in the Foundation series….
"A chronic low dose of Δ9-tetrahydrocannabinol (THC) restores cognitive function in old mice" [Nature]. Friends, there's good news tonight!
* * *
Readers, feel free to contact me with (a) links, and even better (b) sources I should curate regularly, and (c) to find out how to send me images of plants. Vegetables are fine! Fungi are deemed to be honorary plants! See the previous Water Cooler (with plant) here.
And here's today's plant (Phil H):
Phil H writes:
I couldn't help but notice this 3-foot tall stalk with a 15-inch blossom which had appeared in a flowerbed I was going to weed a few days ago. Nothing like it had ever been there before. As a special feature, it stinks like rotting flesh & attracts the same flies that hang around dead chipmunks.

The leaves are interesting with smallish chevron-like silvery streaks. And those leaves, I do remember seeing them in that spot before … which was a clue. Several years ago … like at least 5 or 6 years ago … I vaguely remember planting several different plants or bulbs from a gardenweb.com plant swap in that general area. But, alas, the little plantlets were badly chewed by rabbits or groundhogs & did not seem to have survived.

I also remember weeding the bed A few years ago & noticing a small plant with unusual leaves. It wasn't anything I recognized as a weed, so I left it. And left it again a few times … an attractive little plant that never bloomed. Until now.
Attached please find a photo of my Dragon Flower (Dracunculus vulgaris) … also known as Dragon Arum, Voodoo Lily, Black Lily, & various other names. You can look it up on davesgarden.com, where google's image-matching search led me so that I could find out what plant I had.

As a bonus, I'm also attaching a close-up photo showing the flies. You can use it if you need to take a break from the usual antidotes & feature carrion flies without having to show any distracting actual carrion.
And so: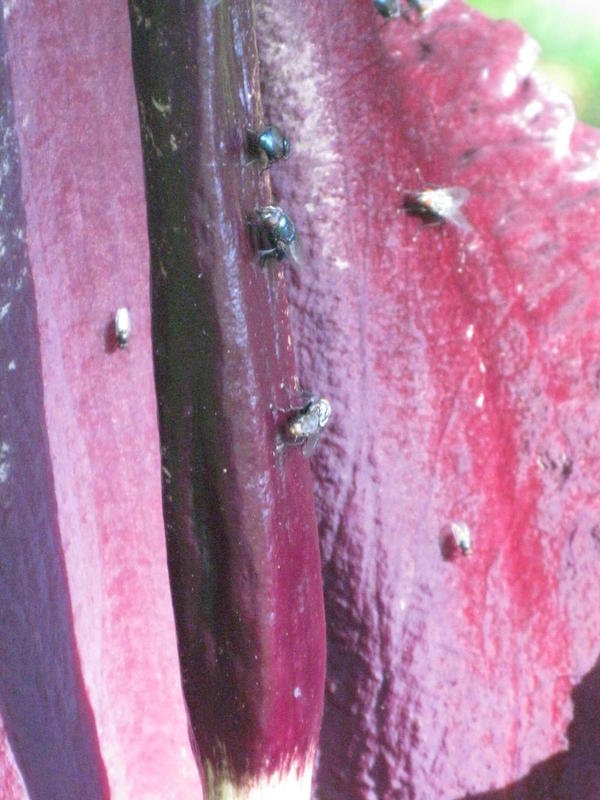 * * *
Readers, Water Cooler is a standalone entity, not supported by the Naked Capitalism fundraisers. Please use the dropdown to choose your contribution, and then click the hat! Your tip will be welcome today, and indeed any day. Water Cooler will not exist without your continued help.