By Lambert Strether of Corrente
I'm in transit today, so there will be no Water Cooler proper, which is why I promised a rant on "contactless payment" (that's what they call it) as I experienced it in the UK, especially when buying tickets on the London Underground ("the Tube"), meaning that I began every day trip with a sense of barely suppressed rage. (It's very hot in London just now, 86°F at mid-afternoon, and no air-conditioning or even cold water, let alone ice water, anywhere. One can only wonder if the locals are as irritated as I am, although for reasons of their own, like the Borough Market attack, the Grenfell Tower inferno, and today's incident. Fortunately, the UK's hot summer is short.)
Contactless payment means this: When performing a transaction, you don't exchange bills and coins with a smelly prole[1]. ("Eeeew. Their hands!") The term is, of course, a lie, since you in order to pay, you "contact" a digital sensor with a card of some sort by swiping: Your credit or debit card, or a card loaded with digital cash (the Tube, I believe, calls its card "the oyster card" — UK readers correct me — from the circular shape of the Underground logo.) You may also contact the screen of your own cell phone if a vendor has Apple Pay or Square, for example. Regardless, a digital transaction in real, or near-real, time is set in motion by the contact, and you, as a customer (and the customer behind you (and behind them (and so on…))) must wait for that transaction to complete, because in all cases, the time for "contactless payment" is equal to or greater than the time it would take a human to do the job. (I mentioned this to the lady before me in line when I failed to complete a transaction at the Post Office out of exasperation; she agreed. "Artificial intelligence," she said.)
So here is how contactless payment works at Paddington Station Tube stop, after I descend the steps from the hellishly hot Praed Street to the cacophony of the Tube. Here are the ticket machines. There are five (I think), in different flavors. Some are only for "topping up" (one's Oyster card). Others are for paper tickets. Of these two kinds, some take bills and coin, and some do not. Of those that take cash, some will not accept bills. Some give change, and some do not. In fact, the whole situation is so confusing that the famous British queues devolve into a scrum. Adding to the fun is that the scrum will be full of newly arrived tourists — Paddington has a direct train from Heathrow — who are, if not utterly confused, slow. Some of the tourists notice there is a button to press to call for assistance, and do so. A person in uniform appears, with whom they have a conversation, further slowing things down. "Some of us have places to go," an obnoxious American mutters loudly enough for the person to hear. Why did they not just staff a ticket area with persons in the first place, since apparently only they are able to straighten things out?
Rejoicing, I am at a ticket machine that takes cash; it can't have taken more than five minutes. (Then minutes is my limit, my absolute limit; after that I take a cab (not a bus (the busses no longer take cash; one must go downstairs again and buy an Oyster card to take a bus)).
Now comes the best part. After fighting my way through the ticket machine's touchpad — "OU," no, delete, delete, looks like the touch screen is out of kilter, "PI," [yes!], "PICCADILLY,"[2] tap confirmation, single ticket, choice of cash, Oyster Card, or debit/credit card, tap cash — Why can't the machine just let me put cash in and then do the right thing? Why must I tell it anything? — "£4.90" (Yikes, that's more than six bucks! It costs real money to ride the Tube!), tap confirm, dig out the heavy pound coins that I counted out beforehand to find out I had enough in case the machine wouldn't take bills, and then… I said there would be a best part, and this is it: The machine announces it doesn't make change, [_] Accept or [_] Cancel. Vibrating with rage, I press Accept, since I'm certainly not going to the end of the queue and starting over, and the Tube raises my fare by £5 – £4.90 = 10p. Like that's a bad thing, right? Insert, insert, insert, insert, insert. Please take your ticket.
Contrast walking up to a ticket counter and saying: "Piccadilly please," whereupon the human says "£4.90," and I hand them the money.
Anyhow, writing this up — and I'm sure there's stupidity I've missed[3] — has made me so irritated I have to stop. Suffice to say that I wouldn't be surprised if the real purpose of the Tube's insane ticketing system — and "contactless payment" generally — is to make cash so hard to use that people will be willing to abolish it, thereby letting digital middlemen into every transaction so they can screw us as hard as they possibly can, because that's what digital middlemen do. "Swipe" does have a dual meaning, after all. And those 10p add up. So it would be irresponsible not to speculate.
Tomorrow, I'll write up my notes on the London Meetup (which was terrific, thank you all) and some incidental conversations with cab drivers and cashiers.
NOTES
[1] Uber makes the same pitch. See, the driver is really equal to you, since they are an independent contractor, even if they do sleep in the trunk of their car. And you use an app, so it's not like you have to speak with some rough dispatcher or, heaven forfend, step out on the smelly sidewalk and lift your arm.
[2] There is, of course, no map on the wall next to the ticket machines. You already have to know where you're going. That's a nice touch.
[3] I've used electronic ticket machines in recent memory in New York, Washington DC, and Bangkok. I'm not sure why the Tube's is so much worse, but it really, really is.
* * *
Readers, feel free to contact me with (a) links, and even better (b) sources I should curate regularly, and (c) to find out how to send me images of plants. Vegetables are fine! Fungi are deemed to be honorary plants! See the previous Water Cooler (with plant) here.
And here's today's plant (via):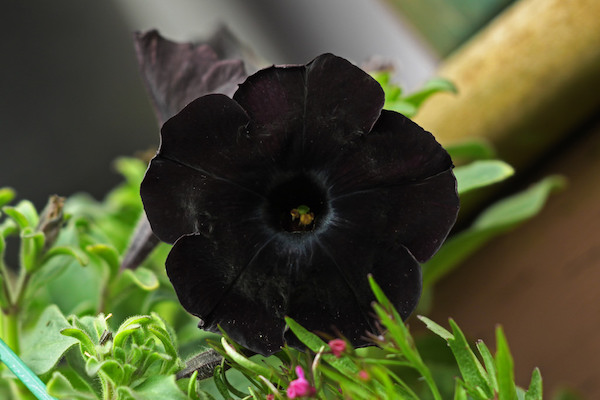 A "Black Velvet" petunia.
* * *
Readers, Water Cooler is a standalone entity, not supported by the Naked Capitalism fundraisers. Please use the dropdown to choose your contribution, and then click the hat! Your tip will be welcome today, and indeed any day. Water Cooler will not exist without your continued help.