By Lambert Strether of Corrente
Politics
Policy
"The $834 billion cut in federal Medicaid spending in the American Health Care Act would kick off budget battles in the states that go way beyond Medicaid. We could see cuts to higher education, school funding, corrections, environmental protection or other state priorities — or new taxes, depending on the state" [Axios].

UPDATE "Statement by President Trump on the Paris Climate Accord" [WhiteHouse.gov].

"Why Trump Actually Pulled Out Of Paris" [Michael Grunwald, Politico]. "Trump's abrupt withdrawal from this carefully crafted multilateral compromise was a diplomatic and political slap: It was about extending a middle finger to the world, while reminding his base that he shares its resentments of fancy-pants elites and smarty-pants scientists and tree-hugging squishes who look down on real Americans who drill for oil and dig for coal. He was thrusting the United States into the role of global renegade, rejecting not only the scientific consensus about climate but the international consensus for action, joining only Syria and Nicaragua (which wanted an even greener deal) in refusing to help the community of nations address a planetary problem. Congress doesn't seem willing to pay for Trump's border wall—and Mexico certainly isn't—so rejecting the Paris deal was an easier way to express his Fortress America themes without having to pass legislation."

Lambert here: In short form, yes: Regulation, executive orders, and diplomacy/war powers are the big story of the Trump administration; areas where the executive can act unchecked by the legislative branch. That said, I would very much like an answer to the following question, because I haven't seen it addressed in my travels: Is there an "elephant chart" for climate regulation? That is, under globalization, average global well-being improved, but the average improvement concealed the effects of, say shipping Rust Belt jobs off to Asia to create a middle class there, which turned out to be an actual drop in life expectancy in the impacted areas (see Case-Deaton). The intuitive shape of justifications for the Paris Agreement seem very much the same to me as the justifications for globalization: A global average increase in well-being, but no discussion of who will bear the costs, or be compensated for them (if at all). As Warren Buffet says: "If you've been playing poker for half an hour and you still don't know who the patsy is, you're the patsy." So who's the patsy? Now, to caveat — and my OED says that caveat is a verb — I'm by no means an expert on climate policy. And I'd love to hear that I'm just wrong to have this concern; that is, that green jobs (see below) will come through, and so forth. Readers? (NOTE: If my concern is well-founded, "But the planet!" is not an answer. As Frank Herbert writes in Dune: "The people who can destroy a thing, they control it." So…) Oh, and this has nothing to do with "the science," which I think is right; I live next to the very dynamic Gulf of Maine; I know the lobsters are moving North. But politics is "the art of the possible," not "the art of 'But science!'"

"Negotiating the Paris accord was and required determined American diplomacy and the leadership of President Barack Obama, but the reason that 195 nations signed the agreement and made ambitious national commitments is rather simple: The science clearly shows that the world is warming at a rapid pace. If we collectively fail to tackle climate change and reduce greenhouse-gas emissions, our children and grandchildren will face higher sea levels, more violent storms, disrupted food supplies, catastrophic loss of infrastructure, climate-induced human migration and global insecurity" [John Podesta, WaPo]. "In addition to damaging U.S. strategic interests, the future of the American economy is at stake. While other countries will lead the global transition to clean energy, particularly China and the European Union, Trump and his allies in Congress are undermining America's businesses and workers. Renewable energy supports between 4 million and 4.5 million jobs in the United States, and renewable-energy capacity has more than tripled since 2008. That's why the majority of Americans in every state support the Paris agreement and why thousands of businesses and investors worth trillions of dollars are calling for climate action. Trump's 'America first' strategy is putting America last in the race to create the clean-energy jobs and industries of the future." Unfortunately, this is John Podesta — I've helpfully underlined the buzzwords appealing to the 10%ers that form Clinton's base — and notice that all the domestic benefits are couched in terms of those averages (hidden under the word "collectively").

UPDATE "Fact check: Trump's Paris climate speech claims analyzed" [Guardian]. "The Paris agreement itself places no 'energy restrictions' on the US – it's a voluntary agreement that leaves it up to countries to decide how to cut their emissions. But several economists have warned that leaving the Paris agreement will stymie clean energy investment and ensure the production of solar panels and wind turbines – the very blue-collar jobs Trump claims to value – will take place in China rather than the US." That Paris places no "energy restrictions" on the US undercuts Trump, but surely it rather undercuts the effectiveness of the deal, as well?

UPDATE "Trump misunderstood MIT climate research, university officials say" [Reuters]. "'If we don't do anything, we might shoot over 5 degrees or more and that would be catastrophic,' said John Reilly, the co-director of the program, adding that MIT's scientists had had no contact with the White House and were not offered a chance to explain their work…. A senior administration official defended Trump's use of the findings. "It's not just MIT. I think there is a consensus, not only in the environmental community, but elsewhere that the Paris agreement in and of itself will have a negligible impact on climate," the official told reporters at a briefing."

UPDATE "Trump Pulls Out of the Paris Climate Agreement" [Foreign Policy]. "Oil giants ExxonMobil and ConocoPhillips, as well as Apple, Dow Chemical, Adobe, Intel, Hewlett Packard are among 25 big U.S. firms who ran a full-page ad in Washington, D.C. newspapers urging Trump to honor his predecessor's climate commitments." So…

UPDATE "Here Are the 10 Governors and 82 Mayors Who Denounce Trump's Withdrawal from the Paris Climate Agreement [Weather.com]. Remarkable source!
2020
Interview with Bernie Sanders: "The Man Who Knows Trump's Voters" [Der Spiegel (MsExpat)]. "In his opinion, would the Democrats be making a mistake by focusing solely on Russia? If everything is about Russia, says Sanders, many people will say: 'Hey, all of that is interesting, but you know what? I can't afford health care. I don't have a job. My kid can't afford to go to college. Why don't you pay attention to our needs?' "I think we have got to do both, and I am doing my best not to simply get involved in the Trump controversies, but to stay focused on his disastrous budget, their disastrous health-care plan, and more importantly, bring forth a progressive agenda, which can excite working people and young people all over this country,' Sanders says."

"Because of the terms of the agreement, it will take until 2020 for the United States to fully exit. That means that the battle lines are formed for the 2018 and 2020 elections. Every politician between now and then must answer the question of whether she or he stands with Trump and fossil-fuel special interests or stands with the health and well-being of our children and our planet" [John Podesta, WaPo]. From the same article as above, but important. I would love a shift in attention from the Russkis, and if the Paris Agreement is that shift, then have at it, say I.

UPDATE "At a time when Demo­crats could pro­ject them­selves as the adults in the room, the clam­or for "res­ist­ance" and mil­it­ant rhet­or­ic is grow­ing louder and louder. There is a press­ing need for prag­mat­ic, mod­er­ate voices on health care, cli­mate change, and a panoply of oth­er is­sues, but Demo­crats seem to be un­hinged by their an­im­us to­ward the lead­er of the op­pos­i­tion party.

"The vis­cer­al loath­ing of both Obama and Hil­lary Clin­ton among so many con­ser­vat­ives and Re­pub­lic­ans un­der­mined at­tempts by mod­er­ates to be fair-minded, bal­anced, and meas­ured. Today, the con­tempt that lib­er­als and Demo­crats have for Trump has reached a com­par­able level…. Judging by news re­ports, the re­cent Cali­for­nia Demo­crat­ic state con­ven­tion ap­peared to be al­most com­pletely out of con­trol, a case of the in­mates tak­ing over the asylum" [Charles Cook, Cook Political Report]. "To cap­ture House and Sen­ate ma­jor­it­ies, Demo­crats will need to win dis­tricts and states that Trump car­ried with room to spare, as well as those that he just barely won or split al­most evenly. Rather than push­ing the mes­sage that the voters in those dis­tricts and states were stu­pid, fool­ish, or mor­ally de­fi­cient, Demo­crats should be present­ing them­selves as a bet­ter al­tern­at­ive, a party pre­pared to con­front the prob­lems fa­cing the coun­try no mat­ter who is in the White House." What a schizoid article by Cook! In California, for example, it's precisely the "inmates" who are "prepared to confront the problems facing the country" with, for example, #MedicareForAll. And it's people like Perez, Clinton, and Pelosi who want to yammer about evil Russkis.
2017
UPDATE "Poll: Dem Ossoff leads by 1 in Georgia House race" [The Hill]. "Early voting for the contest started Tuesday and runs through June 16. The special election over Georgia's 6th District is scheduled to conclude June 20…. WBS-TV/Landmark Communications conducted its latest survey of 500 Georgia voters via phone and online interviews from May 30-31. It has a 4.4 percent margin of error."
2016 Post Mortem
"In (partial) defense of Hillary Clinton" [Ezra Klein, Vox]. "But the harder question — the one this blame game is designed to obscure — is why was the election close enough for Clinton to lose?" To be answered next week…

UPDATE "Democratic Senator Al Franken told Yahoo News: 'I think she has a right to analyse what happened, but we do have to move on'" [Yahoo News]. "Minnesota Senator Franken said on Thursday: 'We have to move on by proving we are the party that cares about a lot of the people who voted for Donald Trump.'" Which is, of course, precisely what many factions in the Democrat Party resist doing, vehemently.

UPDATE "Ukrainian efforts to sabotage Trump backfire" [Politico]. "Ukrainian government officials tried to help Hillary Clinton and undermine Trump by publicly questioning his fitness for office. They also disseminated documents implicating a top Trump aide in corruption and suggested they were investigating the matter, only to back away after the election. And they helped Clinton's allies research damaging information on Trump and his advisers, a Politico investigation found." Yeah, sheesh, it's almost like the Clinton campaign was trying to get a foreign power to hack interfere with meddle in our elections. I mean, I always did feel that having a Ukrainian doing oppo for the DNC smelled a bit funny.
Realignment and Legitimacy
"Ohio Lt. Gov. Mary Taylor opens up about her sons' opioid addictions" [Dayton Daily News]. It is amazing to me to watch Democrats not give two sh*ts about the opioid crisis, and its larger context, "deaths from despair" a la Case Deaton. Of course, if a humanitarian crisis is far away liberal Democrat goodthinkers are all over it like a cheap suit. Close to home, not so much. Odd. Then again, considering that the last time we had a drug epidemic, we got the horrid "War on Drugs" and the carceral state, maybe this is a case of "be careful what you wish for." Oh, and Mary Taylor is a Republican.

UPDATE "In the Trump era, the conviction has spread among elites—especially, but not only, among progressive elites—that the people have failed them. This very conviction, though, is an indication of how American elites have failed the people" [RealClearPolitics]. Very Brechtian: "Wouldn't it be simpler if the government simply dissolved the people and elected another?" More: "One can quarrel with the elements of the "new social compact" that [Financial Times columnist Edward] Luce proposes [in The Retreat of Western Liberalism] to assist Western elites in regaining the people's trust. In America, the compact would comprise an array of policies that are, he notes, not easy to pigeonhole. But with its call for universal health care, humane immigration laws, free speech on campuses and in the media, a greatly simplified tax code, a Marshall plan to retrain the middle class, emancipation of politics from money, and a reimagining of representative democracy, it resembles nothing so much as an updated version of the moderate center-left politics championed by Bill Clinton and Tony Blair." Hmm. We saw Neera Tanden, et al., propose a "Marshall Plan" recently; but it was sloppy and unserious.

UPDATE "The empirical evidence of the danger from administrative power is mounting. Not being directly accountable to the people – or even to judges who act without bias – administrative power crushes the life and livelihood out of entire classes of Americans, depriving them of work and even of lifesaving medicines. It therefore is difficult to avoid the conclusion that, overall, the administrative assault on basic freedoms is unnecessary and even dangerous" [RealClearPolitics]. "Americans therefore need to recognize that administrative power revives absolute power and profoundly threatens civil liberties. Once Americans understand this, they can begin to push back, and the fate of administrative power will then be only a matter of time."
Stats Watch
Employment Situation, May 2017: "An unexpectedly weak employment report has put a rate hike at this month's FOMC in doubt" [Econoday]. "Average hourly earnings are also not favorable. Wages are going nowhere with the year-on-year rate sitting at 2.5 percent. A fall in the participation is yet another negative… Unemployment is very low and contrasts with the lack of wage pressure." Trump may be delivering for his base, but he's not delivering for the volatility voters who went for MAGA (as they did for hope and change). And: "The household and establishment surveys were well out of sync this month. The unemployment rate drop was caused by a decline in the size of the workforce. One has mixed feeling while diving into the data – is the glass half full or empty?" [Econintersect]. And: "The headline jobs number was below expectations, and there were combined downward revisions to the previous two months. Is this is slowdown in hiring a short term issue, part of the normal business cycle, or due to a Trump Slump? My view is this slowdown in hiring is mostly part of the normal business cycle" [Calculated Risk]. And: "The chart says it all- deceleration that started when oil capex collapsed not abetting, and the decelerating credit charts indicate much more of same coming" [Mosler Economics]. Oil capex has been Mosler's story consistently. If ditching Paris gives oil capex a boost, that might help Trump with his volatility voters, and some factions in the oligarchy, though not with his suburban base.

International Trade, April 2017: [Econoday]. "The bad news is accelerating for the second quarter. The trade deficit widened in April to $47.6 billion from a revised $45.3 billion in March. This opens the quarter on yet another defensive front." And: "Higher than expected trade deficit means GDP was that much lower than expected. And all highly $US unfriendly" [Mosler Economics]. And: "Our monthly analysis using unadjusted data showed less strength in both exports and imports relative to last month. But the data in this series wobbles and the 3 month rolling averages are the best way to look at this series. The 3 month averages are decelerating. This data will have a negative impact to 2Q2017 GDP" [Econintersect]. And: "The trade deficit with China increased to $27.6 billion in April, from $24.3 billion in April 2016" [Calculated Risk].
Housing: " Loan origination volume hit a three year low this year. What? How is that possible when all the cheerleaders are out in the streets preaching the good gospel of buying real estate? Well the reality is that a good portion of the market is still driven by investors" [Dr. Housing Bubble]. "Nationally inventory is down 7.7 percent year-over-year. For Los Angeles, it is down 11.3 percent. And this is down from already record low levels. There is simply too few crap shacks available to buy. So that bodes well for prices right? Well that assumes the economy keeps chugging along and optimism runs supreme."
Retail: "Report: 1 in 4 Malls to Shutter by 2022" [Sourcing Journal]. "Though the commercial real estate industry has been putting a sunny face on its collective preparedness—anchors are becoming gyms! Storefronts are transforming into restaurants—its hard to imagine how all of this space will be repurposed in just 5 years. That said, some have been using the rash of closures and bankruptcies to oust low paying tenants in favor of businesses from which they can demand more…. And some property owners have more of a challenge than others. The credit agency highlights Simon Property Group and General Growth Properties as two of the once that have long since exited vulnerable B and C properties. Today each enjoy at least 96 percent occupancy. With 11 and 12 percent respective occupancy rates in weak malls, Macy's and JC Penney have the most exposure, Credit Suisse noted."
Retail: "Major Wall Street Firm Expects 25% of U.S. Malls to Close by 2022" [Fortune]. "That translates to some 275 shopping centers in the next five years… the expected rash of closings is much more likely to hit low end malls than high end ones, or at least those that are well maintained. There is no doubt there is too much retail space in the U.S. and that a contraction has long been coming: there are 2,353 square feet of space of shopping centers in the U.S. for every 100 Americans, compared with 1,636 in Canada and 458 in Britain, according to recent data from CoStar Realty Information." Seems like our mall space is just as out of line as our health care system. WTF?
Retail: "[Radio Shack] shuttered more than 1,000 stores over the Memorial Day weekend, leaving the Fort Worth, Texas-based chain with just 70 company-owned stores" [247 Wall Street]. "Following the announcement over Memorial Day weekend, there will be 425 stores owned by franchisees and 500 dealer-owned stores. Most of the remaining company-owned locations of the 96-year-old electronics retailer are located in a handful of states, and three states have the lion's share of them. New York has the most company-owned stores of any state, 22, followed by Pennsylvania with 18 and Texas with 13." Radic Shack, bust. Shake Shack, boom. Why?
Shipping; "China-Europe rail services are set to triple within three years as demand grows and shippers "catch on" to the advantages"" [The LoadStar]. "[Antonio Pacciolla, regional head of overland Europe at Panalpina] added: 'The rail service is one-third the cost of air freight and twice as fast as ocean freight. It's an interesting proposition that is catching on.'" Fascinating to watch China stretch as a land power.
Shipping: "Kenya Just Opened a $4 Billion Chinese-Built Railway, its Largest Infrastructure Project in 50 Years" [Newsweek]. As above. But come on. Can the Chinese develop a $400 WiFi-enabled cold press juicer? Huh? Huh?
Shipping: "The German shipowner Rickmers Group, established in 1834, is to file for insolvency after its bankers "surprisingly denied" approval of its financial restructuring" [The LoadStar]. I don't like surprises.
Shipping: "Rickmers Holding AG said it would file for insolvency after a proposal to refinance was "surprisingly denied" by creditor HSH Nordbank, the WSJ's William Wilkes writes. Both the carrier and its creditor are victims of the deep slump in global ocean freight, where stagnant volumes and a glut of ships drove down rates. The biggest shipping lines consolidated into a handful of alliances to weather the downturn, while many smaller carriers went bust, saddling banks like HSH Nordbank with bad loans. The financial firm is under pressure from regulators to clean up its balance sheet, likely reducing its flexibility to extend more loans to keep Rickmers afloat. As a charterer leasing ships to third parties, a Rickmers bankruptcy likely wouldn't cause the sort of disruption seen after Hanjin Shipping's filing, which left billions of dollars in cargo stranded at sea" [Wall Street Journal].
The Bezzle: "Silicon Valley's Unicorns Are Overvalued" [Stanford Business] (original study). "But are these magical beasts really dressed-up ponies? New research from Stanford Graduate School of Business Professor Ilya Strebulaev shows that these companies report values on average about 51% above what they are really worth. And some, including management software company Compass and financial technology company Kabbage, are more than 100% above fair market value." But with all that stupid money sloshing about, who cares?
The Bezzle: "Blue Apron Gears Up for IPO" [247 Wall Street]. "Since its inception, Blue Apron has scaled rapidly, developing its expertise and an ever-more ambitious vision. From inception through March 31, 2017, the company has delivered over 159 million meals to households across the United States, which represents about 25 million paid orders." I'm filing this under The Bezzle because of a common factor they share with Silicon Valley startups: Ugly labor practices which, one day, may come back to bite them (and their valuation depends, does it not, on that never happening?)
The Bezzle: "What if the bitcoin bubble bursts?" [The Economist]. "If there is such a thing as a healthy bubble, this is it. To be sure, regulators should watch out that cryptocurrencies do not become even more of a conduit for criminal activity, such as drug dealing. But they should think twice before coming down hard, particularly on ICOs. Being too spiky would not just prick a bubble, but also prevent a lot of the useful innovation that is likely to come about at the same time." Ah. "Innovation."
Political Risk: "Bitcoin mining companies face shutdown in southwest China" [People's Daily]. "Bitcoin mining companies have been shut down or relocated in Mabian Yi Autonomous County, home to a prosperous mining industry in southwest China's Sichuan province, and the reason for the phenomenon is unclear…. Another industry insider reluctant to reveal his name said China is home to the largest amount of Bitcoin factories in the world, but the industry is under loose supervision."
Political Risk: "Google could face a $9bn EU fine for rigging search results in its favour" [Independent]. "The EU competition authority accused Google in April 2015 of distorting internet search results to favour its shopping service, harming both rivals and consumers." Shocking, I know, that when the same company runs a search business and a shopping busienss the two come into conflict. Why don't we break Google up?
Climate: "The immediate industries that have the most to win and lose around climate change are solar, alternative energy, renewable energy, coal, oil and gas, and other fossil fuels. However, these industries did not translate into an obvious outcome in the financial markets. Does it seem odd that solar hardly budged or that coal and oil fell?" [247 Wall Street]. "What many industry watchers may have overlooked is that the global investment in clean energy already had posted a big decline in 2016. This was the first annual decline in years, and it was long before Trump became president."
Today's Fear & Greed Index: 58 Greed (previous close: 58, Greed) [CNN]. One week ago: 58 (Greed). (0 is Extreme Fear; 100 is Extreme Greed. Last updated May 19 at 11:57am. Back in form!
Class Warfare
"Wal-Mart Stores Inc. is testing a program that sends store employees to deliver online orders at the end of their shifts" [Bloomberg]. "Workers can opt in to earn extra money by making deliveries using their own cars. They're assigned packages based on where they live so the route aligns with their commute home, the company said Thursday in a blog post. The test began at three locations in Arkansas and New Jersey… About 90 percent of the U.S. population lives within 10 miles of a Wal-Mart, and the company is using those locations as shipping hubs to compete with Amazon on the last mile of delivery — the most expensive part of getting goods to customers. By using existing workers in their own cars, Wal-Mart could create a vast network with little upfront cost, similar to how Uber Technologies Inc. created a ride-hailing service without owning any cars." So there's an accident when a Wal-Mart employee is doing this. How does the insurance work?
"In much of the country, public housing is disappearing as governments fail to maintain the buildings or actively demolish them. That's a disaster for many low-income people, who have nowhere else to go. But it's hard to find much public support for maintaining the housing—let alone building more" [JSTOR].
News of the Wired
I guess I'm just not feeling wired today. You?
UPDATE "New U.S. visa applications ask for social media handles, email addresses for past 5 years" [Daily Dot]. This is madness, since other countries will do the same.
* * *
Readers, feel free to contact me with (a) links, and even better (b) sources I should curate regularly, and (c) to find out how to send me images of plants. Vegetables are fine! Fungi are deemed to be honorary plants! See the previous Water Cooler (with plant) here.
And here's today's plant (ChiGal):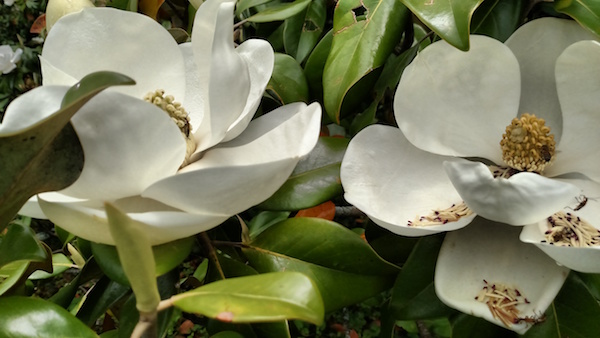 ChiGal writes: "Notice in the first pic of the Grand Dame of the South there is a bee – yay!"
* * *
Readers, Water Cooler is a standalone entity, not supported by the Naked Capitalism fundraisers. Please use the dropdown to choose your contribution, and then click the hat! Your tip will be welcome today, and indeed any day. Water Cooler will not exist without your continued help.