By Lambert Strether of Corrente
I had another topic lined up today, but this (hat tip alert reader ChrisAtRU) is so remarkable — and so necessary to frame contextualize immediately — I thought I should bring it your attention, dear readers. The headline is "Toward a Marshall Plan for America," the authors are a gaggle of CAP luminaries with Neera Tanden leading and Rey Teixeira trailing, and the "Marshall Plan" indeed includes something called a "Jobs Guarantee." Of course, I trust Clinton operatives like Tanden, and Third Way types like Teixeira, about as far as I can throw a concert grand piano. Nevertheless, one sign of an idea whose time has come is that sleazy opportunists and has-beens try to get out in front of it to seize credit[1] and stay relevant. So, modified rapture.
In this brief post, I'm going to look at the political context that drove CAP — taking Tanden, Teixeira, and the gaggle as a proxy for CAP — to consider a Jobs Guarantee (JG), briefly describe the nature and purpose of a JG, and conclude with some thoughts on how Tanden, Teixeira would screw the JG up, like the good liberals they are.
Political Context for CAP's JG
Let's begin with the photo of Prairie du Chien, WI at the top of CAP's JG article. Here it is: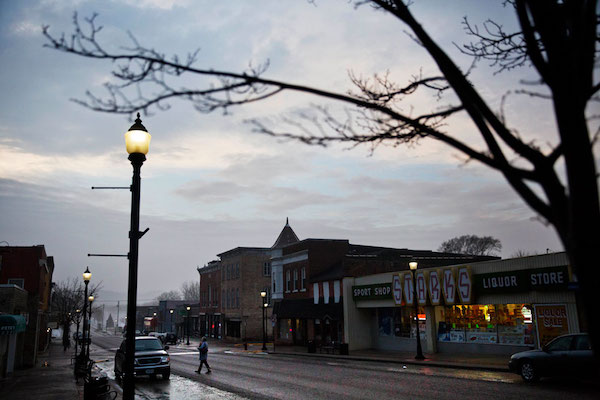 I went to Google Maps Street View, found Stark's Sports Shop (and Liquor Store), and took a quick look round town. Things don't look too bad, which is to say things look pretty much like they do in my own home town, in the fly-over state of Maine; many local businesses. The street lamps make my back teeth itch a little, because along with bike paths to attract professionals, they're one of those panaceas to "bring back downtown," but as it turns out Prairie du Chien has marketed itself to summer tourists quite successfully as "the oldest Euro-American settlement established on the Upper Mississippi River," so those lamps are legit! (Of course, Prairie du Chien, like so much of flyover country, is fighting an opioid problem, but that doesn't show up in Street View, or affect the tourists in any way.)
More to the point, Crawford County WI, in which Prairie du Chien is located, was one of the counties that went for Obama, twice, and then flipped to Trump (50.1% Trump, 44.6% Clinton), handing Trump the election, although the CAP authors don't mention this. AP has a good round-up of interviews with Prairie du Chien residents, from which I'll extract the salient points. On "flipping," both from Obama (since he didn't deliver) and away from Trump (if he doesn't deliver):
In 2012, [Lydia Holt] voted for Barack Obama because he promised her change, but she feels that change hasn't reached her here. So last year she chose a presidential candidate unlike any she'd ever seen, the billionaire businessman who promised to help America, and people like her, win again. Many of her neighbors did, too….

In this corner of middle America, in this one, small slice of the nation that sent Trump to Washington, they are watching and they are waiting, their hopes pinned on his promised economic renaissance. And if four years from now the change he pledged hasn't found them here, the people of Crawford County said they might change again to someone else.

"[T]hings aren't going the way we want them here," she said, "so we needed to go in another direction."
And the issues:
[Holt] tugged 13 envelopes from a cabinet above the stove, each one labeled with a different debt: the house payment, the student loans, the vacuum cleaner she bought on credit.

Lydia Holt and her husband tuck money into these envelopes with each paycheck to whittle away at what they owe. They both earn about $10 an hour and, with two kids, there are usually some they can't fill. She did the math; at this rate, they'll be paying these same bills for 87 years.

Kramer said she's glad the Affordable Care Act has helped millions get insurance, but it hasn't helped her he and her husband were stunned to find premiums over $1,000 a month. Her daughter recently moved into their house with her five children, so there's no money to spare. They opted to pay the penalty of $2,000, and pray they don't get sick until Trump, she hopes, keeps his promise to replace the law with something better.

Among them is a woman who works for $10.50 an hour in a sewing factory, who still admires Obama, bristles at Trump's bluster, but can't afford health insurance. And the dairy farmer who thinks Trump is a jerk — "somebody needs to get some Gorilla Glue and glue his lips shut" — but has watched his profits plummet and was willing to take the risk.
And of course jobs (as seen in this video, "Inside the Minds and Homes of Voters in Prairie du Chien, WI," made by students at the University of Wisconsin-Milwaukee).
So that's Prairie du Chien, Wisconsin. CAP frames the electoral context this way:
While the election was decided by a small number of votes overall, there was a significant shift of votes in counties in critical Electoral College states, including Iowa, Michigan, Ohio, Pennsylvania, and Wisconsin.
(I could have told them that. In fact, I did!) And the reasons for the shift:
What was going on in these heavily white working-class counties that might explain support for Trump? Without diminishing the importance of cultural and racial influences, it is clear to us that lingering [sic] economic pressures among important voting blocs helped to create a larger opening for Trump's victory.

We do not yet know the exact reasons for the drop in turnout among young people and black voters. But with President Obama not on the ticket to drive voter enthusiasm, it is quite possible that lingering job and wage pressures in more urban areas with lots of young people, and in areas with large populations of African-Americans, yielded similar, if distinct, economic anxiety in ways that may have depressed voter turnout among base progressives. The combined effect of economic anxiety may have been to drive white noncollege voters toward Trump and to drive down voter engagement and participation among base progressives.

Either way, issues related to lost jobs, low wages, high costs, and diminished mobility played a critical role in setting the stage for a narrow populist victory for Trump.
(I could have told them that, too. In fact, I did!) Note the lingering "Obama Coalition"/identity politics brain damage that casually assumes "base progressives" equate to African-Americans and youth. Nevertheless, mild kudos to CAP for fighting through to the concept that "economic pressures among important voting blocs helped to create a larger opening for Trump's victory." The CAP paper then goes on to recommend a JG as an answer to such "economic pressures."[2]
Nature and Purpose of a JG
Here's the how and why of a JG (though I wrote it up, I had the help of practioners):
How would the JG work from the perspective of a working person (not an owner?) Or from the perspective of the millions of permanently disemployed? The MMT Primer:

If you are involuntarily unemployed today (or are stuck with a part-time job when you really want to work full time) you only have three choices:

Employ yourself (create your own business—something that usually goes up in recessions although most of these businesses fail)
Convince an employer to hire you, adding to the firm's workforce
Convince an employer to replace an existing worker, hiring you

The second option requires that the firm's employment is below optimum—it must not currently have the number of workers desired to produce the amount of output the firm thinks it can sell. …

If the firm is in equilibrium, then, producing what it believes it can sell, it will hire you only on the conditions stated in the third case—to replace an existing worker. Perhaps you promise to work harder, or better, or at a lower wage. But, obviously, that just shifts the unemployment to someone else.

It is the "dogs and bones" problem: if you bury 9 bones and send 10 dogs out to go bone-hunting you know at least one dog will come back "empty mouthed". You can take that dog and teach her lots of new tricks in bone-finding, but if you bury only 9 bones, again, some unlucky dog comes back without a bone.

The only solution is to provide a 10th bone. That is what the JG does: it ensures a bone for every dog that wants to hunt.

It expands the options to include:

There is a "residual" employer who will always provide a job to anyone who shows up ready and willing to work.

It expands choice. If you want to work and exhaust the first 3 alternatives listed above, there is a 4th: the JG.

It expands choice without reducing other choices. You can still try the first 3 alternatives. You can take advantage of all the safety net alternatives provided. Or you can choose to do nothing. It is up to you.

If I were one of the millions of people permanently disemployed, I would welcome that additional choice. It's certainly far more humane than any policy on offer by either party. And the JG is in the great tradition of programs the New Deal sponsored, like the CCC, the WPA, Federal Writers' Project, and the Federal Art Project. So what's not to like? (Here's a list of other JGs). Like the New Deal, but not temporary!

Intuitively: What the JG does is set a baseline[3] for the entire package offered to workers, and employers have to offer a better package, or not get the workers they need. When I came up here to Maine I'd quit my job voluntarily and so wasn't eligible for unemployment. Then the economy crashed, and I had no work (except for blogging) for two years. There were no jobs to be had. I would have screamed with joy for a program even remotely like this, and I don't even have dependents to take care of. It may be objected that the political process won't deliver an offer as good as the Primer suggests. Well, don't mourn. Organize. It may be objected that a reform like the JG merely reinforces the power of the 0.01%. If so, I'm not sure I'm willing to throw the currently disemployed under the bus because "worse is better," regardless. Anyhow, does "democratic control over the living wage" really sound all that squillionaire-friendly to you? Aren't they doing everything in their power to fight anything that sounds like that? The JG sounds like the slogan Lincoln ran on, to me: "Vote yourself a farm!" [3]

So, what does the JG for the economy? MMT was put together by economists; from an economists perspective, what is it good for? Why did they do that? The Primer once more:

some supporters emphasize that a program with a uniform basic wage[4] also helps to promote economic and price stability.

The JG/ELR program will act as an automatic stabilizer as employment in the program grows in recession and shrinks in economic expansion, counteracting private sector employment fluctuations. The federal government budget will become more counter-cyclical because its spending on the ELR program will likewise grow in recession and fall in expansion.

Furthermore, the uniform basic wage will reduce both inflationary pressure in a boom and deflationary pressure in a bust. In a boom, private employers can recruit from the program's pool of workers, paying a mark-up over the program wage. The pool acts like a "reserve army" of the employed, dampening wage pressures as private employment grows. In recession, workers down-sized by private employers can work at the JG/ELR wage, which puts a floor to how low wages and income can fall.

Finally, research indicates that those without work would prefer to have it:

Research by Pavlina Tcherneva and Rania Antonopoulos indicates that when asked, most people want to work. Studying how job guarantees affect women in poor countries, they find the programs are popular largely because they recognize—and more fairly distribute and ­compensate—all the child- and elder care that is now often performed by women for free (out of love or duty), off the books, or not at all.

Enough of this crap jobs at crap wages malarky!
And here's the how and why of a JG, as described by CAP:
We propose today a new jobs guarantee, and we further expect a robust[3] agenda to be developed by the commission.

The low wages and low employment rates for those without college degrees only exist because of a failure of imagination. There is no shortage of important work that needs to be done in our country. There are not nearly enough home care workers to aid the aged and disabled. Many working families with children under the age of 5 need access to affordable child care. Schools need teachers' aides, and cities need EMTs. And there is no shortage of people who could do this work. What has been missing is policy that can mobilize people.

To solve this problem, we propose a large-scale, permanent program of public employment and infrastructure investment—similar to the Works Progress Administration (WPA) during the Great Depression but modernized for the 21st century. It will increase employment and wages for those without a college degree while providing needed services that are currently out of reach for lower-income households and cash-strapped state and local governments. Furthermore, some individuals may be hired into paying public jobs in which their primary duty will be to complete intensive, full-time training for high-growth, in-demand occupations. These "public apprenticeships" could include rotations with public and private entities to gain on-the-ground experience and lead to guaranteed private-sector employment upon successful completion of training.

Such an expanded public employment program could, for example, have a target of maintaining the employment rate for prime-age workers without a bachelor's degree at the 2000 level of 79 percent. Currently, this would require the creation of 4.4 million jobs. At a living wage—which we can approximate as $15 per hour plus the cost of contributions to Social Security and Medicare via payroll taxes—the direct cost of each job would be approximately $36,000 annually. Thus, a rough estimate of the costs of this employment program would be about $158 billion in the current year. This is approximately one-quarter of Trump's proposed tax cut for the wealthy on an annual basis.
With tis background, let's look at how liberals would screw the JG up.
How a CAP JG Would Go Wrong
Before getting into a little policy detail, I'll examine a few cultural/framing issues. After all, CAP does want the program's intended recipients to accept it with good grace, no? Let me introduce the over-riding concern, from Joan C. Williams in The Financial Times: "They don't want compassion. They want respect":
Williams warns that Republican errors alone won't give Democrats back the WWC.
Or any part of the WC; as even CAP recognizes, although WWC disproportionately voted Trump, and non-WWC disproportionately stayed home.
While [Williams] agrees that the Democrats have mobilised their base since Trump's election, she has "one simple message" for the party: it needs to show the WWC respect, "in a tone suitable for grown-ups". Democrats must say: "We regret that we have disrespected you, we now hear you." She asks: "Is this so hard? Although the risk is that the response will be, 'Oh, those poor little white people with their opioid epidemics, let's open our hearts in compassion to them.' That's going to infuriate them. They don't want compassion, they want respect." 
To show respect, it would really behoove liberals to deep-six the phrase "economic anxiety," along with "economic frustrations," "economic concerns," "economic grievances," and "lingering economic pressures."[4] All these phrases make successful class warfare a psychological condition, no doubt to be treated by a professional (who by definition is not anxious, not frustrated, has no grievances, and certainly no economic pressures, because of their hourly rate (or possibly their government contract).
To show respect, it would also behoove liberals to deep-six the concept that markets come first; people who sell their labor power by the hour tend to be sensitive about such things. Take, for a tiny example, the caption beneath the image of Prairie du Chein. Let me quote it:
A customer crosses the street while leaving a shop along the main business district in Prairie du Chien, Wisconsin, January 2017.
Really? A customer? Does the human figure have to be a customer? Why?
Along the same lines, drop the "affordable" crap; ObamaCare should have ruined that branding already; what seems like it's affordable to CAP writers in the Beltway probably isn't affordable at all to somebody making $10 an hour. Anyhow, if something like childcare or for that matter #MedicareForAll ought to be a universal direct material benefit, then deliver it!
To show respect, abandon the "Marshall Plan" framing immediately. Because it means the "winners" are going to graciously help the "losers," right? And prudentially, liberals don't really want to get the working class asking themselves who conducted a war against them, and why, right?
To show respect, make the JG a truly universal benefit, a real guarantee, and don't turn it into an ObamaCare-like Rube Goldberg device of means-testing, worthiness detection, gatekeeping, and various complex forms of insult and degradation, like narrow networks. This passage from CAP has me concerned:
Such an expanded public employment program could, for example, have of maintaining the employment rate for prime-age workers without a bachelor's degree at the 2000 level of 79 percent.
That 'target" language sounds to me very much like the "dogs and bones" problem. Suppose currently we have 6 bones and 10 dogs. The "target" is 7 bones. Suppose we meet it? There are still 3 dogs without bones! Some guarantee! The JG should be simple: A job for everyone who wants one. None of this targeting or slicing and dicing demographics. The JG isn't supposed to be an employment guarantee for macro-economists (who basically have one anyone).
To show respect, make the JG set the baseline for wages (and working conditions). This passage from CAP has me concerned:
Second, because it would employ people to provide services that are currently needed but unaffordable, it would not compete with existing private-sector employment.
This language seems a bit slippery to me. If Walmart is paying $10.00 an hour, is the JG really going to pay $9.50?
Finally, you will notice that the CAP JG is shorn of any macro-economic implications. Note, for example, that replacing our current cruel system of regulating the economy by throwing people out of work isn't mentioned. Note also that CAP also accepts the false notion that Federal taxes pay for Federal spending. That puts CAP in the austerity box, meaning that the JG might be cut back just when it is most needed, not least by working people.
Conclusion
I do want to congratulate CAP, and without irony, for this passage:
[The JG] would provide the dignity of work, the value of which is significant. When useful work is not available, there are large negative consequences, ranging from depression, to a decline in family stability, to "deaths of [sic] despair."
It's good to see the Case-Deaton study penetrating the liberal hive mind. Took long enough. Oh, and this makes the JG a moral issue, too. The pallid language of "economic anxiety" should be reformulated to reflect this, as should the program itself.
NOTES
[1] The JG originally comes from the MMT community; here is a high-level summary. Oddly, or not, there's no footnote crediting MMTers. Interestingly, Stephanie Kelton, who hails from the University of Missouri at Kansas City's MMT-friendly economics department, before Sanders brought her onto the staff at the Senate Budget committee, was not able to persuade Sanders of the correctness and/or political utility of MMT generally or the JG in particular.
[2] I guess those famous Democrat 2016 post mortems will never be published, eh? This will have to do for a poor substitute. Or maybe the Democrats just want us to read Shattered.
[3] In my view, "robust" is a bullshit tell. Back when I was a hotshot consultant, the operational definition of "robust" was "contained in a very large three-ring binder."
[4] Dear God. Are these people demented? Nobody who is actually under "economic pressure" would use these words. And so far as I can tell, "lingering" means permanent.