By Lambert Strether of Corrente
I think I'll add a few more UPDATEs shortly… –Lambert
Trade
"Indian Prime Minister Narendra Modi is meeting with President Donald Trump at the White House today, where they are expected to broach a wide-range of issues, including arms sales to energy deals. On the trade side, the question is whether a Trump-Modi partnership will move the commercial needle on the relationship in areas where businesses felt the Obama administration's "Strategic and Commercial Dialogue" fell short" [Politico]. ""The U.S. is looking for things like stronger intellectual property protections, reductions in tariffs and I think this visit offers an opportunity to advance that trade dialogue and look for opportunities that will enhance prosperity and create jobs for both sides,' the official said, adding later that India may want better access in the U.S. for exports of its mangoes." That's what's on the table? Mangoes? Really?
"The Trump administration's move toward imposing steel tariffs on national security grounds is drawing resistance from within the U.S. Senior lawmakers from both parties are raising concerns that other countries could use the same argument to block exports from their states…The warnings include a caution from Rep. Kevin Brady, the Texas Republican who chairs the House committee that oversees trade policy, who joined critics in saying the moves could raise domestic prices for steel and undercut jobs and wages. The pushback from Congress could slow White House efforts to redraw the direction of global steel trade, a pillar of the global industrial economy, by erecting barriers to imported steel. U.S. Trade Representative Robert Lighthizer says steel and aluminum are national security issues, a rarely-used characterization that could set the groundwork for tariffs. For some lawmakers, however, the economic impact of steel shipping may carry more weight" [Wall Street Journal].
Politics
Policy
"Live blog of orders and opinions | June 26, 2017" [SCOTUSblog].
Health Care
"1 big thing: McConnell's week of reckoning" [Axios]. A good outline of the moving parts and the challenges McConnell faces. "One person on McConnell's staff has been telling associates that there's a 60% chance he can pass the bill. But most folks I've talked to in McConnell's orbit say it's more like a jump ball…. Planned Parenthood is a sleeper issue: Lisa Murkowski has said she won't vote for a bill that defunds PP. Susan Collins will likely join her, so all it would take would be one more Republican to sink the bill over abortion alone."

"Why Dems can't break through on Obamacare repeal" [Politico]. "'What we want is for this to be in the headlines, on the front page of newspapers every morning, and it hasn't been because it's been such a secretive process,' Angel Padilla, policy director of the liberal group Indivisible, said in an interview." I see that Indivisible has picked up the Democrat habit of blaming everyone but themselves. Being unable to focus on health care is the opportunity cost of always focusing on Putin. "Even after 43 disability-rights activists, including many in wheelchairs, got dragged out and arrested outside McConnell's office Thursday, Padilla said he saw 'most of the evening news programs still talking about tapes' of former FBI Director James Comey that Trump initially suggested existed before saying they don't." Well, who drove the media conversation away from Padilla's stunt and toward the "tapes"? Months of propaganda by Clintonites, that's who.

"Where the Senate Health Care Bill Fails" [Ron Johnson, NYT]. Johnson is one of the five Republican hold-outs: "The bill's defenders will say it repeals Obamacare's taxes and reduces Medicaid spending growth. That's true. But it also boosts spending on subsidies, and it leaves in place the pre-existing-condition rules that drive up the cost of insurance for everyone. Instead, we should return more flexibility to states, to give individuals the freedom and choice to buy plans they want without Obamacare's 'reforms.' And we should look to improve successful models for protecting individuals with pre-existing conditions, models underway prior to Obamacare, such as those in Maine and Wisconsin." Maine? Huh? Did I not get the memo?

"CBO score sure to add to McConnell's headaches" [Politico]. "The CBO is poised to tell Senate Republicans this week that their health plan will leave millions more uninsured than Obamacare — with the losses estimated from 15 million to 22 million over a decade, according to a half-dozen budget analysts polled by POLITICO." Hard to sell the bill if fewer are covered, no?

"HHS Secretary: The Congressional Budget Office Is 'Not Accurate'" [The Atlantic]. A pre-emptive strike. Price: "The CBO does a great job on budget; they do a relatively poor job of what the coverage consequences of a healthcare plan are. Their ability—anybody's ability—to predict what human behavior is going to be without looking at the entire construct, is difficult. I would suggest to you that the numbers the CBO had before with the ACA, and the numbers they have now, are not accurate."

"It's true (as Trump administration officials have repeatedly pointed out) that CBO greatly overestimated the number who would get government-subsidized coverage through the new insurance exchanges. But at the same time, CBO underestimated the number who would get coverage through expanding Medicaid" [FactCheck].

UPDATE "A side-by-side comparison of Obamacare and the GOP's replacement plans" [Los Angeles Times]. Though the draft will change….

UPDATE "[S]ome of the measure's most egregious, harshest provisions are well-disguised. They're hidden deep in its underbrush or in the maze of legislative verbiage" [Michael Hiltzik, Los Angeles Times]. "States will have more authority to reimpose lifetime and annual benefit caps and eliminate essential health benefits. This may be the most insidious provision of the repeal bill, and certainly is the most deeply hidden. The Senate bill will open the door to states forcing people with preexisting conditions … to pay far, far higher costs than everyone else. It's buried in changes made to the ACA's so-called Section 1332 waivers, which are designed to allow states to try innovative approaches to healthcare, especially through their Medicaid programs."

A hearty round of applause for the Democrat Establishment:

First @SEIU2015, now Planned Parenthood supports @Rendon63rd's block of #SinglePayer healthcare for ALL@PPact against healthcare

Wot m8?? pic.twitter.com/HvpAWlgsuo

— Labor for Revolution (@LaborForBernie) June 25, 2017
2016 Post Mortem
"Bernie Sanders Investigation Is The New 'Lock Her Up'" [Above the Law]. A look at the accusations brought by "attorney and right-wing gadfly Brady Toensing" (as publicized in Politico). For example: "Um… welcome to accounting. This account sounds shady, but — without vouching for any specific accounting principles — recognizing revenue in installments even if it's coming in a lump sum is perfectly acceptable. Again, that's not saying it was the appropriate way to account for this request, but the way this report reads makes counting funds over time seem like an insane tactic when it's just not." Readers know my views on college administrators, and Jane Sanders may not have been a very good one. But if I were keeping a list of which college administrators should get a visit from the FBI, Jane Sanders wouldn't be near the top.

"Democrats will keep failing until they do their own autopsy" [USA Today]. "Why have a serious examination of what's gone wrong when you can keep tweeting #Resist, marching in pink hats and cheering on Alec Baldwin?" The writer is a former Bush speechwriters, but it's hard to say she's wrong.

UPDATE "How Hillary Clinton's Loyal Confidants Could Cost Her the Election" [Vanity Fair]. In light of Shattered, this 2015 article is prescient, and worth a read even today. I remember when some set of emails to and from Hillary came out in 2016, and both Yves and I scanned them looking for dirt, but all we came away with was a sense of how amazingly sycophantic Clinton's inner circle was. In light of the Clinton campaign's utterly dysfunctional decision making, and Clinton's remarkable ability to persist in denying all responsibility for her loss ("I take responsibility for every decision I make — but that's not why I lost" was an instant classic), it looks like that the sycophancy was the dirt. "All the perfumes of Arabia…"
Ossoff Debacle
UPDATE "It pisses me off that I have friends who literally gave Jon Ossoff $5 a week and it was torched (h/t Van Jones) on completely greedy and incompetent consultants who abuse the progressive community online in a manner that makes Donald Trump look kind and honest" [Why Democrats Lose]. "Millions… in March alone" went to "Mothership Strategies." "I am not alone in my outrage on this and another article estimates that in total they were paid over $4,000,000. For what was at the most six months work." Nice work if you can get it.

UPDATE Once more on Rodney Stooksbury (D):

Keep donating to @TheDemocrats, rich people, we have a Consultancy-Industrial Complex to feed!
(relax, we won't win & crash the gravy train) pic.twitter.com/HE0Ewfe0LG

— Very Serious People™ (@TheXclass4Ever) June 26, 2017
2020
UPDATE I'm torn. Zuckerberg running could be really horrible. Or it could be fun. Right now, I'm leaning toward fun:


Mark Zuckerberg is in Iowa. "Iowa is my kind of place." pic.twitter.com/75IDG3mKrV

— Yashar Ali (@yashar) June 24, 2017

UPDATE Do Zuck's props look creeped out, or what?

Mark Zuckerberg loves being a normal guy who casually chats with his fellow humans pic.twitter.com/UDdXBCxGSr

— Hippo (@InternetHippo) June 24, 2017

UPDATE "Facebook to expand its Altoona data center" [Des Moines Register]. Coincidence, I'm sure. I mean, it's not like Facebook has money to throw away (and do note the tendency to site data centers in colonized areas).

UPDATE "You Can Now Donate to a Mark Zuckerberg for President Campaign" [Fortune]. Why?
2018
"Bernie Sanders isn't backing Tim Canova in his second bid against Wasserman Schultz" [McClatchy].
Realignment and Legitimacy
UPDATE "America is in the middle of a major political realignment [as I've been saying…] While the focus is on the Republican party's internecine fight among corporate realists, political ideologues and the wild-card president, it is a mistake to assume that the Democrats are going to sweep into office in 2018 and 2020 to replace the corroding Republicans. The Democrats are also in a profound struggle over their future" [Guardian]. "Unlike the Republicans, though, who will have to reinvent themselves if they are ever to recover from the damage of the Trump era, the Democrats have the opportunity to heal their differences for an easier transition to a new political era. Establishment Democrats are not wrong to put faith in experience: Clinton, after all, lost the electoral college, but won the popular vote by more than two points. The upstart Democrats who rallied to Sanders are, though, demanding a focus on economic fairness, one that echoes the Democratic leadership of the 1930s…." I'm not sure the author is right on either count. On the Democrats, the Establishment has taken every opportunity to avoid healing: Perez over Ellison, suppressing #MedicareForAll in the astroturf Resistance campaign, now suppressing SB562 in California…

"Why Are Millions of Citizens Not Registered to Vote?" [Pew Charitable Trusts]. "[L]ittle is known about eligible but unregistered U.S. citizens' exposure to opportunities to register, reasons for choosing not to, or attitudes toward the electoral system and civic engagement, or how many of them are interested in registering in the future." It's almost like the political class doesn't want to expand the electorate…

"Adviser resigns after vote tampering scandal at Vista Murrieta High School" [Press-Enterprise]. "Many of the votes, he said, were made at 10:30 p.m. or later, in 40-second increments, by someone who appeared to be going down a list alphabetically and voting for certain candidates." Kids there's a lesson for us all, here…
Stats Watch
Durable Goods Orders, May 2017: "Aircraft had been the strength but is now the weakness for durable goods which, pulled down by a second straight downswing for commercial aircraft, fell 1.1 percent in May. When excluding transportation, a reading that excludes aircraft, orders actually rose, but not very much at only 0.1 percent which falls 4 tenths shy of Econoday's consensus" [Econoday]. "An unquestionable negative in the report is an unexpected 0.2 percent decline for core capital goods orders (nondefense excluding aircraft)…. This report isn't all bad but the capital goods readings are a tangible disappointment for the second-quarter outlook, pointing to lack of confidence in business prospects. But in actual government data, the factory sector isn't having a breakout year as some had hoped." And: "The data overall was relatively disappointing with little evidence of 'animal spirits' surrounding investment plans which will maintain doubts surrounding the US outlook" [Economic Calendar]. And but: "Our analysis is more postitive than the headlines as we see improvement this month. Non-Defense and defense aircraft were the main headwind this month. This series has wide swings monthly so our primary metric is the unadjusted three month rolling average which improved" [Econintersect]. "What should be concerning to analysts is the continuing contraction of the unadjusted backlog (unfilled orders) which again declined this month primarily due to capital goods." Following the bearded on for a moment, I don't see how you can have a "healthy" capitalist economy without investment in fixed capital. Of course, under globalization, that investment could be anywhere (except resource extraction and services that are geographically constrained) and these stats apply only to the US.
Chicago Fed National Activity Index, May 2017: "A decline in manufacturing production and weakness in employment combined to pull down the national activity index to minus 0.26 in May from a revised plus 0.57 in April" [Econoday]. "This report underscores how soft May really was for a second-quarter that looks increasingly at risk." And: "The Overall CFNAI data will, however, raise fresh doubts surrounding the US economic outlook which will tend to increase doubts surrounding the second-quarter GDP outlook. Markets will want evidence of a rebound early in the third quarter to underpin confidence in the economy" [Economic Calendar]. And: "Chicago Fed "Index Points to Slower Economic Growth in May" [Calculated Risk]. And but: "The single month index which is not used for economic forecasting which unfortunately is what the CFNAI headlines. [S]ee the three month rolling average for the last 6 months – it had been staying within a very tight range around – and last month's significant deviation from this range has been negated" [Econintersect].
Dallas Fed Manufacturing Survey, June 2017: "In an understandable slowing from unusual acceleration, the Dallas Fed's general activity index slipped to 15.0 in June vs 17.2 in May" [Econoday]. And: "This suggests solid growth, although at a slower pace than in May. The recent decline in oil prices might impact the Dallas surveys in coming months" [Calculated Risk]. "Though the general activity index is at its lowest level since November last year, cooling in this report is welcome given the unsustainable rates of growth in prior months." And: "This survey declined but remained in positive territory with both new orders and unfilled orders in positive territory, and both declined" [Econintersect].
Housing: "Freddie Mac: Mortgage Serious Delinquency rate declined in May, Lowest since May 2008" [Calculated Risk].
Debt: "The credit collapse continues" (charts) [Mosler Economics].
Supply Chain: "The projections prepared by the Panama Canal regarding international trade demonstrate the need, within 15 years or less, for a second expansion of the waterway, but climate change appears to present an obstacle to those plans due to its effect on water sources" [Latin American Tribune]. "A fourth set of locks without more water is just a dream," said Panama Canal Authority (ACP) administrator Jorge Quijano in discussing the plans for a future second expansion of the waterway… A sign that climate change 'is occurring' is that already in Panama there has not been 'as before, continuous precipitation in … May, June and July,' when – in the past – there 'always' used to be rain 'almost every day.'"
Shipping: "CEVA Logistics has added to the growing list of China-Europe rail freight services by launching a new rail service linking Shilong in southern China's Guangdong province to Hamburg in Germany via the 'southern route'" [Lloyd's Loading]. Interesting to see China running rail freight across the world island (along with turning the South China sea not into a Chinese lake, but land.
The Bezzle: "For the slew of startups targeted in e-commerce consolidation, there is a sober reality to being acquired by Wal-Mart Stores Inc. Very sober. Workers at Jet.com Inc. found that one early change after Wal-Mart bought the Hoboken, N.J.-based business last year was that the office booze disappeared.. and that the startup's regular Thursday evening happy hour was moved out of the office. Those kind of office-culture changes aren't necessarily noticeable to customers, but they're getting greater attention as traditional companies use acquisitions to catch up to online commerce trends and run into the free-wheeling, casual practices at startups" [Wall Street Journal].
The Bezzle: "These are the next industries that will go the way of taxis and hotels" [MarketWatch]. WSJ: How is health care going to be Uberized? Arun Sundararajan [a professor at New York University's Stern School of Business]: A whole host of noncritical services—not things like open heart surgery but things like I cut my finger cooking and I need someone to stitch it up for me—can be platform-mediated. You find a registered nurse in your neighborhood. You don't actually go to an emergency room for a noncritical thing. You instead find a platform-mediated solution. Part of what's holding us back at this point is that ." Wowsers. After Uber, we haven't built up "sufficient trust" for calling a cab! (And why not take care of that Registered Nurse with a Jobs Guarantee. Isn't a Jobs Guarantee "The Ultimate Platform"™?
Five Horsemen: "Alphabet and Amazon continue to lead the pack while Apple languishes" [Hat tip, Jim Haygood].
Rapture Index: Closes down one on floods ("The lack of activity has downgraded this category") [Rapture Ready]. Record high: 189, October 10, 2016. Current: 181.
Today's Fear & Greed Index: 53 Neutral (previous close: 52, Neutral) [CNN]. One week ago: 57 (Greed). (0 is Extreme Fear; 100 is Extreme Greed. Last updated Jun 26 at 12:08pm.
Class Warfare
in all racial groups, the top 10 percent owns over 70% of the group's wealth pic.twitter.com/L2FyBSMsu2

— Matt Bruenig (@MattBruenig) June 24, 2017
"California's Wine Industry was Built on Slave Labor" [Daily Beast (Re Silc)]. Primitive accumulation…
News of the Wired
"Eleven" [Haggard Hawks]. Why not Oneteen?
"The US government says you shouldn't be forced to use special characters in your passwords" [Quartz].
"The Oxford English Dictionary Just Added 'Woke.' It's Older Than You Might Think" [Time].
"Sci-Hub As Necessary, Effective Civil Disobedience" [Bjorn Brembs].
"Forced Context Collapse or The Right to Hide in Plain Sight" [tressiemc].
"How Barbed Wire Changed Farming Forever" [JSTOR Daily]. "To get a sense of barbed wire's impact, [economist Richard] Hornbeck compared counties with very little woodland—where wood fences were difficult and expensive to construct—with more wooded areas. He found that, between 1880 and 1900, settlement in counties with no woodland increased by 26 percentage points relative to those with 6 percent woodland. At the same time, many farmers in the areas with few trees shifted from hay—which animals might snack on but wouldn't wreck completely—to crops like corn, which were more valuable but also more vulnerable."
* * *
And here's today's plant (LR):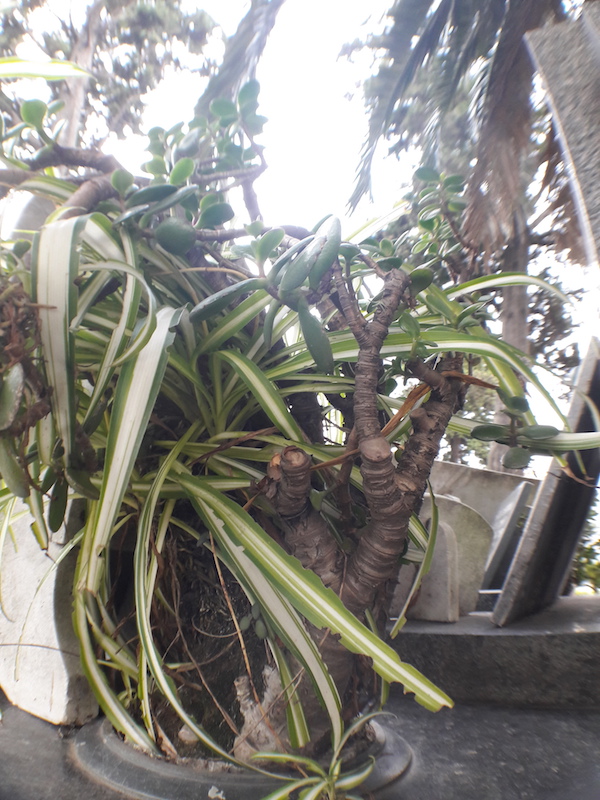 LR writes:
When a jade plant and a spider plant find true love….
…. Another plantidote from the Central Cemetery in Montevideo Uruguay. Winter is just started down here but still I can find things that are blooming. Although this isn't a tropical environment, it never freezes and is generally humid all year round. Right now we're having what's called Little Summer, the last warm spell before winter.
Not so sure about the "true love" part, but it would be nice to see more plants from other countries (and from expats).
* * *
Readers, Water Cooler is a standalone entity, not supported by the Naked Capitalism fundraisers. Please use the dropdown to choose your contribution, and then click the hat! Your tip will be welcome today, and indeed any day. Water Cooler will not exist without your continued help.