By Lambert Strether of Corrente.
There's been a lot of wonkish analysis about how bad this Republican health care bill is — they called it Better Care Reconciliation Act (BCRA), if you can believe it — and it is bad, but there's been very little analysis about why the Senate bill is structured as it is, other than Republicans are mean. Before moving on, let me dispose of the partisan conflict by reposting Matt Bruenig's chart and interpretation: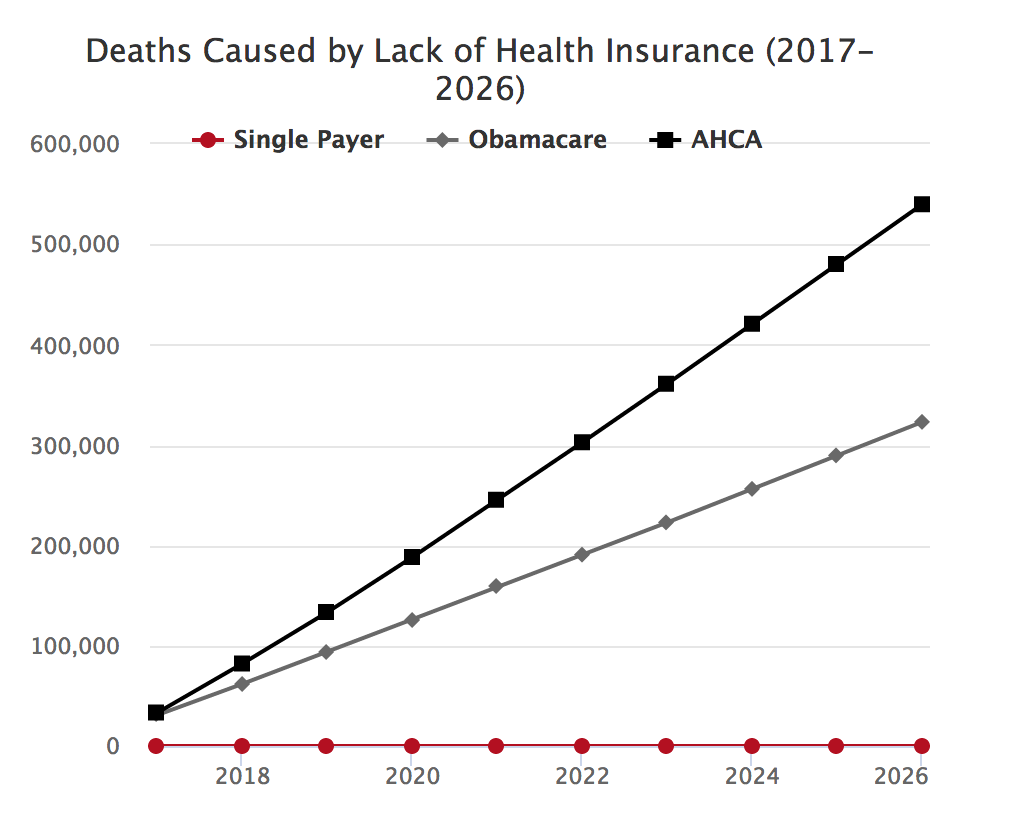 Under AHCA, nearly 540,000 people will die in the next decade because of lack of health insurance coverage. For Obamacare, it is a more respectable 320,000 deaths.
In other words, what we have in this week's battle is a struggle between the two major parties about how efficiently to implement Rule 2 of Neoliberalism. I'm waiting for the liberal Democrat explanation of why 540,000 deaths are bad, but 320,000 deaths are jake with the angels, when there's a 0-deaths alternative available. Until we get one, liberal Democrats have no standing for virtue signaling whatever.[1] All the liberal Democrats want to do is hit you with a softer hammer.
On to the politics of it (after I caveat that the Senate bill is a moving target, not least because the waverers have to be bought off have their concerns addressed, and so constituencies served, or dis-served, may need to be recalibrated as we go along. Whether there's a solution space among the Republican factions is, at this point, not known, but all agree the vote will be a near-run thing[2]).
So, what are the constituencies (or potential constituencies) that the Republicans are taking "care" of with the BCRA? Let's follow the money!
First — and I know this will come as a shock to you, if only because it's crassly overt — the wealthy end up with more money. Obama wrote on Facebook:
The Senate bill, unveiled today, is not a health care bill. It's a massive transfer of wealth from middle-class and poor families to the richest people in America. It hands enormous tax cuts to the rich and to the drug and insurance industries, paid for by cutting health care for everybody else. Those with private insurance will experience higher premiums and higher deductibles, with lower tax credits to help working families cover the costs, even as their plans might no longer cover pregnancy, mental health care, or expensive prescriptions.
Of course, the BCRA isn't a literal transfer of wealth, since Federal taxes don't fund Federal spending, but the wealthy as a class (along with Obama and the political class) believe that it is.
Now in what follows, I'm going to make use of the handy interactive map that Kaiser just published:
This map compares county-level projections of premiums and tax credits for marketplace enrollees under the Affordable Care Act (ACA) in 2020 with estimates for the Better Care Reconciliation Act (BCRA) as unveiled June 22 by Senate Republicans.
(Remember, the BCRA is a moving target. But for looking at political goals prior to sausage-making, a first draft will do perfectly well). I'm going to move through the age cohorts, and set Kaiser's income dropdown to the median for each cohort. Basically, orange means that you get money from the Republicans (you pay less) and blue means the Republicans take money away from you (you pay more).
Second, youth. Kaiser: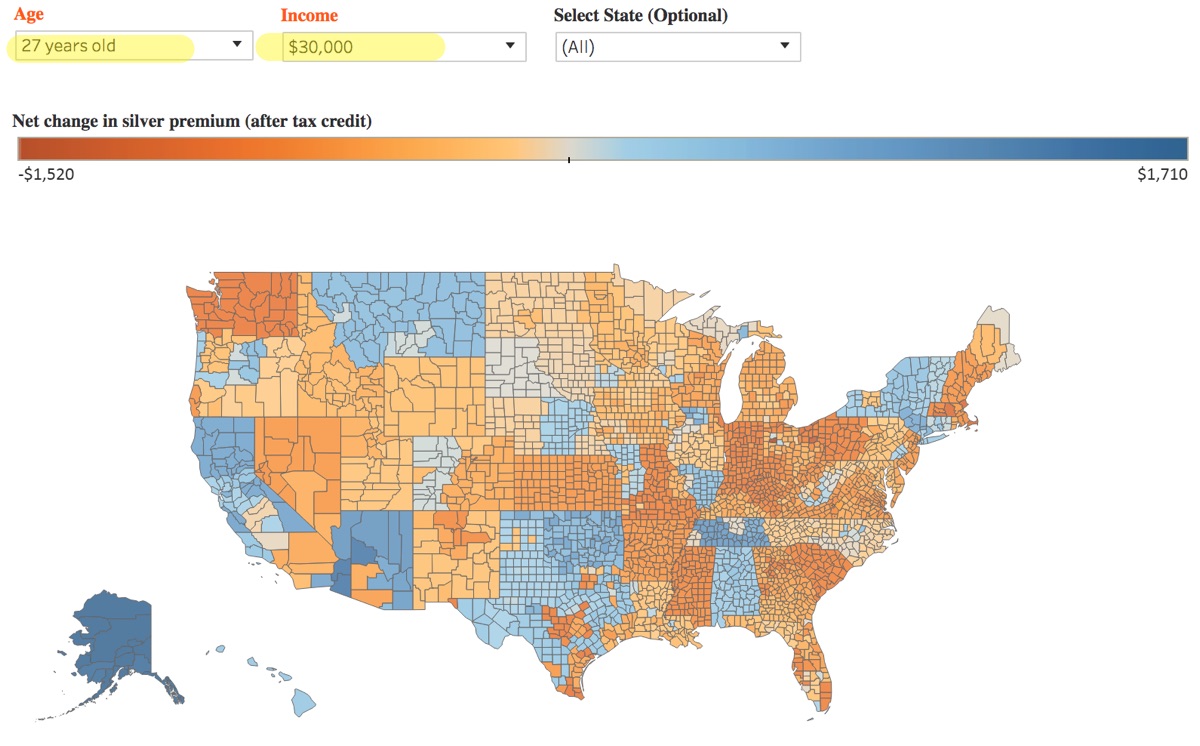 There's a lot of orange on that map! So, the Democrats let you get on your parents' policy 'til you're 26. Then the Republicans cut the cost of your policy when you're 27. Sweet! (Speculating, New York and California are outliers because they'll never vote Republican; Texas is an outlier because it will always vote Republican. I'd also guess that Texas is much more capable of aligning state policy to (Republican) Federal policy than New York and California are).
Third, swing states (that is, the states — and counties — that swung campaign 2016 for Trump). Kaiser: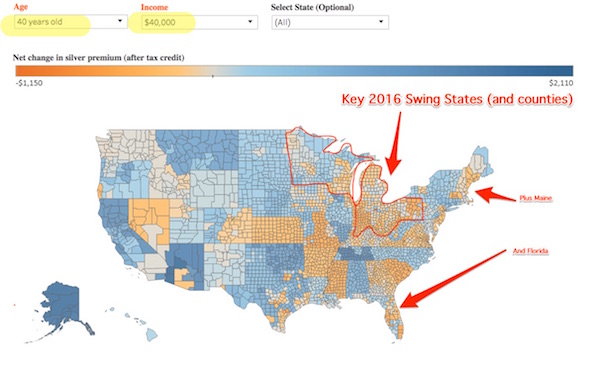 (See "From ObamaCare to TrumpCare: The Politics" for more on counties in those swing states. If Trump delivers on BCRA price cuts, as opposed to promising to do so, those counties are going to need more than one (monopoly) health insurance supplier.)
Fourth, most definitely not elders. Kaiser: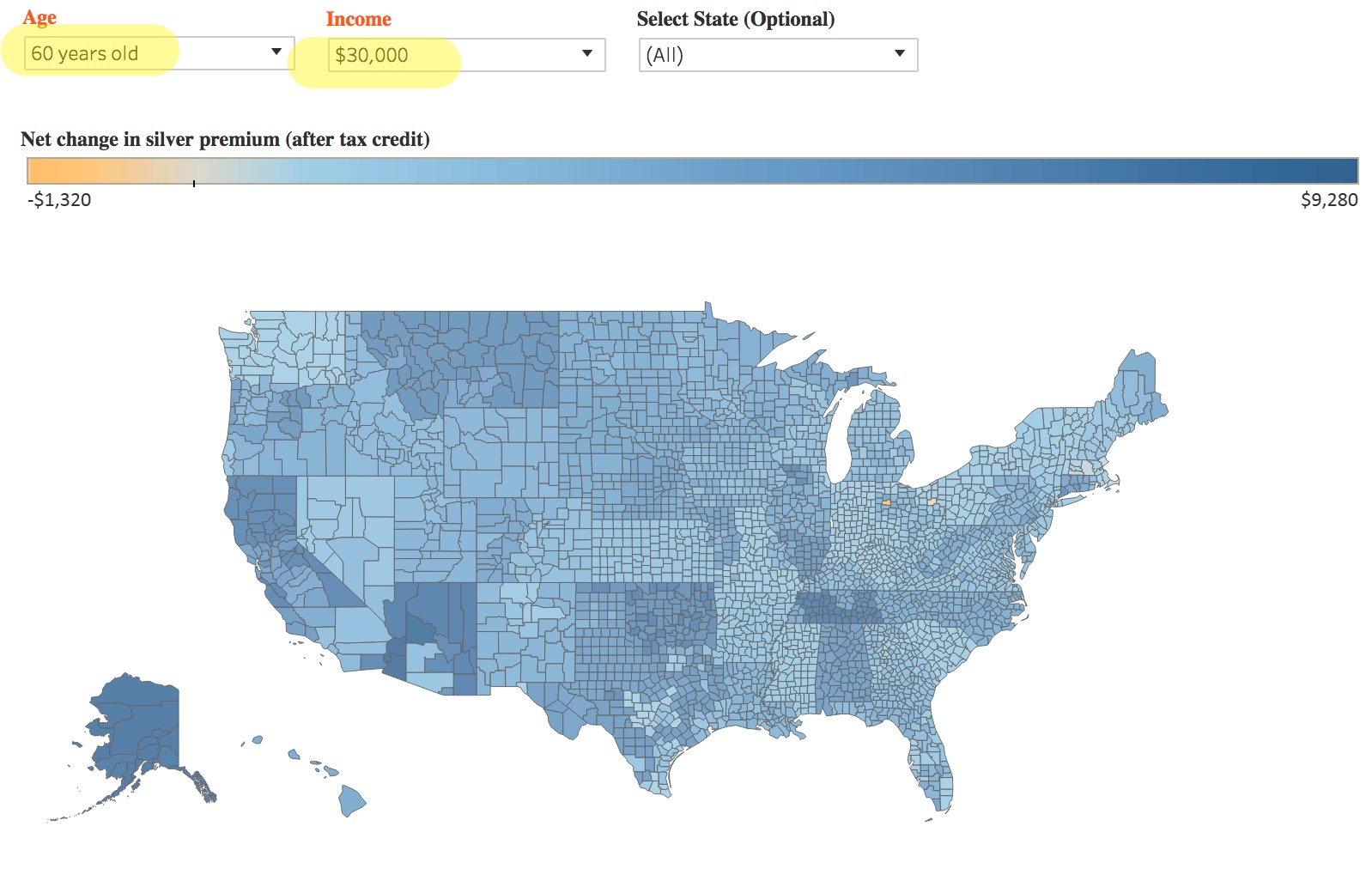 Blue for ice floes! Still, ask yourself if these 60-and-overs are Republican voters, and the answer is probably not. Medicaid recipients and people warehoused in nursing homes tend not, I would guess, to vote Republican, if they vote at all.
Conclusion
Obviously, this is just a sketch; a full analysis would put population numbers next to the age cohorts, look seriously at income, be granular down to the precinct level, include likely voters, and so on. However, I hope you are at this point disabused of the notion that the BCRA is just crazy, random cruelty. There's cold-eyed political calculation behind the bill, and I'm sure in some back room, professionals are running the numbers just as efficiently and effectively as Republicans did for, say, gerrymandering, and that they will be willing to share those numbers with any wavering Senators (along with other goodies).
It should be an interesting week. "More money in your pocket" often works.
NOTES
[1] She's gone round the twist:
Forget death panels. If Republicans pass this bill, they're the death party. https://t.co/jCStfOaBjy

— Hillary Clinton (@HillaryClinton) June 23, 2017
Of course, Clinton's tweet is richly ironic in so many ways, not just on the health care issue.
[2] The five Republican Senators who have come out against the bill are: Sen. Rand Paul, R-Kentucky*, Sen. Ted Cruz, R-Texas, Sen. Mike Lee, R-Utah, Sen. Ron Johnson, R-Wisconsin, Sen. Dean Heller, R-Nevada*. * = Medicaid expansion states. Interestingly, McConnell is from Kentucky.