By Lambert Strether of Corrente
Our mini-fundraiser for Water Cooler is on! As of this writing, 165 donors — our goal is 250 –have already invested to support Water Cooler, which provides both economic and political coverage, to help us all keep our footing in today's torrent of propaganda and sheer bullsh*t. Independent funding is key to having an independent editorial point of view. Please join us and participate via Lambert's Water Cooler Tip Jar, which shows how to give via check, credit card, debit card, PayPal, or even the US mail. Thanks to all!
* * *
Readers, I set the timer on my alarm this morning, but didn't actually turn it on. Bad Lambert! I'll have UPDATEs shortly. UDPATE, 3:00PM That should do it! –lambert
Trade
"The next chapter for the Trans-Pacific Partnership" [East Asia Forum]. The TPP has a role to play as an organ donor, as Shiro Armstrong suggests, where countries and other groupings can take what's good about the TPP and apply it in other agreements. The progress made in opening up Japanese markets, negotiating cutting-edge agreements on data flows and e-commerce, and putting pressure on countries to lift their game in response to US pressure in the TPP don't need to go to waste." "Organs" like ISDS?
Politics
Health Care
Anybody know what's happening with this? I can't find anything on Google showing it actually happened in the last 24 hours or the last hour:

Listen up friends: human chain around the Capitol this Wed at 5 to save ACA. Please come into D.C. Nothing more imp than saving health care!

— Neera Tanden (@neeratanden) June 25, 2017

Or was this just Neera in "Let's put on a show!" mode?

"Warren Buffett calls ObamaCare repeal bill 'Relief for the Rich Act'" [The Hill].

Hadn't thought of Ron Paul as a comedian, but it's been a strange year:

On Fox, Sen Paul says health care bill "should not be a kidney stone" where you "have to pass it."

— Chad Pergram (@ChadPergram) June 27, 2017

Then again, Trump seems to agree with Paul, at least for now:

Trump to GOP senators on health care: "If we don't get it done it's just going to be something that we're not going to like and that's OK." pic.twitter.com/S9lhDwdJND

— Jennifer Jacobs (@JenniferJJacobs) June 27, 2017

UPDATE "For weeks, insiders in Washington have been wondering: Is it possible that the Senate's wily majority leader, Mitch McConnell of Kentucky, secretly wants his healthcare bill to fail?" [Los Angeles Times]. "'The CBO changed the narrative in a bad way,' a top GOP lobbyist told me. 'It looks as if we will be sliding Obamacare back to the Democrats — which is what Trump wanted from Day One.' What he meant was: If Republicans give up and leave Obamacare in place, they can try to blame Democrats for any problems that ensue. As the president tweeted on Monday: 'Perhaps just let OCare crash & burn!' …. But his chances of winning are eroding. According to some Republicans, he's warming to the idea of taking a dive. It may be the only way he has to show Trump how difficult governing really is." I don't think teaching Trump a lesson is sufficient motivation. However, I think that McConnell (a) wants to stay in the catbird seat — i.e., come out looking good "win" or "lose' and (b) protect his caucus. And I think both those motivations come before passing the bill, or protecting Trump. Personally, I would be happiest if everybody's blame cannons got pointed at Paul Ryan. I just can't bring myself to like the man!

UPDATE "McConnell is known as a deal-closer, but he's never done policy this big" [WaPo]. "Now in the majority, McConnell is trying to use budget rules to pass this repeal on a simple majority vote with just Republican votes, unlike his past deals. However, after the meeting with Trump, in a subtle nod to his past, McConnell warned that if Republicans refused to compromise among themselves, he would go back to his old ways and find a Democratic partner to pass something that was much less favorable to conservatives."

UPDATE Conservatives (like the left) know what the stakes are, even as liberals pretend to deny them:

The GOP cajoling to vote for the Senate health bill is:

"Vote for this bill or if we're not careful, everyone will have health care." pic.twitter.com/kCaENJLkd8

— Andy Slavitt (@ASlavitt) June 27, 2017
New Cold War
Wowsers:

Have we checked to see if Nina is also on Putin's payroll?

— Becky (@davefan) June 27, 2017

Wonderfully clarifying.
Realignment and Legitimacy
Obama removed a "motor voting" feature from the ACA exchange legislation that would probably have expanded the franchise because Republicans complained [Talking Points Memo (2015)]. I guess Putin made him do it.

UPDATE Please kill me now:

Some moves at the @dccc: @CheriBustos will take on a role as "Chair of Heartland Engagement," focusing on rural districts. cc @michaelkruse

— Gabriel Debenedetti (@gdebenedetti) June 27, 2017

"Director of Heartland Engagement." I love it. And may The Godd(ess)(e)(s) Of Your Choice, If Any, make sure that Democrats never, ever appeal to working class people, as such, no matter where they live or what their identity silos may be!

UPDATE "Democrats have debated extensively over whether their path to power goes through the white-working-class Rust Belt states or the diverse, well-educated Sun Belt. In 2018, this debate is moot. The Democrats don't have the luxury of choosing where to compete in House races. They'll have to target all of these areas" [New York Times]. Exactly. I don't object to campaigning in Ossoff's district (though one might raise objections to Ossoff's campaign). It's moving all the chairs onto Ossoff's side of the deck that I mind. "The problem for Democrats is simple: There just aren't many great opportunities for them to pick up seats in Democratic-leaning areas. Instead, they'll have to compete in a lot of districts where they're competitive but not favored." Medicare for All would do that.
Stats Watch
MBA Mortgage Applications, week of June 23, 2017: "Purchase applications for home mortgages fell a seasonally adjusted 4 percent" [Econoday].
International Trade in Goods, May 2017: "Strength in consumer exports helped narrow the nation's trade deficit in goods" [Econoday]. "Exports of capital goods, however, fell 0.4 percent to $43.4 billion in an indication of weakness in global business investment."
Retail Inventories [Advance], for May 2017: "Inventories, after contracting in April, moved back into the plus column in May" [Econoday]. "[R]etail inventories rose 0.6 percent with this build concentrated in vehicles."
Wholesale Inventories [Advance], May 2017: "Inventories, after contracting in April, moved back into the plus column in May" [Econoday].
Pending Home Sales Index, May 2017: "Pending sales have slowed for the 3 months in a row" [Econoday]. " Final sales of existing homes don't always move in line with pending sales but the latter's ongoing decline is, like weakness in housing permits, a negative indication for the housing sector."
Housing: "The inventory crisis is worst on the low end of the market, where demand is highest. The number of starter and trade-up homes currently on the market is down 15.6 percent and 13 percent, respectively, compared with a year ago, according to Trulia, a real estate website. The inventory of premium homes has fallen 3.9 percent" [CNBC]. "The supply situation has buyer confidence in the housing market dropping. Just over half of renters say they think now is a good time to buy, according to the Realtors. That is down from 62 percent one year ago. While about 80 percent of current homeowners think now is a good time to buy, they are not listing their homes for sale."
Commodities: "The Shale Revolution's Staggering Impact in Just One Word: Plastics" [Wall Street Journal]. "[The shale oil] boom in drilling has expanded the output of oil and gas in the U.S. more than 57% in the past decade, lowering prices for the primary ingredients Dow Chemical Co. ses to make tiny plastic pellets… Tons more will be shipping soon as Dow completes $8 billion in new and expanded U.S. petrochemical facilities mostly along the Gulf of Mexico over the next year, part of the industry's largest transformation in a generation. The scale of the sector's investment is staggering: $185 billion in new U.S. petrochemical projects are in construction or planning."
Concentration: "It took just 81 days for this chip maker to die after Apple dropped it" [Quartz]. Pour encourager les autres…
The Bezzle: "The explosive impact of blockchain technology" [TASS]. "'Blockchain is one of the core straight-through technologies to drive all sectors of the Russian economy,' said Nikolay Nikiforov, Minister of Communications and Mass Media of the Russian Federation. 'The most rapid pilot projects and potential areas for rapid breakthrough are document flow related to LOC investments deals, the Masterchain Project, as well as projects on certain types of the Federal Service for State Registration, Cadastre and Cartography's transactions that may be executed in an automated 24/7 mode,' added Nikolay Nikiforov."
The Bezzle: "Inside Uber's unsettling alliance with some of New York's shadiest car dealers" [Quartz]. "In July 2015, Uber launched its Xchange Leasing subsidiary to finance leases and rentals for drivers in the US with poor or no credit. The program has been criticized for its sky-high terms and potential for taking advantage of workers, though Uber said it was designed to streamline and improve financing options for drivers. But two years later, Xchange has yet to become available in New York, one of Uber's oldest, largest, and most profitable markets. Instead, the company has maintained partnerships with a small network of third parties that predate its leasing subsidiary, and which operate in the underbelly of New York's auto-financing market, without much scrutiny."
The Bezzle: "The internet of things: industry's digital revolution" [Financial Times]. This is a good review of industrial IoT, which I'm totally sure won't be hackable, and will be a lot more reliable than consumer IoT. Or simply be an excuse for rental extraction by "platforms":
finally, DRM comes to making tea https://t.co/b5zJxHNEX7 pic.twitter.com/Obcw8CWajm

— Internet of Shit (@internetofshit) June 22, 2017
The Bezzle: "Falling out of love with Amazon's Alexa" [Financial Times]. A joke:
Jeff Bezos: "Alexa, buy me something from Whole Foods."

Alexa: "Buying Whole Foods."

Bezos: "No, no, wait…"
But seriously: "[A]s the Bezos joke suggests, there is also a common perception that voice computing is a little bit — how can I put it generously? — rubbish. Like most artificial intelligence technology, it is intriguing and amusing but light years from being truly intelligent." And even if it were… Anybody else remember Joe Chip's fridge in Ubik?
Political Risk: "A trove of internal documents sheds light on the algorithms that Facebook's censors use to differentiate between hate speech and legitimate political expression" [Pro Publica]. "While Facebook was credited during the 2010-2011 "Arab Spring" with facilitating uprisings against authoritarian regimes, the documents suggest that, at least in some instances, the company's hate-speech rules tend to favor elites and governments over grassroots activists and racial minorities. In so doing, they serve the business interests of the global company, which relies on national governments not to block its service to their citizens…. The company recently pledged to nearly double its army of censors to 7,500, up from 4,500, in response to criticism of a video posting of a murder. Their work amounts to what may well be the most far-reaching global censorship operation in history. It is also the least accountable: Facebook does not publish the rules it uses to determine what content to allow and what to delete." The outcome, from the headline: "Facebook's Secret Censorship Rules Protect White Men from Hate Speech But Not Black Children." Not a good look for Zuck's 2020 campaign. (I didn't lead with the headline because as a data person the issue of overlapping sets is interesting to me, and as a data structure forms the logical basis of intersectionality.)
UPDATE The Fed: "Special Report – How the Federal Reserve serves U.S. foreign intelligence" [Reuters]. "The Federal Reserve's little-known role housing the assets of other central banks comes with a unique benefit to the United States: It serves as a source of foreign intelligence for Washington. Senior officials from the U.S. Treasury and other government departments have turned to these otherwise confidential accounts several times a year to analyse the asset holdings of the central banks of Russia, China, Iraq, Turkey, Yemen, Libya and others, according to more than a dozen current and former senior Fed and Treasury officials. The U.S. central bank keeps a tight lid on information contained in these accounts. But according to the officials interviewed by Reuters, U.S. authorities regularly use a "need to know" confidentiality exception in the Fed's service contracts with foreign central banks. The exception has allowed Treasury, State and Fed officials without regular access to glean information about the movement of funds in and out of the accounts, those people said. Such information has helped Washington monitor economic sanctions, fight terror financing and money laundering, or around the world." "Get a fuller picture of market hot spots." What does that mean? Not that I'd ever question the integrity of our central bankers, or the perjurers, torturers, and entrapment experts who run our "intelligence community." (I mean, hey, why do anything so crude as run drugs with Air America, if you can arbitrage advance knowledge of central banking moves. Eh?)
Five Horsemen: "Organic grocer Amazin' leads the Charge of the Tech Wrecks after Gurgle is whacked by the EU meanies"
Today's Fear & Greed Index: 58 Greed (previous close: 48, Neutral) [CNN]. One week ago: 42 (Greed). (0 is Extreme Fear; 100 is Extreme Greed. Last updated Jun 28 at 1:10pm.
Water
"Rivers Connect Us, and Salmon, and Orcas" [American Rivers]. On theCle Elum reservoir, among other sites.
Health Care
"CMS Highlights Counties With Limited Or Zero Marketplace Insurance Options" [Health Affairs]. Watch those swing counties in swing states…
Class Warfare
"Power Causes Brain Damage" [The Atlantic]. "The historian Henry Adams was being metaphorical, not medical, when he described power as 'a sort of tumor that ends by killing the victim's sympathies.' But that's not far from where Dacher Keltner, a psychology professor at UC Berkeley, ended up after years of lab and field experiments. Subjects under the influence of power, he found in studies spanning two decades, acted as if they had suffered a traumatic brain injury—becoming more impulsive, less risk-aware, and, crucially, less adept at seeing things from other people's point of view." And it's not like we don't have examples.
UPDATE "Making Ivanka Trump shoes: Long hours, low pay and abuse" [AP]. Of course this is bad. But this story calls into the bucket of stories called "Bad Things the Political Class Notices Only When Trump Does Them." All over Southeast Asia people are enduring "long hours, low pay, and abuse" making shoes, sewing clothes, breaking ships, working in construction, and on and on and on. But suddenly these workers are objects of tender concern, because of the person they work for. Not buying it.
UPDATE "What a New Survey from Alaska Can Teach Us about Public Support for Basic Income" [Medium]. Polling on the Alaska Permanent Fund. "The Economic Security Project and will continue to unpack the data and share observations on what it means for the conversation on how to provide economic security for Americans. What about the Alaska Permanent Fund's model creates support for universality? How does it impact financial risk-taking across different family sizes? What do the changes in support for the PFD over the last thirty years mean for building political support for unconditional cash?" Hmm.
UPDATE "Why Work?" [The Baffler]. "The first assumption I'm contending with here is that work, broadly conceived as a "metabolic exchange" with Nature, as "the everlasting Nature-imposed condition of human existence" (Marx, from Volume 1 of Capital) and thus as the trans-historical element of human nature, is the site on which human subjectivity—individuality—is conceived and constructed. In modern times, and in modern terms, it is where character and conscience get built… Not anymore. Work no longer serves these dual purposes of building character and providing income commensurate with effort. There's not enough work to go around, and what there is has been reduced to a simulation of effort—pretend work in the cubicles and at the academic conferences—or backbreaking toil in the sweatshops, the office towers, and the offshore factories. The working world as we now experience it is an exquisite corpse, a collaboration between Charles Dickens, David Lodge, and William Gibson." Hmm. Is the author confusing "work" with "labor"?
News of the Wired
"Structure-based control of complex networks with nonlinear dynamics" [PNAS]. If you like network theory….
"I Could Kill You with a Consumer Drone" [Defense One]. I can't think why this hasn't happened already. Then again, would we know?
* * *
Readers, feel free to contact me at lambert [UNDERSCORE] strether [DOT] corrente [AT] yahoo [DOT] com, with (a) links, and even better (b) sources I should curate regularly, (c) how to send me a check if you are allegic to PayPal, and (d) to find out how to send me images of plants. Vegetables are fine! Fungi are deemed to be honorary plants! See the previous Water Cooler (with plant) here. And here's today's plant (PH):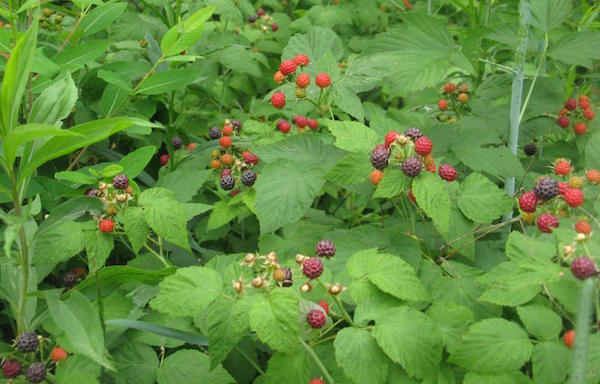 PH writes: "Photo taken a couple of days ago of the first ripe wild berries growing in a
patch by the edge of our woods. They are blackcaps, or black raspberries
(Rubus occidentalis). Very tasty."
UPDATE Now that that the 2017 Water Cooler fundraiser post is launched, I can say that directions for sending a check will include a request to send me a parallel email so I can thank you. I was not able to thank all you sent me checks this year, because I was unable to connect physical mail identities to online identities. Apologies!
* * *
Readers, Water Cooler is a standalone entity, not supported by the Naked Capitalism fundraisers. Please use the dropdown to choose your contribution, and then click the hat! Your tip will be welcome today, and indeed any day. Water Cooler will not exist without your continued help.