Our mini-fundraiser for Water Cooler is on! As of this hour, 148 donors — our goal is 250 –have already invested to support Water Cooler, which provides both economic and political coverage, to help us all keep our footing in today's torrent of propaganda and sheer bullsh*t. Independent funding is key to having an independent editorial point of view. Please join us and participate via Lambert's Water Cooler Tip Jar, which shows how to give via check, credit card, debit card, PayPal, or even the US mail. Thanks to all!
By Lambert Strether of Corrente.
Most of the liberal Democrat opposition to TrumpCare, both in its House and Senate manifestations, has focused on how many people would be thrown off the rolls; for example. (Left opposition to TrumpCare focuses on creating the universal direct material benefit of Medicare for All.) This is a smart tactic, because it piggybacks on press coverage (fueled by the headline numbers from the CBO reports), and it reinforces the psychology of loss aversion. It's also photo- and protest-friendly[1]. Strategically, I don't think it's so smart, for reasons I'll get to in a moment.
In this post, I want to take a less analytically impoverished approach — to be fair, I haven't invested most of my time over the last six months ginning up a Red Scare and fomenting a war with Russia, unlike liberal Democrats — by looking at the BCRA's Medicaid caps[2]. Medicaid caps will permanently crapify the program, and hence are far worse than one-time cuts in the rolls, bad as those are. (The distinction is equivalent to fighting Tory hospital closures in the UK, and recognizing that the Tories are playing a long game, and wish to destroy the NHS altogether by selling bits of it off, both so their cronies can profit, and because ideologically, they're neolibeals, and that's neoliberals do.)
Here is an explanation of how Medicaid caps will "work" under the BCRA. From an important post in Health Affairs, "The Downstream Consequences Of Per Capita Spending Caps In Medicaid":
Recent federal reform proposals from House and Senate republicans would change the current financing system in which the federal government guarantees a share of total program spending to states to one limiting federal cost exposure by setting a per capita cap on federal payments to a state.

A change in the Medicaid program to a per capita cap financing system is included in the House-passed American Health Care Act (AHCA) and in the Senate-proposed Better Care Reconciliation Act of 2017 currently under consideration. With the Congressional Budget Office estimating that the Medicaid proposals in the AHCA will cut federal Medicaid spending by 25 percent by 2026, much attention has been given to the effects of such cuts on decreasing the number of individuals enrolled in Medicaid and increasing state budgets. Much less attention, however, has been given to a related but critical question: How do the reforms affect who enrolls in and gets care under Medicaid? From the lens of economics, we draw an analogy to per capita payments in health insurance markets and explain how .
And:
Federal funding for Medicaid creates a national safety-net[3] health insurance program. to reduce state spending (and the accompanying taxes) by weakening their Medicaid programs. Federal policy for Medicaid prevents the race to the bottom by conditioning funding on both state spending and on the fulfilment of certain safety-net requirements, such as eligibility for statutory categories of individuals and benefit and access requirements.
(You say "race to the bottom" like that's a bad thing!) Here's how the caps would work:
It is not hard to envision Medicaid, under a per capita spending cap system, working as poorly as the early version of Medicare Advantage. States may be less eager to enroll or reenroll sick Medicaid recipients. Such incentives could, for example, manifest in the form of fewer enrollers at and less streamlined enrollment procedures for safety-net hospitals. At the same time, states may be much more likely to send enrollers to schools or community health centers where they can find young relatively healthy children and families. Alternatively, states could take a page out of the Medicare Advantage playbook and modify the services they offer to make them more attractive to young families and less attractive to older, sicker individuals.
Won't that be great? Dealing with Medicaid is going to be like dealing with a private health insurance company, because under the BCRA, the incentives are so similar! (And because conservatives, like Tories, play the long game, a crapified Medicaid will be ripe for ultimate abolition.) And yes, this will happen:
A key question is whether or not such economic incentives are strong enough for states to act upon. The case seems clear that they are. While per capita cap proposals do specify different payments for each eligibility group, there is enormous variation in spending across and within eligibility groups in a given state that creates obvious "winners" and "losers" from the state's point of view.
(Do note that nobody at Health Affairs has taken out their Communist Party card; it's a well-respected, mainstream publication.) Kaiser Health News makes the same argument in "What Could a Medicaid Per Capita Cap Mean for Low-Income People on Medicare?" The structure of the AHCA is a bit different, but it too has caps:
Policymakers are giving serious consideration to [converting] Federal financing for Medicaid [into] a per capita cap model (such as under the AHCA) or block grant, both of which aim to limit and make more predictable federal spending on Medicaid and provide states more flexibility in their management of Medicaid spending. …

Under current law, the federal government matches state Medicaid spending at a rate determined by a formula set in statute. Federal spending increases in response to the rise in the cost of providing care to enrollees, with no limit on total federal contributions.

In contrast, under a block grant or per capita cap model, federal Medicaid spending would rise at a specified growth rate, irrespective of the actual rise in Medicaid spending in a state.
Translating, caps would make it impossible to fund health care for an epidemic under Medicaid. Jackpot! More:
Limits on federal spending could put pressure on states to limit Medicaid spending over time, if Medicaid spending increased faster than the growth in federal contributions.
Creating a race to the bottom. And:
The impact of a block grant or per capita cap would also depend on underlying costs drivers that may vary across states. For example, states that experience a relatively rapid increase in labor costs (e.g., for nurses and home care workers) may have greater difficulty absorbing costs than other states, if federal contributions are capped. The effect for any given state would also vary with the growth in average health care and long-term care costs per person, and states in which Medicaid costs grow relatively rapidly would be more challenged than other states to find the resources to care for their residents.
Bonus points for screwing the unions!
Finally, Brookings makes the important point that we shouldn't confuse the BCRA "cap" with capitation (bad as that is under HMOs/ACOs). Looking at data from the 2000s:
Due to the "one-sided" nature of the AHCA's per capita cap, there would have been . States receive reduced federal matching funding if their spending is above the AHCA cap in a given year, but do not receive additional federal funding relative to current law if spending is below the cap… This means that no state would have received more funding under a per capita cap than under current law in any year. This is an underappreciated feature of a per capita cap, which greatly magnifies the federal budgetary savings from the proposal. It is also an important difference relative to true capitation or block grant proposals under which a state would receive a fixed payment for each enrolled individual or for the program overall.
I'm sure there's plenty more wrong with the BCRA caps, but if dull normals like Brookings, Kaiser, and Health Affairs have, well, concerns about it, I think we can conclude it's pretty bad (and those of you with moderate Republican Congress critters might consider focusing on the cap when you chat with them during the coming recess).
Let's now turn strategy, to the reasons liberal Democrats find it difficult to focus on capping (and gutting) Medicaid, preferring instead to focus on enrollment. Those reasons are implied by this chart from the CBO's cost analysis of the BRCA, presented yesterday, which I have further annotated (in blue):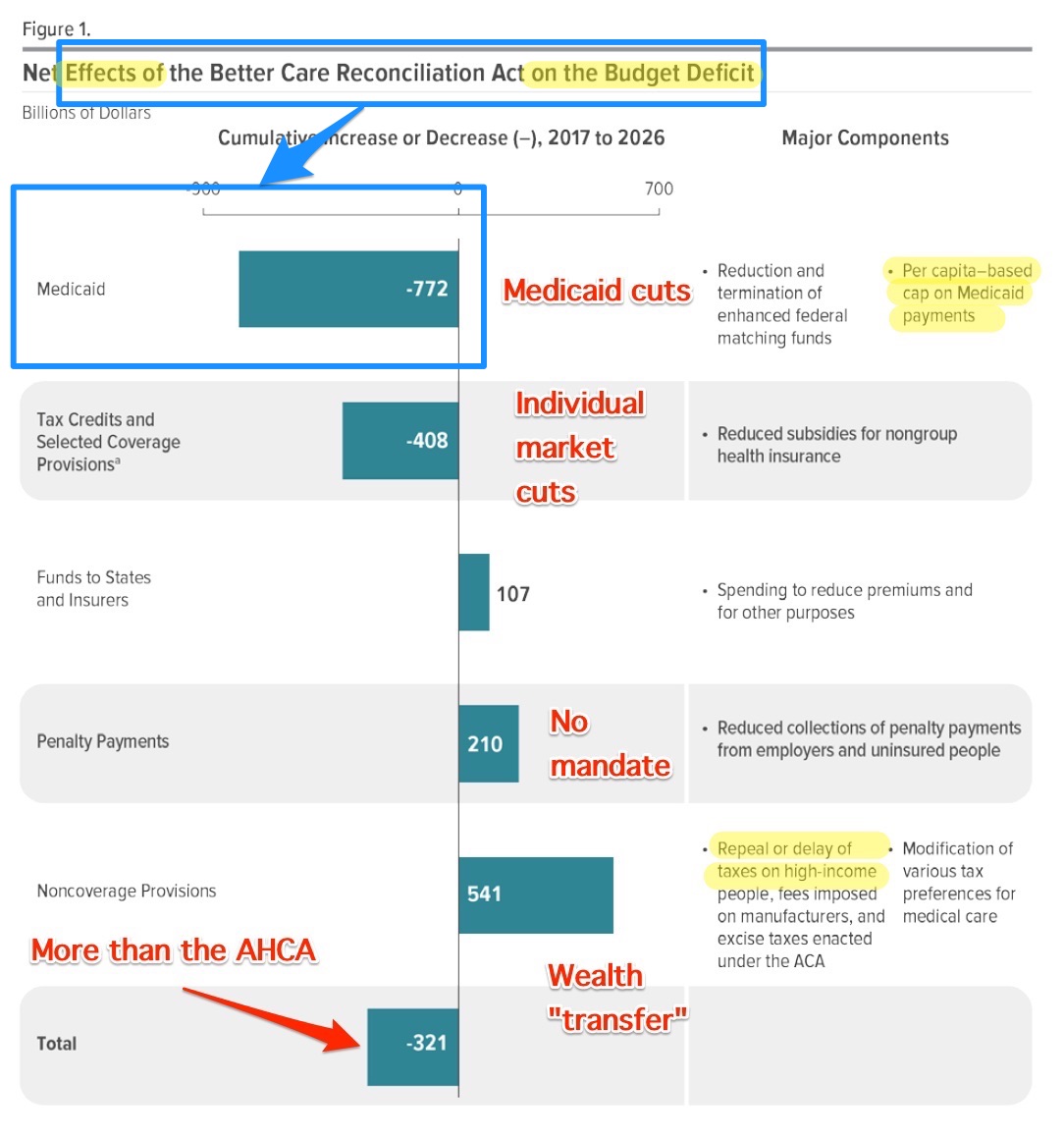 Even assuming policy good faith by the Republicans — I know, but bear with me — on Medicaid cuts, they have to answer as Willie Sutton did when asked why he robbed banks: "That's where the money is." That is, given that Medicare is not (yet) on the cutting block, "bending the cost curve" on Medicaid is the only place where deficit reduction can be seen to be made. And the Democrats are in zugzwang; they have no good move. The Republicans argue that cutting Medicaid is essential to reducing the deficit, and have proposed a method to do so. In response:
1) Liberal Democrats cannot argue that ObamaCare bent the cost curve, because it did not (spending decreased during the Great Recession, for obvious reasons).
2) Liberal Democrats cannot argue that the reducing the deficit is less important than saving lives by providing health care, because they don't believe it; they believe in "fiscal responsibility."
3) Liberal Democrats cannot argue that Medicare for All is the better alternative to both the ACA and the AHCA/BCRA even though it would save the country — although not the Federal budget — well over $400 billion dollars a year and thousands of lives — because they don't believe that, either ("never, ever").
4) Liberal Democrats have yet to answer the question why it's terrifying that 540,000 people will die in the next decade under the AHCA/BCRA, but not terrifying that 320,000 will die under the ACA. They have no moral standing at all.
In short, liberals cannot address the central conservative concern (again, assuming good faith) of deficit reduction, since in fact they agree with conservatives. Hence, they open themselves to Medicaid cuts ("the money has to come from somewhere"). And liberals cannot address the central left concern of universal coverage, because (assuming good faith) they don't believe in it.[4] So they are left in the incoherent position of supporting existing and partial enrollment, while accepting the key rationale that prevents them from expanding it. No wonder they're in trouble, electorally.
Conclusion
In a post this short, I don't think I need a lengthy peroration. Again, I think the well-supported position that Medicaid caps will create a race to the bottom between the states, ultimately destroying Medicaid, would play well with "moderate" Republicans (like, for example, Susan Collins), so be sure to mention it when you communicate with your Congress critters over the recess, or when you write your letters to the editor.
NOTES
[1] Rant: Here is a typical liberal headline from Slate: "Americans With Disabilities Should Be Terrified." Maybe some consultant told these guys that "terrified" was good for clicks; I don't know. Suffice to say that I'm sick of headlines like this, even if they're true. Imagine I'm in a crashing plane. Do I want the flight attendants running up and down the aisles screaming "Be terrified! Be terrified!"? Or do I want real information that will help save lives? I wish liberals, and especially those in the political class, and especially those in the press, would stop projecting their own terror at lost power and influence onto the rest of us. They're creating the worst kind of echo chamber.
[2] One baseline for how bad the health care debate still is: Eliminating Medicaid estate recovery (see NC here, here, and here) still isn't on anybody's radar, at least in the Beltway. Fix that for us, wouldja Neera?
[3] Note that the "safety net" trope is directly opposed to the concept of universal direct material benefits. The policy concept buried in the trope is that most can make it across the tightrope safely, and only a few will actually fall and need the net; this view is a wee bit optimistic in 2017. Also buried in the concept, if we go by experience, is the idea that as you fall through the air, thinking happy thoughts on the way down, you will encounter a series of gatekeepers and rent collectors who will ensure that you really are falling, are worthy of landing in the net, as opposed to on the ground, will fall onto the right part of the net, and so on. Supporters of health care as a universal benefit don't think there should be any such tightrope in the first place.
[4] To be fair, the liberal Democrat base of credentialed gatekeepers and service providers derives material benefits from the artificial complexity of ObamaCare, which is, in a way, a jobs guarantee for them. So there's that.