By Lambert Strether of Corrente
Trade
"We don't know of any bookmakers taking bets yet on which date the United States, Mexico and Canada will reach a revised NAFTA deal. But even though Mexico is pushing hard for the talks to conclude before the end of 2017 to avoid the negotiations becoming a big issue in next year's July 1 presidential election in Mexico, some long-term trade experts say a lot of things would have to fall into place to get a fully agreed-to package by year's end" [Politico].
Politics
Policy
"Sanders and others decided to continue trying to get [drug] importation to a vote. This led to the most recent, and less-publicized, fiasco" (legislative details omitted) [Matt Taibbi, Rolling Stone]. "Sanders, along with co-sponsors Elizabeth Warren and Robert Casey, offered an amendment to the user-fee bill that would have allowed for importation of drugs from FDA-approved facilities in Canada…. Once again, Democratic discipline broke down. The amendment this time was beaten in committee, 13-10. Two Democrats, Patty Murray and Michael Bennet, both of whom accept a lot of pharmaceutical money, voted no." To the contrary: I'd say that Democrat discipline held up quite well!
Obama Legacy
"̌Obama's Drone Warfare Is Something We Need to Talk About" [Teen Vogue]. "Despite all the criticism — including the valid criticism that killing civilians creates more extremism — Obama has defended drone warfare and its remote-controlled killings. During remarks at the University of Chicago Law School in 2016, the then-president stated, 'What I can say with great certainty is that the rate of civilian casualties in any drone operation are far lower than the rate of civilian casualties that occur in conventional war.' Thanks, Obama." Important, considering Teen Vogue's likely demographic. Maybe somebody will pitch an article on the foreclosure crisis to them!
2016 Post Mortem
"A 2016 Review: Why Key State Polls Were Wrong About Trump" [The Upshot, New York Times]. "At least three key types of error have emerged as likely contributors to the pro-Clinton bias in pre-election surveys. Undecided voters broke for Mr. Trump in the final days of the race, or in the voting booth. Turnout among Mr. Trump's supporters was somewhat higher than expected. And state polls, in particular, understated Mr. Trump's support in the decisive Rust Belt region, in part because those surveys did not adjust for the educational composition of the electorate — a key to the 2016 race…. Many of the challenges that pollsters faced in 2016 aren't going away. Next time, the challenges could easily be greater." One way to stretch newsroom budgets on polling would be to hae less of it, especially as election day approaches; 38 countries do, including Canada. I'd consider going even further and banning television and digital media advertising as well. Force the parties to make their case in person. Worked in the days of the Lincoln-Douglas debates!

"It's time to bust the myth: Most Trump voters were not working class" [WaPo]. "Among people who said they voted for Trump in the general election, 35 percent had household incomes under $50,000 per year (the figure was also 35 percent among non-Hispanic whites), almost exactly the percentage in NBC's March 2016 survey. Trump's voters weren't overwhelmingly poor. In the general election, like the primary, about two thirds of Trump supporters came from the better-off half of the economy." I argue that at the margin, they were: The Obama voters who flipped (the same voters that the current Democrat leadership is resolutely refusing to flip back, preferring to replicate Clinton's 2016 strategy by appealing to suburban Republicans).

"Hillary Clinton: Writing new memoir has been 'painful'" [USA Today]. I'm sure. "Hillary Clinton is still deciding on a title for her new memoir, which will be published this fall." Readers, can you help her out?

"Why can't Hillary let it go? Donald Trump's not the only one still obsessing over the election" [Paul Greenberg, Salon]. "In a bizarre performance, Clinton blamed Comey, WikiLeaks, Russia, the New York Times and Netflix. What's missing?" Not to defend Trump, but I keep seeing him described as a petulant manchild. Is Clinton's behavior that different? More mature? Less ego-centric? More intellectually honest?
2017
"In Georgia, a Democratic upset depends on a balancing act" [AP]. "[Ossoff's] two-track approach – going directly to typically Democratic voters and vocal opponents of President Donald Trump, while using television to convince just enough independents and even moderate Republicans – is a necessary balancing act for Ossoff to pull off an upset over Republican Karen Handel in a district Republicans have held since 1979." Seems like sending one message over the airwaves and another in person is a discrepancy a clever Republican campaign could exploit; it's rather Clinton-esque. And here are the stakes: "'If we can win over 50 percent in this district, we know we can do that statewide and around the country,' says Georgia Democratic Chairman DuBose Porter." In other words, a Clinton-esque strategy of appealing to suburban Republicans, vacuous centrist messaging, lots of favorable media coverage, and heavy dependence on donor. It's Clinton 2016, so expect the Democrat establishment to try that in 2020 if Ossoff wins. (The difference is that Ossoff, unlike Clinton, is a "fresh face." Hello-o-o-o, Cory! And good-bye Joe, you lovable goof, you.)
2020
"As self-evident as it may seem to liberals that the Trump presidency has been a disaster and is doomed to defeat, the daily cycle of scandal and outrage that dominates social media is no substitute for a viable presidential candidate. And the Democratic Party, it seems, has yet to learn the key lessons of Hillary Clinton's failure in 2016. While Donald Trump has already filed paperwork for his re-election campaign, Democrats are facing a distressingly shallow bench of potential challengers. Trump may be flirting with an all-time low approval rating, but many of the politicians maneuvering to challenge him are not necessarily in a much stronger position" [Vanity Fair]. Article lists Biden, Warren, cites Mike Allen approvingly on Kirsten Gillibrand, Mark Cuban (!), Terry McAuliffe (!!), Rahm Emmanuel (!!!), as well as Cory Booker and Kamala Harris. Please kill me now.
New Cold War
"The top Democrat on the Senate Intelligence Committee said Sunday there is no "smoking gun" so far showing collusion between Russia and the Trump campaign in an effort to influence the 2016 election, adding that hearings this week will be crucial to congressional investigations into the matter" [Wall Street Journal]. "'Listen, there's a lot of smoke. We have no smoking gun at this point,' Sen. Mark Warner of Virginia said on CNN on Sunday. 'But there is a lot of smoke.'" Named sources with evidence the public can see would be nice, especially considering that some Democrats frame Russian "meddling" as a casus belli. I mean, in both the Gulf of Tonkin and the Iraq WMDs, the administration that wanted war had the common decency to fake some physical evidence; they didn't rely on anonymous "officials," "17 intelligence agencies," and so forth. (Oh, the word now seems to be "colluding." It used to be "meddling.")

"The Latest: France says no trace of Russian hacking Macron" [AP]. I'm so old I remember when that was a done deal. Everybody believed it!

"A Noun, a Verb and Vladimir Putin" [Politico]. "To those with a bit of distance from cable news—that is, every sane person in America—Democrats seem to be replaying the exact strategy that lost them the last election. What, pray tell, is the Democratic Party's message otherwise? That they don't like Russia, except when they did? That they believe Russia is the biggest national security threat to America, except when it wasn't? Democrats appear to have spent about two minutes trying to figure out why the voters of Wisconsin, Ohio, Michigan, Pennsylvania and, very nearly, Minnesota rejected them only a few months ago. And why, despite an ostensibly popular Obama presidency, they now have less political power than at any point in memory. But this is hard and painful spadework, and what's unearthed might prove unpleasant. So why bother?"
Realignment and Legitimacy
"'We call for a #MarchForTruth on Saturday, June 3rd to raise our voices and let our elected leaders know that Americans want answers,' the site reads. 'The legitimacy of our democracy is more important than the interests of any party, or any President" [Time]. Democrats doubling down on Russia. Crowd sizes: Chicago, hundreds; Washington, DC, a thousand; New York, hundreds.

"A Field of Lavender Nourished by Trump's Tweets" [HyperAllergic]. "Using a Raspberry Pi, [artist Martin] Roth has synced grow lights on the small room's ceiling so the strength of their bulbs corresponds with the activities of nearly two dozen Twitter accounts. Most belong to people in President Trump's closest circle: feeds included along with @POTUS and @realDonaldTrump are those of Press Secretary Sean Spicer and White House counselor Kellyanne Conway. Other accounts represent the mainstream media, from CNN to Fox News. When any of these accounts retweets a tweet, the grow lights brighten, increasing in power if there's a flurry of retweets… With all of this curious wiring, Roth intends to create a sort of underground retreat that transforms our media-born anxieties into something therapeutic. Lavender has long been used to soothe the mind and encourage better sleep in addition to healing physical wounds; the more these select politicians and pundits fire tweets, the stronger the scent to the installation's visitors…." You can visit the exhibit until June 21 if you are in the New York City area; here are the details.

"RONALD REAGAN, THE FIRST REALITY TV STAR PRESIDENT" [JSTOR]. "'Politics in the United States has always been a performance art,' writes Tim Raphael in his analysis of the branding and image-crafting that now dominate our political system. Throughout his eight years as president, Ronald Reagan had much more positive poll numbers (60-70%) as a person than did his actual policies (40%). Raphael attributes Reagan's success to the potent combination of advertising, public relations, and a television in every home. (There were 14,000 TVs in America in 1947; by 1954, 32 million; by 1962, 90% of American homes plugged in.)… Ronald, Nancy, and four-year-old Patti were TV's 'first all-electric family' with 'electric servants' making magic as the folks at home watched and dreamed of the good life as seen on television."

* * *

We aren't quite in Nullification Crisis territory (1832), but the trend is clear:

"California could be a 'sanctuary state' from federal pot laws, thanks to razor-thin vote" [Los Angeles Times]. "The state Assembly approved a bill Thursday barring state and local law enforcement officers, absent a court order, from helping federal drug agents in arresting people who are complying with state laws allowing the use and sale of marijuana."

"A "climate coalition" of states producing 30% of US GDP is seceding economically from Trump" [Quartz]. "So far, nine states have joined to form the United States Climate Alliance (paywall) to implement the Paris accord's goal of cutting carbon emissions by as much as 28% at the local level, undermining the US president's pullout and acting as as a sort of rebellious "shadow government" on the environment. The states—California, New York, Massachusetts, Washington, Connecticut, Rhode Island, Vermont, Oregon, and Hawaii—collectively represent a quarter of the US population and produce 30% of the country's annual GDP."

* * *

"Drug Deaths in America Are Rising Faster Than Ever" [New York Times]. "Drug overdose deaths in 2016 most likely exceeded 59,000, the largest annual jump ever recorded in the United States, according to preliminary data compiled by The New York Times." Great to see Democrats focusing like a laser beam on this. Oh, wait…. And now–

"Is there a neo-Nazi storm brewing in Trump country?" [Guardian]. This is an important article; neo-Nazis stop in a coffee shop on their way to an event:

Their political party had been misrepresented, Heimbach explained to the waitresses. They're not the KKK. They're focused on family and faith and local control, on fighting the international corporations who came into Appalachia and took all the profits from Kentucky's coal. Heimbach did not try to sell the waitresses on his plan for a white ethno-state, his conviction that the Holocaust did not happen, his belief in thousands of years of Jewish conspiracy. He just talked about family struggles and immigrants taking jobs and hurting workers and how white Americans needed more representation.

Wooton, who had voted for Trump, was responding enthusiastically. . Her husband, a coal miner, had lost his job under Obama and been hired again three days after Trump's inauguration. Wooton came back to the table repeatedly to press Heimbach for more answers, explaining her manager was still calling him a racist. She asked if Heimbach was willing to work with people of other races. He said of course he was. He talked about the importance of black communities making decisions for themselves, about how black policemen might be better at policing black neighborhoods. Wooton agreed and agreed again.

Talking to Wooton, Heimbach acted like a local politician: polite, a little longwinded, but genuinely passionate.

Notice Wooton trying to do her due diligence! If the Democrats think it's still true that "they have no place to go," they're delusional. And if they focus on suburban Republicans, they're in essence consigning Wooton, and a large part of the populace, to a secular version of hell. Is that what they want? It's certainly not what Sanders wants, and it's what the Sanders wing can prevent, if anyone can.
Stats Watch
Labor Market Conditions Index, May 2017: "The Labor Market Conditions Index for May is, due to the 10-day blackout period leading into an FOMC meeting, delayed until late in the June 16 week. No further information is available" [Econoday]. Isn't this a little unusual?
Factory Orders, May 2017: "The weak run of second-quarter data continues with April's 0.2 percent decline in factory orders. The durable goods component fell 0.8 percent in the month reflecting a give back in aircraft orders and wide weakness for most readings. Orders for non-durable goods rose 0.4 percent reflecting moderate gains for food and energy" [Econoday]. The working class voters who gave Trump his margin of victory won't appreciate this. And: "According to the seasonally adjusted data, it was civilian aircraft that caused the decrease. The data in this series is noisy so I would rely on the unadjusted 3 month rolling averages which declined" [Econintersect].
Productivity and Costs, Q1 2017 (Revised): "Reflecting an upgrade for output, first-quarter nonfarm productivity came in unchanged with unit costs up 2.2 percent both near Econoday expectations" [Econoday]. "Improvement in this revision is welcome but the no change headline for productivity is not, pointing to squeezed margins among employers and going to the heart of this cycle's low growth trend." Hmm.
Gallup US Consumer Spending Measure, May 2017: "May average spending levels continued to be relatively healthy in May.at $104, similar to the $107 average in April. May was the fourth consecutive month that Americans' spending averaged $100 or higher" [Econoday]. "Among both higher- and lower-income earners, average spending in May was similar to April. Americans living in households earning $90,000 or more annually spent an average of $169 — which is among their highest averages in the past year. Spending among Americans in households that earn less than $90,000 annually averaged $79. This too is among the highest rates for this group over the past year."
Purchasing Managers' Services Index, May 2017: "Moderate is the message from the PMI services index which finishes May … lower-than-expected" [Econoday].
Institute For Supply Management Non-Manufacturing Index, May 2017: "just about as expected" [Econoday]. "This report is far from flat, continuing to point to rates of growth that the actual economy has failed to match." And: "The ISM data overall still suggests very firm growth in the services sector and a notable strengthening in the employment index should counter some of the concerns seen following the employment report" [Economic Calendar]. And: "One survey maginally up whilst the other marginally down. I would assume there is little change in the rate of expansion" [Econintersect].
Credit: "The charts [Commercial and Industrial Loans] show it all went bad around November. And it continues to deteriorate with every passing week, with the latest data showing cars, housing, and employment decelerating accordingly" [Mosler Economics]. "Must have been some event that set it off? It was around the time of the election, but I can't recall specifically what would set off something like this?" Speculating freely on the charts, the consumer drop is 10%-ers losing their "animal spirits" on November 9, spending discretionary income on psychiatrists instead of more marble countertops, etc. However, I'm not sure how the drop in commercial real estate correlates to the weirdly optimistic survey data (not born out in government data). Shouldn't it? Readers, thoughts?
Shipping: "The number of containerships of 13,000 teu or above deployed on the Asia-US West Coast trade has nearly doubled since the start of 2017, according to container analyst Drewry, posing questions about how well terminals will cope and how long it will be before the trade is regularly served by 'mega-ships'" [Lloyd's Loading List]. Fascinating to see concentration take physical form.
The Bezzle: "Alphabet Inc., parent of Google, YouTube and a small army of other business, sports a stock price of $996, and it is poised to hit the $1,000 a share mark, as Amazon.com Inc. has just done. The question about whether Alphabet can get there, and stay there, relates to its non-Google, non-search businesses" [247 Wall Street]. "When Alphabet announced its latest earnings, Chief Financial Officer Ruth Porat said: '[corporate blather omitted].' She neglected to mention that, in her own numbers, search represented the lion's share and other businesses nearly nothing."
Political Risk: "[I]t's not a question of whether [Trump] wants to put more money here, there or anywhere. It's whether an investor wants to put his or her money into something. If [Trump] says he's going to bring back coal, that's very different from an investor saying, 'I'm going to come in and build a brand-spanking-new, coal-fired power plant that'll sit around for 50 years.' I think that would be an exceedingly reckless investor, especially if Trump is going to get kicked out" [In These Times]. "Whether it's four years or eight years, he'll be gone soon. Maybe his successor will be a Democrat, the mood will have changed and U.S. climate policies will become significantly stronger. So, you'd have to be a really risk-taking investor to put your money in carbon-intensive industries now. It's just too risky over the long term" (quoting Glen Peters, a senior researcher at Norway's CICERO Center for International Climate Research).
Political Risk: "President Donald Trump's decision to pull out of the Paris Agreement is unlikely to sway U.S. companies that have begun to factor climate change into their supply-chain strategies" [Wall Street Journal].
The Fed: "if these [Randall Quarles and Marvin Goodfriend] are eventually confirmed, the tone of the Fed Board will instantly swing to a far more hawkish tenor. Many market participants have been barking up the wrong tree, arguing that Trump is an easy money guy because he borrowed a lot when he was a real-estate tycoon. As with so much else so far in his Administration, [Amherst Pierpont Securities, Across the Curve]. "Likewise, his rumored Fed nominees are people who are likely to be far more sympathetic to much of his fiscal and regulatory agenda and, perhaps more importantly from a market perspective, are likely to shift the thinking of the Fed away from the radically dovish stance seen since the crisis and back toward a more traditional posture. The trajectory of rates may or may not be altered significantly, but if this story is correct, I am pretty confident that the balance sheet will normalize more quickly under the 2018 FOMC than it would have under the 2016 FOMC. Look for the Chair slot to be filled by someone who is closer to Goodfriend and Quarles than to Yellen."
Rapture Index: Closes unchanged [Rapture Ready]. Record High, October 10, 2016: 189. Current: 183. Oddly, Crime Rate is +1 ("The murder rate in several American cities has risen") and there's no -1 to bring the net reading to 0. This disturbs me, since in my many years of tracking the Rapture Index, I've never seen them make this error.
Today's Fear & Greed Index: 58 Greed (previous close: 57, Greed) [CNN]. One week ago: 47 (Neutral). (0 is Extreme Fear; 100 is Extreme Greed. Last updated Jun 5 at 12:39pm.
Health Care
"The Single-Payer Party? Democrats Shift Left on Health Care" [Alexander Burns and Jennifer Medina, New York Times]. This is a very sloppy article, to say the least. Take this paragraph — please:
Democrats and activist leaders seeking political redemption have embraced an unlikely-seeming cause: an actual government takeover of health care
First, if "Democrats… seeking redemption" includes all Democrats, the claim is false. Clinton's "never, ever" views on single payer mirror those of the Democrat leadership. Second, single payer is not a government takeover of "health care" (that would be the UK's National Health Service, and not Canada's Medicare). It's called "single" "payer", right? Health care delivery remains as private as now (a long-ago compromise in the universal health care movement). And then there's this:
Supporters of universal health care, including activists with Ms. DeMoro's union, repeatedly interrupted speakers at the California Democratic Party's convention in May, challenging party leaders to embrace socialized medicine.
As above, single payer is not "socialized medicine" (a long-ago scareword fomented, IIRC, by the American Medical Association). I'd like to give Burns and Medina the benefit of the doubt, and believe they're simply ignorant instead of dishonest, but now that's difficult. Too bad The Times abolished the Public Editor, or I'd write them!
Gaia
Last week I asked for an "elephant curve" on differential impacts of climate change policy; as with trade, there's no reason to think they'll be evenly distributed, and averages conceal. Here is how the Times addresses that issue: "Any credible effort to combat climate change endangers millions of jobs involved in the extraction and processing of fossil fuels. But the reality of the modern economy is that industries are constantly in flux, and the workers who lose jobs * find better ones" [New York Times]. And by "addresses" I mean "ignores." So who's the patsy at the poker table? I don't know. Oh…. (NOTE * Translation: "I don't care enough to find out. I am, after all, a New York Times reporter!")
"Just 90 companies are accountable for more than 60 percent of greenhouse gases" [Bulletin of the Atomic Scientists]. From 2016, still useful. "[Y]ou could take all the decision-makers and CEOs of these companies and fit them on a couple of Greyhound buses."
"5 reasons why Trump's exit from Paris isn't the end of the world" [World Economic Forum]. "The planet is moving towards a low-carbon future, with or without President Trump."
"Green Tea Party" [Harpers]. Debbie Dooley is a Tea Party founder. And: "She is also one of the country's most effective grassroots campaigners for clean energy…. Renewable-energy policymaking tends to happen at the state level. Because utility coverage often falls along state lines, measures that favor solar energy do too. So even if Trump were to try going after renewables, there is only so much he could do from Washington—and plenty that statewide coalitions like Dooley's can help pioneer outside of it. States like New York and California are obvious places for left-leaning groups to advocate for renewables these next four years; but Florida and other red states could prove a tougher nut for them to crack. With so much of the electoral map shaded red, Dooley's approach might be able edge greens closer to bringing renewables into Trump country."
"Now politics, not skepticism, may be wind power's biggest barrier. Under new leadership with ties to conventional energy interests, the Energy Department is scrambling to complete an internal study in the next month that could lead to an upending of the policies that fostered the rapid spread of solar and wind" [New York Times].
"When placing tenders and requests for quotation, companies are now paying greater attention to the green credentials of potential suppliers, and − in more and more countries − local and central government purchasing bodies are routinely setting green performance standards for their service providers. Consumers, too, are becoming increasingly aware of the role that manufacturers, distributors and retailers can play in helping to reduce emissions, with abundant evidence that a majority of consumer purchasing decisions are now influenced by the perceived environmental performance of the company supplying the product" [Lloyd's Loading List]. "Most importantly, more efficient use of fuel resources reduces oil consumption, which of course brings down costs and improves the bottom line. The issue has become even more critical as the globalisation of modern supply chain ecosystems has led to complex elongated logistics networks. These involve more frequent and longer distance journeys, which consume vast amounts of fuel and generate substantial carbon emissions, as products and components travel by plane or ship around the world, enabling international trade flows."
Black Injustice Tipping Point
"Ferguson was incorporated in 1894, as an all-white town. Blacks were not allowed to live here. There were racial covenants in place in Ward 2 Ferguson (my ward), as late as 1979. They broke those up, and where the covenants were in place, those neighborhoods are now mostly comprised of black folks" [On the Top Step]. "The town, which was founded by whites, for whites, and with its government emanating from whites, was fundamentally unprepared institutionally to address this turnover of its population when it happened." Blog from a Ferguson resident and candidate for office.
.@EBONYMag front cover looking nice with @chancetherapper on it — but they still haven't paid all their freelancers. #ebonyowes pic.twitter.com/OGg8LFtH9W

— Ernest Owens (@MrErnestOwens) May 27, 2017
Still true, not all freelancers paid. Nice.
"Investigators are searching for the driver of a pickup who witnesses say intentionally ran down two Quinault tribal members at a campground, killing one and injuring the other" [Seattle Times].
Class Warfare
"The Chinese Factory Workers Who Write Poems on Their Phones" [Literary Hub]. "Since China's reform and opening-up era of agricultural de-collectivization, privatization of industry and the shift towards a self-styled socialist market economy, it is estimated that 274 million Chinese migrants have moved from the countryside to work in mines and on urban assembly lines. … Today the most famous migrant worker poet is 24-year-old Xu Lizhi who committed suicide in 2014. He worked at Foxconn city, the electronics mega-factory in Shenzhen famed not only for manufacturing all our Apple products, but for a spate of suicides in 2010 that exposed the sinister myth of opportunity and social mobility on the assembly line: "To die is the only way to testify that we ever lived," wrote one blogger at the factory. (Foxconn subsequently erected netting to prevent not the despair but the death toll.) But when Xu threw himself from the 17th floor of a building four years later, having published much of his work online, it was not his death that made headlines, but his skill as a poet." Important topic of which we hear almost nothing in the business press, or indeed the press generally. There is the portal: 工诗联首页 – 工人诗歌联盟.
"Between the Black Body and Me" [R.L. Stephens, Jacobin]. A critique of Ta-Nahesi Coates, worth reading in full: "Instead of finding relief in political action, Coates finds it in a cookout at Howard University's homecoming, surrounded by black people. He fantasizes that he is 'disappearing into all of their bodies,' as the music and dancing, the black cultural zeitgeist of the moment, cure him of the 'birthmark of damnation.' The curse is lifted. Blackness is transfigured, becoming a space 'beyond the Dream.' It's another ontological pivot, this time allowing Coates to conclude that The Mecca's — his term for Howard — cookout has a 'power more gorgeous than any voting rights bill [!!!]'." Episode 113 of Chapo Trap House includes an informative and hilarious interview with author Stephens.
""I'm as Poor as Sh*t": A Look at Downward Mobility in Lancaster, Ohio" [In These Times]. "Brian Alexander in his new book Glass House: The 1% Economy and the Shattering of the All-American Town makes the case that Lancaster's decline is not the result of individual "bad" decisions, like not using birth control, dropping out of high school and getting addicted to opioids. Instead, it's the consequence of deregulatory economics on Wall Street that eviscerated working-class communities in small towns across the United States…. In Glass House, Alexander struggles to find a satisfactory explanation for Lancaster's support for government austerity, self-reliance and Right-wing politics under expanding conditions of poverty. Perhaps this is because he barely touches on the Democratic Party's strong ties to Wall Street and its corresponding failure to protect unions and unite the working-class across racial lines. Instead, Alexander resorts to vague platitudes about nationwide decline…." ("Glass House" from glass manufacturer Anchor-Hocking, who come across as particularly vile corporate malefactors.
"But governments must consider ways to manage the transition to driverless trucks in order to avoid potential social disruption from job losses, it urges. Automated trucks could reduce the demand for drivers by 50-70% in the US and Europe by 2030, with up to 4.4 million of the projected 6.4 million professional trucking jobs becoming redundant, according to one scenario" [Lloyd's Loading List]. Or we could simply throw the drivers under the, er, bus, as we always have before. Why tamper with success?
News of the Wired
"The 'Wow!' Signal" [The Center for Planetary Science]. The answer to "Where is everybody?" continues to be "Not here, that we know of." Sigh.
"5 of Humanity's Best Ideas of What Dreams Actually Are" [New York Magazine].
"Jean Sammet, Co-Designer of a Pioneering Computer Language, Dies at 89" [New York Times]. "COBOL was initially intended as a short-term solution to the problem of handling business data — a technology that might be useful for a year or two until something better came along. But it has lived on. More than 200 billion lines of COBOL code are now in use and an estimated 2 billion lines are added or changed each year, according to IBM Research."
"Snake Oil Salesmen Were on to Something" [Scientific American]. "For centuries snake oil has been a folk remedy in Chinese medicine, used primarily to treat joint pain such as arthritis and bursitis. Its introduction to the U.S. most likely occurred with the arrival of Chinese laborers who came to build the Transcontinental Railroad in the mid 1800s. They may have offered snake oil to fellow workers as relief for suffering long days of physical toil."
Zeitgeist Watch:
Man mowing lawn with tornado behind him says he "was keeping an eye on it." https://t.co/iz8fN0bMtT pic.twitter.com/9Lnqb8iViq

— David Nelson (@DavidNelsonNews) June 4, 2017
* * *
Readers, feel free to contact me with (a) links, and even better (b) sources I should curate regularly, and (c) to find out how to send me images of plants. Vegetables are fine! Fungi are deemed to be honorary plants! See the previous Water Cooler (with plant) here.
And here's today's plant (EU):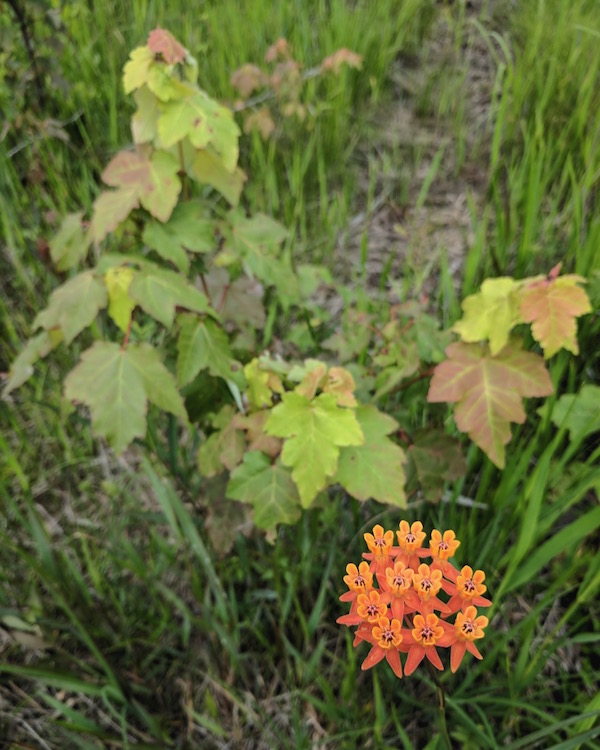 EU writes: "Botanizing season is in full swing down here, and I've been coming across many interesting components of our native flora. Here are but a few, if you're in need of photography to dull the pain of our modern times" (here being southeastern North Carolina). Artful focus, there!
Asclepias lanceolata (few flowered milkweed)
* * *
Readers, Water Cooler is a standalone entity, not supported by the Naked Capitalism fundraisers. Please use the dropdown to choose your contribution, and then click the hat! Your tip will be welcome today, and indeed any day. Water Cooler will not exist without your continued help.