By Lambert Strether of Corrente
Politics
Policy
"Eurasian integration meets America First" [Pepe Escobar, Asia Times]. "For Beijing, leadership in the fight against climate change now translates as an unprecedented accumulation of political capital. Add to that its ambitious expanse New Silk Roads project – which has been renamed the Belt and Road Initiative (BRI) – and we have China positioning itself to lead on both the multilateral and environmental fronts…. The bottom line is that the EU cannot bypass the New Silk Roads' gigantic, transcontinental infrastructural investment orbit. Beijing may not regard Brussels as a serious geopolitical player, but it does relish the EU going after US leadership in global trade…. Frantic speculation about the end of the American century, or the US no longer acting as 'leader of the free world,' is idle. What matters is that most of the facts above spell out progressive, and inexorable, Eurasian integration, from Russia-China deals to EU-China cooperation…. As for the Trump doctrine, arguably it has been detailed, in full, for the first time in the Wall Street Journal [by H.R. McMaster and Gary D. Cohn]. 'The President embarked on his first foreign trip with a clear-eyed outlook that the world is not a 'global community' but an arena where nations, nongovernmental actors and businesses engage and compete for advantage. We bring to this forum unmatched military, political, economic, cultural and moral strength. Rather than deny this elemental nature of international affairs, we embrace it.'"

"[Trump is] attempting to restore the primacy of industries that powered the American economy in the mid-20th century: particularly manufacturing, fossil fuel extraction, and construction. In the process, Trump is sublimating—if not opposing—the needs of the sectors likely to drive more growth through the 21st century: information technology, professional services, clean energy, entertainment, education, tourism, health care" [Ron Brownstein, The Atlantic]. Simplifying, restoring the power of the local oligarchs in the (colonized) flyover states who control those sectors, as opposed to the power of the professionals in the metropolis.
2020
Cory Booker: "[H]ow would you feel if I gave back all of the pharmaceutical money that I have in this cycle, would you feel better" [Real Progressives USA (JE)]. It would be a start (and I love, just love Booker's qualification: "this cycle").
2017
GA-06: Ossoff opposes Medicare for All. 2017 continues to be as wonderfully clarifying as 2016!

Ossoff not down for single-payer, says no chance of passage. "We need a lot less ideology around health care." @WABENews @PBSAtlanta debate

— Alex Burns (@alexburnsNYT) June 8, 2017

No wonder the Democrat Establishment and the Clintonites are so enthusiastic about him! (And as if ObamaCare wasn't utterly driven by neoliberal, markets-first ideology!)

SC-05: "The Democratic Congressional Campaign is investing $275,000 in Archie Parnell's campaign to fill a vacant South Carolina seat in the U.S. House of Representatives. arnell trails his GOP opponent by 10 percentage points, according to a poll conducted by Anzalone Liszt Grove Research on behalf of Parnell's campaign. That's an improvement over a 16-point deficit in March, according to the same poll" [HuffPo]. "The DCCC, House Democrats' election fundraising arm, has stuck to a strategy of placing big bets only on seats where polling shows it can win, despite criticism from some progressive activists for not backing special election candidates earlier and more aggressively." Parnell, of course, works for Goldman Sachs. So I'm actually happy the DCCC is stiffing him. But still.

"As my colleagues and I have been writing for the last few weeks, a clear "enthusiasm" gap is opening between Democrats and Republicans, with Democrats more engaged (or is it enraged?) than their GOP counterparts… The latest example of this enthusiasm gap is the drop in the percentage of Americans who identify as Republican. But, before Democrats get too excited about these latest numbers, it's important to note that there has not been a corresponding bump in the percentage of Americans who identify as Democratic [Charles Cook, Cook Political Report]. "As Gallup writes, 'the Republican decline has been offset mostly by a three-point increase in the percentage of Americans with no party preference or leaning.' In other words, voters may be souring on Republicans but that doesn't mean they are transferring their allegiance to Democrats." Clearly, Democrats need to double down on what they're already doing.
Trump Transition
"Christopher Wray, President Trump's nominee to be the next director of the Federal Bureau of Investigation, is firmly embedded in the corporate crime bar" [Corporate Crime Reporter]. "And his fellow members of the bar are coming out of the woodwork to praise him. 'Chris Wray is a superb and serious lawyer with a strong moral compass,' said Leslie Caldwell, head of the Justice Department's Criminal Division under President Obama. 'Having served under Chris when I was Director of the Enron Task Force, I witnessed first-hand his deep respect for the Department of Justice and the FBI, as well as his strong commitment to public service. The country is lucky to have someone of Chris's caliber serve in such an important role.'"
Realignment and Legitimacy
"Former FBI director James B. Comey said Thursday he helped reveal details of his private conversations with President Trump because he thought doing so would spur the appointment of a special counsel to investigate the administration—a remarkable admission showing the degree of concern he had about both Russian interference with U.S. politics, and his doubts about the Justice Department's ability to probe such activity" [WaPo]. Assuming good faith, yes. And–

"Comey testified that he arranged to have to pass along his memos to a reporter with hopes that the publicity would lead the FBI to name a special prosecutor to handle the ongoing investigation into the Trump campaign's contacts with Russian officials" [WaPo]. Cue the fevered speculation!

Lambert here: Putting legal and ethical issues aside, if a special counsel ends up taking Trump down, Comey will be credited with having performed a feat hitherto unknown in politics: Taking down the presumptive front-running candidate in a Presidential election (at least according to the dominant faction in the Democrat Party), and then taking down the candidate who was elected instead. In my view, that will give Comey (along with his faction in the "intelligence community) open veto power over any future Presidential candidate, should he choose to exercise it, a change in the Constitututional order. I mean, the story of the quadrennial trek to visit with The Last Honest Man in Washington on his front porch practically writes itself. Comey is only 56.

"In Trump world, everything is a deal, everything is transactional, everything is about personal loyalty — to him. What can I give you to make you do what I want? What can I threaten you with to force you to do what I want? Will you be with me no matter what?" [E.J. Dionne, WaPo]. "In constitutional democracies, rules and norms get in the way of this sort of thing. Other institutions in government have autonomy and derive their authority from being at least partly independent of politics. The boss does not have absolute power." All very true, and part of a liberal genre of piously and vociferously pointing out failure by person T, where the failures are shared by the political class, including prominent liberals. For example, from Politico: "For Hillary, whose [2008] loss was of course not the end of her political career, the spreadsheet was a necessity of modern political warfare, an improvement on what old-school politicians called a 'favor file.' It meant that when asks rolled in, she and Bill would have at their fingertips all the information needed to make a quick decision—including extenuating, mitigating and amplifying factors—so that friends could be rewarded and enemies punished." That's not transactional? My point is not to say that "everybody does it"; everybody doesn't. Rather, I'm asking who has the standing to make this argument? Not the Democrat Establishment, for whom Dionne carries water, that's for sure. More centrally, I don't like the slipperiness of "rules and norms" (and I don't think Madison would, either. The title of Federalist 51: "The Structure of the Government Must Furnish the Proper Checks and Balances Between the Different Departments." Checks and balances prevent "the boss" from having absolute power, not "rules and norms," which amount to assuming good people are good. Madison rejects that assumption: "This policy of supplying, by opposite and rival interests, the defect of better motives, might be traced through the whole system of human affairs, private as well as public.") I don't like the slipperiness of "rules and norms" in the same way that I don't like the slipperiness of confusing intelligence analysis (such as it is) with criminal investigation. The way to make sure that "everything" is not transactional is to fund political campaigns properly, as Sanders did. Or rather, to make politics a "transaction" between voter and representative.

"Comey's compelling case of Trump nearing obstruction of justice [New York Daily News]. "When told, the last of many times, that the proper way for a President to comment on an ongoing criminal investigation was for the White House counsel to contact the leadership of the Justice Department, not for the President to jawbone the FBI director, Trump seemed to agree, adding, oddly, 'Because I have been very loyal to you, very loyal; we had that thing you know.'"

"James Comey's testimony doesn't make the case for impeachment or obstruction against Donald Trump" [Jonathan Turley, USA Today]. "CNN ran comments that the Comey testimony was nothing short of the Watergate tapes. The desire for some indictable or impeachable offense by President Trump has distorted the legal analysis to an alarming degree. Analysts seem far too thrilled by the possibility of a crime by Trump. The legal fact is that Comey's testimony does not establish a prima facie — or even a strong — case for obstruction. It is certainly true that if Trump made these comments, his conduct is wildly inappropriate. However, talking like Tony Soprano does not make you Tony Soprano. "

"The mathematicians who want to save democracy" [Nature]. "Gerrymandering has a long and unpopular history in the United States. It is the main reason that the country ranked 55th of 158 nations — last among Western democracies — in a 2017 index of voting fairness run by the Electoral Integrity Project…. Lawsuits fighting partisan gerrymandering are pending around the country, and a census planned for 2020 is expected to trigger nationwide redistricting. If the mathematicians succeed in laying out their case, it could influence how those maps are drawn. … 'This is what the courts have been waiting for,' says Megan Gall, a social scientist with the Lawyers' Committee for Civil Rights Under Law in Washington DC. 'This is our way to stop it,' she says."
Stats Watch
Jobless Claims, week of June 3, 2017: "After spiking in the prior week, initial jobless claims came back down" [Econoday]. And: "There is nothing in the data to discourage a Fed move to raise interest rates next week" [Economic Calendar].
Bloomberg Consumer Comfort Index, week of June 4, 2017: "The consumer comfort index fell back from expansion highs in the June 4 week, down 1.3 points to a still very solid 49.9. Strong readings for confidence reflect strong optimism for employment" [Econoday].
Quarterly Services Survey, Q1 2017: "Information revenue rose 1.5 percent in the first quarter compared to the fourth quarter with the year-on-year rate at plus 4.2 percent" [Econoday].
Consumer Credit, April 2017 (yesterday): "Credit growth slowed in April, to $8.2 billion which is well below Econoday's median estimate for $17.0 billion and low estimate of $15.0 billion. Weakness is centered in nonrevolving credit which rose only $6.7 billion for the lowest reading in nearly 6 years. This includes weak showings for vehicle financing and also student loans which are lumped into this component" [Econoday].
Shipping: "Container lines using the Panama Canal are set to benefit from an unexpected boom in shale gas shipments out of the US, as the canal authority is set to reduce some tolls" [The LoadStar]. "The news comes almost a year after Panama's president, Juan Carlos Verela, officially opened new locks built to respond to increasing vessel sizes, and which allow for a maximum of 18 transits a day by bigger ships. However, because of the 'explosion' in shale gas exports, Seatrade chief executive Yntze Buitenwerf said the US had 'confiscated' three transits a day to serve its needs. While not officially allowed, Mr Buitenwerf said a special regime was in place to accommodate this." "Confiscated"?!
Shipping: "National Forklift Safety Day 2017" [DC Velocity]. Of course, my instinct to mock was about to kick in; but if you've travelled to countries where labor is very cheap, you're unlikely to have seen a lot of attention paid to "prominent forklift safety advocates." There are still some things this country does well.
Shipping: "The worst may be over for the marine shipping industry, after years of overcapacity and devastating price wars. An improving global economy is driving more oceanbound trade, with volumes in the dry-bulk sector expected to grow 3%, outpacing a projected 1% increase in capacity. Improved demand from China for thermal coal and iron ore are helping drive up demand for dry-bulk ships. The container market is also rebounding, with prices up 55% last month. Container shipping lines have greater control over capacity and rates on key routes after the biggest players consolidated into a handful of alliances" [Wall Street Journal]. "Collectively, these operators are likely to turn a profit this year, after multi-billion-dollar losses in 2016. Oil tankers have had a rougher start to the year, but with more older ships headed for the scrapyard, buyers have snapped up 69 new and used very large crude carriers this year through May, compared with just eight last year."
Shipping: "The U.S. river system ferries nearly three-quarters of export-bound U.S. grain to ocean ports, but most locks and dams, which allow river barges to move through various elevations, have outlived their intended 50-year lifespans. U.S. exporters absorb some of the financial toll of inefficient transport, with farmers on the Upper Mississippi or Illinois rivers receiving up to 21 cents less per bushel of corn in the event of unplanned closings of certain locks" [Wall Street Journal].
Innovation: "Chinese manufacturer Transsion Holdings Ltd. became the top player in Africa by developing localized features like devices with two card slots for customers who had multiple SIM cards, and an optimized camera for people with dark skin" [Wall Street Journal]. "These companies and others are clustered in China's Pearl River Delta, close to component makers that have graduated from contract manufacturers for Western technology companies to innovators in their own right. Cheap production costs and access to the latest advances have sparked fierce competition between Chinese smartphone makers, which now pose a threat to global giants. Oppo sell more than three phones in China for every two sold by Apple. But fierce brand loyalty among Apple customers means the different Chinese players are mostly competing against themselves." If Apple wants my loyalty, give me the two SIM slots!
Fodder for the Bulls: "Don't be nervous. It might be a bit early to make this call, but I will make it anyway: I have trouble putting anything more than trivial odds on a recession in 2018, or even 2019. At this point, the best bet is that this expansion, which started in 2009, at least ties — if not beats — the current record of 10 years" [Tim Duy, Bloomberg].
Five Horseman: "SSDD: the Five Horsemen are at the threshold, with Facebook trading just above its record high." [Hat Tip, Jim Haygood]. SSDD presumably this and not this or this. SMDH. This is a family blog.
Today's Fear & Greed Index: 56 Greed (previous close: 55, Neutral) [CNN]. One week ago: 58 (Greed). (0 is Extreme Fear; 100 is Extreme Greed. Last updated Jun 8 at 12:28pm.
Our Famously Free Press
"Golden handshakes of almost half a million at Wikimedia Foundation" [The Register]. Six figure payouts are hardly real money, these days. Nevertheless, there is a faint aroma….
Class Warfare
"From the beginning, the poor were especially at risk for lead paint poisoning. "It was always the poorest people living in the most dilapidated housing, where absentee landlords let properties disintegrate, who were the most victimized," says Rosner. The link between poverty and lead paint was strengthened during the post-World War II era, when "white flight" to the suburbs and discriminatory housing practices led to a greater concentration of poor and minority residents in the inner cities. Their homes and apartments tended to be older and poorly maintained, increasing the chance that children were exposed to chipping and peeling paint" [Federal Reserve Bank of Richmond]. The subhead for this paragraph: "The Basic Problem is Poverty." The Richmond Fed takes out a Communist Party card….
"Filipinos make up nearly a third of all cruise ship workers. It's a good job. Until it isn't" [California Sunday]. "Filipinos make up about a third of the workforce on cruise ships — by far the greatest share from any country. They carve sea-creature ice sculptures in apartment-sized freezers, rappel from ropes to scrub the ship's hull, give manicures and massages, dance to "Livin' la Vida Loca" for dinner guests, and bus three-course meals from double-decker dining halls. Although the pay is attractive compared to jobs at home, the trade-off is a contract that offers little protection…. Regie didn't take the time to read the entire document, which was in English, a language he understood but not fully. The first page spelled out all he wanted to know: The salary would be enough to send his kids to private school, and the 48-hour workweek sounded standard. Regie didn't notice that his $450-a-month pay was fixed, even if he put in up to 70 hours a week. He also didn't see the clause at the bottom of the third page that barred him from seeking protection under U.S. law if he were injured."
"Hanson dismantles the notion that that long hours are a mandatory part of a startup's origin story—and, in fact, that there are other forces at play here. If tech financiers' wealth depends on the productivity of its portfolio companies, then investor attitudes are partly responsible for the unhealthy work habits that have infected so many startups. "It's not hard to understand why such a mythology serves the interest of money men who spread their bets wide and only succeed when unicorns emerge," Hanson wrote. "Of course they're going to desire fairytale sacrifices. There's little to no consequence to them if the many fall by the wayside, spent to completion trying to hit that home run. Make me rich or die tryin'." [Wired].
"'The pill mill of America': where drugs mean there are no good choices, only less awful ones" [Guardian]. "James is polite and soft spoken, his focus shifting between the kids in the cart and Meghan on the corner. He explains that they were evicted a year and a half ago for 'non-payment' and after a stint in a shelter, they took to the street. When I ask him how he can be on the streets with two kids, he clarifies: 'We ain't really homeless right now. We crash in a shed behind the house of a friend.' I ask him if the shed has water and heat and he smiles and says: 'We have a cord we run out to the shed. It has been warm the last three nights, so that's good.;" Maybe if there were some kinda special credential for preventing "deaths from despair" liberal Democrats would pay attention? You know, a fancy diploma with a signature at the bottom? And a signing ceremony?
The beauty of rural America pic.twitter.com/y71YuZeXZp

— Chris Arnade (@Chris_arnade) June 8, 2017
Rural America is beautiful. It's understandable that people don't want to leave a land that they love.
"For all of the talk about automation, outsourcing, and the gig economy transforming the labor market, there is a lot of public service work that takes a human touch that the market is not seeing to, including elder care, childcare, deferred maintenance, establishing a green energy infrastructure, setting down cable for rural broadband, etc. A Federal Job Guarantee gets this work done with unionized labor at 20–25 dollars an hour. So not only does your rural town get broadband internet, it may even get a newspaper and a community band, and everyone who wanted a job would earn a wage that is above subsistence and would allow them to save investment capital" [Medium].
News of the Wired
"Gibson's upcoming book, Agency, has a plot one would expect from a lesser author: the future is awful because Trump was elected president" [The American Conservative]. "Cyberpunk is not becoming marketable because it offers a solution for society. The message is clear that, in face of inexorable rot, the individual loses his sanity or loses his soul. What the genre does offer is a third choice: to view breakneck dehumanization as a roller coaster ride. There is grim exhilaration in the acceptance that an awesome decline cannot be stopped. A future that was once dark and hopeless is now dark and beautiful when one dives headlong into it. Ugliness becomes thrilling and alienation becomes adventure." It will be interesting to see if Clinton, who Gibson supported, appears.
"Ultraconserved words point to deep language ancestry across Eurasia" [PNAS] (2012). See Table I, "Twenty-three words with cognate class sizes of four or more among the Eurasiatic language families." There are 23 such words: Thou, I, Not, That, We, To give, Who, This, What, Man/male, Ye, Old, Mother, To hear, Hand, Fire, To pull, Black, To flow, Bark, Ashes, To spit, Worm. Can readers comment on the methodology?
"How the transgenic petunia carnage of 2017 began" [Science]. "[Plant biologist Teemu Teeri] ultimately confirmed that the [petunias] contained foreign DNA, and he tipped off regulators in Europe and the United States, who have identified other commercial strains that are genetically engineered (GE). Although officials say the GE petunias pose no threat to human health or the environment—and likely were unknowingly sold for years—they've asked sellers to destroy the flowers, because it's illegal to sell them in the United States and Europe without a permit." Good thing the carnage was only for the poor petunias, and not for wheat or rice.
* * *
Readers, feel free to contact me with (a) links, and even better (b) sources I should curate regularly, and (c) to find out how to send me images of plants. Vegetables are fine! Fungi are deemed to be honorary plants! See the previous Water Cooler (with plant) here.
And here's today's plant (JN):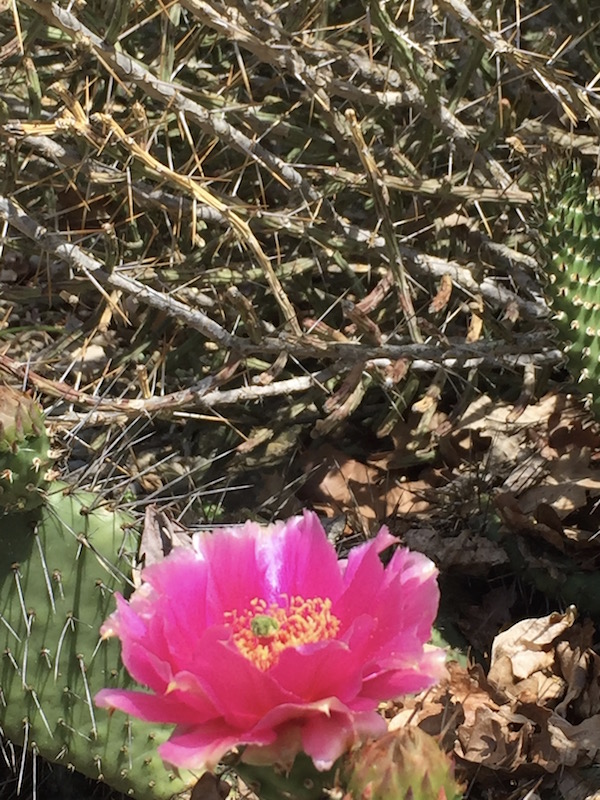 I love tapestry-like backgrounds of rotting plant matter, I really do.
* * *
Readers, Water Cooler is a standalone entity, not supported by the Naked Capitalism fundraisers. Please use the dropdown to choose your contribution, and then click the hat! Your tip will be welcome today, and indeed any day. Water Cooler will not exist without your continued help.