YouGov's polling appears to have been proven correct again. It was the only poll to suggest consistently that the Tories would lose their majority. While YouGov predicted a more dramatic result than the exit polls now suggest, a loss for the Tories would be a reversal no pundits anticipated, and is sure to bring the knives out with the Tory party, which heretofore was presumed to continue leading in an unstable minority party. The assumption was that that in turn would produce dynamics that would force new elections in two years or less. But Brexit complicates these already fraught dynamics.
YouGov's last poll was that the Tories would capture only 302 seats, versus the other forecast pointing to 350 seats or more. The exit polls now forecast the Tories at 314 seats. The Financial Times points out that in recent years, the 10:00 PM exit polls have pegged the majority party's seat count pretty well, with the biggest error at 15 seats: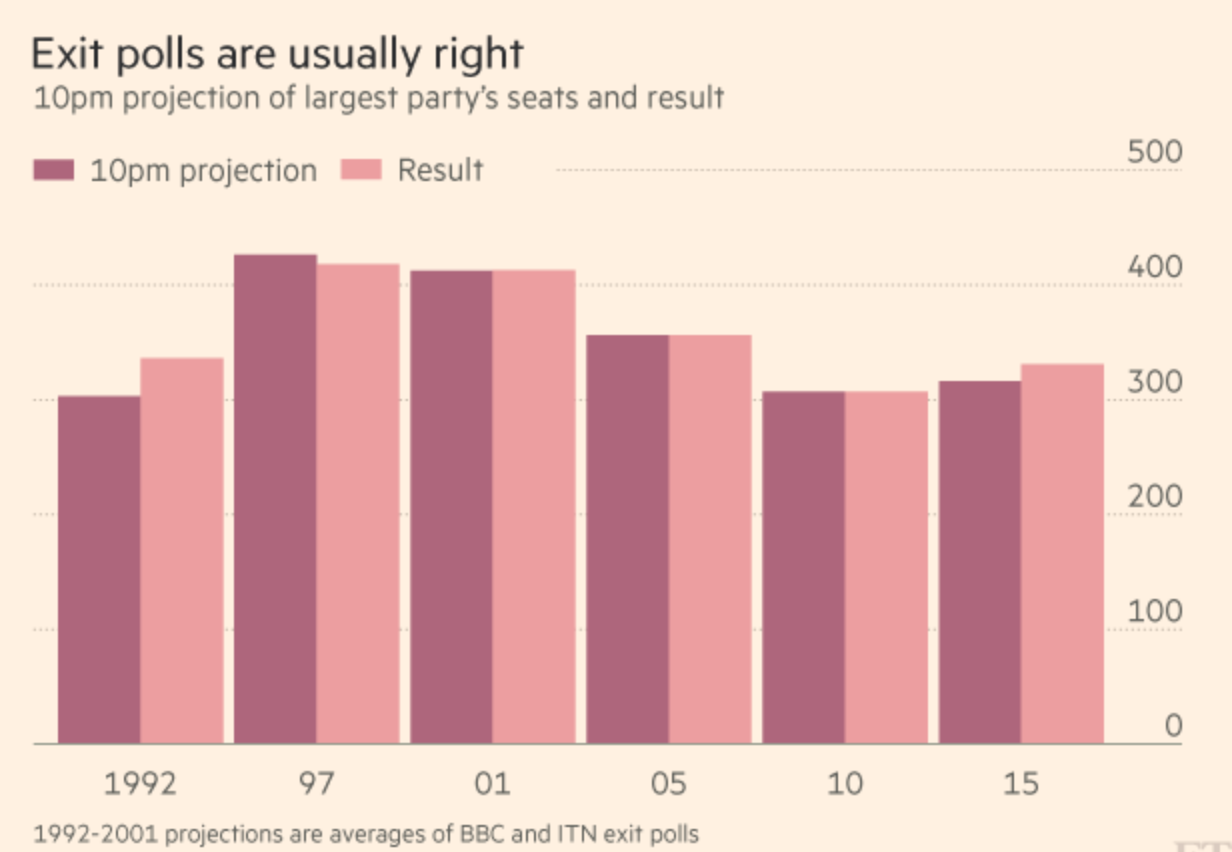 Per the Telegraph, most final results should start coming in at 3AM with the picture pretty well firmed up by 5AM.
The Guardian's live blog show that a seat reporting a final count after the exit polls went from Conservative to Labour, the opposite of what the exit polls forecasted:
Fuller results from Houghton and Sunderland South paint a more complex picture.

Labour's Bridget Phillipson held the seat with 24,665 votes; that's 59.6%, up 4.4 points on last time.

Paul Howell for the Conservatives came second on 12,324 – up 11 points on 2015 and benefiting from Ukip falling 16 points. Its candidate, Michael Joyce, came third with 2,379 votes.

Fourth was the Lib Dem Paul Edgeworth on 908. The Green Richard Bradley on 725 was fifth; the independent Mick Watson got 479.

Turnout was 61%.

But the result is a 3.5% swing Labour to Conservative – the opposite to what the exit poll predicted.
I just saw Sunderland on Telegraph live blog go for Labour by roughly 22,000 votes for 15,000 for the Tories. Even in an nearly empty school sports hall, it's dramatic to see the results read out live with the candidates all standing there.
This was in the north of England, which as we posted earlier this week, the pundits were confidently seeing as going for the Tories.
From the Financial Times, Exit polls point to disaster for Theresa May as voters punish Tories:
Theresa May's gamble on a snap election appeared to have dramatically backfired on Thursday night, after exit polls showed her quest for a "stronger mandate" to deliver Brexit had been rejected by voters, leaving her future as prime minister in doubt.

A BBC exit poll released as polls closed at 10pm suggested the Tories were expected to be the biggest party but would fall 12 short of an overall majority; it would probably leave the Tories trying to form a minority government.

The initial projection gave Mrs May's Conservatives 314 seats, Labour 266, SNP 34 and Liberal Democrats 14. In the outgoing parliament, the Tories had 331 seats; a governing party needs 326 out of 650 seats for a majority…

The prime minister's campaign had been criticised as lacklustre but her relentless focus on Brexit and appeal to ordinary working families looked set to deliver big Tory victories across Labour's heartland.

But early signs were that the Conservative advance into Labour seats in the midlands and north had been thwarted, following a spirited campaign from Jeremy Corbyn, the Labour leader, who appeared to have boosted his party's seat haul from 232 in 2015.
The Telegraph has pulled out the fainting couch: Exit polls point to shock hung Parliament. From its FAQ on a hung parliament:
What is a hung parliament?
When no party has won enough seats to have a majority in the House of Commons. With 650 seats in the House of Commons, a government needs the support of 326 MPs to have a working majority. Since Sinn Féin don't take their seats and abstain from voting in Parliament, the practical threshold for a Westminster majority drops to 323.

If no one gets a majority, who will be prime minister on Friday 9 June?
Theresa May. In a hung parliament, the incumbent prime minister stays in office until it is decided who will attempt to form a new government.

How is that decided?
According to the Cabinet Manual, the closest thing Britain has to a rulebook here, the incumbent PM is entitled to attempt to form a government then stay in office until Parliament meets, when she can ask MPs to approve her Queen's Speech.

Does a hung parliament mean a coalition government?
Not necessarily. A new prime minister could seek a confidence-and-supply deal with smaller allies. There's also the option of a minority coalition, where the governing party makes a formal agreement with a smaller party but together they still don't have a majority, meaning they have to seek support in the Commons for every vote.

Finally, a party that lacks a majority could simply try to go it alone and govern as a minority government, vulnerable to being voted down at any time.
If the polls are correct, then this throws all Brexit assumptions into the air. The Conservatives were expected to be given a clear mandate to push for a clean break with the European Union leaving the European single market and ending freedom of movement.

Now, who knows? Labour in its manifesto said it accepted the result of the Brexit vote but would instead prioritise "retaining the benefits of the Single Market and the Customs Union." How much would Theresa May's "Brexit means Brexit" have to be watered down would be a major question.

The immediate concern would be how negotiations, which are due to start less than two weeks from today, could be impacted as the Brits work out who is in charge.
On ITV George Osborne, the former Conservative chancellor, said Theresa May could have to resign if the exit poll was accurate. (See 10.02pm for an assessment of whether it is.) He said:

I worked very well with Theresa May and I think she has intelligence and integrity.

Clearly if she's got a worse result than two years ago and is almost unable to form a government then she I doubt will survive in the long term as Conservative party leader..

So I look at those numbers, I helped put together the Coalition in 2010 and you could make the numbers quite easily add up if you could get the Liberal Democrats and Conservatives to come together. I look at these numbers, you can't make them add up.
UKIP is Not Happy. From leader Paul Nuttal:
If the exit poll is true then Theresa May has put Brexit in jeopardy. I said at the start this election was wrong. Hubris.

— Paul Nuttall (@paulnuttallukip) June 8, 2017
Update 10:30 PM: Corbyn has called on May to resign; May has said she's not going. From two entries in the Guardian live blog:
After winning his seat by a vast margin, Jeremy Corbyn said Theresa May should step down. He said: "The prime minister called the election because she wanted a mandate. Well the mandate she's got is lost Conservative seats, lost votes, lost support and lost confidence. I would have thought that is enough for her to go actually."

He added:

This election was called for the prime minister to gain a larger majority in order to assert her authority. The election campaign has gone on for the past six weeks – I've travelled the whole country. I've spoken at events and rallies all over the country.

And you know what? Politics has changed. Politics isn't going back into the box where it was before. What's happened is, people have said they've had quite enough of austerity politics, they've had quite enough of cuts in public expenditure, under-funding our health service, under-funding our schools, our education service, and not giving our young people the chance they deserve in our society.
* * *
Theresa May is speaking now at the count in Maidenhead where she has just been re-elected.

She thanks the returning officer and her staff. And she thanks the police. And she thanks those who have supported her.

It is a huge honour being MP here, she says.

Looking more widely, returns are still coming in, she says.

But she says this country needs a period of stability.

If the Conservative party has won the most seats and most votes, it will be incumbent on it to ensure that stability.

She says she set out her priorities: getting the Brexit deal right, doing what is best for the country.

She says he resolve is the same as before.

The country needs a period of stability, she says.

And that's it.
Um, a hung Parliament is the antithesis of stability. She may ben hanging on to the hope that the Tories squeak a majority. The BBC revises its forecast at 2:30 AM for a Conservative result of 322 seats, one shy of a majority, based on stronger-than-expected results in Scotland.
Update 11:15 PM: The Torygraph is not betting on May lasting long:
Senior Conservatives said this morning that she had made "fundamental strategic errors" and said that her closest aides should be "banished" from Downing Street.

They complained that the campaign had been centred around a "cult of personality" and "central control", adding: "It has completely blown up in our face".
And the Guardian:
Theresa May's position as Conservative leader is under pressure after her gamble on an early election appeared to have backfired spectacularly.

Tory MPs were shocked and furious after the party lost much of its 20-point lead in the polls during the course of the campaign….

The former chancellor George Osborne, who was sacked by May last year, was one of the first senior party figures to react to the result, saying if the exit poll were correct it would be "catastrophic" for the Tories and the prime minister personally.

He described the Conservative manifesto as "one of the worst manifestos in history" and expressed disappointment that the party was perceived as turning away from metropolitan liberal voters.

"It's difficult to see, if these numbers are right, how they would put together the coalition to remain in office," he said on ITV. "But equally, it's quite difficult to see how Labour could put together a coalition. It's on a real knife edge."

He said there would be a "huge postmortem" about a manifesto drawn up by a very small circle of people in Downing Street and the overall style of the election campaign.
Update 6:20 AM: There is still one seat yet to be tallied, but as of now, the total is 318 for the Tories and 261 for Labour. Links are going up soon, so we have some of the tearing of hair and rending of garments over there. Some of the questions that the media will focus on in the next few days are:
How long can May hold on? With remarkable gall, she's using Brexit as the excuse for hanging on, contending that resigning would lead to delay in the start of the negotiations.

Who will succeed her? The bookies have the top picks as the horrific Boris Johnson, the dim bulb David Davies, and Phillip Hammond. Hammond seems a vastly better alternative, and his pro-EU stance could be a huge boon in the Brexit talks, since the high handed and ignorant stance May has taken has made the UK's weak position only worse. Interpersonal relations make a huge difference in negotiating outcomes; I've seen poorly positioned parties do way better than they should have via charm and guile. But there may be too many Tories wedded to hard Brexit to listen to the message this election delivered.

When will the next election be? No matter how the Tory leadership struggle resolves itself, a new election is in the offing. It might be more than a year out, but the unsettledness of this result may point to a vote as soon as in a couple of months?

What does this mean for Brexit? It ought to mean more of a "soft Brexit" stance, which is where this would have to come out eventually given the UK's lack of leverage.
And thanks for the great discussion!