Yves here. It's easy to forget what is going on in the economy, given all the political drama plus too much saber-rattling for comfort. But the Fed is expected to make a rate hike unless jobs data gets in the way. And the state of the employment market is becoming an even bigger driver of political and social stress. Even though the elites and pundit classes take great comfort from the apparent low unemployment rate, the lagging labor participation rate and lack of much wage pressure tells another story. High paying jobs continue to be replaced with low wage and/or part time work.
Another issue not often enough discussed is that employers have gotten so used to weak labor markets that they greatly overspecify what they want to see in a new hire. They want workers to be interchangeable parts, having done precisely the same job somewhere else so they can be productive immediately. It's one thing to have that as an aspiration, another to insist on it. One sign that the employment market has indeed firmed (but this has been a theme for over a year) is that employers have been complaining that they can't find "qualified hires". That means they aren't paying enough and/or aren't willing to train. Some business press stories have said business owners are relenting and are willing to train new employees….which used to be the norm.
Warren Mosler has been saying for some time that low unemployment claims aren't as reliable an indicator as you'd think because a lower percentage of those eligible have been applying for benefits and more recently, new rules mean fewer qualify.
By New Deal Democrat. Originally published at Angry Bear
Once again most of the commentary on yesterday's JOLTS report for April was that job openings jumped, so everything is Teh Awesome!
To recap one more time…
In the one and only complete business cycle that we have for this data:
First, hires peaked. They started a long plateau in 2005, making a 3 month peak in late 2005, with no meaningful progress thereafter.
Second, quits peaked. They started to plateau in early 2006, making a 3 month peak in spring 2006, with no meaningful progress thereafter.
Finally, openings peaked in Q1 2007
Hires and quits are the only *hard* economic data in the series. "Openings" can be aspirational trolling for a future bank of resumes or, worse, designed to fail and lay the groundwork for cheap  H1-B foreign slaves.
So, here is the entire history of hires and quits: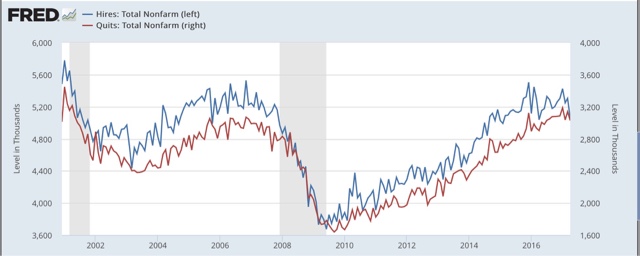 Noisy, but it sure looks like both have established plateaus again.  Here's the YoY look: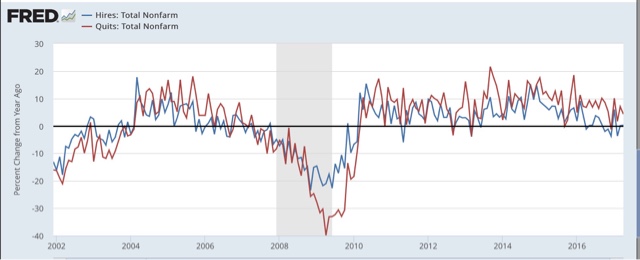 Hires are flat YoY, and quits have decelerated from roughly +10% to +5%.
Here's the close-up of monthly data for the last 24 months, with both hires and quits set to "zero" for April 2015: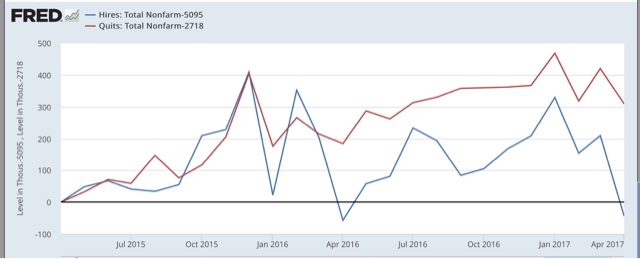 Hires made a peak in December 2015, and are actually lower now than they were 24 months ago. Quits recently peaked in January. Beginning next month, they are going to have much more difficult YoY comparisons. For example Quits in April were only 1% higher than 11 months ago in last May. The pattern looks very much like 2006.
Finally, here are job openings: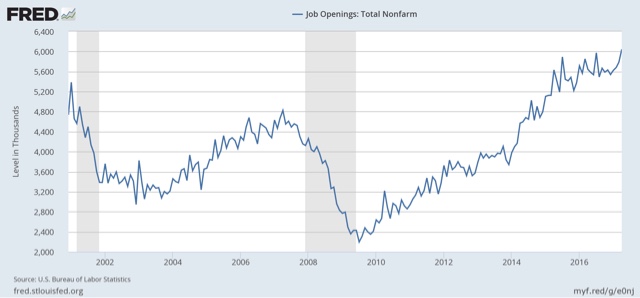 New record! Whoop-de-doo. At least we aren't in the equivalent of mid or late 2007.
The good news is, there is nothing in April's JOLTS data suggesting any imminent economic downturn.  The bad news is, it adds to the accumulating evidence of late cycle deceleration in the jobs market.