Giant condor returns to thank man who saved him after he fell from his mother's nest Inhabitat (furzy). You must watch the video.
Animation shows huge crack growing in Antarctica's Larsen C ice shelf – snap off in days to weeks Business Insider (Kevin C) :-(
Solar And Wind Revolution Happening Much Faster Than Expected OilPrice
Google Said to Be Facing Record E.U. Fine by End of August New York Times
Fetuses May Respond to Faces While in the Womb Scientific American (Robert M)
Girlfriend whose texts urged suicide guilty of manslaughter Boston Herald (Chuck L)
China?
How Anbang Could Clog China's Financial Plumbing Wall Street Journal (Richard Smith)
Journalist shield law could soon become reality in Canada Toronto Star (furzy). Long overdue. Would allow me to move there if there were any way for ancient moi to get permanent residence.
The office of the European Public Prosecutor promises a new era has dawned in the EU for fighting financial crime New Europe. Micael: "Sounds great but all depends on what is criminalized. Doesn't look like they are focusing on anything systemic. Does VAT have effect of paralyze the economy like the banks in 2008?"
Grenfell Tower Inferno Aftermath
London Fire: A Tale of Two Tower Blocks BBC (Alfred)

London tower block fire occurred due to countless ignored fire safety warnings Architects Newspaper (John N)

Homes, schools and hospitals all fitted with deadly cladding The Times. Aiee.

Majority of Brits (59%) support Corbyn's calls to requisition empty properties for homeless Grenfell Tower residents https://t.co/8Q7nlIgrxb pic.twitter.com/c8F68VRUC1

— YouGov (@YouGov) June 16, 2017

Has Theresa May failed the #GrenfellTower test? Watch @maitlis's full interview with her, 22.30 on BBC2 #newsnight https://t.co/1C2nB8gDpd

— Ian Katz (@iankatz1000) June 16, 2017

Peter @BrookesTimes nails the week in one image pic.twitter.com/8JWZkZX7XN

— Tim Shipman (@ShippersUnbound) June 16, 2017

A tale of two posts… Boris Johnson tries to deflect criticism overr #Grenfell and gets a slapped down by a Firefighter. pic.twitter.com/POwAnKoRGY

— EL4C (@EL4JC) June 16, 2017
UK Election Aftermath
The sooner Theresa May goes the better The Times (Richard Smith)
Brexit
Do click through to read the entire tweetstorm (hat tip Richard Smith). An informative overview of negotiations:

This is from direct experience as 1st/2nd Sec Development in UKREP negotiating for the UK in EU Council working groups. 2/

— Steve Bullock (@GuitarMoog) June 16, 2017

May Is Living the Weak, Unstable Brexit Nightmare She Warned Of Bloomberg
Jeremy Corbyn confirmed for Glastonbury 2017 NME. Dan K:
The article is just details on the festival, but has embedded a fairly serious (if not especially challenging) interview with Corbyn, recorded some days prior to the election.

12:00 – … and so, the message I'm trying to put forward is of inter-generational support and solidarity for each other. And so I don't think we should compartmentalize politics, and say older people over here, let's talk about social care, younger people here, let's talk about education; let's talk about the totality of our society.
Mélenchon: "The opposition force is us" Europe1 (UserFriendly)
Varoufakis explains why economics is not science failed evolution
PRESIDENT PUTIN'S HOMILY ON ATHEISM, POLITICS, AND PROPERTY John Helmer
Imperial Collapse Watch
Seven missing after US navy destroyer Fitzgerald collides with merchant ship off Japan Guardian JTM: "Your tax or MMT dollars at work. How does an agile destroyer get T-boned by a cargo ship? Must have been Putin!?! Amiright?"

US Navy ship collides with merchant ship Associated Press. UserFriendly: "USA! USA!"

What's more frightening than an evil world leader? A stupid one Guardian UserFriendly.
Big Brother is Watching You Watch
Step Inside Julian Assange's Office YouTube (furzy)

CIA has been hacking into Wi-Fi routers for years, leaked documents show ZDNet. Bill B: "A reminders that NGOs like SRI are a common front for American spies. And, to an extent, this explains why Russia and China clamp down on them." Moi: Yet another reason to have old tech! I insist on having Ethernet-only connectivity devices. So imagine the cable farm at my desk.

Gardaí offer help to Dublin Facebook staff hit by security breach Irish Times (Phil D). Subhead: "Iraqi-born Irish citizen being paid €13 an hour by Facebook fled Ireland after lapse."

Revealed: Facebook exposed identities of moderators to suspected terrorists Guardian (Phil D)

Australian push to make decryption easier 'could threaten global internet security' Guardian (furzy). Headline misleading, it's about backdoors. But the result is the same.
Trump Transition
Trump earns $598M as Mar-a-Lago profits spike The Hill

The Republicans Have No Workable Plan for the Debt Ceiling Washington Monthly (UserFriendly)

Report: Rosenstein Considers Recusing Self From Russia Probe Daily Beast (furzy). Looks more like a tactical recusal, particularly since I don't recall seeing anyone suggesting he needed to recuse himself. Not hard to think Rosenstein wants out of the line of fire.

EXCLUSIVE: Trump officials considered 'ultimatum' to Cuba The Hill

Trump's Cuba Policy Will Fail Atlantic. Furzy's explanation makes sense: "I believe Trumpkins wants to undo everything Obama initiated."

First New Coal Mine of Trump Era Opens in Pennsylvania Fox. Resilc: "70 jobzzzzzz."

Donald Trump Owes At Least $315 Million To Financial Firms, Some Of Which Are Lobbying The Federal Government International Business Times (UserFriendly). The sloppy reporting drives me crazy. Trump does not owe this money. Businesses in which he has a stake, often but not always 100%, do. Unless he gave a personal guarantee, these lenders have no recourse to Trump. I looked at the liabilities page and the items are all against business entities save some relatively small mortgages which look to be against homes he owns. Moreover, Trump in general is underlevered. He's borrowed way less against his real estate than he could.
Mattis: 'No Enemy' Has Done More Harm Than Congress Daily Beast (reslic)
Five American Pastimes, Six Dark Ironies: Reflections on Alexandria Counterpunch (resilc). Key section:
Shooter, please. Forget the unproven assertions of collusion with Russia and ask yourself just what democracy it was exactly that Donald Trump wrecked? The Big Money-managed United States is a damn near openly plutocratic oligarchy where the wealthy Few get what they want again and again regardless of majority working class sentiment.
SCOTUS Reconsidering Gun Case in Wake of Alexandria Shooting Law News. Help me. The fact that important people in the 'hood get shot makes a difference? Where have they been since guns kill more people than car accidents?
How Hillary Clinton May Find Her Way to Jail Sputnik (UserFriendy). She will never go to jail, but this is too much fun not to run.
To Win in 2018, Democrats Need to Go on the Offensive in the Voting Wars Washington Monthly. Resilc: "Can't beat nuthin' with no game."
Powder-Filled Letters With Threatening Notes Shut Down Georgia Republican's Neighborhood Free Beacon. UserFriendy: "The note is a bit cheeky. It's not like Ossoff is any better."
Kill Me Now
A surprising number of American adults think chocolate milk comes from brown cows Business Insider (David L)
Amazon bets on Whole Foods to deliver basketful of economies Financial Times. Whole Foods is a high end niche vendor. Grocery stores are fragmented with fabulously low margins, 1-2%. Customers are price sensitive and to the extend they will pay for delivery, they want the stuff in a couple of hours, which is not a turn-around time that lends itself to anything other than local vans and on foot. I don't see any opportunity to optimize that. Nor is Whole Foods a platform to compete with general grocers. Bezos might make Whole Foods better and maybe will eat into the share of Sprouts (a chain that has been undercutting Whole Foods on price), Trader Joes, and Costco (which also appeals to affluent customers) but I don't see general grocers as an attractive business for Amazon, nor do I see Whole Foods as a great entry point. The enthusiasm for this deal reminds me of the enthusiasm for private equity getting into rental housing. There were some (the ones who got in early and bought cheap) who did really well, but the industry convinced itself that there were magical economies of scale and tech efficiencies which for the most part were not there to be had.
CenturyLink Is Accused of Running a Wells Fargo-Like Scheme Bloomberg
Yemen War Threatens Crucial Oil Chokepoint OilPrice
Big Oil Firms Are Exploring a New Frontier in Shale: Profits Wall Street Journal
Class Warfare
Antidote du jour. Tracie H: "Great Horned Owl in a Eucalyptus tree."
For months, readers have overwhelmingly been sending bird pictures. I wonder what that says about the zeitgeist.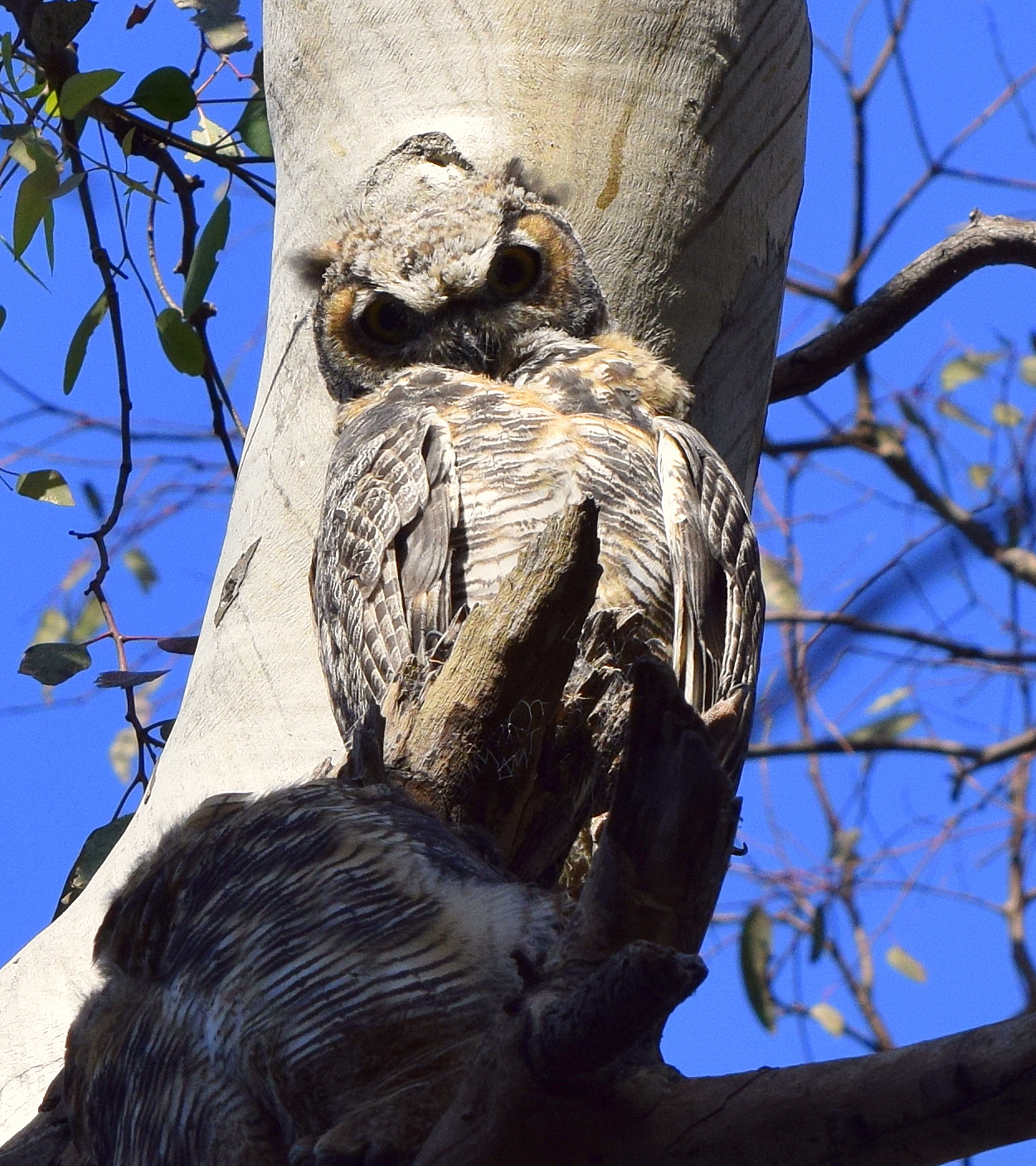 h2 style="font-size: 14.3px !important; color: #333; font-weight: normal !important;">See yesterday's Links and Antidote du Jour here.