Bats, Beetles, Butterflies… And Other Pollinators That Aren't Bees (and How to Attract Them) Modern Farmer
ECB confirms two struggling Italian banks will close FT
Kentucky's Hedge Funder Governor Keeps State Money In Secretive Hedge Funds HuffPo. What could go wrong?
Governor candidate Biss is a traitor, say private-equity investors Crain's Business Review
Block Amazon Houston Chronicle
It Takes an Army to Feed the World's Amazon Addiction Bloomberg
Amazon's Move Signals End of Line for Many Cashiers NYT
Uber and Tesla are showing ominous signs that the era of auto disruption may be about to come to an abrupt end Business Insider
From Music to Maps, How Apple's iPhone Changed Business WSJ
Warren Buffett cannot soothe nerves over Canada's housing market FT
The Secret Lives of Playlists Watt
Brexit
Britain's Financial Power Is Already Seeping Away Bloomberg
Five London towers evacuated over fire safety concerns France24
Why Grenfell Tower Burned: Regulators Put Cost Before Safety NYT
Arconic knowingly supplied flammable panels for use in tower: emails Reuters
Another world is possible, Corbyn tells Glastonbury – video Guardian
Syraqistan
China?
China, U.S. agree on aim of 'complete, irreversible' Korean denuclearization Reuters

China takes delivery of first shipments of American beef in 14 years CNBC
Philippines leads as the 'most emotional' country in Asia Asian Correspondent
India
The World's Largest Coal Mining Company Is Closing 37 Sites Motherboard (Re Silc).

'Cow economics' are killing India's working class The Conversation
Democrats in Disarray
Back To The Drawing Board: DNC Scientists Just Carried A Screaming Jon Ossoff Down A Hallway Lined With Jon Ossoff Prototypes ClickHole (AMM).

Pelosi's Pity Problem Matt Stoller, HuffPo. Interesting, though I'd try a "nobless oblige" frame as opposed to "pity." (Also, Woodrow Wilson, source for a "pity" quote, resegregated the Federal Government. Sure, nobody's perfect, but still….)

Leave Nancy Pelosi Alone! Joy Reid, Daily Beast. Enjoy….

Democrats and the DNC are Still Terrible Progressive Army

Centrist Democrats are now the great defenders of social justice? Please. The Week

Kimberly Ellis blames Democratic Party 'hacks' for losses in Tuesday's congressional races LA Times

Beyond opposing Trump, Democrats keep searching for a message WaPo

Why the Democratic Party loses – and how it can win again Fabius Maximum. Aggregation, with some shout-outs to NC.
Jane Sanders Lawyers Up Politico
You'll Never Believe This, but Republicans are Starting a Bernie Sanders Witch Hunt Paste. No problem. I'm sure Democrats will come to Sanders' defense.
Anthony Kennedy retirement watch at a fever pitch CNN
New Cold War
Trump accuses Obama of inaction over Russia meddling claim BBC.

Lambert here: Thing is, if Trump really were a "Russian puppet," and the national security "directorate" knew it in October 2016, when Clinton made the claim in so many words, then surely Trump would have had an unfortunate helicopter accident? Or a sudden heart attack? And if Clinton was out over her skis in October, but Obama knew it by January 20, 2017, then surely he wouldn't have handed over the nuclear codes? And if we've only come to know this recently, then didn't the intelligence community act with remarkable slowness to make its determination, given the stakes? And if Trump is not a Russian puppet (i.e., all those liberal Democrat charges of treason are now inoperative), and now the story is that a bunch of Macedonian teenagers flushed $1.4 billion of Democrat money down the toilet by reposting Russia Today clips on Facebook, don't Clinton's Democratic strategists have some 'splainin' to do? If it was that easy? And if the actual votes were never hacked — which all sides agree on — but the story is that some registration systems were entered, has the attribution problem really been solved? And on the Podesta email hack or leak: Why exactly is it that the DNC never handed over their servers to the FBI, and why have Brazile and Wasserman Schultz never testified on the matter? Readers, I'm sorry to be so counter-suggestible on all this, but I remember very well the last time the political class and the national security crowd was unanimously agreed on a set of claims that was supported by very thin evidence, and motivated by an ever-shifting narrative: The Iraq WMD fiasco. So it's not like we don't have an example, in living memory, of the conventional wisdom being utterly wrong (and a lot of people falling for an intense propaganda campaign, too).

Trump's CIA Chief Says U.S. Plans to Stop Leaks, 'Punish' Leakers Bloomberg

How Fear of Russia Misleads Americans Consortium News. Interview with Thomas Drake.

Dead Man Talking: Comey Finally Delivers – Part Two Nina Illingworth (part one).

Editor's Note CNN. Oopsie.
Facebook and Twitter are being used to manipulate public opinion – report Guardian. This is precious:
The researchers found that in the US this took the form of what Samuel Woolley, the project's director of research, calls "manufacturing consensus" – creating the illusion of popularity so that a political candidate can have viability where they might not have had it before
"Manufacturing consensus." That reminds me of something…
Trump Transition
Layoffs announced at Boeing plant Trump visited The Hill.
Health Care
* * *
Please Kill Me Now
Facebook founder Zuckerberg tours a few of Iowa's small towns Des Moines Register
Class Warfare
Great video essay on John Carpenter's 'They Live' Boing Boing. Worth watching; it turns out that the premise of the movie is technically the same as Gibson's Virtual Light, but Gibson denatures the political content.

A Declaration of Urban Independence Richard Florida, Politico. Please. It wasn't the flyover states that crashed the economy. Or sent out the foreclosure notices. Here's Thomas Frank on intellectual entrepreneur Florida's last scam: the creative class. I wish Frank would do a similar takedown of Florida's current one.
No One Has the Data to Prevent the Next Flint WIRED (Re Silc).
In Defense of Net Neutrality Tim Berners-Lee, WSJ
LePage signs food sovereignty law, the first of its kind in the nation Bangor Daily News
Antidote du jour (j84ustin):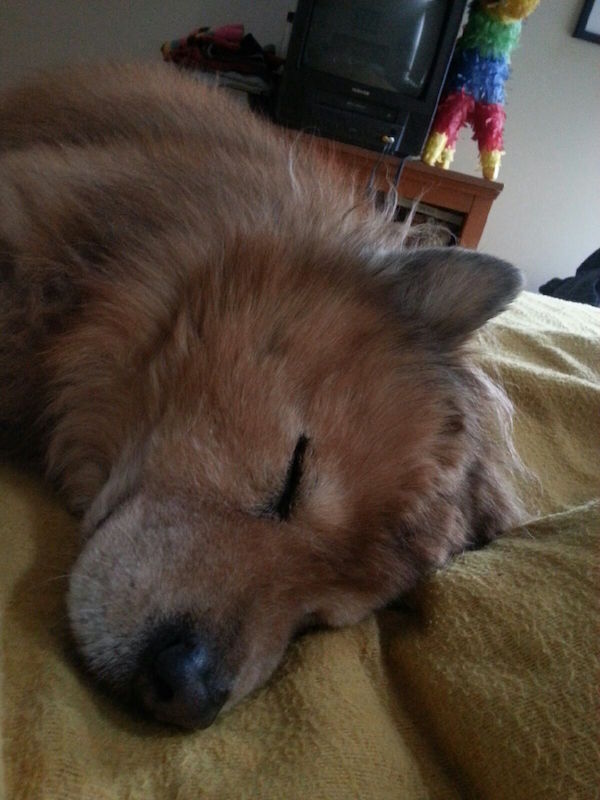 Justin writes:
This is a photo of Leo I took while he was taking a nap. I had to let him go last Friday at the age of 16. We had been together since he was 3 and I was 19. It's hard to believe that my companion of the last 13 years is gone, but he was a wonderful friend that is remembered by
many.
See yesterday's Links and Antidote du Jour here.