By Lambert Strether of Corrente.
I said I had some things to do before I left London; one of them was to go see if I could take some photographs of Grenfell Tower. We don't normally do photo essays at Naked Capitalism, but since I was on the spot, I thought it made sense. The Grenfell Tower Tube Station (Ladbroke Grove) was closed, so I took a cab and asked the driver to let me off within hailing distance, which he did. By this time, there was police tape blocking access to the tower, but I could circumambulate it, which I did. I put the photographs into three categories: The Tower, Documents, and Shrines and Offerings. (I didn't take any photographs where people were the subject, lest I be charged with sincerity.) In each category, the photos are in the order taken.
The Tower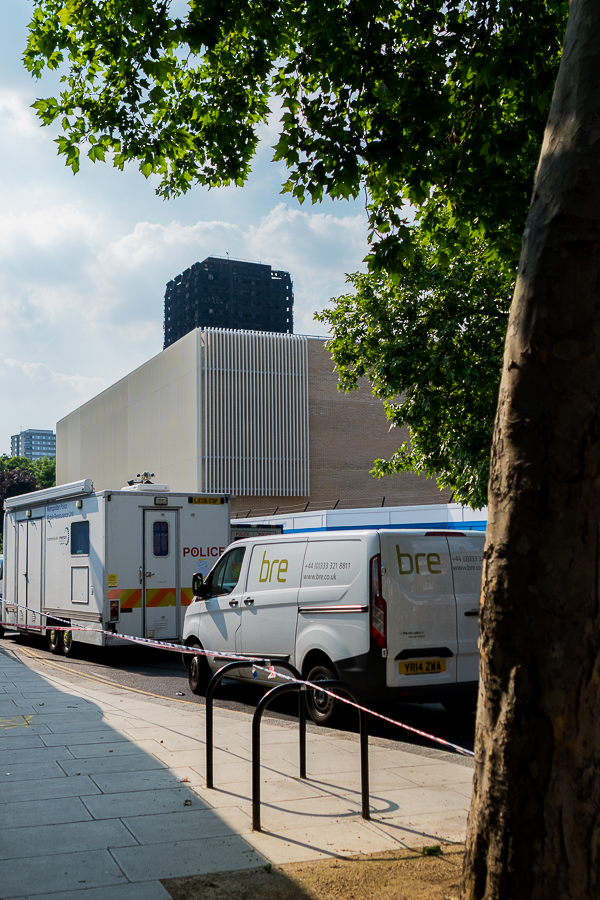 I took the above photo in the doorway to a medical clinic in the neighborhood (imagine that), and a lady came out and told me that "We really don't like tourists coming here to take photographs." I explained I wasn't a tourist, which seemed to mollify her, and she gave me directions for how to walk around the neighborhood. The normality of the scene, in all the photographs in this section, is in striking contrast to the centrality of the dark, burnt, jagged tower, rather in the way that an axe plunged into one's chest is in striking contrast to the chest itself, especially after the blood has clotted.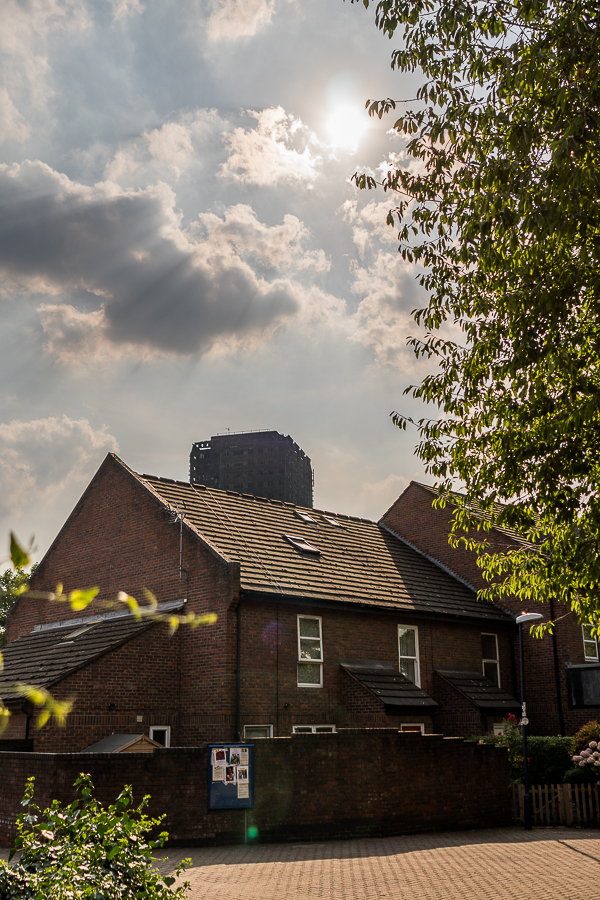 Sorry for the lens artifacts and the blurred leaves, but I thought the view past a cottage was important. There were many really splendid gardens in the neighborhood; it looks like a nice place to live.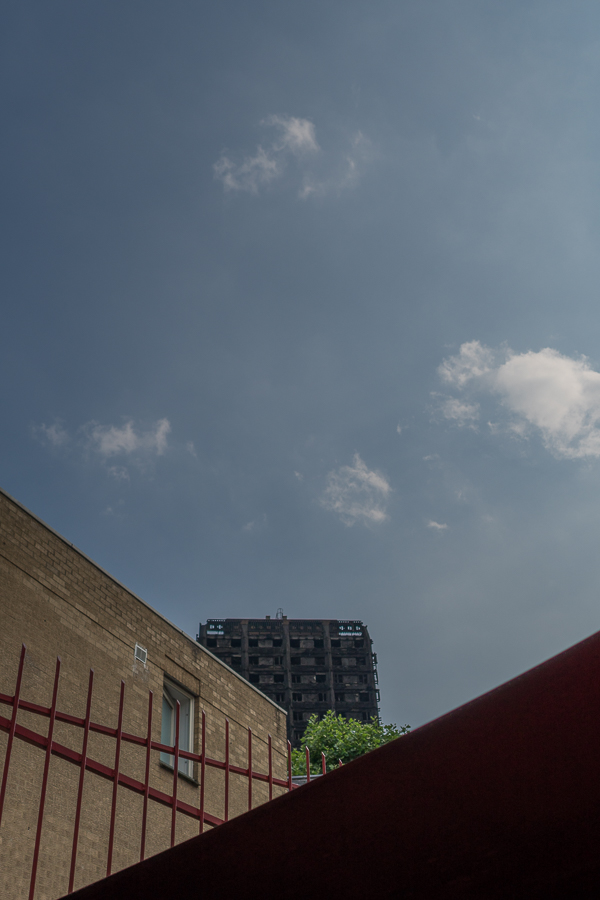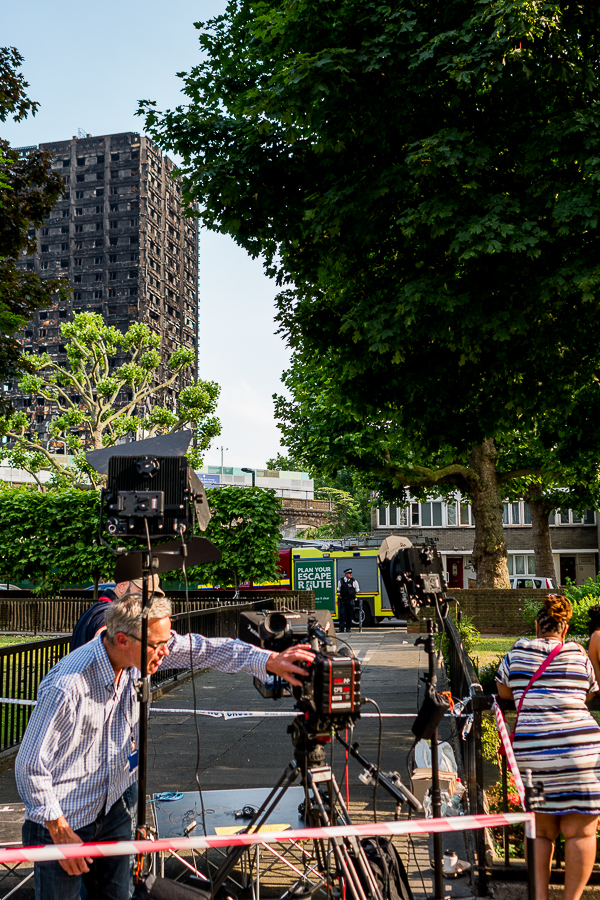 I like the "Plan Your Escape Route" sign.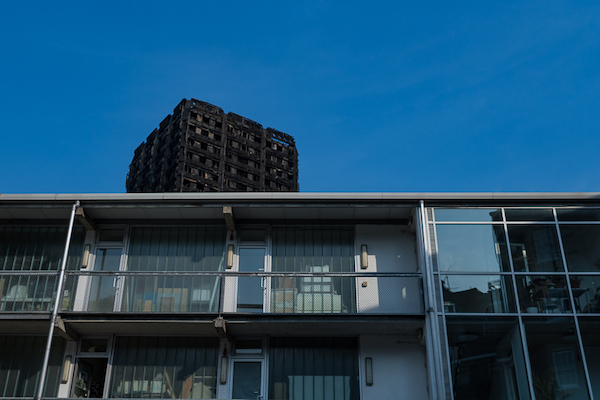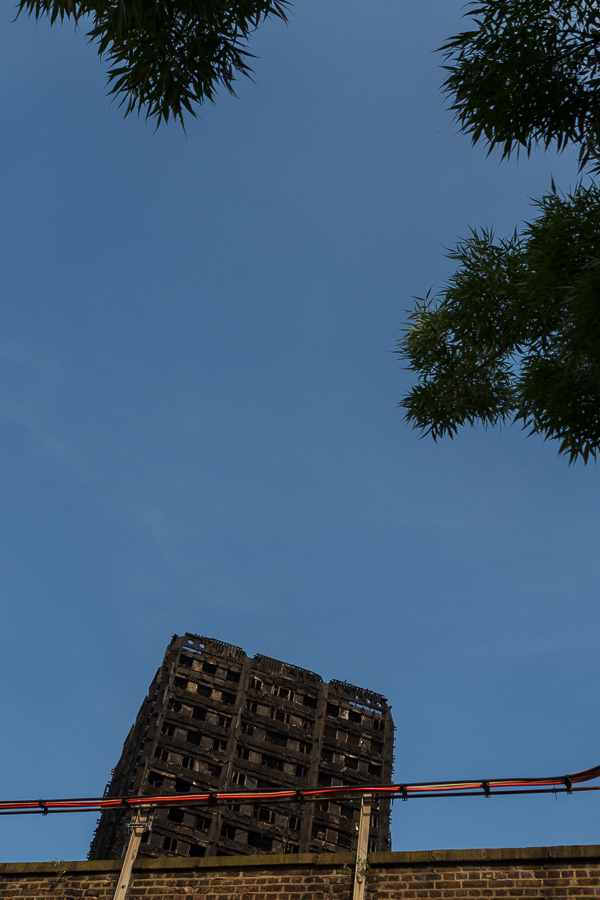 Grenfell Tower rising behind a viaduct of the Circle Line.
Statements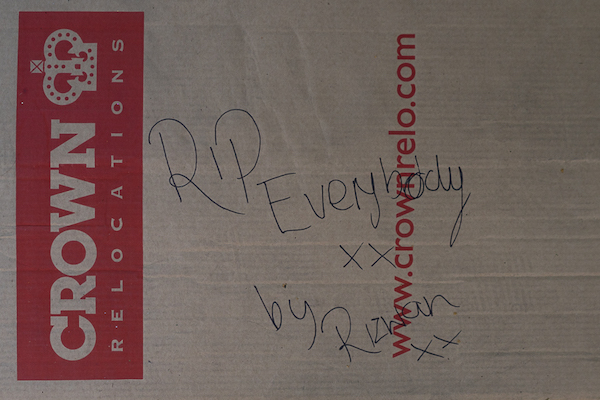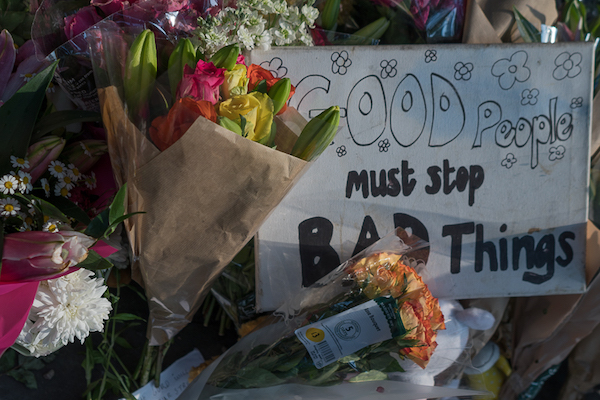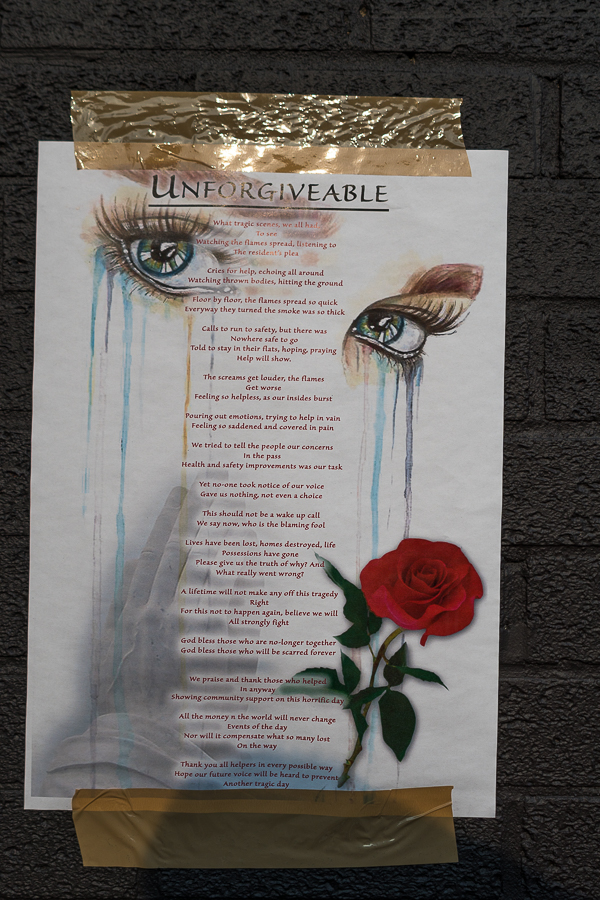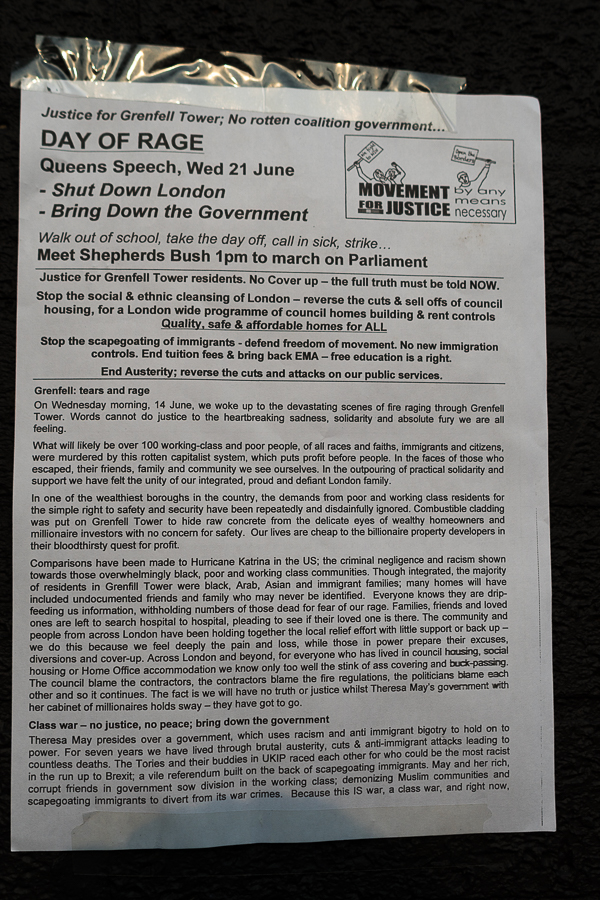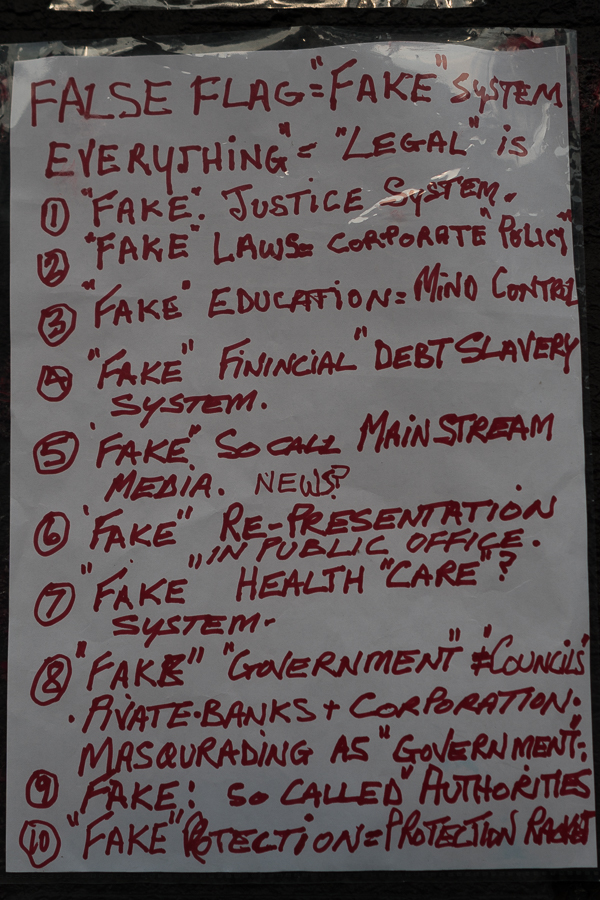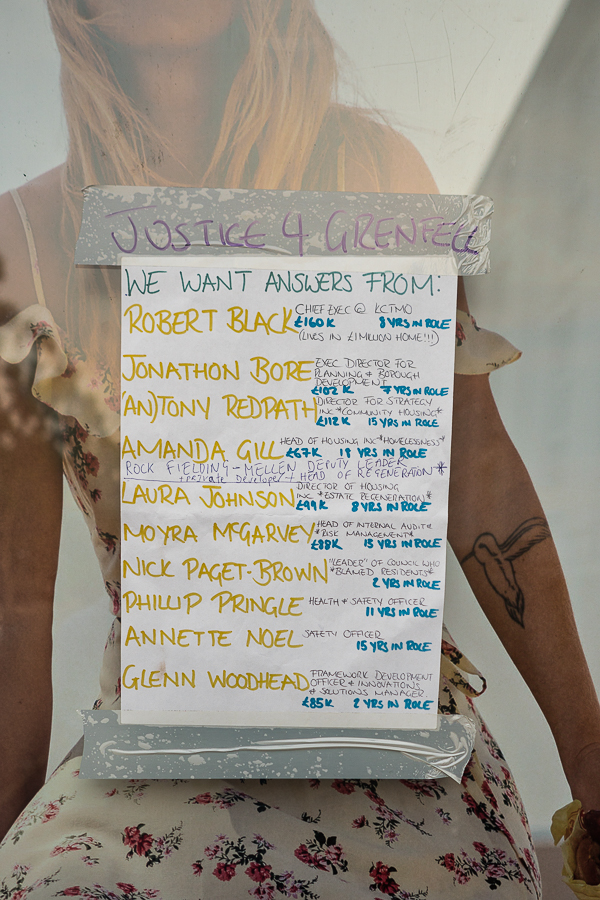 I like lists. (The image behind the list is an advertisement on a bus shelter.)
Shrines and Offerings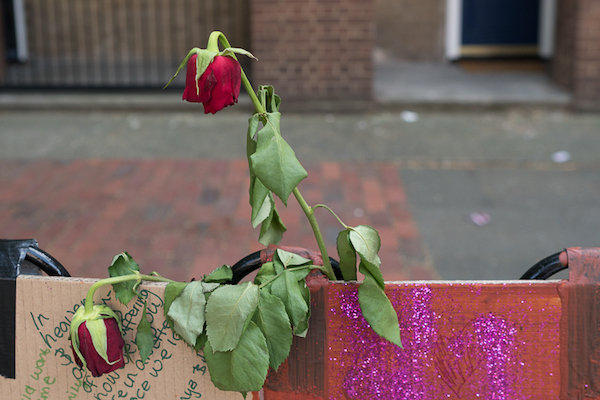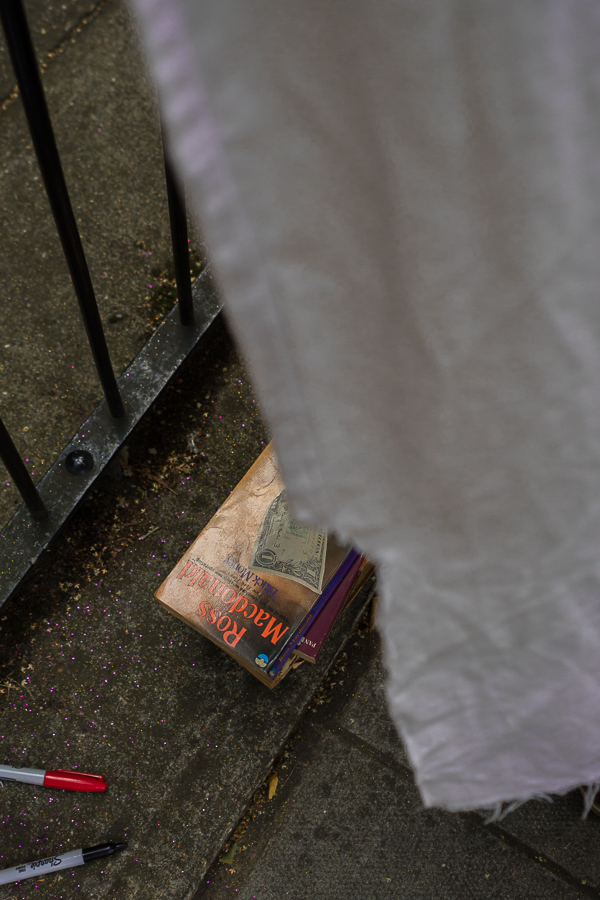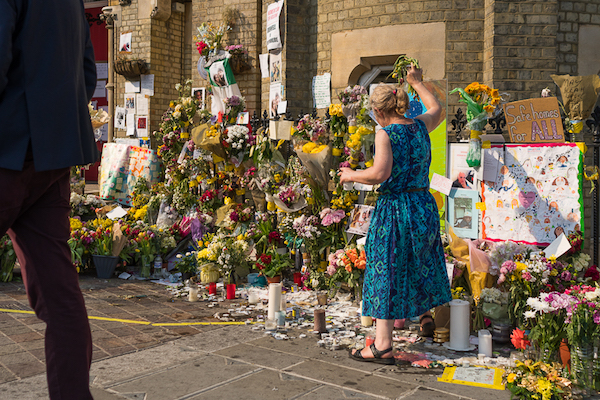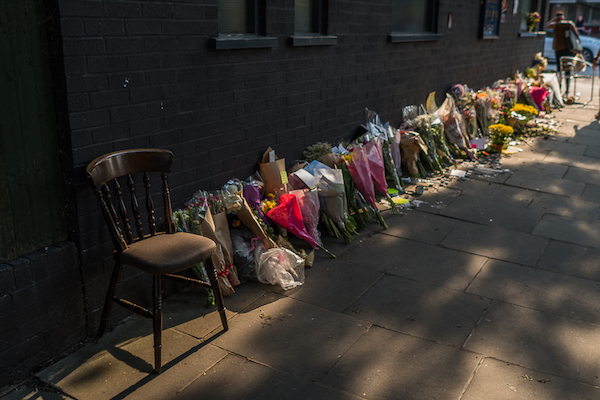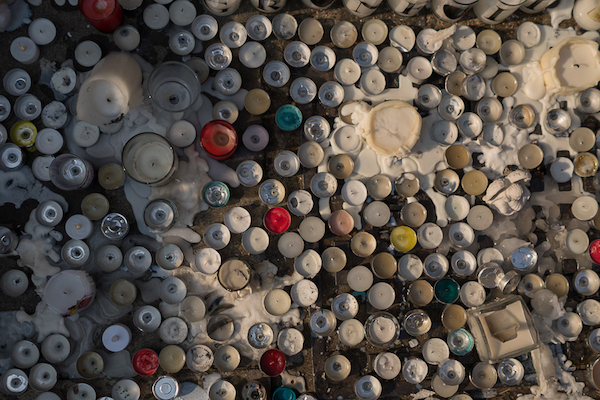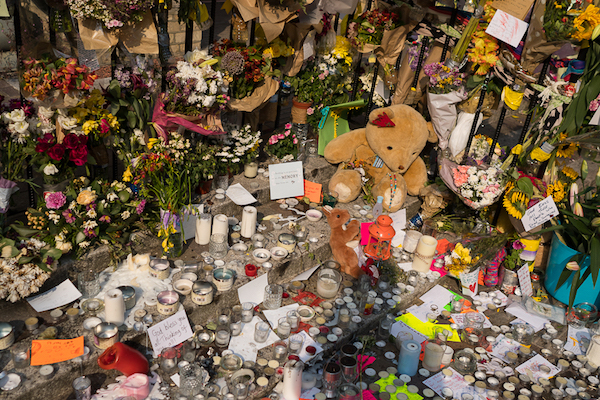 Sorry to have intruded into the frame, but there it is.
* * *
For myself, I sense lack of correlation — even a contradiction — between the depth of feeling shown by the artifacts in "Shrines and Offerings," and the language used by the more political documents in "Statements," some of which strikes me as shallow.
NOTE
Just as in 9/11, there were a lot of photographs of the "missing." They all had contact information, so I didn't think it was a good idea to put them up on the Internet.