By Lambert Strether of Corrente.
When last we checked in, the House Republicans had managed to pass a TrumpCare bill, aided by the machinations of NJ Representative Tom MacArthur, for whom Trump just raised a $800K. Being driven by the Freedom Caucus, the bill was universally panned by all other factions of both parties, and the Senate said it would write its own bill. That's what they're doing now, and (naturally) it's a bad bill, too. I've urged that ObamaCare is already the worst possible Republican bill, but Senate Majority Leader Mitch McConnell (R-KY) seems determined to expand the range of possiblities.
Being both more feral and more concerned with results than Democrats, the Republicans, led by the wily and effective Mitch McConnell — whose wife, Elaine Chao, is head of the DOT, and therefore in the happy position of being able to dispense the goodies — may try to jam their bill through before the July recess. The American College of Physicians explains:
On behalf of the American College of Physicians (ACP), I am writing to express our great concern about reports that legislation to repeal and replace the Affordable Care Act (ACA) and radically change how Medicaid is financed is being hastily drafted and rushed forward outside of regular order for a vote on the floor of the U.S. Senate, potentially before the July 4th recess.

Specifically, we are troubled that the Senate is developing major healthcare legislation without hearings and markups by the committees of jurisdiction; without a process that allows for direct engagement and outreach to organizations representing physicians, patients and others affected by the proposed policies; and without a commitment that the Congressional Budget Office (CBO) score will be made available, with sufficient opportunity for stakeholders and the public and independent and non-partisan experts to review the CBO's assessment and the overall bill's impact on patients and the healthcare system, before a vote is taken. ACP therefore urges that any proposals to modify or improve on current law be released in detail beforehand—including complete legislative language and CBO scoring and analysis—well before any committee mark or Senate vote, to allow enough time for hearings on the proposals. Following regular order would provide a valuable opportunity for analysis, review and input by organizations and other stakeholders, by members of the Senate, and by independent and nonpartisan analysts.
(These process violations are, of course, in great contrast to the many careful months Obama took to sell out to the pharmaceutical companies, and for career "progressives" to suppress single payer advocacy, only, in the end, to pass a bad bill, through reconciliation, without one Republican vote anyhow.) There's conflict on the process detail, naturally, but the ACP demands (really requests, right?) for following the regular order look quite sane to me.
There's a lot not to like in the Senate bill — of course, we might know more if the Democrats hadn't filled the airwaves with Putin Derangement Syndrome — but it looks to me like the key policy issue is Medicaid expansion and the key political issue is the role of those "moderate Republicans." And here there are multiple, competing narratives. Sarah Kliff in Vox this morning:
Obamacare is in real danger

Behind closed doors, Senate Republicans have worked out a path toward Obamacare repeal. The plans under discussion would end Medicaid expansion, causing millions of low-income Americans to lose health coverage. They may allow health insurance plans to charge higher premiums to people with preexisting conditions, too.

In other words: The emerging bill looks a whole lot like the unpopular bill the House passed last month. It creates [sic] the same group of winners (high-income, healthier people) and the same group of losers (low-income, sicker people).

The Republican plan is coming together because moderate senators are beginning to drop some of their initial repeal objections. Sens. Rob Portman (R-OH) and Shelley Moore Capito (R-WV), for example, now back a plan to end the Medicaid expansion.

Both were ardent critics of the House bill's deep Medicaid cuts, which would cause 14 million Americans who rely on the public program to lose coverage. Portman put out a harsh statement the day the House passed its health care bill.

"I've already made clear that I don't support the House bill as currently constructed because I continue to have concerns that this bill does not do enough to protect Ohio's Medicaid expansion population," Portman said plainly.

But now Portman has endorsed a plan to phase out the Medicaid expansion entirely, just to do so on a longer timeline than the House bill. Portman and Moore Capito want a seven-year phase out, rather than the House bill's three-year off-ramp.

At the end of the day, though, phasing out Medicaid expansion over seven years has the same effect as three years: You end coverage for millions of low-income Americans.

There are still major issues that divide Senate Republicans on repeal. There is disagreement, for example, over how much to cut the Medicaid program and what kind of subsidies to give people in the private market. But the fact that Republicans are coalescing around ending Medicaid expansion — once thought to be a major sticking point — suggests the path to repeal may be easier to find than initial expectations.
(The advantage of a seven-year phase-out is that it won't affect 2020, so Trump's marginal voters in the working class won't know how badly Trump screwed those near the poverty line.) Unfortunately, given the "any stick to beat a dog" givens in 2017, I don't feel I can simply quote Vox as a source, and the workings of the Republican caucus are opaque to me. Here's an alternative narrative, employing 11-dimensional chess (and here let us recall that McConnell can play chess; his strategy of massive resistance to Obama put the Repubicans on the Hill where they are today). CNN:
Why Republicans might let their health care bill fail

With the Republican Party's most pressing undertaking stuck in limbo, GOP senators and aides are beginning to wonder about one undesirable outcome: that the Senate takes a vote on a health care bill in the coming weeks knowing full well it could fail.

Republicans are attempting to use the so-called budget reconciliation process, which would allow them to avoid a Democratic filibuster. With only 52 Republicans in the Senate, however, there is no room for error as leaders struggle with the daunting task of finding consensus between their caucus' moderate and conservative flanks on such a deeply divisive issue.

Last week, it became clear that GOP leaders were seriously considering several moderate concessions on their health care bill, including keeping some of the Obamacare taxes and not allowing states to repeal what is known as community rating — a key protection for people with pre-existing conditions.

"It might be that McConnell knows he can't get to 50 so he's going as far left as possible to give moderates cover when they do vote for this bill," one conservative Senate aide said.

So why vote on a bill that may not pass?

"There's some skepticism as to whether they can get (health care) done. And they don't want to waste the rest of the legislative year," said Leavitt, who served as Health and Human Services secretary under President George W. Bush.

"There has to be a moment when you say, 'We've got to do something and this is the moment.' … Either put up or stop," he added.

If Senate Republicans bring up a bill designed to appease the more moderate members in its ranks, that strategy would mark a sharp departure from the path that House Republicans chose to take last month.

But in the Senate, GOP leaders appear more willing to craft a bill that soothes their more moderate colleagues — at least for now.

One of the key departures Senate leaders are eying is giving federal money to Medicaid expansion states for longer. Sen. Rob Portman, a Republican from Ohio, has proposed a seven-year "glide path" [controlled flight into terrain] that would more gradually phase out the federal match funds.

Another option on the table would make the [hilariously feeble] tax credits offered to help people buy insurance more generous for lower-income Americans. Those tax credits already attracted the ire of some Senate Republicans, who dismissed them as little more than "Obamacare lite."

There has been some concern, however, that conservatives could also face another loss when it comes to those tax credits. In the House bill, Republicans were able to include language that barred the federal tax credits from being used to purchase insurance that included abortion coverage in most cases. However, under Senate rules — which only allow budgetary changes to be accepted under the reconciliation process — it's not clear that Republicans could pass that same language.

While conservatives may not be pleased with the changes on the table, moving the bill to the left could help McConnell protect his most vulnerable members. There aren't many endangered Republican members up in 2018, but those who are hail from more purple states, like Dean Heller in Nevada and Jeff Flake in Arizona.

Republican Sen. John Thune of South Dakota said last week that it is important for the Senate to try to pass a bill in the next few weeks, even if the vote fails.
So either McConnell is trying to jam the bill through, or, more subtly, he wants to be seen as wanting the bill, and probably does want the bill (Kentucky), unless the bill jeopardizes Senate seats in 2018. At this point, let's remember the famous words of Karl Rove (then an anonymous source):
[W]hile you're studying that reality — judiciously, as you will — we'll act again, creating other new realities, which you can study too, and that's how things will sort out. We're history's actors . . . and you, all of you, will be left to just study what we do.
In other words, given the time frame, it may be more important to affect reality than to game it out; by giving your Congress Critter — or, better, one of their staffers — a call. Bringing me to Indivisible, one of the Resistance organizations that sprang up (spontaneously, or not) after Trump was elected. Indivisible is said to be composed of Congressional staffers; it got good press immediately; and they have in fact prepared many useful materials to bring pressure to bear on Congress. In the great divide over what victory looks like to the Resistance — a Clintonite Restoration, or a Sanders Revolution — Indivisible comes down firmly on the side of Restoration, as this tweet from today shows: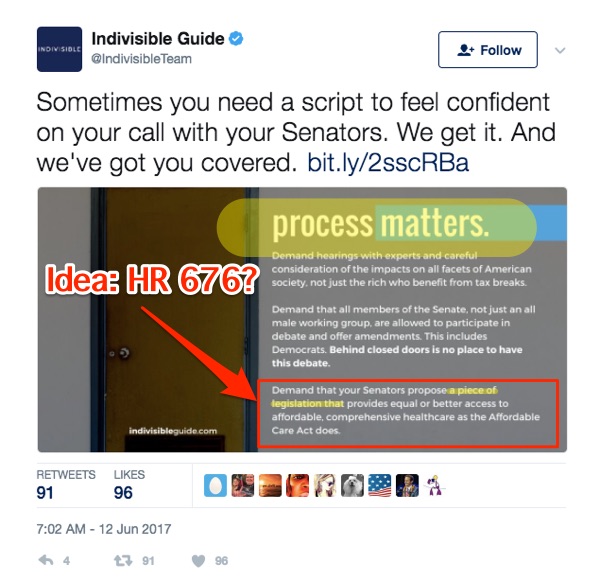 I mean, come on. What on earth does "propose a piece of legislation that provides equal or better access to affordable, comprehensive heath care" mean? Why not health care as such, and not "access" to health care? And why not just come out and support #MedicareForAll, instead of peddling this mealy-mouthed drivel? Oh, and here's the call script: As you can see, it doesn't even mention proposing legislation, so the message of the tweet's graphic, and the message of the actual script contradict each other (hopefully due to carelessness rather than bad faith. Some process).
That said, Indivisible does do good work aggregating establishment pressure points; here is their list of Congressional staffers who work on health care. They write:
the person answering the phone when you call your member of Congress' office will be a staff assistant or intern. You should always ask for the Senator's legislative assistant who handles that particular issue for the Senator. In this case: health care. Often times, you'll be put through to that person's voicemail. Leave one. And then use the information below to send a follow-up email.
I agree with the tactic, and plan to call my two Senators — Moderate Republican Susan Collins, and Independent Angus King — this afternoon. You should consider doing the same. I write my own scripts, but there's no reason you can't use or adapt theirs. However, I plan to add verbiage like this:
Of course, the real solution isn't this Republican plan, or ObamaCare (which originated at the Heritage Foundation). The real solution is Medicare for All. We know from the Canadian experience that single payer saves tens of thousands of lives and will save the country billions of dollars. Medicare for All is something even limited government should so, and I hope one day you will support it.
Can readers improve on this?