By Lambert Strether of Corrente
Readers, I have a bit more to add under politics. –Lambert. 2:36PM: All done.
Trade
"SMALL BUSINESSES URGE TRUMP TO DROP ISDS IN NAFTA 2.0: Leading small and medium-size companies are issuing a united call for the Trump administration to abandon in an updated NAFTA dispute settlement clauses that they say "grant greater rights to foreign corporations than to domestic businesses" and pose a challenge to local, state and federal policies" [Politico]. "The 100 businesses, included the co-founders of Ben & Jerry's ice cream and eco-friendly clothing maker Silk Oak, are asking Trump in a letter today to eliminate investor-state dispute settlement clauses from all current trade deals — 'beginning with the NAFTA renegotiation' — while also removing the U.S. from any negotiations that would expand the clauses. It named the Bilateral Investment Treaty with China and the Transatlantic Trade and Investment Partnership with the European Union as two such negotiations that would expand ISDS." Kill it with fire.
Politics
Health Care
"Senate Health Bill Can't Be Fixed" [Center on Budget and Policy Priorities]. Very good:

It's no accident that CBO reached similar conclusions about all three versions of the Republican health bill, as the bill has maintained five core structural features over time:

Ending the Affordable Care Act (ACA)'s expansion of Medicaid to low-income adults.
Capping and cutting federal Medicaid funding for seniors, people with disabilities, and families with children.
Increasing premiums and deductibles for millions of moderate-income people who buy health insurance through the ACA marketplaces.
Undermining the ACA's individual market reforms by weakening key consumer protections for older people and people with pre-existing conditions and eliminating the ACA's individual mandate, which helps ensure a balanced individual market risk pool.
Providing hundreds of billions of dollars in tax cuts for high-income households, drug companies, and other corporations.

As long as the bill retains these five components, its broad consequences for Americans' health insurance and health care will stay the same.

However, it looks like #5 could be in trouble: "Obamacare taxes on the rich may remain after all" [NBC]. Although we'll have to see the fine print. McConnnell doesn't play against type a whole lot. Unless he's sending a signal to Democrats?

UPDATE "Multiple lawmakers and high-level congressional aides have told The Daily Beast that moderates from each party have begun taking the temperature of the other side for a more modest approach to reforming the health care system. Aides and lawmakers insist that these talks are in their nascent stages. Sen. Joe Manchin (D-WV), in an interview, described them as both informal and ephemeral" [Daily Beast]. "But the fact that they are taking place at all suggests that lawmakers are growing frustrated by a lack of progress and more convinced that a Republican-only approach to dismantle the Affordable Care Act may never get the support needed to get through the Senate. A top Democratic aide said discussions between the parties picked up noticeably before lawmakers left for July 4 recess. And at least two Democratic senators said that they've had conversations with their Republican counterparts about various ways to fix Obamacare—specifically, the private insurance markets." Liberals and conservatives join together to protect a market-based debacle from the left's #MedicareForAll. ObamaCare is, after all, the worst possible Republican plan…

"Republicans Are Still Seven Votes Shy On Health Care" [FiveThirtyEight]. Useful but [lambert preens] I prefer my take on the same topic (using a similar structure).
New Cold War
"The probability that U.S. President Donald Trump will be impeached and fail to complete his four-year term in the White House has risen to the highest ever, according to bookmaker Paddy Power" [MarketWatch]. "There is a 20% chance the impeachment could happen in 2017, Paddy Power said. At fellow bookie Ladbrokes, the chances of Trump leaving office before his term ends — either due to impeachment of resignation — stand at 48%."

"What Is Collusion? Is It Even a Crime?" [Politico]. "Worse than a crime; a blunder." –Talleyrand. Lambert here: The pros, Democrat and Republican alike, use cut-outs, unlike Junior; that's one of the many services that the oppo industry provides. Steele didn't deal direct with Jebbie or Clinton (or, I suppose, Chelsea); the pros have people for that.

"The most ignored story of the 2016 presidential campaign is the press corps' unwillingness to focus on Russia's election meddling before election night, according to one of Hillary Clinton's former top aides" [HuffPo]. "After campaign chairman John Podesta's hacked emails were published online by WikiLeaks in the election's final month, Palmieri and others again argued that the press needed to further explore the role Russian hackers were playing. The leaks themselves dominated coverage… " So, rather than focus on the evident and unchallenged truth of the mail, the Clintonites would rather have changed the focus — not just in the press, but in the minds of voters — to the sourcing, not the content. Chutzpah! (Especially when the very real possibility that the Podesta mails were a leak, not a hack, has been carefully airbrushed away by all sides.) Of course, Palmieri, as Clinton's communications director, is also shifting blame from her own performance to others. Whose job is it to get the Clinton campaign's story out, anyhow?

UPDATE "The 1996 United States campaign finance controversy was an alleged effort by the People's Republic of China to influence domestic American politics prior to and during the Clinton administration and also involved the fund-raising practices of the administration itself" [WikiPedia]. Or, in Daily Mail headline-ese: "EXCLUSIVE: ANOTHER '90s scandal returns to haunt the Clintons – billionaire accused of being front for Chinese Communist bid to influence Bill's 1996 election finally faces being questioned after years on the run" [Daily Mail]. Lambert here: Just Google "Charlie Trie," and cross anybody huffing and puffing about the "ZOMG!!!!" "Unprecendented!!!!!" foreign election stealing hacking interfering meddling collusion ("collusion" is the new word, be sure to use it) off your list of serious people. Grow a pair, people! We're an imperial power! Everybody seeks to influence us!

UPDATE "American Democracy Is Now Under Siege by Both Cyber-Espionage and GOP Voter Suppression" [The Nation]. A thoroughly dishonest article that out-of-the box conflates voter records with the ballot, doesn't mention let alone advocate hand-marked paper ballots, hand-counted in public, and then goes on to conflate that with Kobach's malevolent CrossCheck project, after the Democrats did squat about redistricting after 2010, and did squat about increasing the electorate after Jebbie tried to steal Florida in 2000 with his CrossCheck-like felon's list. I hate to be cynical, but I'm thinking the only reason the Democrats are addressing redistricting now, after so long, is that they hope to suck down some squillionare bucks for it, which also accounts for Obama's new-found interest in the matter. Idea: Make the Obama library the center of the effort!

"I like the drip reporting" [Eschaton].
Realignment and Legitimacy
UPDATE "West Virginia was the senator's first stop on a day-long, two-state trip to campaign against the Senate Republican health-care bill. Next up was Covington, Kentucky, a city near Cincinnati, Ohio, where Sanders called the health-care bill House Republicans passed in May "the most anti-working class legislation that I have ever seen," adding that "the Senate bill, in many respects, is even worse'" [The Atlantic]. "It's unusual for a high-profile progressive politician to hold a rally in a red state like Kentucky, or even West Virginia, a former Democratic stronghold that has trended conservative in recent years, outside of a presidential campaign. That may be part of the reason why the Democratic Party's power has eroded so severely across the country." If you don't ask for people's votes, you're not going to get them. This is not hard.

UPDATE "Democrats should take the class warfare message to upscale suburbs" [Matt Yglesias, Vox]. "But there's no reason to believe that more affluent, suburban communities are averse to a strong, policy-based critique of Republican Party economics. The Labour Party under Jeremy Corbyn, after all, made some of its strongest gains in upscale parts of London — winning the Borough of Kensington for the first time ever, for example — and it certainly didn't shy away from drawing a strong economic contrast." Matty takes out a Communist Party card…

"The weakness of the Democratic Party is not due to an underrepresentation of venture capitalists and tech company board members" [Politico].

"Would House Demo­crats be­ne­fit from a new gen­er­a­tion of lead­ers? Of course, but it's not at all clear who they might be and an in­tra­mur­al fight would likely be a dis­trac­tion for the party. And who could raise even half the money that Pelosi does each cycle? I am an in­de­pend­ent and a dyed-in-the-wool mod­er­ate, so I am closer philo­soph­ic­ally to Minor­ity Whip Steny Hoy­er. But he couldn't be­gin to raise as much money, and cer­tainly none of the young­er mem­bers could. My hunch is that Pelosi feels an ob­lig­a­tion to stick around and raise money to help her party win back its ma­jor­ity, and once that hap­pens, she would be more than de­lighted to head back to San Fran­cisco" [Charles Cook, Cook Political Report]. "When minor­ity parties have suc­ceeded in midterm elec­tions, it has been be­cause voters were not happy with the people and party in power and de­cided to go with the al­tern­at­ive. This is the way Amer­ic­an polit­ics works. It might well be all that House Demo­crats need next year."

"One Hamptons party explains what's wrong with American politics" [New York Post]. You will have seen that (it's Lally Weymouth's party), but this is interesting:

Weymouth's party is the latest reminder that for all the bruising rhetoric, the constant polls showing a deeply divided America and the most polarizing president in history, our battle isn't red vs. blue, right vs. left: It's about the 1% vs. the rest of us. They laugh as we take their political theater for real.

"If you believe any of these people care about you, you are mistaken," Samuel Ronan tweeted. "The Hamptons might as well [be] another planet."

Ronan's running for Congress from Ohio's First Congressional District. His platform? Campaign finance reform and lobbying restriction. We'll see how long that lasts if he wins next year.

Ronan quoted in the New York Post? Strange…
Stats Watch
JOLTS, May 2017 (yesterday): "The hiring total is a new record for this series while job openings are the second lowest of the year" [Econoday]. "And the rise in hiring may generally be hinting at better wages." Hinting… And: "Job openings are mostly moving sideways at a high level, and quits are increasing. This is another solid report" [Calculated Risk].
NFIB Small Business Optimism Index, June 2017 (yesterday): "The small business optimism index fell 0.9 points in June to 103.6, posting the lowest level of the year in a continuation of the mild decline from the 12-year high set in January" [Econoday]. "The June setback, which put the index within the range but near the bottom of analysts' expectations, reflected disappointment over the gridlock in the Senate on the healthcare reform bill, according to the NFIB."
Atlanta Fed Business Inflation Expectations, July 17: "Inflation expectations are not only sinking at the consumer level, they're beginning to sink at the business level as well" [Econoday]. "Expectations for sales held steady with profit expectations improving slightly. The inability to get prices going is a major concern for Federal Reserve policy makers who have been attributing the weakness to one-time factors such as lower costs for cell phones and gasoline, factors that may or may not be at play in this report."
Wholesale Trade, May 2017 (yesterday): "Wholesale inventories rose a higher-than-expected 0.4 percent" [Econoday]. "Though these results will help second-quarter GDP, the outlook for the third month of the quarter is uncertain as sales at the wholesale level fell a very steep 0.5 percent in May which makes the 0.4 percent build look unwanted. Factory inventories have running slightly higher so far this quarter with retail inventories, based on advance data, also on the rise."
MBA Mortgage Applications, week of July 7, 2017: "Fell a seasonally adjusted 3 percent" [Econoday].
Consumer Credit: "Higher than expected, and last month revised up, however the trend is still lower. This report is only through May. The weekly bank loan report is as of June 28, and shows the down trend continuing, which generally reflects a deceleration in consumer spending" [Mosler Economics].
ETFs: "The filings are somewhat vague, but it appears that Vanguard is planning to sell actively managed exchange-traded funds. Todd Rosenbluth, director of ETF and mutual fund research at CFRA, a service that rates funds, said in a recent note about the filings that the new funds could be ETF clones of existing mutual funds, such as Vanguard Strategic Equity Income VSEQX, or Vanguard Global Minimum Volatility Fund VMVFX" [MarketWatch].
Shipping: "Vintage Shipping – the way it was done" [Shipping & Freight Resource]. "Container tracking involved maintaining a "T-Card" for each container.. The T-Card had details of the container number, vessel/voyage and all the moves such as discharge, gate out, gate in, load etc…. Each T-Card had a slot on a T-card rack as shown below.. Each of the slot panels (marked in Red) had multiple slots (marked in Green) for the T Cards and had label headings such as Depot 1, Depot 2, Port, De-Van (full container going for import unpack), Van (empty container going for export pack), Vessel/Voyage etc. Depot 1, Depot 2 etc referred to the various empty container depots that the line had, so the empty containers would go under the respective depot and full or empty containers would go under the port." Fun stuff! I'm surprised there aren't any ship modellers who do port operations like this, just as there are model railroaders who do waybills and train orders. Or maybe there are!
Supply Chain: "Amazon used Prime Day to highlight some of that spending, rolling out services with the airfreight fleet labeled Prime Air that it's ramping up with airline partners. The investments in the cargo airlines are part of the rapid escalation in spending Amazon has undertaken, including capital expenditures that have fed the company's vast distribution network as well as the technology backbone that drives a fast-growing cloud services business. The Prime Day sales this year will push more business for a wide range of retailers and logistics providers. But the capital spending signals that Amazon expects to handle more of that volume on its own in coming years" [Wall Street Journal].
Real Estate: "The commercial real-estate market looks to be getting tighter, but not necessarily because of strong new demand. From shopping malls to distribution centers, developers are holding the line on new construction and building less on speculation…. That comes as the national retail vacancy rate sits at a relatively low 5.4% because developers have reined in construction. The attention to capacity is also keeping logistics space tight" [Wall Street Journal].
The Bezzle: "Wells Fargo beats Cincinnati appeal in public nuisance lawsuit" [Reuters]. "A federal appeals court on Tuesday rejected Cincinnati's effort to hold Wells Fargo & Co liable for creating a public nuisance by letting properties it owned, including through foreclosure, fall into disrepair because the upkeep cost too much."
The Bezzle: "The factory side remains an enormous challenge, however, as the company tries to boost production to 500,000 vehicles next year from 84,000 last year. The surge of cars would likely tax a small network of about 150 Tesla service centers around the world, so Tesla is building up that network along with maintenance vans outfitted with repair crews and espresso machines" [Wall Street Journal]. So the espresso machines are a quality control measure?
The Bezzle: "The use of technology to solve the 'last mile' challenge was the theme of the third [Independent Transport Commission (ITC)] study, which examined the use of robot vehicles in Greenwich to make food deliveries in the local area. These electric robot vehicles, operated by Starship Technologies, have been reducing emissions and on-road congestion in the local area, although " [Lloyd's Loading]. Can any of our UK readers translate the underlined portion?
The Fed: "Randal Quarles has been Trump's choice to become the first Fed vice chair for supervision (See? Obama could be a little tardy with the appointments, too) for three months now. Everyone knows it except for secretary of the Senate, who hasn't seen a piece of paper with Quarles' name and a 1600 Pennsylvania Avenue return address cross her desk yet" [DealBreaker].
The Fed: "Semiannual Monetary Policy Report to the Congress" [Board of Governors of the Federal Reserve System].
The Fed: "Yellen says not many more rate hikes needed: House testimony live blog and video" [MarketWatch]. And then there's this:
gif version of the guy holding up a "Buy Bitcoin" sign behind Yellen pic.twitter.com/XzeOHa2Dhy

— Neeraj K. Agrawal (@NeerajKA) July 12, 2017
Political Risk: "Photos: Life inside of China's massive and remote bitcoin mines" [Quartz]. Amazing stuff.
Five Horsemen: "Facebook soars to a record and Amazon reclaims quadruple digits on J-Yel's haunting rendition of When Doves Cry" [Hat Tip, Jim Haygood].
Today's Fear & Greed Index: 47 Neutral (previous close: 41, Fear) [CNN]. One week ago: 77 (Neutral). (0 is Extreme Fear; 100 is Extreme Greed. Last updated Jul 12 at 1:04pm.
Health Care
The grim end game of financialized health care:
From an ER doctor, this is staggering. And if you're American, you'll recognize it as true. https://t.co/imfZNg0Vpz pic.twitter.com/a900tp4E8S

— rob delaney (@robdelaney) July 10, 2017
Gaia
"Larsen C calves trillion ton iceberg" [Project MIDAS]. "The iceberg, which is likely to be named A68, weighs more than a trillion tonnes. Its volume is twice that of Lake Erie, one of the Great Lakes…. The iceberg weighs more than a trillion tonnes (1,000,000,000,000 metric tonnes), but it was already floating before it calved away so has no immediate impact on sea level. The calving of this iceberg leaves the Larsen C Ice Shelf reduced in area by more than 12%, and the landscape of the Antarctic Peninsula changed forever."
"Great Plains Wildfires on the Rise" [AgWeb]. "The great plains will be the next wildfire frontier," says [University of Nebraska co-author Dirac Twidwell]. "We're the next Rocky Mountains. We're the next California." For some definition of "wild," of course.
"There will never be global solidarity against climate change" [The Week]. "the more feasible a low-carbon economy is, the more different countries will use that fact to jockey for advantage — for example, imposing onerous tariffs on products of carbon-intensive manufacturing processes. And the very fact that, if we are able to avoid the most extreme planet-wrecking scenarios, climate change poses a greater threat to poorer regions of the planet gives richer countries an overwhelming advantage in the struggle to respond. New York City can afford to adapt to protect itself from rising seas and more severe weather. Dhaka likely cannot. It's easy to get demoralized by this selfish dynamic. But it is far more productive to accept it and take advantage of it by pitting countries and companies against each other to compete in a low-carbon-intensity world rather than relying on global solidarity as a precondition to progress."
"Plants turn caterpillars into cannibals" [Nature]. "This is a new ecological mechanism of induced resistance that effectively changes the behaviour of the insects," says Richard Karban, who studies interactions between herbivores and their host plants at the University of California at Davis… The caterpillars will always eat each other eventually, but the difference in timing is critical, says [Integrative biologist John Orrock], 'if plants can induce pests to eat each other earlier, there will be more of the plant left untouched'. However, he also cautions that the cost to the plant of activating its defences is very high. 'It is very possible that the plants will strike a balance and decide if the attack is serious enough to activate the defences.'" "Decide"?
"Alarmism Is the Argument We Need to Fight Climate Change" [Slate]. "But, contrary to the belief perpetuated by a lot of the criticism of this piece, addressing climate change does not rely on people being psychologically self-possessed enough to freely give up meat and airplane rides for the greater good. There is no amount of individual good intention that can solve this massive, structural problem in enough time to have an impact. What we need is who will take this problem seriously." Oh dear. If only we replace the bad people with good people, good things will happen. The very definition of necessary but insufficient. And how does alarmism produce "leaders who will take this problem seriously"? Are not climate denialists capable of producing their own "leaders"?
The 420
"Should Weed Dealers Receive Reparations When Marijuana Is Legalized?" [High Snobiety]. As "innovative" "disruptors," of course.
"Nevada governor issues state of emergency over marijuana shortage" [Twitter]. A reasonably compiled Twitter moment…
"Pairing wine and weed: Is it a California dream or nightmare?" [KPCC (GF)]. "[An] emerging pot-for-pleasure industry seeks to grab a share of the nearly $2 billion tourism business in Sonoma Valley."
Our Famously Free Press
"Kitty Genovese's Murder: Everything You Know About The '38 Bystanders' Is Wrong" [Autostraddle].
Big Brother Is Watching You Watch
"Is someone spying on you?" [Hasso-Plattner Institut]. Of course they are; the only question is in what media and how effectively. Anyhow: "With the HPI Identity Leak Checker, it is possible to check whether your e-mail address, along with other personal data (e.g. telephone number, date of birth or address), has been made public on the Internet where it can be misused for malicious purposes."
"Would you like the world to know your private thoughts? Write them in an email" [MarketWatch]. "In France, companies are not permitted to access emails on company computers that are clearly labeled by employees as 'personal' or 'private.' Under French law, workers can use company equipment for reasonable personal use such as daily activities like arranging laundry or school activities for kids, says David L. Gregory, executive director of the Center for Labor and Employment Law at the St. John's University School of Law in New York. "In the U.S., that information sent over company equipment belongs to the employer.'"
Class Warfare
"Breaking: UAW Files For Historic Union Vote at Nissan in Mississippi" [Payday Report]. "Today, the United Auto Workers filed a petition with the NLRB asking for a vote for the 6,500- worker plant in Canton, Mississippi. If successful, the vote would top off a historic 14-year long campaign to unionize the plant and would be a major breakthrough for efforts to organize the South." Good to see the Democrat Party all over this. Oh, wait….
"How poverty affects the brain" [Nature]. When I say "concrete material," I mean "concrete" "material", all the way down to (say) gut-level bacteria.
"Why Half of America Doesn't Even Live Paycheck to Paycheck" [NBC]. "According to a new survey by the Center for Financial Services Innovation, 48 percent of Americans have expenses that equal or exceed their income. Among that group, nearly 40 percent have income that fluctuates from month to month, and 86 percent say this volatility has caused them financial stress as a result." Financial stress = stress = bad health outcomes. But ka-ching!
News of the Wired
"Ant colonies flow like fluid to build tall towers" [Nature]. "To cross streams or secure themselves against water currents, fire ants join forces to form rafts or build towers. Researchers have now worked out how the ants sustain tall structures without crushing their friends: they constantly circulate around the tower, behaving like a fluid."
"Students are Better Off without a Laptop in the Classroom" [Scientific American]. "Although computer use during class may create the illusion of enhanced engagement with course content, it more often reflects engagement with social media, YouTube videos, instant messaging, and other nonacademic content. This self-inflicted distraction comes at a cost, as students are spending up to one-third of valuable (and costly) class time zoned out, and the longer they are online the more their grades tend to suffer." Agnotology!
"photographs of the mind" [Contexts]. "Blind folks taking photographs? It may seem unbelievable, but members of the Seeing With Photography Collective have been making pictures for close to 20 years. The collective is a group of photographers with sight ranging from total blindness to 'normal' vision."
* * *
Readers, feel free to contact me at lambert [UNDERSCORE] strether [DOT] corrente [AT] yahoo [DOT] com, with (a) links, and even better (b) sources I should curate regularly, (c) how to send me a check if you are allegic to PayPal, and (d) to find out how to send me images of plants. Vegetables are fine! Fungi are deemed to be honorary plants! See the previous Water Cooler (with plant) here. And here's today's plant: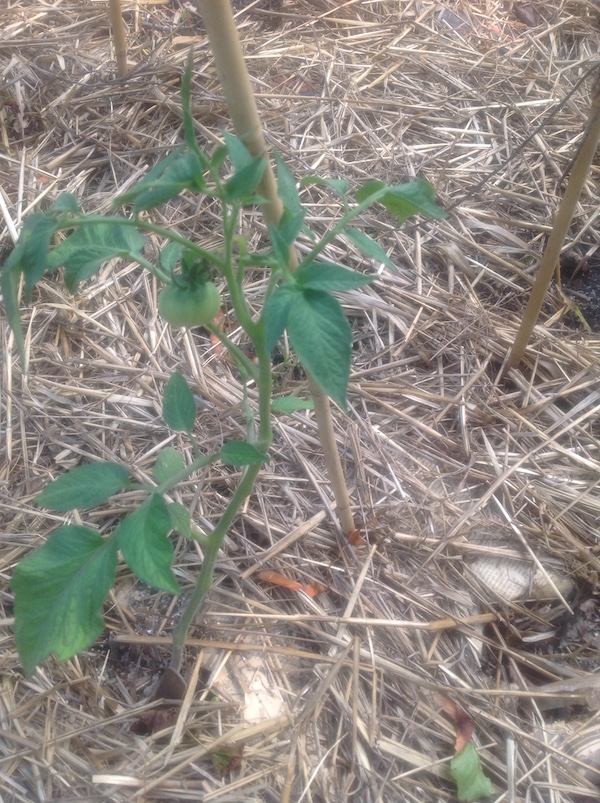 This, readers, is where we are with the Maine growing season…
NOTE Readers, if you want your handle to appear as a credit, please put it in the subject line. Otherwise, I will anonymize by using your initials. Thank you!
* * *
Readers, Water Cooler is a standalone entity, not supported by the Naked Capitalism fundraisers. Please use the dropdown to choose your contribution, and then click the hat! Your tip will be welcome today, and indeed any day. Water Cooler will not exist without your continued help.