By Lambert Strether of Corrente
Readers, sorry this is a minute late; I had to reboot the router at exactly the wrong moment! –lambert
Trade
"NAFTA Plan Does Not Describe Promised Transformation of NAFTA to Prioritize Working People" [Public Citizen]. "Note: Today, the Trump administration published a document on its NAFTA renegotiation objectives. Under the 2015 Fast Track law, the administration must publish 'a detailed and comprehensive summary' of its specific negotiating objectives 30 days before formally beginning trade talks. This document does not describe the promised transformation of NAFTA to prioritize working people that some voters were expecting based on President Trump's campaign pledges. More than 910,000 specific American jobs have been certified as lost to NAFTA under just one narrow program, but this document does not make clear whether NAFTA's job offshoring incentives or its ban on Buy American procurement policy will be eliminated or labor or environmental standards better than the widely rejected one in the TPP will be added. The document is quite vague so while negotiations can start in 30 days, it's unclear what will be demanded on key issues, whether improvements for working people could be in the offing or whether the worst aspects of the TPP will be added making NAFTA yet more damaging for working people."
Politics
Health Care
"Health care collapse a blow to McConnell" [Politico]. Delicious factional infighting…
Realignment and Legitimacy
"How to build the coalition" [Alice Marshall, Medium] (in response to Bruce Dixon's post on Our Revolution and Jackson, Mississippi). "Like his father, Lumumba ran as a Democrat. He was endorsed by Our Revolution. Our Revolution sent out email asking people not merely to send money, but to phone bank for Lumumba, complete with link to automatic dialer, so they could log in and phone bank for him. So it is natural that the People's Summit should celebrate their contribution to his victory by inviting him to speak at their event."

"'If U.A.W needs support asking Nissan for neutrality during the election period Our Revolution and many labor and community organizations will answer the call,' [OR Labor Chair Larry] Cohen texted Payday Report at 6:04 A.M this morning" [Payday Report]. Nice to see liberal Democrats going all out to help organize the South. Oh, wait…

"President Trump's voter fraud commission is urging a federal court not to block it from collecting state data on registered voters" [The Hill]. "EPIC claims the commission violated the E-Government Act of 2002 and the Administrative Procedure Act (APA) in asking all 50 states and D.C. for voters' full names and addresses, political party registration and the last four digits of their Social Security numbers." Madness.d

"Liberals can win again if they stop being so annoying and fix their 'hamburger problem'" [Josh Barro]. "This combination of facts has me thinking a lot about what I call 'the hamburger problem.' As I see it, Democrats' problem isn't that they're on the wrong side of policy issues. It's that they're too ready to bother too many ordinary people about too many of their personal choices, all the way down to the hamburgers they eat. they have become smug and condescending toward anyone who does not match the personal lifestyle choices of liberal elites. Why would the voters on the receiving end of that smug condescension trust such a movement to operate the government in their best interest? The nice thing about the hamburger problem is that Democrats can fix it without moving substantially on policy. They just have to become less annoying." Listen to Josh, Kamala!

Handy map of data center locations (click through the link in the tweet):

Based on data center density, United States ranks #1 in the world with 2000+ #datacenters https://t.co/CYHKuM65VJ pic.twitter.com/DiOvUrTpKI

— Cloudscene (@CloudsceneMedia) March 6, 2017

Most, though not all, of them are out in the colonized areas, near the hog lagoons, etc.
Stats Watch
Architectural Billing Index, June 2017: "For the fifth consecutive month, architecture firms recorded increasing demand for design services as reflected in the June Architecture Billings Index (ABI). As a leading economic indicator of construction activity, the ABI reflects the approximate nine to twelve month lead time between architecture billings and construction spending" [American Institute of Architects].
Housing Starts, June 2017: "Housing data have been up and down and are now back up as both housing starts and permits easily beat Econoday's top estimates" [Econoday]. "As weak as the details were in the prior report is how strong they are in the latest. Looking at permits first, the single-family category rose 4.1 percent to an 811,000 rate with multi-family permits up 13.9 percent to 443,000. Permits are strongest in the Midwest followed by the West and South. Permits in the Northeast are the weakest…. Quarterly comparisons aside, this is a solid report that puts the housing sector back at the front of the economy." And: "Total housing starts in June were above expectations, and starts for May were revised up. This was a solid report" [Calculated Risk]. And but: "The evidence suggests that housing demand is still strong, but there have been significant issues with supply as builders look to combat land and labour shortages" [Economic Calendar]. "Land shortage"? But: "Better than expected, but not enough to reverse this year's downtrend, as per the chart, and housing is adding less to q2 gdp than it did to q1 gdp" [Mosler Economics].
Housing Market Index, July 17, 2017 (yesterday): "Trumped up expectations have now entirely faded and the general weakening of housing data is in line with the deceleration of bank mortgage lending" [Mosler Economics].
MBA Mortgage Applications, week of July 14, 2017: "Mortgage activity picked up in the July 14 week, with purchase applications for home mortgages rising 1 percent after seasonal and Fourth of July adjustments and refinancing erasing the prior week's decline" [Economic Calendar].
Credit: "Optimism in Financial Markets Fails to Show in Real Economy" [Wall Street Journal]. Quotes from that article:

I can't see how that says anything good about aggregate demand.
The Bezzle: "Ethereum Co-Founder Says Crypto Coin Market Is a Time-Bomb" [Bloomberg]. "'People say ICOs are great for ethereum because, look at the price, but it's a ticking time-bomb,' Charles Hoskinson, who helped develop ethereum, said in an interview. 'There's an over-tokenization of things as companies are issuing tokens when the same tasks can be achieved with existing blockchains. People are blinded by fast and easy money.'" ICO = Initial Coin Offering, dear Lord. So I suppose bitcoin is best thought of as a collectible?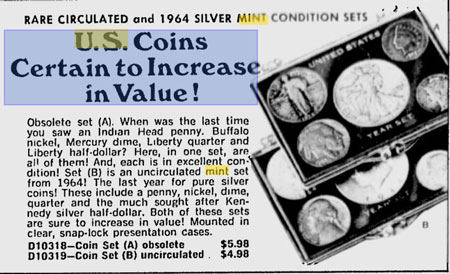 The Bezzle, or Annals of Financial Innovation [Reserve Bank of Australia]. From that source, this tweet:
respect where it's due: China has invented a shadow-shadow funding market where terms agreed via instant message #shadowmoney pic.twitter.com/lgqignpk4p

— Daniela Gabor (@DanielaGabor) July 18, 2017
Cool. I wonder if any of that debt has been levered?
The Bezzle: "Netflix executives keep hitting bonus bullseyes" [Financial Times]. As the punchline to the old joke goes, "Just lucky, I guess." More: "Uncanny accuracy is being achieved on targets set by often volatile video streamer." "Uncanny." I see.
Five Horsemen: "Facebook has blown past Alphabet and is now giving pack leader Amazon a run for the money" [Hat tip, Jim Haygood].
Today's Fear & Greed Index: 73 Greed (previous close: 62, Greed) [CNN]. One week ago: 47 (Neutral). (0 is Extreme Fear; 100 is Extreme Greed. Last updated Jul 19 at 1:00pm. Looks like Mr. Market is happy TrumpUncare went down in flames.
Health Care
"How hospitals got richer off Obamacare" [Politico]. " The top seven hospitals' combined revenue went up by $4.5 billion per year after the ACA's coverage expansions kicked in, a 15 percent jump in two years. Meanwhile, their charity care — already less than 2 percent of revenue — fell by almost $150 million per year, a 35 percent plunge over the same period." Ka-ching.
Our Famously Free Press
"What happens to local news when there is no local media to cover it?" [WaPo]. "The '[news] desert' phenomenon holds a special irony in East Palo Alto, a multiethnic, largely working-class community. The city sits amid, but largely apart from, the bustling corridor of companies that have revolutionized and conquered the global information market. Google's campuslike complex is just five miles to the south in Mountain View. Apple, maker of the devices on which so many get their news, is 13 miles away in Cupertino. And Facebook — the behemoth that facilitates the trading of GIFs and gossip among 2 billion humans each day — is headquartered in Menlo Park, literally across the street from East Palo Alto's northwestern border."
Guillotine Watch
"Want to become a better listener? This is what you need to do" [World Economic Forum]. "Life is busy, and it seems to whirl by faster every day. We all try to do a million things at once, and sometimes it works out. But active, effective listening isn't something you can do on the fly. It requires a conscious effort."
Class Warfare
"Poor Whites and the Labor Crisis in the Slave South" [LAWCHA].
Although life had never come easy for the region's poor, the financial upheaval of the Panic of 1837 devastated the vulnerable lower classes and rendering many small landholders landless. Problems for non-slaveholding whites continued accruing throughout the 1840s, right on the heels of the economic recession, as over 800,000 slaves poured into the Deep South, displacing unskilled and semi-skilled white laborers. By this time, the profitability and profusion of plantation slavery had rendered most low-skilled white workers superfluous, except during the bottleneck seasons of planting and harvest. Shut out from much of the Deep South's agricultural work, many poor white laborers spent the late-antebellum period experiencing long bouts of unemployment or underemployment. Though impoverished whites were never subjected to the daily violence and degrading humiliations of racial slavery, they did suffer tangible socio-economic consequences as a result of living in a slave society.
Shot: "In Chicago.. StoryCorps aims to showcase diversity and document the effects of police brutality and redlining. 'Here was StoryCorps, trying to elevate those stories to be more considerate of the type of country we want to live in,' [social justic activist Justin] Williams said. "Compassion and justice were in the mission statement" [The Nation]. Chaser: "And yet, when a group of employees told management of their intention to unionize in late May, the organization declined to voluntarily recognize the union. In the weeks that followed, management required employees' attendance at meetings where it discussed its opposition to the union and later disputed the workers' bargaining unit in front of the National Labor Relations Board. The employees have continued with their unionization campaign, and will vote on whether to unionize at an upcoming NLRB election, the date of which has not yet been set." Love me, love me, love me, I'm a liberal…
"A growing number of companies are finding it difficult to recruit skilled workers, which threatens to curtail profits and growth, according to a quarterly survey conducted by the Washington-based National Association for Business Economics" [Bloomberg]. "In response, companies are sponsoring foreign workers, expanding their search and hiring more independent contractors, according to the survey. They're also boosting automation, stepping up internal training and in some cases improving pay." Anything but raise wages or do on-the-job… Anything…
"So why did pigs rule Manhattan for the first half of the 19th century—and what finally led the city to shed its swine?" [Quartz]. Interesting:
As land to raise hogs disappeared, New York's working folk came upon a simple solution: let the pigs loose on the city's streets. There was good reason to do this.

Unlike chickens, cows, or sheep, pigs fit seamlessly into New York's fast-urbanizing ecosystem. Hogs in general convert feed into meat more efficiently than other common livestock. And the city provided plenty of it; for much of the 19th century, even in wealthier neighborhoods, trash collection was virtually nonexistent. Piled with spoiled food, offal, and vegetal refuse, the streets of New York were one giant trough. Their detractors called pigs "walking sewers." More accurately, they were self-sufficient protein machines that cost next to nothing to raise.

For these families, pigs were a crucial social safety net—an insurance policy that paid out in bacon. A family short on food could always slaughter one of its hogs; preserved by curing or smoking, the meat could feed a household for a long time. Plus, pigs were a source of instant liquidity for a cash-poor populace. Since pork was a staple of the American diet, butchers were always eager to buy hogs.
"Blood from young animals can revitalise old ones" [The Economist]. Elevator pitch: "Uber for blood!" Use the app, a blood bag cheerful and compliant young person appears at your door, pint bottle and kit in hand!
News of the Wired
"Building a fully featured burner phone with Kotlin" [Twlio]. Well, modulo social engineering, it seems. Still, there's demand…
"Housing for Homeless Vets—in Transformed Shipping Containers" [University of Southern California]. I've been persuaded by readers that using shipping containers as dwellings is a bad idea, but I'm curious why it keeps cropping up. Is modularity that appealing?
* * *
Readers, feel free to contact me at lambert [UNDERSCORE] strether [DOT] corrente [AT] yahoo [DOT] com, with (a) links, and even better (b) sources I should curate regularly, (c) how to send me a check if you are allegic to PayPal, and (d) to find out how to send me images of plants. Vegetables are fine! Fungi are deemed to be honorary plants! See the previous Water Cooler (with plant) here. Today's plant (Aleric):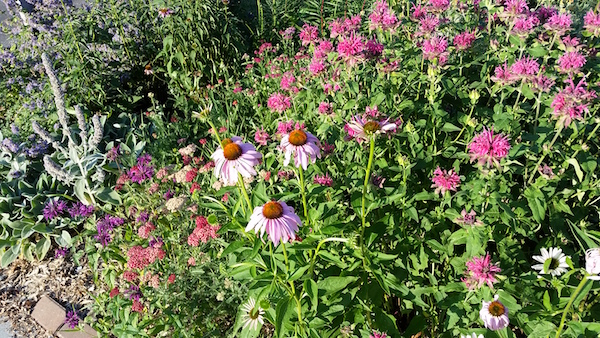 Aleric writes: "Just took some good pictures of my bee garden – though there was a frightening lack of bees. Didn't see any bumble bees though the past two years there have been dozens at any time of day. No honey bees either though I am less than a mile from the U of Mn colony."
I've noticed the same thing (and my "masses of color" look a lot like Aleric's). Nevertheless, everything got pollinated. Somehow…
NOTE Readers, if you want your handle to appear as a credit, please put it in the subject line. Otherwise, I will anonymize by using your initials. Thank you!
* * *
Readers, Water Cooler is a standalone entity, not supported by the Naked Capitalism fundraisers. Please use the dropdown to choose your contribution, and then click the hat! Your tip will be welcome today, and indeed any day. Water Cooler will not exist without your continued help.