By Lambert Strether of Corrente.
Trade[1] activists may regard the defeat of TPP — its (no doubt feigned) rejection by Democrat candidate Clinton, and its deep-sixing by President Trump on his third day in office — as a victory, and they're not wrong. But it's a mistake to regard the defeat of a deal as the defeat of the deal-makers: The forces and drivers behind the deal, which, if unchecked, will simply emerge with a [cough] new deal serving the same objectives. In this post I want to look briefly at the the state of play in "trade," and then begin to look at the Trade in Services Agreement (TiSA) — that lowercase "i" gets me every time; I suppose it's meant to make the acronym seem friendlier — because, unlike the regional TPP, TiSA is a global agreement, because it's far less undead than TPP, and because it provides great insight into the future world our globalist elites would like us to live in[2]. I'm going to take the supply chain as my starting point for future posts on TiSA, because it's about "stuff," and as readers know I like stuff: Shipping containers, boats, trucks, trains, planes, the UPS guy with the package, and so on. My interest in TiSA was renewed by this report: TiSA: Foul Play (PDF)[3], authored by Professor Jane Kelsey of the University of Auckland, a trade activist, and I'm going to be relying on that report for some key points in this and future posts. (There is the a text of TiSA at WikiLeaks, thankfully; in future I'll try to get more into detail.)
The State of Play for Trade
First, TPP. Trump having pulled out, the other other 11 TPP nations, led by Japan, are discussing reviving it. Next, the text of the TPP is being broken up for spare parts and incorporated into other deals. The National Interest:
While the rhetoric of 'high standards' owed much more to political salesmanship than rigorous analysis, there are parts of the agreement that can facilitate economic progress…. The existing text needs creative adaptation rather than simple adoption. Any successor agreement should be between those members who wish to exploit the gains of well-managed globalisation for innovative, inclusive and sustainable growth. The TPP can be a valuable organ donor.
In particular, TPP may be an organ donor for NAFTA. The Electronic Frontier Foundation on e-commerce:
Preliminary steps towards the renegotiation of NAFTA, the North American Free Trade Agreement, have already begun, and Alan Davidson, former director of digital economy issues at the Commerce Department, has flagged the problematic e-commerce provisions of the TPP as suitable for transplanting into the renegotiated agreement. "TPP is a terrific starting point," he is reported as saying.
TPP's objectives are also being stitched, Frankenstein-style, into NAFTA:
On July 17 the Trump administration released a 20-page list (pdf) of its objectives for the NAFTA renegotiation, which could begin as early as August. Many bear a striking resemblance to provisions agreed by TPP negotiators, experts and Trump opponents have pointed out. "The administration is planning to come to the table with watered down versions of TPP proposals," said US senator Ron Wyden, a Democrat from Oregon.
And the same goes for TPP's ISDS language, also being transplanted into other deals. Politico's "Morning Trade" as cited at NC:
Leading small and medium-size companies are issuing a united call for the Trump administration to abandon in an updated NAFTA dispute settlement clauses that they say "grant greater rights to foreign corporations than to domestic businesses" and pose a challenge to local, state and federal policies" [Politico]. "The 100 businesses, included the co-founders of Ben & Jerry's ice cream and eco-friendly clothing maker Silk Oak, are asking Trump in a letter today to eliminate investor-state dispute settlement clauses from all current trade deals — 'beginning with the NAFTA renegotiation' — while also removing the U.S. from . It named the Bilateral Investment Treaty with China and the Transatlantic Trade and Investment Partnership with the European Union as two such negotiations that would expand ISDS.
As far as who is doing the stitching and surgery: We might call the lawyers, lobbyists, industry representatives, standards body wonks, legislators and diplomats — Flexians all — "The Trade Blob," and clearly The Trade Blob has its own class interests in keeping the trade "conversation" going, beyond the passage of any one deal. But there are other class more dominant class interests at stake, made refreshingly clear by listing the key supporters of TiSA, the "Really Good Friends of Services" — I'm really not kidding about the name — and "Team TiSA." From Foul Play (page 11):
Since 2013 a group of like-minded governments have been secretly negotiating a deal that would lock the world into the failed neoliberal model of the past four decades. They call themselves The Really Good Friends of Services.

The Really Good Friends of Services

Australia, Canada, Chile, Colombia, Costa Rica, European Union, Hong Kong China, Iceland, Israel, Japan, Lichtenstein, Mauritius, Mexico, New Zealand, Norway, Pakistan, Panama, Peru, South Korea, Sweden, Switzerland, Taiwan, Turkey, United States of America

They are working with, and largely for, a corporate lobby known as Team TiSA. The six US co-chairs come from the world's most powerful major financial, tech, logistics and retail corporations: .
So, with a line-up full of heavy-hitters like that, it's no wonder TiSA is not dead, but sleepeth. Politico:
The effort to finalize TISA talks has been hampered by friction with the European Union, which the U.S. blames for dragging its feet on how to handle rules on data flows. The agreement being negotiated by the U.S., EU and 21 other governments could now lie fallow for a while, given President-elect Donald Trump's critical view of new trade initiatives. But the official held out some hope that a Trump administration could put its attention on the deal at some point.

There is a higher likelihood that a Trump administration decides to pursue TISA than there is that the EU will get its act together on data in the next four years," the official said. "I doubt very much that the Trump administration has thought very much at all about TISA. When they do think about it, they may look at it as being a different kind of trade agreement, because it's not dealing with industrial goods[4]. They may see the broad support for it among U.S. stakeholders. They may see the support for it in Congress and see it's interesting."
So even though TiSA on the inactive list now, that doesn't mean it won't be back in the game. Politico:
[United States Trade Representative Robert] Lighthizer was asked specifically about the Trade in Services Agreement, another Geneva-based negotiation that stumbled in the remaining days of the Obama administration [at Wednesday's Senate Finance Committee hearing]. "That certainly is an important one, and ," Lighthizer said about TISA. "We're doing an evaluation right now across the board, and when that is done we'll move forward where appropriate."
Besides the USTR, Congress:
The Congressional Services Caucus, co-chaired by House Ways & Means trade subcommittee chairman Dave Reichert (R-WA), is with partners in the Trade in Services Agreement negotiations and address the priorities of the services industry, which include promoting the free flow of data across borders and removing barriers such as forced data localization. "The negotiation and enforcement of trade agreements need to address the barriers U.S. services companies face in foreign markets."
So, with Team TiSA pushing, and The Trade Blob smoothing the path, TiSA is still very much in motion. Now let's look at TiSA and the supply chain.
TiSA and the Supply Chain
Deborah Hames of the Center for Economic and Policy Research summarizes the supply chain nature of TiSA:
[I]t's important not to think of TiSA as "only about services." Now that nearly every chapter of the agreement has been leaked, a more complete picture has emerged: that the
(To me, "offshoring and outsourcing charter" is another way of saying "supply chain.") More:
The TiSA is intended to lock in a system of rules to allow multinational companies to operate in . As promoted by the multinational financial, logistics, and big data corporations through Team TiSA, the agreement would set severe limits on the ways that governments can regulate domestic economies, removing key tools of economic management and the ability to shape the service economy while providing an extensive corporate bill of rights for multinational companies' operations across the globe. Given the shift in employment patterns from high-paying manufacturing jobs to low-wage services jobs, and given the potential offshorability of millions more services jobs, the danger posed by TiSA is daunting.
Foul Play provides the following chart (page 25):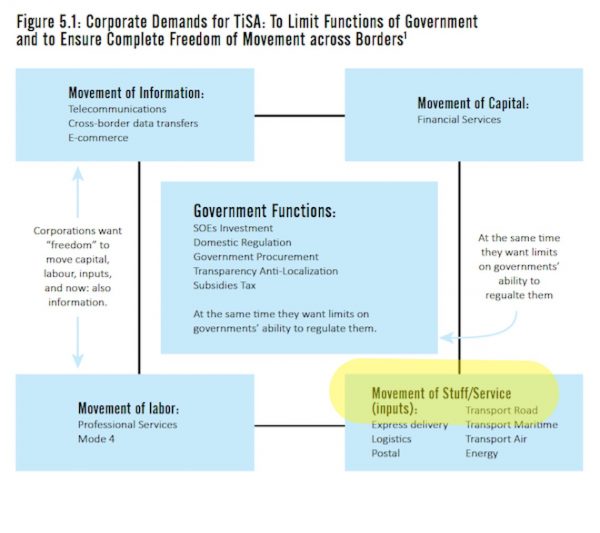 (As a parenthetical, note "professional services" in the lower left quadrant; clearly, TiSA is aimed squarely at the guilds and rents of our friends in the 10%, even if they don't know it yet.) In the lower right quadrant, we see "Movement of Stuff/Service (inputs)", described on page 12:
The TiSA agenda for postal, courier and express delivery services is set by DHL, Fedex, TNT and UPS. The globally integrated logistics chains they organise through digital platforms require . Public postal systems have to be minimised, while still providing access to a universal network. Amazon will piggy-back on these gains, forcing the Big Four to compete harder to survive.
(As a parenthetical, note if you want a Post Office Bank, you don't want TiSA.) Contemplate the extraordinarily ambitions scope of "Movement of Stuff," the "seamless crossborder flows," for a moment; you can see that TiSA really is an "agreement for everything."
Conclusion
There's an old saying attributed to Internet activist John Gilmore: "The Net interprets censorship as damage and routes around it." TiSA seems to suggest a more generalized variant: "Capital interprets regulation as damage and routes around it." Regardless, again, of the success or failure of any particular deal, that's what the dealmakers — the Trade Blob and our globalist elites — desire. Tomorrow I'll look at what "services" really means in TiSA.
NOTES
[1] I'm not at all happy with the "trade" framing; some rectification of names is called for. Ditto anti-globalization, etc.
[2] I mean, besides the jackpot. I'm not happy with "globalist elites" framing either.
[3] Foul Play has two sponsors: The Friedrich-Ebert-Stiftung, "the oldest political foundation in Germany," named for the first President of the Weimar Republic, which has a social democratic focus; and the UNI global union, which represents more than 20 million workers from over 900 trade unions. From their site:
Belonging to a local trade union was once enough to protect your rights and to improve your conditions at work. Working people came together because they were stronger together. Your local union was able to defend you, intervene with your local employer in times of trouble and help to improve your conditions. As local union members you were strong.

In a workplace now dominated by powerful multinational companies, the conditions under which local employees work are largely dictated at the regional and global levels.

The interest in building links across national borders has marked the trade union movement and we have developed this idea further with the creation of UNI Global Union.

At UNI Global Union, national unions remain our pillars. Those unions continue to organise workers, negotiate and mobilise for a fair deal at work. However, in today's global workplace it is no longer enough to only have only local unions. It is now necessary for those unions to affiliate to a global union for representation on an international scale.
Incidentally, if liberal Democrat immigration activism in the United States is not about arbitraging cheap labor, you'd expect to see institutions like UNI put front and center in messaging. If that's happened, I've missed it. (Interestingly, UNI is not one of the civil society organiztions invited to comment on TiSA by the EU.)
[4] As we shall see, TiSA's definition of "service" is extremely broad. Think "steelmaking as a service," and so forth.