By Lambert Strether of Corrente
Readers, I seem to have fallen into a pattern where if I have lots of posts, I slip the 2:00PM deadline for Water Cooler, and make it up with UPDATEs. If you find this disappointing, or frustrating, or it ticks you off, let me know… More soon, and later. –lambert UPDATE Done, 3:03PM. I added many Bezzle items. I'm not sure whether I'm noticing more, or whether there are more. I keep my sources pretty stable, so I'm guessing there are more.
Politics
New Cold War
Hysterical hysteria:

The Communists are now dictating the terms of the debate. https://t.co/SMPOUGMtCP

— Donna Brazile (@donnabrazile) July 18, 2017

Hysterical hysteria:

"When you meet with any Russians, you're meeting with Russian intelligence, and therefore Putin." — Rep. Mike Quigley (D-IL) today on CNN

— Michael Tracey (@mtracey) July 14, 2017
2016 Post Mortem
"These Obama voters snubbed Hillary Clinton — and 'they don't regret what they did'" [WaPo]. Oh noes! "'What we clearly see in the focus groups is they don't regret what they did.' 'They' are millennials of color who either didn't vote or voted third party." (These are, those WaPo naturally omits to mention this, Democrat voters who were more likely to have voted for Sanders). More:

And there is pointed ire at the Democratic Party. One participant was particularly blunt. 'You're damn right, I don't have any loyalty to Democrats,' a person of color said in a focus group in Fort Lauderdale. 'If Republicans want to get real about s— that's happening in my community I would vote for every one of them. Then maybe Democrats would take us serious too.'"

I doubt that will happen with Trump ("Dance with the one that brung ya"). It might happen with another Republican candidate. Be afraid, Democrats, be very afraid. #ImWithHer 2.0, in the shape of Kamala Harris, is highly unlike to make it.
2020
PPP is a Democrat shop:


BREAKING: New poll by @ppppolls finds that if Bernie is the nominee, @BernieSanders would defeat Trump by 13 points https://t.co/fGAudr4IjN pic.twitter.com/edsi6W3a4m

— People For Bernie (@People4Bernie) July 18, 2017
2018
"Democrats May Have Trouble Taking Back Congress in 2018, Poll Finds" [Vice]. Well, polls. But: "Just over half of registered voters said that Trump would not be a factor in how they planned to vote in the 2018 congressional elections, with 20 percent saying they'd vote to support him and 24 percent saying they'd vote against. That leaves a four-point margin between those who are voting to support Trump and those who are voting to oppose, which is less than it was leading up to the 2010 and 2014 midterms. Leading up to both of those elections, 27 percent of voters said they would pick congressional candidates to oppose president Barack Obama. In 2006, 35 percent of voters said they'd vote to oppose president George W. Bush." So, it looks like "Have you seen the other guys?" might not be the killer stroke of genius slogan the Democrat Establishment thinks it will be. Idea: Push the Russia thing harder?
Realignment and Legitimacy
Clever remark from random tweeter:

i think we're seeing that a platform of managed decline is only electable until society falls below a certain hope threshold

— Poptimissimo of Tark (@TastiestSatan) July 19, 2017

Hmm….


Blah blah blah….

All I heard was "I'm still not ready to support single payer because I'm a paper tiger playing pretend lefty…" https://t.co/oSGWdEhz0X

— Nina Illingworth (@NinaDontPlayMtG) July 18, 2017

I'm not hearing full-throated support from Warren for #MedicareForAll here. Did I not get the memo?

Reductio ad absurdum, except not:

–Lets elevate a transgender Zoroastrian!
–But they are aggressively anti-Bolivian & hate the vertically gifted
— What to do? What to do?

— Chris Arnade (@Chris_arnade) July 19, 2017

That's not how a genuinely intersectional left thinks. It is, however, how liberal Democrat strategists and consultants think.
Stats Watch
Leading Indicators, for June 2017: "Housing permits gave the index of leading economic indicators a major lift in June which posted a 0.6 percent gain that tops Econoday's high estimate for 0.5 percent. Permits had been soft through most of the Spring before gaining sharply in last week's housing starts report" [Econoday]. "Renewed strength in the LEI hints at general economic momentum through the second half of the year." But: "The leading indicators are for the most part monetary based. Econintersect's primary worry in using monetary based methodologies to forecast the economy is the current extraordinary monetary policy which may (or may not) be affecting historical relationships. Econintersect does not use data from any of the leading indicators in its economic index. Leading indices in this post look ahead six months – and are all subject to backward revision" [Econintersect]. Followed by a useful survey of other leading indicators, like the Chemical Activity Barometer.
Bloomberg Consumer Comfort Index, week of July 16, 2016: "The consumer comfort index, which fell to a post-election low in the prior week, rebounded 6 tenths in the July 16 week to a 47.6 level that is still, however, the lowest since February" [Econoday]. "Confidence readings appear to be leveling out after their post-election surge."
Philadelphia Fed Business Outlook Survey, July 2017: "There finally may be cracks appearing in Philly Fed which has, since the election, been signaling break-out strength for the Mid-Atlantic manufacturing sector. The general conditions index looks solid at 19.5, still very strong though down from 27.6 in June and the least robust result since November. But details — which in this report are not reflected in the headline index — are the flattest since late last year" [Econoday]. So finally a survey comes to earth? And: "This month new orders significantly declined and is barely in expansion. Consider this a weak report. The New York Fed's manufacturing survey (released earlier this week) also significantly declined but remained in expansion" [Econintersect].
UPDATE Retail: "Why the grim reaper of retail hasn't come to claim Best Buy" [Bloomberg]. "The company plowed a chunk of the savings into better training its employees so that they can explain products to shoppers, which Joly believed was critical because new technology often is confusing to many consumers. Best Buy, with 125,000 employees overall, 'has done an excellent job improving customer service," Keith said in a recent note to clients.'" That's why I go there for computer equipment, and not online. First, I want to touch the machine (since I'll be using it a minimum of eight hours a day for several years). Second, I want a human to answer questions (even if I'm such a maven on computers I don't have any, I still have questions about our demented cell phone system). Third, I want a human to yell at if things go wrong. And forth, about a decade ago — good will lasts! — Best Buy unhesitatingly honored my warranty when I broke the screen on a H-P laptop I was running linux on.
UPDATE The Bezzle: "NYC's Biggest Foreclosure Halted After New Creditor Emerges" [Bloomberg]. I'm really not sure where to file this, but the details are certainly intriguing: "New York's biggest-ever foreclosure auction, for a penthouse at the One57 luxury tower near Central Park, has been halted after a new creditor emerged saying it's owed money — for — by the owner of the apartment." And: "Unit 79 at the tower — bought in 2014 for $50.9 million — was scheduled to be sold at auction tomorrow, in a seizure forced by seeking to recoup an unpaid $35.3 million mortgage. The U.S. Justice Department intends to collect any remaining proceeds, claiming the owner bought the condo with ." New York real estate is pretty clean, but of course there are bad apples….
UPDATE The Bezzle: "Hampton Creek majors in Silicon Valley hype: 'A technology platform that translates raw material in the form of plants into data that fuels discovery of food technologies that can really change the way we eat.' In case that's not clear, the San Francisco-based private company makes eggless mayonnaise and cookie dough" [Reuters]. Hoo boy: "On June 5, the company published an unusual blog post saying that it had fired three managers after what sounds like a failed corporate coup. The company, which has raised more than $200 million in funding according to Bloomberg, spun the departures as a way to ensure 'our employees' maintain 'the autonomy to direct our long-term mission.' More startling is that nearly everyone on the board is now reported to have made for the exit, including luminaries such as former U.S. Health and Human Services Secretary Kathleen Sebelius… Hampton Creek has a history of controversy. The vegan food maker encouraged workers to buy its products off the shelves of stores like Costco and Whole Foods using company funds, Bloomberg reported last year." Hoo boy.
The Bezzle: "Ad-buying software company Rocket Fuel – "a predictive marketing platform," it calls itself – announced on Tuesday that it was acquired for $2.60 a share. Including the assumption of debt, it makes for a deal value of $145 million. Down from $2 billion at its peak one month after the IPO" [Wolf Street]. "I just send them up, don't care where they come down, that's not my department, says Werner von Braun." –Tom Lehrer.
UPDATE The Bezzle: "This Startup Wants to Replace Your Office With 3D Holograms" [Bloomberg]. "In his vision, office workers will huddle around holograms to collaborate on pretty much any kind of task. That means no computers, cubicles, regular desks, or chairs. Gribetz's own office provides a glimpse of how a future workplace might look. He has a thin slab of wood at standing height as a desk. It's just wide enough for the headset to rest on it. He plans to redesign the rest of Meta's office in a similar way." Sounds horrible, and a recipe for weird carpal and opthomology problems. And how do you do office politics in VR? (And don't tell me nobody will try.) Granted, the technology will be more useful after the jackpot, when people will be thinner on the ground.
UPDATE The Bezzle: "Thirteen bitcoin exchange operators in Japan said they will suspend deposits and withdrawals of the virtual currency from midnight July 31 in order to prevent confusion caused by an expected split of the trading system.The move is aimed at protecting customer assets." [Japan Times]. "The number of bitcoin users is rapidly increasing partly on the back of low commissions for overseas remittances. But the growing transaction volume has led to an increase in speculative trading, and the exchange operators are taking longer to execute transactions as a result. Some in the bitcoin industry are planning to set up a new system enabling faster transactions, while others are calling for the continued use of the current system. A virtual currency association to which the 13 operators belong said it is difficult to estimate the degree of confusion but that a serious problem cannot be ruled out. The operators are planning to indicate by Aug. 4 when trading will resume."
The Bezzle: "Convictions of 2 Former Traders in Libor Scandal Are Dismissed" [New York Times]. "The decision to void those convictions is the latest setback for prosecutors on each side of the Atlantic as they try to pursue criminal charges against individuals related to Libor. Eight former traders have been acquitted of criminal charges in Britain in the last two years." "Try." This is third-world, elite impunity stuff.
Five Horsemen: "Amazon rages on as Apple brings up the rear" [Hat tip, Jim Haygood].
Today's Fear & Greed Index: 75 Extreme Greed (previous close: 74, Greed) [CNN]. One week ago: 48 (Neutral). (0 is Extreme Fear; 100 is Extreme Greed. Last updated Jul 20 at 1:30pm. We haven't seen Extreme Greed in some time. Go home, Mr. Market. You're drunk.
News of the Wired
"Why People From Manchester Are Mancunians, Not Manchesterians" [Atlas Obscura].
* * *
Readers, feel free to contact me at lambert [UNDERSCORE] strether [DOT] corrente [AT] yahoo [DOT] com, with (a) links, and even better (b) sources I should curate regularly, (c) how to send me a check if you are allegic to PayPal, and (d) to find out how to send me images of plants. Vegetables are fine! Fungi are deemed to be honorary plants! See the previous Water Cooler (with plant) here. Today's plant: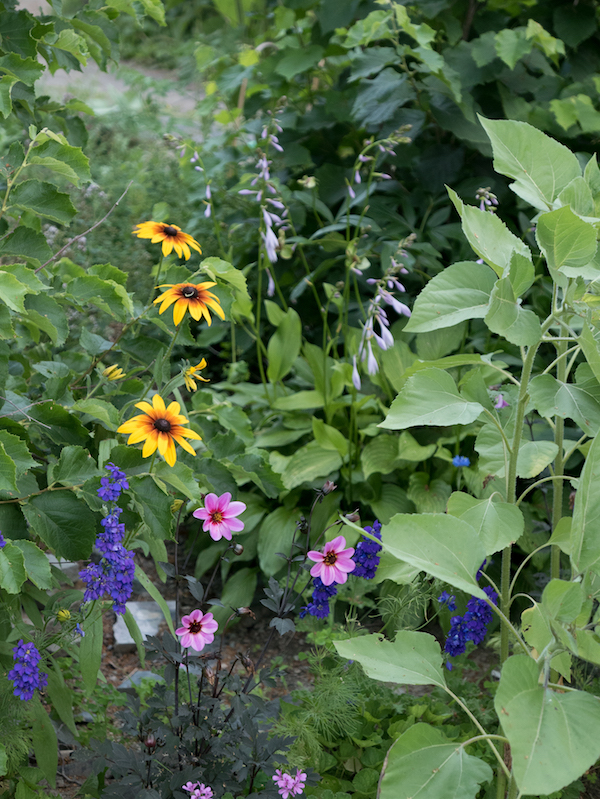 This is another attempt at showing "masses of color," as deployed in my "grandmother's garden." (I have other vistas to come, but this is the one that came to hand today). I'm posting it because I was walking down the sidewalk this morning when I was accosted by a church lady, who called my garden an "oasis" (!). I said, "It's a mess!" She said, "No, it's a habitat!" Which was nice to hear. At least I know that the (stacked) function of using my garden as the face I present to the town is working out fine!
NOTE Readers, if you want your handle to appear as a credit, please put it in the subject line. Otherwise, I will anonymize by using your initials. Thank you!
* * *
Readers, Water Cooler is a standalone entity, not supported by the Naked Capitalism fundraisers. Please use the dropdown to choose your contribution, and then click the hat! Your tip will be welcome today, and indeed any day. Water Cooler will not exist without your continued help.