Patient readers: Those of you who attended yesterday evening's San Francisco Meetup will have seen Yves wearing a fetching black eyepatch. While on the road, she scratched the cornea of her dominant eye, which resulted in (I hope I have this right) corneal edema, followed by a tour of consumer-level West Coast emergency rooms. She should be OK by the end of the week, but in the meantime she finds it difficult to read, let alone write, and so for the next few days you will be seeing a lot more of me, Jeri-Lynn, and Outis than you usually do. –lambert
Queen's corgis earn their keep as dog gifts boost royal takings Telegraph
New breakthrough discovery: Every quantum particle travels backwards University of York
Satellite snafu masked true sea-level rise for decades Nature
Money, money, money: Silicon Valley speculation recalls dotcom mania FT
U.S. House panel to consider self-driving car legislation Reuters
Hackers Could Confuse Driverless Cars By Manipulating What They See Jalopnik
Robot 'drowns' in fountain mishap BBC (MR).
"Zero Day" for Violent Regime Change in Venezuela Moon of Alabama
Syraqistan
Trump Recertifies Iran Nuclear Deal, but Only Reluctantly NYT

The other Gulf conflict: How the Qatar crisis is playing out in D.C. back rooms Salon
Brexit
The Brexit Diaries: 5 – On briefcases, orchestras and Winnie the Pooh Deutsche Welle

The Remainers who now chair select committees will harry the government over Brexit British Politics and Policy, London School of Economics. Dense Inside Baseball Cricket, but useful.
Grenfell Tower fire: Government considering covering charred shell in tarpaulin Independent
The new £10 note featuring Jane Austen has been revealed by Mark Carney, but it has a big problem Telegraph. Meanwhile, the Telegraph confuses sarcasm and irony, not a good look when covering Austen. Maybe they can hire a few of the copy editors the New York Times sacked.
For EU reforms, watch Germany, not France Politico
Macron introduces massive austerity package for local government The National Interest (Re Silc).
IMF to announce Greece needs further debt-relief measures New Europe (MT). "Greek sovereign debt does not appear to be in a sustainable trajectory without an outright haircut., that is, a non-starter for European creditors."
China?
Top Chinese and US executives make urgent call to avoid trade war South China Morning Post

Sikkim stand-off could escalate into full-scale conflict, warns China Times of India
Health Care
How the nursing home lobby blocked reforms in Louisiana The Economist. Ka-ching.
Democrats in Disarray
Kamala Harris: The Democratic message is 'telling the American public we see them' Yahoo News. Next up: The sense of hearing.

Democrats Are Trying to Win the 2018 Midterms in All the Wrong Ways The Nation (Re Silc).
Jane Kleeb, Nebraska Democratic Party Chair, on How to Overcome the Rural-Urban Divide In These Times
New Cold War
* * *

* * *
When To Trust A Story That Uses Unnamed Sources FiveEightyEight. Urges that multiple sources are more trustworthy than single ones, which rules out the possibility that a cabal of sources is, er, colluding.
Trump Transition
Please Kill Me Now
Belfer Center Launches "Defending Digital Democracy" Project To Fight Cyber Attacks and Protect Integrity of Elections Belfer Center

The Belfer Center for Science and International Affairs at Harvard Kennedy School launched a new, bipartisan initiative today called the "Defending Digital Democracy" (DDD) Project. Co-led by the former campaign managers for Hillary Clinton and Mitt Romney and experts from the national security and technology communities, including Facebook and Google, the project aims to identify and recommend strategies, tools, and technology to protect democratic processes and systems from cyber and information attacks….

[T]he project will be run by Eric Rosenbach, Co-Director of the Belfer Center and former Assistant Secretary of Defense….

Rosenbach recruited Robby Mook, Hillary Clinton's 2016 campaign manager, and Matt Rhoades, Mitt Romney's 2012 campaign manager, to join DDD as Fellows and co-leaders.

"Entities." Why do I think that hand-marked paper ballots, hand-counted in public, won't make it onto this group's agenda? Good to see Robbie Mook's got some cash coming in, though. He must need it.
Guillotine Watch
Dimon Says Being an American Abroad Is 'Almost an Embarrassment' Bloomberg
More citified 'Main Streets' coming to a suburb near you Philadelphia Inquirer
the mass defunding of higher education that's yet to come anova. Yikes.
Class Warfare
When is stress good for you? Aeon
Too Many Americans Live in a Mental Fog Bloomberg (Re Silc). Yeah, and they're running the country!
Locate Your Representative/Senator In Hell Another Word for It. News you can use!
Finance Can Be a Noble Profession (Yes, Really) HBR
Antidote du jour (Samuel Conner):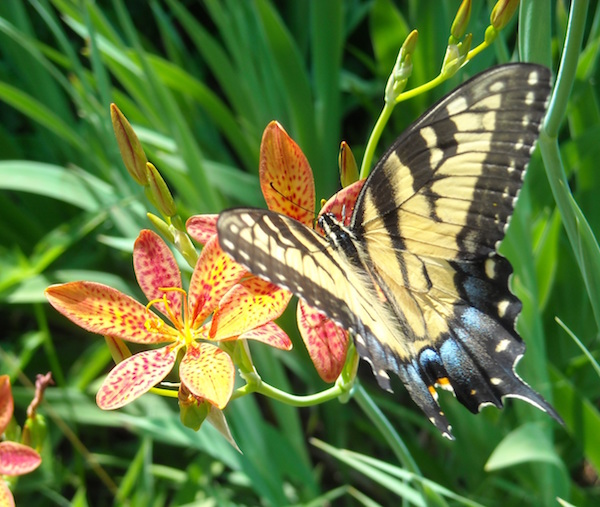 Samuel Connor writes:
A Tiger Swallowtail nectaring in my blackberry lily patch. I was digging this afternoon (digging up quack-grass tubers — it has taken over part of my backyard and I still have veggies in pots that need to be planted, so I'm digging to clear for the planting) and this critter visited my wildflower patch. I took a break and broke out a cheap camera and took a dozen shots.
See yesterday's Links and Antidote du Jour here.