Jerri-Lynn here: I don't want to overestimate the importance of New Jersey's new law aimed at reducing food waste, as discussed in this Climate Central post– as I am aware that the post is short on specifics on how the goal will be achieved. Indeed, the text concedes:"The New Jersey legislature is considering — but has not yet passed — other bills that may help implement the state's new food waste law." And these details will very much matter.
Yet in the absence of any comprehensive federal efforts anytime soon to address the climate change issue– at least while Trump remains President, and Republican climate-deniers continue to control Congress– state initiatives such as these will comprise the policy response to this challenge (supplemented of course by city, municipal, and local initiatives, and private sector programs).
The real reason this post caught my attention is that it brought back old memories of my real first summer job, as a tomato picker in the summer of '76, in Green Township, Sussex County, New Jersey– a state that used to be known as the Garden State (and for all I know, still is).
At the time, I was a rising high school sophomore, and  a decent student musician, who'd reached the stage where my plastic clarinet no longer cut the mustard.  I yearned for a  better clarinet and coveted a Buffet-Crampon professional grade instrument, which cost $400-$500 at that time.  That was a lot of money, especially in our household.  (My parents were both teachers, and there were seven of us: three sisters, one brother, and me).
My only source of income was baby sitting– which brought in 50-75 cents per hour– and supplied all my pocket money.
But I really wanted that clarinet– so I approached my mother. She proposed that if could earn half of the money, my parents would match the other half as my Christmas present.
Even at the time, I wondered whether this answer was really intended to be a soft no– a way to close down further discussion (including inevitable whingeing on my part, I was a teenager, after all)– as saving that amount out of my baby sitting money seemed impossible. At 15, I was too young to get a NJ work permit, and thus couldn't get hired by any proper local business. What to do?
Well, NJ did allow teenagers my age to do farm work, sans permit. I soon found out that Mr. Guidi, our high school gym teacher who owned a local farm, was hiring people to pick tomatoes, for 50 cents per bushel basket. No interview, no CV required– one just showed up every morning at the tomato fields, to be handed plastic bushel buckets, and some popsicle sticks to toss in the bucket to identify one's output.
So, I soon found myself one morning hauling myself out of bed at 6– that's always difficult for a teenager!– and cycled the couple of miles on my bike to the Guidi farm, to work as a tomato picker.
It was very hard, filthy, hot work, and for the record, I was a terrible at it. Some of the other workers managed to make up to $3 an hour. After three or four hours, I was lucky to come away with $6 or $7: sweat-stained, sunburnt, often with a backache, as well as absolutely filthy hands.
But I stuck to it, and after a couple of weeks, I was promoted to tomato sorter.  That for me was a big step up. This was an afternoon job– so no more crack of dawn start– and we sorted in an inside space,, out of the sun.
The pay was $2 per hour to sort the freshly picked tomatoes into three categories. The super hard tomatoes went into one basket, to be shipped into The City for sale, while the less hard but by no means ready to eat were thrown into another basket, to be sold at local farm stands. And the third category — the wonderfully ripe, red, soft, succulent  tomatoes that New Jersey is known for– were too delicate to be shipped anywhere, and were dumped into a bucket, to be tossed away.
After a few hours of doing this, I asked if rather than throwing out all these tomatoes, I could bring home some to share with my family. Sure, said Mr. Guidi.
So, I diligently sorted tomatoes, and at the end of my shift, often brought home at least a couple of bushels.  Mom either served these as salads, or combined them with produce from our garden to make sauce– and froze the excess.
All went well until  one day,  I was stopped as I was about to leave the farm with 7 bushels of extremely ripe tomatoes.
This story has a happy ending (well, a couple, actually).
Mr. Guidi examined the tomatoes, and said that none of these were fit for sale.  And he added, he was happy to see  that the tomatoes weren't being wasted. He sent along my his best wishes to my family and especially my father, whom he knew because Dad coached wrestling for a local high school, while Mr. Guidi did the same for another.
I didn't realize it at the time, but I was also doing my small bit to reduce food waste, and mitigate climate change.
By the end of the summer, I'd earned my share of the purchase price of the new instrument– and Mom soon made good on her side of the bargain.
My music teacher and his wife took me into The City one day to try out– and buy– my new clarinet.  Which I treasured all the more, as I'd earned it through my toil.
********
By Bobby Magill,a Senior Science Writer at Climate Central. He has written for Popular Mechanics, Fort Collins Coloradoan, Daily Sentinel Grand Junction, Colorado), USA Today, High Country News, NewWest.net and other publications. Originally published at Climate Central
A new law in New Jersey aims to shrink the state's climate footprint and feed the hungry by drastically reducing the amount of wasted food that ends up in landfills.
The law requires the state to develop a plan over the next year to cut the state's food waste by half by 2030. The bipartisan measure, which passed the state legislature without a single dissenting vote and was signed last week by Gov. Chris Christie, mirrors an Environmental Protection Agency goal for the entire country set under the Obama administration in 2015.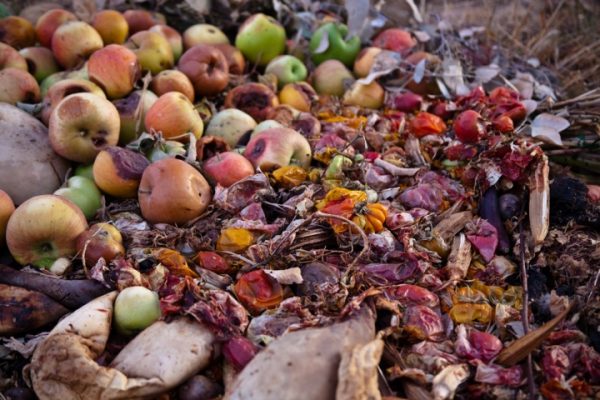 Food waste in a compost bin.
Credit: Jeremy Brooks/flickr
"The beauty of the bill is it's going to get at two long-festering problems — climate and hunger — at the same time," said Eric Goldstein, a senior attorney for the Natural Resources Defense Council in New York City. "The states are going to have to take the lead on issues like climate and this new law holds the hope of tackling one piece of that problem."
Up to 40 percent of the food produced in the U.S. ends up uneaten and tossed into the garbage. So much food is thrown away every year that it adds up to the equivalent of about 20 pounds of food per person every month. Discarded food also wastes cropland and energy that are used in the production of food.
Worldwide, processing wasted food generates about 3.3 billion tons of greenhouse gases annually. That means if food waste were a country, it would be the world's third-largest climate polluter after China and the U.S., according to the U.N. Food and Agriculture Organization.
When leftovers and rotting fruit and vegetables are tossed out and end up in the dump, they become a major climate problem. Decomposing food pollutes the atmosphere with methane, a greenhouse gas 34 times as powerful in warming the climate as carbon dioxide over the course of a century.
Larry Hajna, spokesman for the New Jersey Department of Environmental Protection, said that while New Jersey has implemented more effective methane emissions controls at its landfills over the past 30 years, much of the state's garbage is shipped to landfills out of state where New Jersey officials have no control over emissions.
Less methane will be emitted from those landfills and the climate will benefit if the amount of food New Jerseyans discard is cut drastically, he said.
At least five states either ban organic waste from landfills or mandate food waste recycling to some degree, according to the Harvard Food Law and Policy Clinic.
California mandates organic food waste recycling and requires businesses to cap the amount of food they send to the landfill each year. Connecticut and Rhode Island also require many businesses to cap the amount of food thrown out. Massachusetts and Vermont have a weight limit on food waste both individuals and businesses can throw away.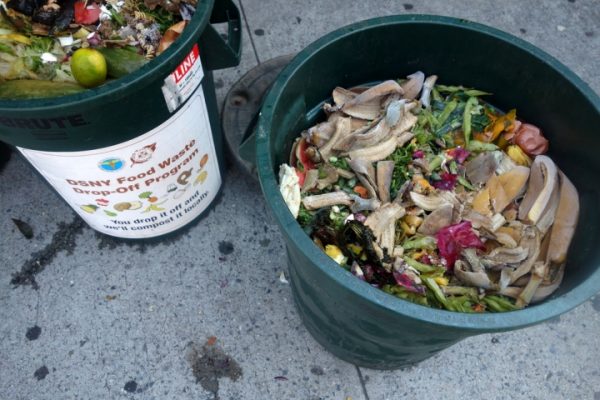 A compost bin in New York City.
Credit: Nick Normal/flickr
New York City, San Francisco, Seattle and Austin, Texas, also have organic waste recycling or composting mandates for homes or businesses to prevent food waste from ending up in a landfill.
Mark Milstein, director of the Center for Sustainable Global Enterprise at Cornell University, said state laws mandating food waste reductions create business opportunities for recyclers, composters and others.
"You've exacerbated climate change with a harmful greenhouse gas. There are more productive uses for that (wasted) material," Milstein said.
"We can compost it, turn it into fuel," he said. "If you're going to prevent the waste in the first place, rethink how people buy food, how they utilize food. Those are all potential business opportunities."
The New Jersey legislature is considering — but has not yet passed — other bills that may help implement the state's new food waste law.
One bill would require supermarkets, restaurants and other large generators of food waste to separate discarded food from other trash and recycle it. Other proposals would establish new food labeling standards to reduce waste and incentivize food donations.
If New Jersey's food waste reduction program is successful, it may pave the way for other states to follow, Goldstein said.
"We think the law has real potential," he said. "It gets the ball rolling, which is a significant thing."