By Lambert Strether of Corrente
Meetup reminder: Burlington, VT Thursday, August 17 at 8:00PM; Montreal, Quebec Friday, August 18, at 6:00PM. Hope to see you there!
Venue for Montreal: Café Cherrier, 3635 St Denis, a 2 minute walk from the Sherbrooke metro station.
Venue for Burlington: Not decided. These three look good to me:
1) Vermont Pub and Brewery. It looks like they don't have any events on Thursday, so not too much noise.
2) Zero Gravity Brewpub at American Flatbread. A gastro be nice if people want dinner, because of the advanced hour.
3) The Farmhouse Tap & Grill. A gastropub, also nice if people want dinner.
One requirement is that we be near the Downtown Transit Center off Church Street (45-68 St Paul Street). What do readers think?
* * *
Trade
"Rather than ordering immediate tariffs or taking other moves that could violate WTO rules, President Donald Trump signed an executive memorandum directing U.S. Trade Representative Robert Lighthizer to 'consider all available options' to pressure China to change course on policies that have forced American companies to hand over valuable technology to do business in the world's second-largest economy. That includes a potential investigation under the little-used and obscure Section 301 of the 1974 Trade Act — a step that could take as long as a year before any action is taken" [Politico]. "The move could buy Trump some time to find ways to pressure China to use its influence over North Korea to get Pyongyang to scale back its nuclear ambitions."
"Labor and environmental groups are warning the Trump administration that a NAFTA 2.0 that looks too much like the Trans-Pacific Partnership will likely end the same way that trade deal did – unsuccessfully. And winning their support will start, they warn, at the very beginning: with a process that they argue should be open, transparent, and heavily influenced by input from stakeholders" [Politico].
"A glut of low-cost solar panels in the U.S. is triggering an unusual fight over tariffs and environmental policy. The U.S. International Trade Commission this week will hear arguments over calls by bankrupt solar-panel maker Suniva Inc. for new barriers on imported solar cells" [Wall Street Journal]. "The imports have been a boon to U.S. solar installers, with the cheap prices spurring adoption of rooftop solar panels, but they've pushed Suniva to close factories in Michigan and Georgia and enter bankruptcy."
Politics
2017
"[V]oters in Alabama are headed to the polls on Tuesday for the first round in the special election to serve the remainder of former GOP U.S. Sen. Jeff Sessions' term" [Cook Political Report]. "At this point, though, it is really a three-way race between U.S. Sen. Luther Strange, who was appointed to the seat when Sessions resigned, U.S. Rep. Mo Brooks, and former state Supreme Court Justice Roy Moore. The race has had two themes. The first is a battle over which of the candidates is the staunchest supporter of President Trump. The second is which candidate is most opposed to the current Republican Senate leadership."
Charlottesville
An Image of Revolutionary Fire at Charlottesville" (photo) [The New Yorker]. "The next day, for the A.P., the photographer Steve Helber shot an image of peculiar symmetry, in which a man of fortitude was bearing a different light. Two men extend weapons: one is the Confederate flag, furled, hiding its retrograde design, and the other is an aerosol can, modified to eject fire." Interesting piece of art/media criticism, until the very last line: "The resistance has its fire, too." Appropriating the events in Charlottesville for Neera Tanden's so-called resistance is, I think, a little much, even for the sadly diminished New Yorker.

""Interview: How Corey Long Fought White Supremacy With Fire" [The Root]. "But inside of every photograph there's an untold story. If you look closely at Long's picture, there's an elderly white man standing in between Long and his friend. The unknown man was part of the counterprotests too, but was afraid, and Long and his friends were trying to protect him. Even though, Long says, those who were paid to protect the residents of Charlottesville were doing just the opposite." Here is how the New Yorker, which cites the Root story, describes what Long did: "An old man hunches behind him, as if taking shelter." There's no "as if" about it! What a grotesque erasure.

"JPMorgan chief executive Jamie Dimon has spoken out about the racism-fuelled violence in Charlottesville, Virginia, describing it as having 'no place in a country that draws strength from our diversity and humanity'" [Financial News]. "In a note sent to JPMorgan, seen by FN, Dimon said the violence was 'a stark reminder that we must recommit ourselves every day as a society to stand up and uphold the values that bind us as Americans.' Dimon also chairs the Business Roundtable, a lobby group of US CEOs." Well, that was easy. Now, back to business as usual.

Woo woo:

EXCLUSIVE: 

After #Charlottesville we must dismantle Russian spy networks that spread hate & violence in the West.

https://t.co/B9OugvLFLr

— John Schindler (@20committee) August 14, 2017

UPDATE "Amateur Sleuths Aim to Identify Charlottesville Marchers, but Sometimes Misfire" [New York Times]. "The internet vigilantes claimed some successes over the weekend. One rally participant, Cole White, resigned from his job at a hot dog restaurant in Berkeley, Calif." 'Twas a famous victory… d

UPDATE "On principle, I am against taking down monuments. I think it was wrong to take them down in New Orleans recently… After Charlottesville, the 'heritage, not hate' argument is never going to be taken seriously. The Klansmen, neo-Nazis, and other alt-right protesters in C'ville have made it much harder to defend those monuments and Confederate insignia" [The American Conservative]. Well worth a read.
2016 Post Mortem
"Hillary Clinton's pastor plagiarized portion of new book" [CNN]. "In an interview with CNN last week, [Rev. Bill Shillady, a United Methodist minister] described rising at 4 a.m. on the morning after Clinton lost the presidential election to write the devotion. He did not mention borrowing material for it, which is listed first in his soon-to-be published book." Terrible, inexcusable staffwork. Clinton has surrounded herself with sycophants more concerned with their places than her, and hence does not receive reliable information (a phenomenon well understood in Third World countries).
Realignment and Legitimacy
"From five top Washington insiders like Heritage Action CEO Michael Needham, Republican Main Street Partnership chief Sarah Chamberlain, and former top advisers to 2016 candidates Marco Rubio and Jeb Bush, came increasingly pointed laments about Trump's 'lack of presidential leadership,' his bombastic party-bashing tweets, absence of a governing philosophy and political compass ruled by a 'collection of impulses' rather than a coherent strategy" [Politico]. From the party factions that collectively couldn't deliver a better Republican plan than ObamaCare after eight years in opposition. Why does anybody take any of these clowns seriously?
Stats Watch
Retail Sales, July 2017: "The consumer was back in the stores last month in a July retail sales report, headlined by a 0.6 percent monthly gain, that not only exceeds top expectations but also includes sizable upward revisions" [Econoday]. "One the weakest of all the consumer readings, retail sales are now back into the fold with other indications on consumer spending, which are positive and in line with full employment. Note that the upward revisions to June and May will be positives for second-quarter GDP revisions." And: "stronger than consensus" [Economic Calendar]. "Gasoline sales fell slightly on the month and there were also reported declines for electronics and clothing sales. In contrast, there was a 1.2% gain in building material sales and a stronger rebound in sales at miscellaneous retailers." And: "The relationship between year-over-year growth in inflation adjusted retail sales and retail employment are now correlating" [Econintersect]. And but: "Note: Amazon Prime day boosted retail sales in July" [Calculated Risk]. And: "A mysterious decline in spending at the end of the second quarter, meanwhile, vanished after fresh government revisions based on newly incorporated sales data" [MarketWatch].
Empire State Manufacturing Survey, August 2017: "The gains keep coming for the regional manufacturing reports. The Empire State index is up very sharply this month" [Econoday]. "Now the superlatives ease back with employment showing only moderate monthly growth, at 6.2, and unfilled orders remaining in contraction at minus 4.7. But August's burst in new orders is certain to help unfilled orders going forward which in turn should help employment. … Advance indications on the factory sector have been on fire all year and only lately, and to a comparatively limited degree, have hard factory data been showing the same kind of life. But this report is still a standout and points to another month of strong regional readings. Watch Thursday for the August report from the Philly Fed." And: "substantially above consensus expectations of 10.0 and the strongest reading since September 2014" [Economic Calendar]. "The number of employees increased again on the month and at a faster pace while there was a significant increase in the average workweek after no change the previous month." And but: "As this index is very noisy, it is hard to understand what these massive moves up or down mean – however this regional manufacturing survey is normally one of the more pessimistic" [Econintersect].
Business Inventories, June 2017: "businesses built up their inventories by a sharp 0.5 percent" [Econoday]. "In an uncertain result in the report, the rise in inventories exceeded the 0.3 percent rise in underlying sales to lift the inventory-to-sales ratio 1 tick to a less lean 1.38. This could mean that supply is exceeding demand, or however that businesses are stocking up ahead of what see as better business ahead."
Import and Export Prices, July 2017: "A boost in petroleum gave a lift to import prices while a boost from agricultural gave a boost to export prices" [Econoday]. "[W]hat is good news for exporters is the tangible decline underway in the dollar. This points to increasing pressure for import prices which, though making them less affordable to U.S. buyers, will help the Federal Reserve in its efforts to stimulate inflation." But and: "The elephant in this month's changes were fuel / oil and agriculture commodities. If one ignores these commodities, the year-over-year inflation rate for imports declined and exports were much lower" [Econintersect].
Housing Market Index, August 2017: "The housing market index joins retail sales and Empire State as major upside surprises this morning" [Econoday]. "Lack of traffic hints at lack of first-time buyers who appear to be getting locked out of the new home market by high prices and lack of supply on the market." And: "The reading was above consensus estimates of a reading of 65 for the month and all three main components reversed last month's losses to make gains on the month" [Economic Calendar]. "On a three-month moving average basis, there were slight gains for the Northeast with the other regions registering unchanged readings on the month."
Debt: "This kind of deceleration [for commercial and industrial loans] has always been associated with recession" (charts) [Mosler Economics]. "So for the last 6 months the Fed is seeing a steep decline in credit growth and a softening in price pressures, wage growth, employment growth, auto sales, home sales and permits, retail sales, and personal income. Apart from that things are looking up!"
Retail: "Why isn't Home Depot quaking at the prospect of Amazon disrupting its business? There are probably several reasons, not the least of which is the hands-on nature of buying the goods that Home Depot sells" [247 Wall Street]. "Would you buy 20 gallons of paint at around $40 a gallon from Amazon to paint your house without actually holding a chip in your hand? How about a new entry door? Or new flooring or new tiling for the bathroom? Or garden soil and plants? You want to see this sort of thing live and in person."
Retail: "The real customer journey doesn't start and stop with one brand or one experience with a product — their day is a perpetual series of interactions with different products and brands" [Womens Wear Daily]. "Just the other day, I used Amazon Echo as an alarm, ordered my girlfriend birthday flowers from BloomThat, bought a blazer from Nordstrom online, checked into my flight on the Delta app, grabbed a Lyft home from the airport and scheduled a Postmates delivery for dinner. That's only six of the separate brand experiences across just one of my days. This repetitive cycle of beginning and ending interactions between brands is where the opportunity lies for traditional retailers, and brands in general."
Retail: "'[Macy's and Nordstroms] are two very different companies,' [Howard Davidowitz told Retail Dive. 'Macy's made a gigantic mistake, where they doubled their size in one gulp and got a lot of cats and dogs for stores when they bought the May Company" [Retail Dive]. "The consequences of that have been wide-ranging. To begin with, it added hundreds of what would become Macy's stores in sub-optimal locations. 'The May Company was in a lot of mid-level malls in the Midwest,' noted Davidowitz. 'Macy's was always the number one or number two store, and the May Company was never the number one or number two store. That doubled the size of Macy's and was a critical strategic error that Nordstrom never made.' … The over-expansion of Macy's also led to tactical changes that have are contributing to its downfall, including substituting local buying talent with a national merchandising approach that eroded loyalty in many markets…."
Retail: "While Amazon is unlikely to start building fighter planes and tanks, the Department of Defense and the federal government buy a lot of other stuff from U.S. companies. To make those purchases easier, the U.S. House of Representatives has included in its version of the National Defense Authorization Act (NDAA) a proposal that the General Services Administration's (GSA) Federal Acquisition Service engage at least two online marketplaces that government buyers could use to buy commercial products. Not just defense buyers, but all government agencies" [247 Wall Street].
Shipping: "'It is so important that another Hanjin debacle does not happen again. Companies may fail, but the responsibility lies with everyone, at least to the extent that we do not have the damage that occurred post-Hanjin," [Federal Martime Commissioner William] Doyle said" [Splash 247]. "When Hanjin sought court protection on August 31 last year, more than $14bn of cargo was left stranded on Hanjin's 100-plus strong fleet, sending global supply chains into chaos. Doyle said: ;I firmly believe that if a carrier joins an alliance, it is the responsibility of the alliance members to ensure the cargo gets to where it needs to go.' Doyle praised THE Alliance, a new container grouping, for its contingency fund which it has created to be prepared in the event that any of its members run into financial difficulty." In other words, this is the price the cartels will pay for Doyle to wave through concentration in the shipping industry.
The Bezzle: "Uber defies Philippine suspension order" [The Star]. "Philippine authorities announced on Monday that they would suspend Uber for one month for failing to have the proper permits to license its drivers. Uber initially obeyed the order and shut down its app on Tuesday morning, triggering anger from commuters who lashed out at the government for taking away what had become a trusted alternative to notoriously bad public transport. But on Tuesday afternoon Uber relaunched the app, telling commuters via Twitter that it had launched a legal appeal and would continue operations until the dispute was settled."
The Fed: "Opinion: The Fed's idiosyncratic excuses for inflation's 'anomalies' are wearing thin" [MarketWatch].
Today's Fear & Greed Index: 36 Fear (previous close: 39, Fear) [CNN]. One week ago: 61 (Greed). (0 is Extreme Fear; 100 is Extreme Greed. Last updated Aug 15 at 12:15pm.
Big Brother Is Watching You Watch
UPDATE "On 17 July, the DoJ served a website-hosting company, DreamHost, with a search warrant for every piece of information it possessed that was related to a website that was used to coordinate protests during Donald Trump's inauguration [#J20]. The warrant covers the people who own and operate the site, but also seeks to get the IP addresses of 1.3 million people who visited it, as well as the date and time of their visit and information about what browser or operating system they used" [Guardian]. "The website, www.disruptj20.org, was used to coordinate protests and civil disobedience on 20 January, when Trump was inaugurated." Go long VPNs.
Our Famously Free Press
Why are these men smiling?
A pleasure to host #SecDef James Mattis at Amazon HQ in Seattle today pic.twitter.com/JnQZoSOnFN

— Jeff Bezos (@JeffBezos) August 10, 2017
Ka-ching!
Fact-checking at a scholarly journal. Excellent thread:
Would you be interested in hearing about how we fact-check an article for the @JourSouHist? It's very analog but pretty fool-proof

— Bill Black (@williamrblack) August 14, 2017
I'm sure this process can be easily automated…
Health Care
"The number of insurance companies dropping out of the Obamacare exchanges is beginning to have a measurable impact on consumer choice and competition" [BallotPedia]. "Just 141 qualified health plans have applied to provide coverage on healthcare exchanges in 2018. That's a 38% decline from the 227 applications filed last year. As a result, the Centers for Medicare and Medicaid Services (CMS) estimates that at least 2.4 million Americans will have only one insurance option available through the exchanges."
"A Short-Term ObamaCare Fix" [Wall Street Journal]. "Sen. Ron Johnson (R., Wis.) this summer sent a letter to the Health and Human Services Department about an Obama rule on short-term, limited-duration health insurance plans, which as the name suggests offer coverage for certain periods, often insuring against hospitalizations or other unexpected events. A person could hold such a plan for 364 days, but a rule issued last year limited the duration of the policy to a mere 90 days, effective April 1…. Health and Human Services could restore the duration length to a year and allow the plans to satisfy the coverage mandate. The point is to recreate some portion of the individual market that the Affordable Care Act destroyed. Short-term plans have traditionally been a small share of the insurance market, but perhaps more consumers will sign up as insurers continue to flee the ObamaCare exchanges and premiums continue to increase."
Class Warfare
UPDATE "How SB Nation Profits Off An Army Of Exploited Workers" [Deadspin].
The SB Nation network itself, consisting of 319 team websites, has remained in place, a vast operation read by millions of people every month and powered by unpaid and underpaid labor.

These sites are run by managers who are expected to post articles and videos, track and sometimes break news, manage writers, conduct interviews, assign stories, find contributors, edit posts, write analysis, and generally do the work of journalism. These responsibilities can add up to a demanding job—or, in some cases, a close to full-time one—but site managers are independent contractors who are paid a monthly stipend that varies widely. According to more than a dozen former and current site managers I spoke to, that stipend tends to hover around $600. The stipend often doubles as a budget.
Venture-backed SB Nation was, of course, founded by liberal Democrat goodthinker and enforcer Markos Moulitas, so this news comes as a shock. Not. Ka-ching.
"What Does the National Opioid Emergency Mean for States and Cities?" [Governing]. "the White House has to decide what kind of emergency the opioid epidemic is, exactly. There are several different kinds of emergency declarations. While they accomplish similar things, they serve different purposes…. As public health officials wait to see Trump's plan of action, they hope he doesn't single-mindedly focus on the law and order aspect of the crisis."
"Michigan agency review finds 70% error rate in jobless fraud findings" [Detroit Free Press]. "The state will refund close to $21 million to Michigan residents after reviewing cases in which an tens of thousands of people of committing benefits fraud, the agency said Friday after completing a review of affected cases." Well, no. Computers don't have agency — although the people who write code and manage them do — and so can't "accuse" anyone.
The false fraud accusations began after the agency began using its $47-million Michigan Integrated Data Automated System (MiDAS) for a variety of functions, including fraud identification. The agency continues to use the system today, though with more human supervision, and has refused to say exactly how the huge number of false fraud allegations were made.

Those falsely accused of fraud were hit with highest-in-the-nation quadruple penalties, and in many cases subjected to aggressive collection techniques, such as 25% wage garnishes and seizure of income tax refunds.
Refunds really aren't a sufficient answer for the damage done here. Of course, no heads ever roll for an IT debacle, from the ObamaCare launch on down.
News of the Wired
"Supreme Court 2016 Term in Review: (Apparent) Mistake, Another Textualist Possibility Unexplored in SW General" [The Narrowest Grounds]. Reads like literary criticism!
"Linux Load Averages: Solving the Mystery" [Brendan Gregg's Blog]. More literary criticism! This technical material is so lucidly written that the common reader might enjoy it, and if you want to really understand the technical world that Clive, for example, lives in, give it a go. (It's also an answer to why "The computer did it!" isn't quite as dumb as you might think; often, we don't really know how running code works any more, even if it's been running for years.)
Ha:
have to say… not a huge fan! pic.twitter.com/Y0Nzj9om13

— Memes (@memesuppIy) August 10, 2017
(You might need to click the image, since Twitter's censorship algo seems to be pretty stupid.)
"Google's Perspective API Opens Up Its Troll-Fighting AI" [WIRED]. "Enter a sentence into its interface, and Jigsaw says its AI can immediately spit out an assessment of the phrase's 'toxicity' more accurately than any keyword blacklist, and faster than any human moderator." All it needs is a little training…
* * *
Readers, feel free to contact me at lambert [UNDERSCORE] strether [DOT] corrente [AT] yahoo [DOT] com, with (a) links, and even better (b) sources I should curate regularly, (c) how to send me a check if you are allegic to PayPal, and (d) to find out how to send me images of plants. Vegetables are fine! Fungi are deemed to be honorary plants! If you want your handle to appear as a credit, please put it in the subject line. Otherwise, I will anonymize by using your initials. See the previous Water Cooler (with plant) here. Today's plant (HM):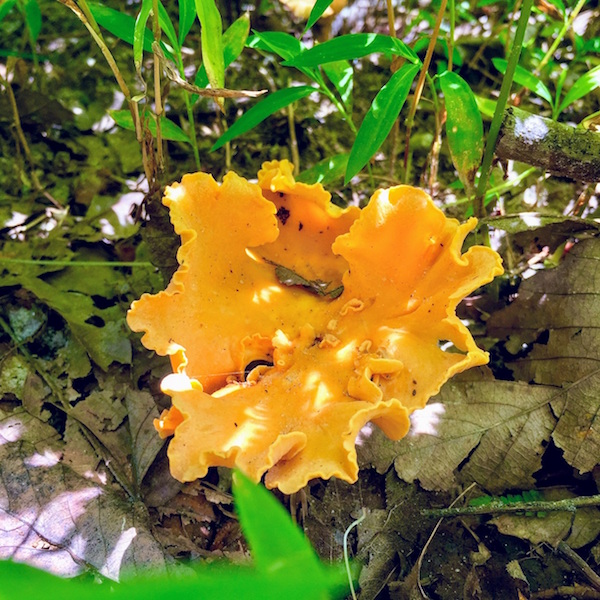 HM writes: "Long time reader, first time "plant" submitter. Enclosed is I believe a chanterelle observed last week along an old gravel road near Highlands, NC." Fry 'em with butter!
* * *
Readers, Water Cooler is a standalone entity, not supported by the Naked Capitalism fundraisers. Please use the dropdown to choose your contribution, and then click the hat! Your tip will be welcome today, and indeed any day. Water Cooler will not exist without your continued help.