Yves here. Comedian Lee Camp, who sometimes publishes at Naked Capitalism, was close enough to the murder by car in Charlottesville that he was lucky not to be injured. His short video does not have images of the actual carnage, but does show the mayhem and panic in the crowd after people were hit. Camp is still very much shaken by what happened.
He also raises the question of what can we do to make a positive difference in our lives? And this may sound terribly mundane, but for those of you who have time and money for the fees: get emergency training. IMHO, everyone should know how do to the Heimlich maneuver, but I only know the idea of how to do it. Ditto with CPR, and that bothers me. If I had been at the scene with all the horrible injuries, the only principles I know are "Don't move the injured since they may have a spinal break and you could increase the damage to nerves" and "If they are bleeding, put pressure on the wound". But is that OK if all you have is not clean cloth? I assume yes if they are bleeding profusely, but still…
I assume there must be what amounts to first responder training (as in what to do before the medics get there). If readers can indicate what this type of training is usually called and where to go to find it, please pipe up in comments.
Separately, I've kept out of the discussions of Charlottesville in comments. I'm perplexed and disappointed on the fetishization of statues by both sides in this debate. I'm not enough of an anthropologist to get to the bottom of it, but the desire of some Southerners to preserve and elevate figures like Robert E. Lee isn't just about the Civil War. It has to do with the fact that the South was late to industrialize and remained poor relative to the rest of the US and is not part of the power structure at the Federal level (to my knowledge, there are no tracks from Southern universities to important positions in the Acela corridor. That isn't to say that people from the South don't get there, but it's not a well-greased path). And of course, people from the rest of the country tend to forget that Southerners are regarded as hicks and regularly treated as such in movies and on TV (remember My Cousin Vinny, for one of many examples?). Having a Southern accent = minus 10 attributed IQ points outside the South, with the possible exception being Texans. I had a Virginia client who used the "Southerns aren't so sharp" prejudice brilliantly to their advantage in negotiations, but I am sure on another level the perception still bothered them.
Mind you, I'm not defending the Southern position. If I were to believe family lore, I have a Hungarian ancestor whose statue in Budapest was torn down by the Soviets. Do I care?
But my guess is that while for some Southerners, Civil War iconography is meant to intimidate blacks, for many others, the storied Civil War generals are the only local boys held up as having historical importance. LBJ and Jimmy Carter weren't seen as great presidents. There must be important Southern scientists and inventors, but oddly I can't think of any, which means they aren't generally depicted as such.
By contrast, it's easier to present the point of view of blacks and reformers: that losers in war pretty much never get to have memorials, so that on its face, having so many images touting loserdom is perverse, and not justified because it separately holds up aggressive defenders of slavery as role models.
And I know I've probably touched on too many disparate threads in this short post, but the other part about Charlottesville that has been mentioned, but cannot be said enough is that this was a huge policing fail, and the passivity was no accident. As Lambert and others have said, if you'd had black protestors show up similarly attired and armed, you can bet you'd have seen mass head-breaking and arrests. The Charlottesville police knew this was coming and appear not to have sought advice from police forces with lots of experience in crowd control (Washington DC and New York City), nor did they get reinforcements (state troopers). It's one thing if they had tried to cordon off or break up the two sides and lost control of the situation. But there's no evidence they attempted to intervene.
In addition to watching the Lee Camp video, I strongly urge you to read the article from The Root that goes with this photo (Lambert flagged it yesterday):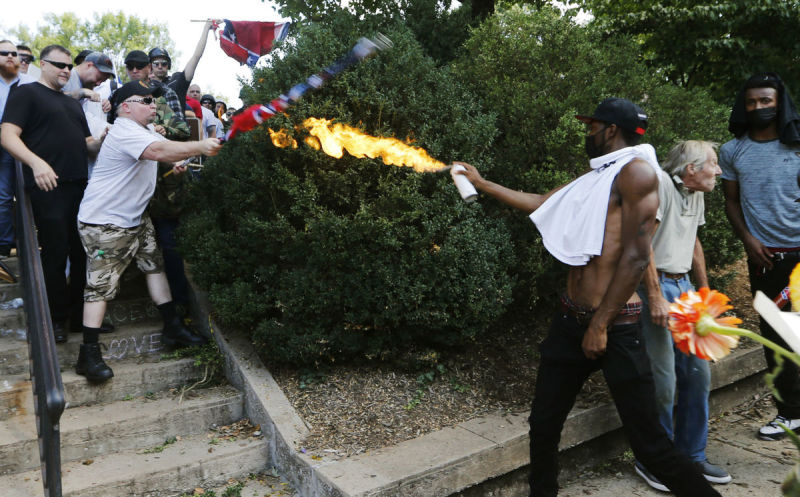 Perhaps most important, this fight over symbols is diverting energy from tackling the many areas where African Americans have been promised equal protection under the law but don't get it. Let's start with the War on Drugs, which Richard Nixon envisaged as a way to disenfranchise blacks. Consider this comment from Governing (hat tip UserFriendly):
[Richmond's] Mayor Levar Stoney, who has rejected the idea of removing statues, spoke to reporters Monday about the controversy after a groundbreaking ceremony for the American Civil War Museum. He said he wanted the city to acknowledge "the complete truth" about its history as the Confederate capital.

"At the end of the day, those statues are offensive to me, very offensive to me," said Stoney, who is black. "But you know what I'm going to focus my time on? Destroying vestiges of Jim Crow where they live in our city — public housing, public education, you name it."