By Lambert Strether of Corrente
Readers, I have returned to Maine after concluding a very successful NC northern campaign through Burlington, VT and Montréal, PQ. The whole trip was very heartening, and I had a terrific time; I'll write up a trip report shortly (and thank you to the people who came). The Greyhound bus ride down from Montreal was a little annoying, given my low tolerance for loud children, a lengthy wait at the border*, and the driver's tooth-grindingly dilatory refusal to make up time at further stops by getting people off- and on-board with celerity. Fortunately, I made my connection in Boston with fifteen minutes to spare, and arrived back in Maine via the cellphone-free and blessedly quiet Concord Trailways. Go long Concord :-) * Naturally, as a tallish and older male WASP, I went through slick as a whistle, which I say because I watched who the agents spent time on and who they did not. Happy, innocent days twenty years ago, when I crossed into Canada using a library card for my ID!
I also have more to add, please check back! Adding: 2:51PM. All done.
* * *
Trade
"Canada, Mexico and the United States have their work cut out as they negotiate over the coming months a new North American Free Trade Agreement that all three countries can agree on. The five-day opening round, which wrapped up on Sunday, exposed . It also cast doubt on all three countries' shared goal of wrapping up talks later this year or early in 2018″ [Politico].
"Mexico agrees with the Trump administration that an updated NAFTA should include strong and enforceable labor standards. But if the U.S. tries to go a step beyond that to raise wages, its southern neighbor will not engage, a top Mexican business official told Morning Trade" [Politico]. "One way of addressing the issue that Mexico would potentially consider would be to liberalize the labor market and allow for the free flow of workers across borders, Kalach said. "I don't think the U.S. wants to do that," he quickly added."
Politics
2020
"Progressives begin 2020 dissection of Kamala Harris" [McClatchy]. "One charge leveled against Harris by progressives involves her decision as AG to not bring legal action against Steve Mnuchin, then the head of California-based OneWest Bank and now the U.S. Treasury Secretary, for allegedly breaking state foreclosure laws. A 2013 internal memo first published by The Intercept alleges OneWest violated notice and waiting-period regulations, misrepresented key documents and gamed foreclosure auctions."
2018
"Shaken by Trump's victory and motivated by the potential undoing of what they worked to help Obama accomplish, roughly a dozen former White House and agency staffers have moved home to run for Congress. They're leaning on advice and seeking endorsements and donations from a roster of ex-Obama White House and campaign hands" [Politico]. "Some House races have even drawn multiple former Obama hands into the arena." The fratricide is amusing, but why are we putting the same people who lost 1000 seats and al three branches of government in charge of winning them back?

"Will the 2018 Midterms Follow Historic Patterns?" [Charles Cook, Cook Political Report]. This:

In political handicapping you often have to reconcile a conflict between macro and micro dynamics. The macro, or big-picture factors, focus on the sitting president, with his popularity highly relevant to the election outcome. The micro factors include seats and incumbents that are up for election, local political circumstances, and the demographics and voting patterns of individual states and districts. It is not at all uncommon to find macro factors favoring one party and micro factors favoring the other…

The 2018 midterms are a vivid example of the macro opposing the micro. History tells us that the president's party almost always loses House seats, which has happened in 35 out of the 38 midterm elections (92 percent) since the end of the Civil War. In the Senate, the pattern is not quite as strong…. President Trump's approval ratings have averaged 40 percent, though they dipped to a worst-yet 34 percent approval and 61 percent disapproval in Gallup's Friday, Saturday, and Sunday sampling. Unless some major national crisis occurs to cause a rebound in his popularity, the macro case for substantial GOP losses is pretty strong….

But micro factors suggest a very different outcome. … While the Democratic Party may have long-term demographic trends working in their favor, the geography is very clearly working against them, in both the House and the Senate. [E]ven if Democrats in 2018 win every single House district and Senate race where Hillary Clinton either won or lost by less than 3 points, Democrats could come up short of a majority in the House and lose five Senate seats…. Exacerbating the challenge for Democrats in the Senate is the calendar. The class of Senate seats in play this year are those that were last up in two fantastic years for Democrats—2006, when President George W. Bush's Gallup approval rating was 38 percent in the final preelection poll and the GOP lost six Senate seats, and 2012, when President Obama prevailed over Mitt Romney by a wider than expected margin helping Democrats gain two more Senate seats on top of the half dozen gained six years earlier. Thus Democrats enter 2018 with a class that is incredibly overexposed… They are defending 25 of their 48 seats, while the GOP has just eight of their 52 up. Indeed Democrats have five incumbents up in states that Trump carried last year by 19 points or more, another five are up in states that he won by single digits. Just one Republican-held seat is in play in a state Clinton carried."

Cook's summary, as usual, is good for what it is, and well worth a read. I'm suspicious, however, of macro/micro tropes, here as in economics; rather than a dichotomy, we have nested subsytems within systems. If I have a toilet that doesn't flush — why does this metaphor come to mind, I wonder? — it's not useful to think of the toilet as micro and my house as macro; rather, I want to rack back focus from toilet, to pipe, to plumbing system, and even out to the main waste pipe, and possibly even to water pressure from the municipal system. Binary tropes, so often, are for the ease and convenience of the writer, as opposed to understanding (and empowerment) of the reader. See here for an example of a non-binary approach.
2016 Post Mortem
UPDATE "Battling demons in a community looking to Trump for change" [Seattle Times]. What the headline didn't say, and should have, is reflected here (from the text):

"Grays Harbor County, a rural community on the coast of Washington state, the rate at which people die from despair — from drugs, alcohol and suicide — is nearly twice the national average. The county embraced Donald Trump's call to America's forgotten corners, and .

Read the whole thing. It's about as vivid a description as I have seen of a constituency that has — and rightly — "had it" (as Gaius Publius frames it). Nothing liberal Democrats are saying indicates to me that they want these votes, and their doing indicates that these citizens' "deaths of despair" (the phrase comes from Case-Deaton) are A-OK with them. I'm tired, awful tired, of liberal Democrat virtue signaling. (And you just know that if they got off their [family blogs] and did anything, their program would be markets-based, narrowly targeted, means-tested, a jobs guarantee for the credentialed professionals in their base, and (except as a distribution of walking around money) be utterly ineffective. So who are the demons?)
Charlottesville and After
The DNC on Charlottesville:

this is the most dccc response to a tragedy that i could ever imagine pic.twitter.com/7C6mdsa3TM

— fake noosh (@COINCELPRO) August 16, 2017

After Charlottesville, Boston:

Y'all should hear about my experience with BLM at the Boston Anti-Nazi Rally. 1/

— Tim Pierce (@qwrrty) August 19, 2017

(Incidentally, I need to give a semi-positve shoutout to "antifa" for their work in Charlottesville which I will do when I can find the fershuggeneh link.) But do read the thread.
Realignment and Legitimacy
The cray cray isn't confined to any one faction or party:

Libs, 2008: lmao this dipshit thinks she can see Russia from her house!
Libs, 2017: I see Russia every time I close my eyes.

— P.G. Wokehouse (@lbourgie) August 16, 2017

The flip side of Schumer's conspicuous silence on Silicon Valley in his "Better Deal" material:

I am for guaranteed basic income. Who agrees? Who disagrees? Why?

— Rep. Keith Ellison (@keithellison) August 17, 2017

Ka-ching. Needs a forceful pushback from the Jobs Guarantee crowd, which I have yet to see; my contact information is below.

"When the South held the keys" [Interview with Matt Karp, Jacobin]. Karp, a scholar at Princeton, is author of This Vast Southern Empire. The headline is unfortunate; for "the South" read "the Slave Power." From the Interview:

Obama and the Democrats would have jumped at the Crittenden Compromise.

[KARP:] "Let's talk about Sonora. You want Sonora, we'll find a way to get you Sonora."

That's the pragmatic, realist thing to do! And yet the Republicans just said nope.

[KARP:] "If Lincoln had seen a little bit of Lyndon Johnson's deal-making with Congress, he would have seen that you've got to work with some unsavory folks sometimes."

In a weird way, when I read the Southerners' arguments, they sound a lot more like the reasonable pragmatic people. Like look, come on.

[KARP:] "We just want a piece of the pie. We just want this system that has been functioning really well so far to continue to function. Isn't it enough that we've lost our control of the executive branch, which we've had forever, and that we're terrified by the possibility of a Republican Party in the South? We're terrified of Republicans using patronage to build a party among non-slaveholders, a party that might undermine slavery where it exists. We're terrified about all these things and you won't even give us a possibility of protecting this hemispheric slave system? You won't even?"

There's that "the Southerners" thing, again. Come on. The fundamental parameters here aren't regional, for pity's sake.

"We Don't Need No 'Moderates'" [34 Justice]. I don't see why not. After all, they've had an excellent record over the last decade or so. Oh, who am I kidding?
Stats Watch
Chicago Fed National Activity Index, July 2017: "Held down by flat readings throughout, July was surprisingly weak based on the national activity index" [Econoday]. "Manufacturing production and housing permits once again undercut what was otherwise a solid month for the economy." And: "This suggests economic activity was close to the historical trend in July (using the three-month average)" [Calculated Risk]. And but: "Economic growth is now insignificantly below the historical trend rate of growth" [Econintersect]. "The three month rolling average for the last 6 months [has] been staying within a very tight range around the trend rate of growth of zero." But: "After a strong report in June, this index went substantially lower for July's reading. Consensus estimates were calling for a reading of +0.22, and the expected range was -0.13 to +0.25. The index disappointed after June's +0.16 reading, falling down to -0.01 in July. The 3 month moving average is now -0.05" [247 Wall Street]. "A negative index reading is meant to imply that growth is below trend rather than showing an economy that is in outright contraction."
Fiscal Policy: "In fiscal year 2016, for the first time since 2009, the federal budget deficit increased in relation to the nation's economic output. The Congressional Budget Office projects that over the next decade, if current laws remained generally unchanged, the deficit would decline in 2018 and then resume its upward trajectory – the result of strong growth in spending for retirement and health care programs targeted to older people and rising interest payments on the government's debt, accompanied by only modest growth in revenue collections" [Econintersect]. "Those accumulating deficits would drive debt held by the public from its already high level up to its highest percentage of gross domestic product (GDP) since shortly after World War II." Good. Great!
Retail: "The "Amazon effect" is shaking up the big and tradition-bound business of industrial suppliers" [Wall Street Journal]. "That business, estimated at roughly $130 billion in annual sales, has been slow to adapt to e-commerce, but business-to-business supply companies including W.W. Grainger Inc. and MSC Industrial Direct Co. are moving to catch up, lowering prices and updating sales strategies long built around weighty printed catalogs. Amazon is upending conventions by allowing distributors and manufacturers to sell directly on its marketplace, and often undercutting traditional local suppliers, especially for one-time 'spot' sales. Industrial suppliers depend on bigger, long-term sales, of course, but even that business faces upheaval in the face of the sheer convenience of online ordering." Amazon most definitely does not "eliminate middlemen." It replaces them with itself. This is like saying the 19th Century railroads eliminated middlemen because they gutted the canal industry and horse-drawn drayage.
Energy: "The budding U.S. armada of tankers transporting natural gas is facing new competition" [Wall Street Journal]. "There are widespread predictions that the American exports will help break Russia's dominance of the European energy market, and with it Russia's political leverage there. Europe's consumers are looking beyond politics for the lowest prices, however, and U.S. exporters will have to find ways to lower their delivery costs to go beyond just grabbing Russia's attention and take a meaningful share of the market." Leaving aside the issue of whether an "armada" can "bud," it's hard to see how armadas beat pipelines on cost and convenience, assuming, of course, that the pipelines aren't cut by a shooting war, or, less apocalyptically, some sort of embargo.
Media: "Brands are now blacklisting mainstream news sites, including Fox News" [Digiday]. "Brands asking their media shops to blacklist spoofed domains and obviously problematic sites like Breitbart from their ad rosters is nothing new. The difference is that now, media buyers are preventing their ads from showing up on any news sites, which would include mainstream ones like CNN and New York Times. Fox News was the only mainstream news site that these sources said was specifically blocked in their programmatic buys by certain clients." This was harder to do on paper…
Political Risk: "Trump's Implosion Renders Most Recent Fed Minutes Obsolete" [DealBreaker]. "It's clear from the minutes why the committee is using the middle of this year to shift attention to its massive balance sheet; the main factors which would drive a rate increase instead suggest that the committee is nearing or has reached the level at which it could lift rates with any sort of unity, or policy coherence." Hence the focus on balance sheet reduction. More: "Perhaps, because they had been accustomed to a different sort of style emanating from the Oval Office, Fed officials thought that Trump and a GOP-controlled Congress would push through a major stimulus package (something President Obama did in roughly one month with similar control of Congress), make a serious tax reform proposal, hell, even outlay a couple hundred billion for that beautiful, transparent wall that might start to flow into the corporate coffers or show up in the employment numbers in the Southwest region. Instead, as the minutes demurely noted, several Fed officials said that 'uncertainty about the course of federal government policy," were weighing on businesses' hiring and spending plans.'… The minutes also note that Fed officials themselves are increasingly skeptical that the major fiscal stimulus they expected would probably be smaller than promised, or not be forthcoming any time soon enough to predicate policy decisions on it."
The Bezzle: "Until shares can be sold, 'valuations' remain fake wealth" [Wolf Street]. "[The Wall Street Journal's "Billion Dollar Startup Club] 100 US startups. Seven of [these 'unicorns'] have 'valuations' of $10 billion or more, including Uber's $68 billion, if it remains intact, which seems unlikely, given all its problems. Two more unicorns have valuations of just over $9 billion; one of them is Theranos, which has imploded and whose $9-billion 'valuation' has become a painfully leftover joke in the list." Sort that list by date. Of the 167 companies on it, only 46 (by my hasty count) have been valued in 2017. Perhaps there's a reason for that? (To be fair, there have been four "exits" in 2017, one of which was the Blue Apron debacle.) Clearly, froth is incentivized in Silicon Valley. Which makes me wonder about the unicorns — e.g., Facebook — that exited successfully. Institutionally, the players who took Facebook public are still in place, as will tend to be their business practices. So how much froth is there, generally? And here one thinks of Facebook's video metrics scandal. I mean, it's not like there's a physical inventory you can have Bob from Accounting go and check off on a clipboard…
The Bezzle: "Bing Ads tweets search market share numbers, 'Bing is bigger than you think'" [On MSFT]. "While the numbers are from comScore in June reports, it is interesting to see the numbers broken out by country. With 9% market share worldwide and 12 billion monthly searches, almost half of that (5 billion) comes from the United States where Bing has 33% market share." Hmm.
Mr. Market: "Stock-market indexes running risk Monday of a third straight decline" [MarketWatch]. The horror! The horror! Get a grip, guys!
Rapture Index: Closes the week down 1 on Climate. "The lack of activity has downgraded this category" [Rapture Ready]. Record High: 189, October 10, 2016. Current: 180.
Today's Fear & Greed Index: 20 Extreme Fear (previous close: 17, Extreme Fear) [CNN]. One week ago: 36 (Fear). (0 is Extreme Fear; 100 is Extreme Greed). Last updated Aug 21 at 12:01pm.
Health Care
UPDATE "The Battle Of The Bundle: Lessons From My Mother's Partial Hip Replacement" [Health Affairs]. "She was about to become dependent on a fragmented, competitive system of health care payers and delivery organizations. She would traverse the modern elderly person's trail of tears: from emergency room to hospital bed to operating room to rehabilitation hospital to nursing home. With luck, she would avoid the intensive care unit (ICU). As for me, I would have to watch the fireball of my youth and adulthood reduced to a passive passenger on the cold, loud train to Long-Term Careville." Hmm. Long-Term Careville sounds like it's a stop on the line to Pain City (and while I'm happy that somebody seems to have adopted the trope I stole from Thomas Pynchon, the theft was made in outrage, which this article amply reinforces). "But ZOMG the health care system is one-sixth of the economy!!!!" "Yeah. And?"
Class Warfare
"The legacy of 15 days in August" [DC Velocity]. "Twenty years ago today, 185,000 Teamsters ended a 15-day nationwide strike against UPS. Its aftermath still resonates." Very interesting potted history.
"What If Government Just Gave Everyone Cash, No Strings Attached?" [Governing]. This framing reminds me of Bunker's Admonition: "You Cannot Buy Beer; You Can Only Rent It." As shown by the example of WalMart, the elites have actually driven wages so slow that workers cannot "reproduce their labor power," and make up the difference with food stamps, etc. So much simpler and cleaner to leave Walmart wages alone (or even reduce them) and make up the difference with a UBI. The rents keep flowing (especially to Silicon Valley entertainment firms, ISPs, search firms, and so on) and the Walmart workplace remains as horrid as ever! It's a two-fer! UBI isn't really an income; it's a reconfiguration of rents. And you can bet the UBI will be tuned with a nicety never to allow working people to get their heads above water.
"Abstract" [F D'Ambrosio]. I can't figure out the provenance of this piece, since I know nothing of the world of Italian scholarship. However, it has interesting material on the "theory of entrepreneurship" and a useful taxonomy of forms of capitalism:
Relational capitalism is an inclusive kind of capitalism, made up of bonds, investments and shared risks. Through a relationship with people, businesses, even territories, economic actors are thus able to develop their productive intelligence. In this framework, a relevant concept is social capital, namely the pool of relationships constituting the resources that may be employed by an individual in interacting with others, carry on her goals, and those of her network as well.

Crony capitalism is the worst case in point. It is marked by contacts between businessmen, politicians, civil servants and the likes, used to override the law and to damage the freedom of enterprise and competition. In crony capitalism, everyone in the network is protected by his or her relations. A businessman, supported by the complicity of investment banks, may list his firm on the stock exchange at inflated prices, make profit and, as the value of shares crashes, buy them back at much lower price in a process known as delisting. The operation may be backed by the same investment banks mentioned above. Market and competition rules are formally respected while overridden in substance, at the expense of ethics and legality.
This will resonate with anybody who has familiarity with how business works in the so-called Third World, has returned to this country, and looks at the business news with fresh eyes.
News of the Wired
"Supernova's messy birth casts doubt on reliability of astronomical yardstick" [Nature]. "The exploding stars known as type Ia supernovae are so consistently bright that astronomers refer to them as standard candles — beacons that are used to measure vast cosmological distances. But these cosmic mileposts may not be so uniform. A new study finds evidence that the supernovae can arise by two different processes, adding to lingering suspicions that standard candles aren't so standard after all." Whoops. It's hard to measure with a rubber ruler…. Or rather, too easy….
"The HERE IS key" [Dave Cheney]. Cultural artifacts are very hard to modify….
"Back from the Underworld" [London Review of Books]. "The book keeps returning to the conundrum perfectly set by Diogenes, when he said that after his death, his body should be tossed over a wall for dogs to eat. This is logical, rational, perhaps even ecological (Laqueur discusses many suggestions about using mortal remains for compost and fertiliser), but no society has taken the Cynic philosopher's advice (the Parsee towers are a place apart), and when the dead are left in the street, the sight – the neglect – rightly inspires horror and shame in all who know of it. Yet, if you believe in a soul, why should the husk matter?"
"101 Korean pop culture words you absolutely MUST know" [Drama Fever]. "Bromance: A platonic, close friendship between two actors or idols that appears to be almost romantic, stimulating massive in all who look upon it." "Feels production." The Bearded One rolls in his grave…
* * *
Readers, feel free to contact me at lambert [UNDERSCORE] strether [DOT] corrente [AT] yahoo [DOT] com, with (a) links, and even better (b) sources I should curate regularly, (c) how to send me a check if you are allergic to PayPal, and (d) to find out how to send me images of plants. Vegetables are fine! Fungi are deemed to be honorary plants! If you want your handle to appear as a credit, please put it in the subject line. Otherwise, I will anonymize by using your initials. See the previous Water Cooler (with plant) here. Today's plant (RW):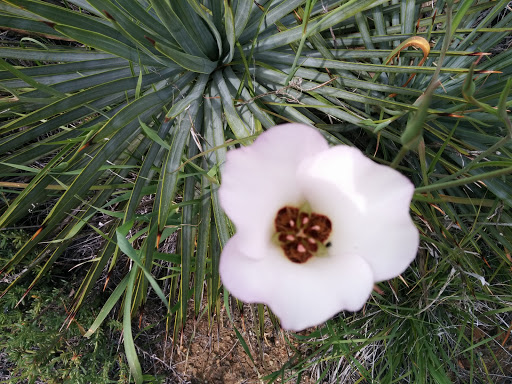 RW writes: "Calochortus growing among yucca on Figueroa Mt. Santa Barbara County, CA."
* * *
Readers: Do feel free to use the dropdown and click the hat to make a contribution today or any day. Here is why: Regular positive feedback both makes me feel good and lets me know I'm on the right track with coverage. When I get no donations for five or ten days I get worried. More tangibly, a constant trickle of small donations helps me with expenses, and I factor that trickle in when setting fundraising goals. So if you see something you especially appreciate, do feel free to click the hat! (Don't go overboard, though :-)