By Lambert Strether of Corrente
Trade
"President Donald Trump will soon call on U.S. Trade Representative Robert Lighthizer to open an investigation against China under Section 301 of the Trade Act of 1974 for violations of U.S. intellectual property rights and forced technology transfers, two administration officials told Politico" [Politico]. "The action would give Lighthizer a leading role in a lengthy investigation that could peer into all aspects of Chinese industrial policies and potentially result in unilateral U.S. trade sanctions…. Frustration that China is not doing more to persuade North Korea to rein in its nuclear program seems to be motivating the administration to fire a shot across the bow on the trade front."
Politics
2020
"Massachusetts Rep. Seth Moulton and Ohio Rep. Tim Ryan will join Illinois Rep. Cheri Bustos as the headliners of the annual Polk County Steak Fry of the Iowa Democratic Party in September, multiple Democrats familiar with the arrangement confirmed" [Politico]. "While roughly three dozen Democrats have been included in conversations about who might challenge Trump in three years, Bustos, 55, is not one of them. The third-term lawmaker — the Heartland Engagement chair for House Democrats' campaign wing and co-chair of House Democrats' Policy and Communications Committee — represents a district bordering Iowa." "Heartland Engagement." Please kill me now.
2018
"In a party desperate for victories, Democratic candidates are finding the most success in little-noticed state legislative races. They've already won four seats previously under Republican control, some of them in battleground districts that split evenly between President Donald Trump and Hillary Clinton" [McClatchy]. "Democrats have vowed to pay more attention to state legislative races after losing hundreds of those seats during President Obama's tenure. There are signs the party is doing just that six months into Trump's presidency: The National Democratic Redistricting Committee, a high-profile group with the support of former President Barack Obama and former Attorney General Eric Holder, raised more than $10 million in the second fundraising quarter." The article, of course, has nothing to say about policy.

"A new working paper by the Emory University political scientists B. Pablo Montagnes, Zachary Peskowitz and Joshua McCrain argues that people who identify as Republican may stop doing so if they disapprove of Trump, creating a false stability in his partisan approval numbers even as the absolute number of people approving him shrinks. Gallup data supports this idea, showing a four-percentage-point decline in G.O.P. identification since the 2016 election that is mirrored in other polling, though to a lesser extent" [New York Times].
Health Care
"Watch The Shocking Moment John McCain Killed The Republican Health Care Bill" [Buzzfeed]. A timeline of the Senate vote in short video clips, showing group dynamics in the World's Greatest Deliberative Body. Fascinating, and in a more than "count the medals on the guys in furry hats watching the parade in Red Square"-way, since group dynamics are at play most everywhere (even at DSA conventions…).

"Senator announces bipartisan health care hearing on Obamacare" [CNN]. That's nice. Will they censor single payer advocates, as usual?

UPDATE "[SANDERS:] The American people are familiar with Medicare. By and large, it's quite a popular program. But it starts, now, if you are 65 years of age. God didn't create 65 years of age for being the eligibility rate. It should be available to every single person in this country" [NPR]. NPR: "[INSKEEP:] When you talk about single payer, are you conscious of the risk to such a huge part of the economy, that any change like this carries with it significant risks?" Inskeep's gatekeeping aside, the details really do need to be sweated. Will they be? And we have two bills: HR676 and whatever bill Sanders introduces. Why?

UPDATE "Money Pours In for Sanders's New Medicare for All Digital Campaign" [Common Dreams]. "Sanders's Medicare for All digital campaign will include ads on Facebook and Google and is planned to last through the Senate's August recess. When lawmakers reconvene after Labor Day, the senator plans to bring his proposal to the Senate floor for debate."

UPDATE "On Monday night, Sanders sent a message to his supporters asking for ideas on how to shape his Medicare-for-all plan. Within 24 hours, the email had generated 19,000 responses and raised $65,000, [Sanders spokesperson] Miller-Lewis said" [Guardian]. Hmm. 65000/1900 = 3.42. That's a bit short of $27 (and when we can get policy donations into double digits, that will be a great thing). To be fair (really), I don't know the structure of the fundraiser: $3.00 is (IIRC) the usual ask from those who have never contributed. If the response was from first-timers, not so bad.

UPDATE "Sanders: I'm 'absolutely' introducing single-payer healthcare bill" [The Hill]. I don't mind delay if its strategic: "'Of course we are, we're tweaking the final points of the bill and we're figuring out how we can mount a national campaign to bring people together,' Sanders told Jake Tapper on CNN's State of the Union."
Trump Transition
Lambert here: Do notice how the "ZOMG!!!! Chaos!!!!!!!!!!" narrative does two things very successfully: (1) Deflect attention from — I'm looking for a word like "victory" or "accomplishment" that doesn't connote success — plays actually executed by the administration (see below), and (2) Deflect attention from Democrat complicity in these plays. Now, I know the Chaos Narrative is fun, and above all easy — hence the focus on it by our depleted "news" rooms — but it's essentially a variant of Eric Bern's party game, "Ain't It Awful."

"With fifth judge confirmed, Trump outpaces Obama and Bush" [Washington Times]. "'The Trump administration has moved faster on filling judicial vacancies compared to the past administrations, thanks to its commitment to working with and extensively consulting all senators, regardless of political affiliation, to select high-caliber nominees,' said Kelly Love, a White House spokesperson." Another way of saying this is that both party establishments are fine with a conservative judiciary, despite virtue signaling in Supreme Court fights.

"Shortly after confirming Wray, the Senate approved Kevin Newsom to a seat on the U.S. Court of Appeals for the 11th Circuit by a 66-31 vote… earlier this month, despite questions from Democrats about his comments calling Roe v. Wade the 'most infamous' of the Supreme Court's privacy decisions and connecting it to Dred Scott" [Courthouse News]. 18-2. So when you hear liberal Democrats yammering about Roe v. Wade, remember that 18-2; the 31 nays were obviously revolving hero(es)(ines). (Let me toss a bomb here and say that my own personal view is the entire Roe v Wade fracas needs to be rethought, and if Planned Parenthood, as a institution, is in the way of #MedicareForAll, it's time to heave PP over the side as a political player, based on performance. (Contrast the success of gay marriage, a social change just as seismic as abortion rights.) Universal concrete material benefits like a Jobs Guarantee and a checking account at a Post Office bank would do more for women than a PP clinic on every street corner. Oh, and a reliance on the courts to make social policy fits very neatly with 10%-er worship of the authority that comes from credentials. Eh?

"Here's a contrarian thought: President Trump had the right instinct to insist that China help resolve the nightmare problem of North Korea. A peaceful solution is impossible without help from the other great power in East Asia" [David Ignatius, RealClearPolitics]. So, the intelligence community, whose water Ignatius carries, gives Trump the thumbs-up. That was fast.
Realignment and Legitimacy
A fine rant with a real sting in the tail: "When Trump goes, his strain will go with him. All his Periscope hucksters and brain pill salesmen — the Mike Cernoviches, the Scott Adamses — will atrophy, shilling for YouTube followers among the few Proud Boys whose sperm backlog hasn't yet caused them to explode. The smart ones will cash out as lifestyle gurus, Gorilla-Mindset men who might not MAGA anymore but who know the real America to Make Great Again was inside you all along. The rest will find their peace in middle management. They were always Subaru dealers in their hearts" [The Outline]. This is fun stuff, but here's the kicker: "When they're gone, the ghouls will come back. You know them. The Bill Kristols and the David Frums, the John McCains and Lindsey Grahams. The respectable men and principled heroes…. When the ghouls return, when they retake their position at helm of American reaction and declare the last decade to have been an embarrassing mistake we should all just forget about, I am worried that the American left — already in a position more precarious than it cares to admit — will find itself in a fight far more difficult than the one it faces right now. The fracture that exists right now between the whole of the right and the center-left will collapse: Nobody will welcome the ghouls back faster than our liberals." Gridlock is our friend.

"Sen. Elizabeth Warren pressed Fed Chair Janet Yellen on July 13 to remove all of the Wells Fargo's directors who were on board during its fake accounts scandal revealed last year" [CNBC]. Surely some criminal charges would be a propos? Clearly, Wells Fargo is a criminogenic environment, from top to bottom.
Stats Watch
ADP Employment Report, July 2017: "ADP sees the private payroll reading in Friday's employment report coming in at 178,000" [Econoday]. "ADP is on a losing streak and isn't likely to move markets no matter what its July estimate is." Dear me. Econoday has become a little sour-tempered lately! And: "Correlations between the ADP data and BLS labour-market data have been relatively weak over the past 2 months with a weaker than expected ADP jobs increase for June followed by a stronger than expected non-farm payrolls release. In this context, there is likely to be some skepticism whether the latest data has wider implications for Friday's pivotal payrolls release" [Economic Calendar]. And: "ADP employment has not been a good predictor of BLS non-farm private job growth" [Econintersect]. One scandal of surveys and data divergence finally seems to have caused a little agita (except at Calculated Risk). Then again: "Whether ADP should be used as a pinpointed economic reading debatable, but what the markets usually use it for is a directional bias. If that is true then the BLS report this Friday should not have many official estimate changes but it would be more than surprising if the number blew out estimates to the upside" [247 Wall Street].
Gallup U.S. Job Creation Index, July 2017: "July's job creation index returned to its all-time high of plus 37, a sign that the job market remains strong relative to the past decade" (that is, the new normal) [Econoday]. "This is the last report of the JCI. Gallop will no longer be producing it going forward." The labor markets are so great there's no point in tracking them!
MBA Mortgage Applications, week of July 2, 2017: "Purchase applications for home mortgages fell a seasonally adjusted 2 percent in the July 28 week, while applications for refinancing fell 4 percent. Despite the weekly decline, the purchase index is up 9 percent from the level a year ago" [Econoday].
Leading Indicators: "June 2017 Leading Index Review: Growth Trends Remain Mixed" [Econintersect]. "Most of the leading indicators are based on factors which are known to have significant backward revisions – and one cannot take any of their trends to the bank. The only indicators with minimal backward revision are ECRI, RecessionALERT, and the Chemical Activity Barometer. Unfortunately, the Chemical Activity Barometer is targeted to the industrial sector of the economy – and at best seems to be a coincident indicator, not a leading indicator." Sigh. So: "At this point, Econintersect sees NO particular dynamic at this time which will deliver noticeably better growth in the foreseeable future."
Debt: "July 2017 Senior Loan Officer Opinion Survey Indicates Demand For Commercial And Industrial Loans Weakened" [Federal Reserve]. And: "Confirmation of weakening loan demand by domestic US banks, though some of the deceleration was due to foreign bank competition" [Mosler Economics].
Auto: "July was not kind to U.S. automakers, who saw sales fall year over year in the month by some serious numbers. Ford Motor Co. (NYSE: F) posted a drop of 7.5%, and it was the best performer among the Detroit Three carmakers" [MarketWatch]. And: "Based on an estimate from WardsAuto, light vehicle sales were at a 16.76 million SAAR in July. That is from July 2016, and up 1% from last month" [Calculated Risk]. I blame millennials, although this paragraph on "the mass exclusion of Americans from new car ownership" from Luttwak's TLS piece caught my eye:
[N]one of the countless campaign reporters and commentators is on record as having noticed the car "affordability" statistics distributed in June 2016 via www.thecarconnection.com. Derived from very reliable Federal Reserve data, they depicted the awful predicament of almost half of all American households. Had journalists studied the numbers and pondered even briefly their implications, they could have determined a priori that only two candidates could win the Presidential election – Sanders and Trump – because none of the others even recognized that there was problem if median American households had been impoverished to the point that they could no longer afford a new car.
Maybe I should have filed this under Political Risk….
Auto: "The mid-summer decline [in sales] is especially troubling… because " [Wall Street Journal]. "Although demand for pickup trucks and SUVs is strong, analysts now expect the seven-year streak of growing U.S. car sales to end this year, and , with rail shipments of automobiles and vehicle parts falling at a double-digit pace in recent weeks. The inventory problem is hitting car makers from two directions: while new cars are stacking up at dealerships, the supply of cheaper used vehicles is swelling, and that has cut into the automobile leasing business that has taken a bigger role in moving cars." I still blame millennials. I should file this under Political Risk, too, speculating that Trump voting districts will be hit hard by this.
Retail: "The researchers cite a recent survey that 43% of millennial respondents shop at least occasionally for groceries online, a rate that is 80% higher than it was just two years ago" [247 Wall Street]. "GenX respondents shop at online-only grocers at about half that rate, and older Americans are the least likely to buy groceries at online-only stores." So online shopping correlates directly with inability to afford a car?
Retail: "Amazon's new refunds policy will 'crush' small businesses, outraged sellers say" [CNBC]. "Marketplace sellers who ship products from their home, garage or warehouse — rather than using Amazon's facilities — were told this week by email that starting Oct. 2, items they sell will be 'automatically authorized' for return. That means a buyer will no longer need to contact the seller before sending an item back, and the merchant won't have the opportunity to communicate with the customer. If a consumer is returning an electronic device because it's difficult to use, for example, the seller won't be able to offer help before being forced to pay a refund. 'Customers will be able to print a prepaid return shipping label via the Online Return Center instantly,' the email said."
Concentration: "Google, Facebook, Amazon, Apple. Our four Pharaohs effectively rule over almost all gates to the Nile River of your time: The Internet. For access, you have no choice but to pay the toll with your attention and your data" [Medium]. Fun read. It's certainly odd that the antitrust focused "Better Dealers" don't mention Silicon Valley; at least they did not at product launch in Virginia, or in Schumer's Op-Ed.
The Bezzle: "Etsy Inc. has carved out a big role for its online marketplace but there's a growing push for the business to craft more sales revenue. The handmade-goods specialist is coming under pressure to stop spending like a tech startup and focus instead on acting like a retailer… including playing a bigger role in shipping" [Wall Street Journal]. "Etsy's conflict highlights the questions before technology-built companies as they expand and face demands for profitability and growth. Etsy's revenue growth has slowed for four straight years, and it gets that include sending shipping labels." So Etsy's core business is shipping labels? Why isn't it valued like Dymo? Big data?
The Bezzle: "Tesla doesn't need cash to fly, it needs only belief" [DealBreaker].
Suppy Chain: "The flow of goods between states" [Axios]. Super-interesting chart about stuff, though I could wish for colony/metropolis color coding. Contrast petroleum: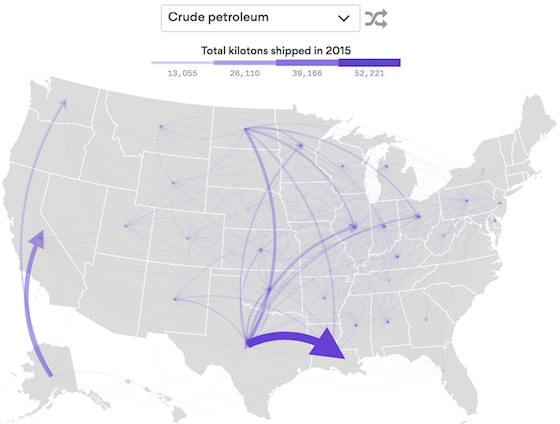 To machinery: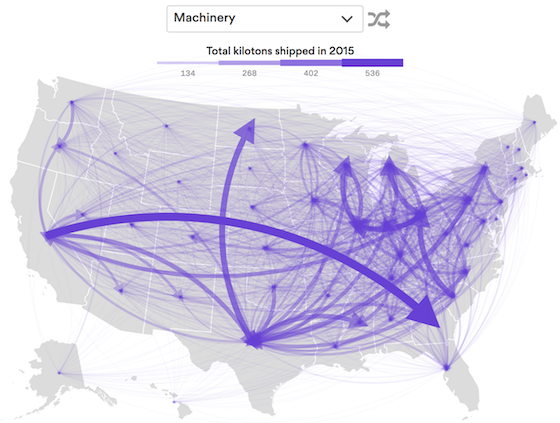 Even Maine shows up in the machinery map! (I wrote "Bangor," originally, not "Maine," but then realized that all the state dots were in the middle of the states, where Bangor is. This map would be much, much more interesting if the flows were city-to-city.)
Five Horsemen: "The Goog now known as Alphabet is looking sickly, while Apple catches a wave" [Hat tip, Jim Haygood]. Lambert here (sorry, Jim). Idea: Google should use more of our precious screen real estate for ads and so-called "cards"*, whose vacuity in concept is matched only by wasted white pixels. * The "cards" on 2020 should be a hoot when if Zuckerberg runs.
Today's Fear & Greed Index: 66 Greed (previous close: 70, Greed) [CNN]. One week ago: 81 (Extreme Greed). (0 is Extreme Fear; 100 is Extreme Greed. Last updated Aug 1 at 11:55am.
Health Care
"AFL-CIO Executive Council backs Medicare for All" [Peoples World].
Helpful video:
Here's what happened when a Republican senator challenged a Canadian doctor on their single-payer health care system. pic.twitter.com/eT7t7pGFWR

— Bernie Sanders (@SenSanders) August 1, 2017
The Canadians among us… Which makes sense of this terrific thread about health care in the comments section of a sports site (!) found by alert reader JohnnyGL: It's a hockey site, so naturally the commenters are familiar with Canada, and its single payer system.
Handy list of HR676 co-sponsors [Congress.gov]. Call your rep if they're not on it? Or, better yet, visit them — perhaps in a group delegation — at their (your) office in the district?
Gaia
"Residents of Miami are cleaning up their homes and offices Wednesday as the remnants of Tropical Depression Emily exited the Florida city after dumping between 4 and 7 inches of rain…. Cars stalled out on city streets because of flood waters and residents took to kayaks and paddleboards for alternate forms of travel. The downpour was so intense that people were left stranded at work or at home. Heavy rain also caused delays at local airports" [247 Wall Street]. Welcome to the First World! Oh, wait…
Class Warfare
"Many economists are starting to suspect that the forces that once drove both wages and prices higher in a virtuous cycle may no longer apply, or at least could be muted for a prolonged period" [USA Today]. A good round-up.
"Planet of Cops" [Freddie DeBoer, Medium]. Discourse policing online, among other things.
Bernie Sanders: "There is a tragic cycle in America today — one of poverty, unemployment, inadequate education and lack of job skills for future generations. It is long past time that we ended it" [Mic]. "Under our bill, the U.S. Department of Labor would provide $4 billion in grants to states and local governments to provide summer jobs and year-round employment opportunities for economically disadvantaged youth, with direct links to academic and occupational learning." Not a Jobs Guarantee, but an improvement.
"Desperate Nissan goes on an all-out dirty anti-union blitz in Mississippi" [Boing Boing].
News of the Wired
Sums it up (and I enjoyed programming):
'programming' is a delightful pastime in which you debug for hours only to discover the real problem is: you can't read, and you can't count

— catnip nerevarine (@direlog) July 16, 2017
"It is easy to expose users' secret web habits, say researchers" [BBC]. "The pair obtained huge amounts of information about the browsing habits of three million German citizens from companies that gather 'clickstreams'." Via browser extensions.
* * *
Readers, feel free to contact me at lambert [UNDERSCORE] strether [DOT] corrente [AT] yahoo [DOT] com, with (a) links, and even better (b) sources I should curate regularly, (c) how to send me a check if you are allegic to PayPal, and (d) to find out how to send me images of plants. Vegetables are fine! Fungi are deemed to be honorary plants! If you want your handle to appear as a credit, please put it in the subject line. Otherwise, I will anonymize by using your initials. See the previous Water Cooler (with plant) here. Today's plant (SS):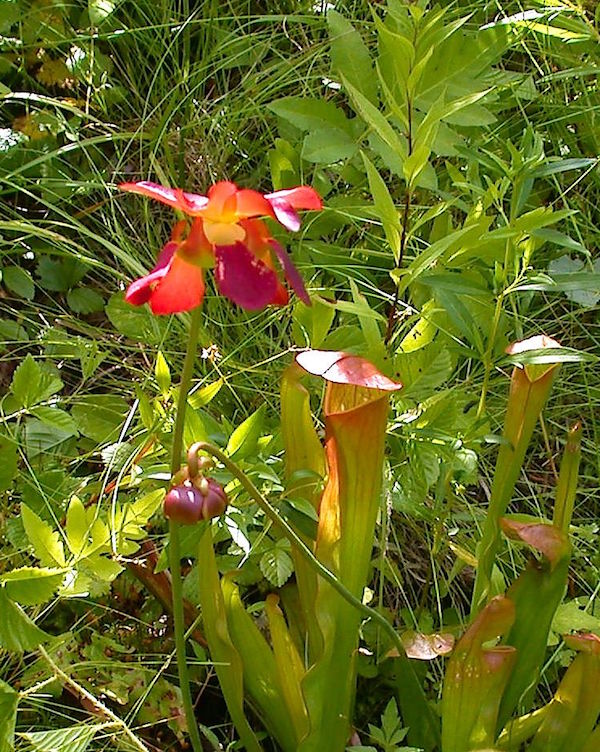 SS writes:
You've seen this specific plant before, but this year it bloomed! Sarracenia Minor, the hooded pitcher plant. I planted it two years ago, no special care in the winter (Lovell, Maine), it seems very happy.

This is unlike the S. Pupurea next to it, which died over the winter. I was expecting the opposite–we found a lake near Baxter where the verges were pretty much choked with S. Purpurea. I'll have to try again.
* * *
Readers, Water Cooler is a standalone entity, not supported by the Naked Capitalism fundraisers. Please use the dropdown to choose your contribution, and then click the hat! Your tip will be welcome today, and indeed any day. Water Cooler will not exist without your continued help.