By Lambert Strether of Corrente
I got started a little late this morning, so I'm going to throw in a bit more. –lambert. 2:57PM Done.
Trade
"'Repeal' and 'replace' are terms often used in the health care debate, but they also apply to trade. The decision by the Trump administration to pull out of the Trans-Pacific Partnership (TPP) repealed the deal for the U.S., but we are still waiting for the bilateral deals to replace it" [AgWeb]. "The pressure on the Trump administration increases as other countries form trade alliances without the U.S. As we have seen with healthcare, it's one thing to criticize the current plan but you need to have something better to take its place."
"Canada, Mexico, and the United States are preparing for the formal launch of negotiations to upgrade the North American Free Trade Agreement (NAFTA) – a process that is due to begin in less than two weeks" [International Centre for Trade and Sustainable Development]. "The 16-20 August round will be held in Washington, with reports from the Canadian Press citing unnamed sources in suggesting that this will be the first of seven rounds planned for this year alone, whose locations will alternate among parties."
"Though the so-called border-adjusted tax had circled the drain for months, its last gasp on Thursday greatly increased the chances that any tax cuts Congress delivers will be shallower than President Donald Trump and other GOP leaders want, or shorter-lived, experts said. Without the proposal's estimated $1 trillion in new revenue, a resulting bill may look more like the temporary tax cuts of 2001 than the once-in-a-generation overhaul of 1986 on which Trump and lawmakers have set their sights" [Bloomberg].
"A SECTION 301 DREAM DEFERRED: President Donald Trump had been planning to announce today the start of an investigation into China's violation of U.S. intellectual property rights and forced technology transfers. Now, that has been postponed, two people familiar with the issue said Thursday. There was no explanation immediately given, but sources said it was now rescheduled for next week with the substance still intact" [Politico]. Then why delay it? "'There is a real cost to the all the overhyped rhetoric, when the follow-through isn't there,' [Senator Ron] Wyden said. "This episode demonstrates how tough talk without a real strategy hurts American workers," he added, complaining that the administration now seems to be "backing off" plans to restrict steel imports under Section 232 of the Trade Expansion Act of 1962."
"[Representative Bill] Pascrell, the ranking member on the House Ways and Means' Trade Subcommittee, and Dingell are circulating a 'Dear Colleague' letter asking for signatures on a separate letter to U.S. Trade Representative Robert Lighthizer that calls for, among other things, access to negotiating texts for personal congressional staff of any member and not just those on the committees of jurisdiction; the public release of U.S. negotiating proposals; access to other documents that don't fall into the category of a U.S. proposals or the consolidated negotiating text; and the appointment of a chief transparency officer" [Politico]. Seems like that level of access should apply to any trade deal, no?
Politics
2020
UPDATE Please kill me now:


Mark Zuckerberg says he's no longer an atheist, believes 'running for president very important' pic.twitter.com/C2mg8VO6ei

— Bill Dixon (@BillDixonish) August 3, 2017

UPDATE "Why Newark Turned From Booker to Baraka" [The Root]. "',' she said with such seriousness that I couldn't keep from laughing. Since there are no power brokers or bourgeoisie to offend, Newarkers—virtually all either poor or working-class Northerners—tend to be quite blunt and direct. So I believed every word she said.'" The whole article is well worth a read.
2018
"Bad News for GOP: Trump Isn't Changing" [Charles Cook, Cook Political Report]. "Given that midterm elections are pretty much a referendum on the incumbent president, Trump's average Gallup job-approval rating to date of 40 percent is very disconcerting, especially when you consider that really bad things have happened to the party holding the White House when the president has a job-approval rating below 50 percent" (see the post for the list of bad things, which are indeed bad). tl;dr: Jon Ossoff really won. A longer way of saying that is that the exceptions to Cook's bad things come recently, so one wonders if a new normal is struggling to be born.

"Mixed Messages on Enthusiasm and Engagement" [Amy Walter, Cook Political Report]. A more balanced, dynamic approach than the previous. I want to call out this paragraph:

Exhibit C: The Missing Obama Coalition. The coalition that helped put–and keep–Barack Obama in office has been unreliable for Democrats. A recent study by the Voter Participation Center–a 501c3 group "dedicated to increasing the share of unmarried women and other historically under-represented groups in the electorate," warned that participation among the so-called Rising American Electorate or RAE (non-white, younger, and unmarried women), will drop off more significantly in 2018 than non-RAE voters. They predict that "35.1% of those who voted in 2016, or 25.4 million RAE voters, will stay home. The predicted drop-off among non-RAE voters is only 22.1% or 14.4 million voters. In fact, of the nearly 40 million Americans predicted to drop-off from 2016, two-thirds will come from the RAE." The challenge for Democrats, says the Center's pollster, Josh Ulibarri of the Democratic polling firm Lake Research Partners, is that Democrats 'have to persuade our voters to turn-out."'This is going to require both a message that resonates with these voters, says Ulibarri, as well as a serious – and early – effort to register new voters and engage with them throughout 2017-18, not just in October of the mid-term year.

I would argue, strong form, that the so-called "Obama Coalition" is "unreliable" because that it never existed in the first place; it's a figment of the fevered yet well-funded brains of Democrat strategists and consultants (and strangely resembles them, demographically and ideologically). Further, if Democrat consultants like Celinda Lake — of anti-single payer fame — thinks Schumer's New Dealer message will drive turnout, they're dreaming. Finally, if the Democrats were going to "register new voters and engage with them" in 2018, that would already have happened in 2017, which it hasn't.
New Cold War
"Chambers Blows Lid Off Communist Spying" [RealClearPolitics]. "On Aug. 3, 1948…" At some point, the "drip drip drip" will pivot to a reveal. Which will be an interesting moment.

"Hunt for Trump dossier author inflames Russia probe" [Politico]. Apparently, liberal Democrats pricing sketchy oppo packaged from dubious Russian sources isn't foreign interference in our elections. It's a funny old world.
Obama Legacy
"10 Most Inspirational Obama Quotes" (video) [Teen Vogue]. Oddly, "I stand between you and the pitchforks," "got the little single payer advocates up here", and "it's not surprising then they get bitter, they cling to guns or religion" aren't in there. Or "I serve as a blank screen on which people of vastly different political stripes project their own views."
Trump Transition
"Can Kelly Conquer the White House Chaos?" [Peggy Noonan, Wall Street Journal] (from RCP). Begins with a ton of "Kelly" hagiography, ends like this: "Mr. Trump, whatever his public statements, doesn't need to be told things haven't gone well; he knows. He has nowhere else to go, and the clock's ticking. Mr. Kelly has the power of the last available grown-up. Another advantage: He doesn't need the job. He's trying to help, as a patriot would. But this is not the pinnacle for him. His whole career has been pinnacles." Well. Accepting Noonan's premise, and modifying it slightly, that "generals among the most impressive people in our country elites," how high a bar is that, anyhow? Generals are supposed to win wars. Can somebody point me to the last war our generals won? (And don't go all, "we really won Iraq because oil dimensions" on me. If the political class really believed — if the political class thought they could make the American people believe — that "we" won Iraq, there would have been a victory parade, and politicians rushing to take credit for it. No such luck.)

"For Presidents, August Is the Cruelest Month" [NBC]. "Whether it's because key allies are out of town and unplugged, because the White House support network is thinner or because the nation's woes seem a little more acute in Washington's swampy August weather, presidents often get mired in controversies or crises — and often mishandle them — in the dog days of August."

UPDATE "Why Leaking Transcripts of Trump's Calls Is So Dangerous" [David Frum, The Atlantic]. "Leaking the transcript of a presidential call to a foreign leader is unprecedented, shocking, and dangerous. It is vitally important that a president be able to speak confidentially—and perhaps even more important that foreign leaders understand that they can reply in confidence…. Trump's violation of basic norms of government has driven to violate them in their turn. Contempt for Trump's misconduct inspires counter-misconduct." I hate to agree with Frum on the merits, but there it is. (Of course, diplomacy would be a good deal easier to conduct if we didn't go abroad to seek monsters to destroy, and decided to cauterize The Blob.) But I think Frum gives liberals far too much credit with "otherwise uphold those norms unto death (!)." If you want to see how flexible liberals can be on norms, and how much the high-mindedness is a cover for trivial and abortive power seeking, just watch the identity police in action, because their enforcement is extremely selective. Or review the 2016 primary.
Realignment and Legitimacy
"In Minneapolis, Liberal Isn't Good Enough for the Left" [Governing]. "The Trump dystopia is clearly motivating people to do something, and at the local level that means running for office, even against your own party." This is dumb. If it were "my" party, I wouldn't be running against it! (And "Trump dystopia" is mere hysteria; we're looking at a multi-layered, decades-long sundae of angst, even if Trump is the cherry on top.)

"West Virginia's governor is switching parties. And Democrats just hit a new low" [WaPo]. To my mind, West Virginia governor Jim Justice switching parties is the biggest domestic politics story of the week, far more important than [fill in knobs-all-the-way-to-11 "frightening" headline here]. This means that the count of states with a Republican legislature and a Republican governor increased to 26, important for redistricting, and even more important for the ugly prospect of a Constitutional Convention. Here are the states with a Democrat legislature and a Democrat governor:

Are the Democrats even a national party anymore? Yes, they have a major presence in DC, but last I checked, we live in a Federal system.

UPDATE "A group of well-known local Democrats will collect campaign cash later this month — for a Republican." [Miami Herald]. "The sophomore congressman has campaigned as a moderate — an image that can only be bolstered with Democratic financial support. Among the Democrats co-hosting the fundraiser are Ira Leesfield, a major Hillary Clinton donor, and attorney Roland Sanchez-Medina. Last year, Sanchez-Medina served as campaign treasurer for Curbelo's Democratic rival, Joe Garcia." The Democratic Governor's Association gave Jim Justice $1.5 million dollars. How'd that work out?

"What comes after the #resistance? Who knows. It's best not to think about it too much" [The Outline]."When Trump took office, the better part of the American commentariat was convinced that he was a fascist…. What is strange is that nothing in the past six months of Trump's ineptitude has done anything to curb any of this hysteria…. The purpose of the #Resistance is to collapse all political questions into a single binary: are you with us, or with the fascists?… When the choice is to be a fascist or to #resist, it hardly matters what the #resistance really stands for. Asking is suspect. Demanding that it stand for more is treason. Criticism of the #resistance or, more essentially, of its well-positioned and self-professed leaders, amounts to giving aid and comfort to the enemy — the Nazis! — and so the only acceptable course of action is to fall in line." Or goodthinking liberal Democrat Neera will get you fired.
Stats Watch
Employment Situation, July 2017: "The second half of the year opens on a strong note as nonfarm payrolls rose 209,000 in July, far above Econoday's consensus for 178,000. The unemployment rate moved 1 tenth lower to 4.3 percent while the participation rate rose 1 tenth to 62.9 percent, both solid positives" [Econoday]. "Factory payrolls are coming alive, up 16,000 in July following a 12,000 increase in June. This points to second-half momentum for manufacturing and is a positive wildcard for the economy in general. A similar standout is professional & business services, up 49,000, and within this temporary help services which rose 15,000. Gains here suggest that employers, pressed to find permanent staff, are turning to contractors to keep up with production." Wages, year-on-year, are flat. And: "The headline jobs number was above expectations, and there were slight combined upward revisions to the previous two months. And the unemployment decreased slightly" [Calculated Risk]. "Note that July has been the second strongest month for job growth over the three previous years, exceeded only by June, and just ahead of November." But: "The household and establishment surveys were poorly sync'd this month. This month there is a significant discrepancy between the adjusted and unadjusted data – and strangely the unadjusted data backward revisions were down whilst the adjusted data were up. This suggests a change in the seasonal adjustment (and not a real change in employment). The year-over-year employment growth still marginally declined from last month. Nothing here suggests the economy has changed for the better or worse" [Econintersect].
UPDATE Labor Market Conditions Index: "As of August 3, 2017, updates of the labor market conditions index (LMCI) have been discontinued; the July 7, 2017 vintage is the final estimate from this model. We decided to stop updating the LMCI because we believe it no longer provides a good summary of changes in U.S. labor market conditions. Specifically, model estimates turned out to be more sensitive to the detrending procedure than we had expected, the measurement of some indicators in recent years has changed in ways that significantly degraded their signal content, and including average hourly earnings as an indicator did not provide a meaningful link between labor market conditions and wage growth" [Board of Governors of the Federal Reserve System]. Boy, the labor market stats are dropping like flies, aren't they? Gallup yesterday, now this.
International Trade, June 2017: "At $43.6 billion, the nation's trade deficit came in below Econoday's consensus for $44.4 billion which will prove a plus for second-quarter GDP revisions. The goods gap fell 3.2 percent to $65.3 billion (vs the advance reading of $63.9 billion) while the services surplus, which is the economy's special strength, rose 2.9 percent to $21.6 billion" [Econoday]. "Exports show a bounce higher for capital goods despite a dip in aircraft." And: "Exports are 18% above the pre-recession peak and up 6% compared to June 2016; imports are 3% above the pre-recession peak, and up 5% compared to June 2016" [Calculated Risk]. "In general, trade has been picking up." But: "Removing oil, our monthly analysis using unadjusted data showed growing strength in both exports and imports relative to last month. But the data in this series wobbles and the 3 month rolling averages are the best way to look at this series. The 3 month averages are improving (if one removes oil)" [Econintersect].
Retail: "Retailer Uniqlo is trying to put its clothing in front of customers in the real world without investing in more brick-and-mortar stores. The apparel seller owned by Fast Retailing Co. is rolling out vending machines at several airports and shopping malls that will dispense Uniqlo's apparel to people who may need a quick addition to their outfits" [Wall Street Journal]. "It's part of a retooled expansion after the company stumbled in its early efforts to move into the U.S., and the latest sign of imaginative strategies retailers are undertaking to find consumers without investing in big storefronts."
Shipping: "FedEx is raising charges, but… the operator is focusing its increases on the weight and size of shipments, adding hefty penalties for oversize boxes and odd-shaped goods that fall outside the company's handling guidelines. UPS, by contrast, is basing new surcharges on the timing of shipments, making it more expensive to deliver to homes around the peak periods. Both companies are trying to manage the surge of e-commerce shipments that strains operations and profit margins, and UPS with its surcharge strategy aims to convince retailers to spread out shipments. FedEx is gambling it can cover the extra costs of a demand spike while ensuring that bigger shipments pay a hefty price for slowing down operations" [Wall Street Journal].
Labor Power: "A new generation of robots is heading into warehouses with a new message for workers: we want to collaborate, not compete. Several automation companies are designing robots meant to work alongside people rather than to completely replace manpower" [Wall Street Journal]. "Robotics firms pitch them as a way to boost productivity during busy times, such as the holidays, when extra labor is harder to find. That's not as ambitious as automating an entire warehouse, of course, but developers say the lower cost makes them easier to insert into existing operations—and find the common ground between robots and humans." To serve man…
Retail: "Etsy the company was not capable of pleasing ETSY the stock because one was out to create the notion of a thriving public B Corporation, which was hard for Wall Street to really comprehend because it was distracted by all that red it was looking at all the time. But then, a few months ago, Etsy decided to overhaul its leadership and become a real company that cares about stuff like operations and profit, with less focus on using its money to do some good" [DealBreaker]. "And what's even more incredible to us is that Etsy – long our favorite exemplar of how tech startups should not behave after going public – is now perhaps a shining example of how to pivot and save your own a** if you're a tech startup that should never have gone public. What is even real anymore?"
UPDATE The Bezzle: "Smoke, Then Fire: Uber Knowingly Leased Unsafe Cars to Drivers" [Wall Street Journal]. Well, that's appalling. "Rather than buy most new vehicles from authorized Honda and Toyota Motor Corp. dealers, Uber's LCR unit bought new sedans and SUVs from more than a dozen auto importers, the emails show. These small dealers operate in the gray market—a legal channel outside manufacturers' authorized networks—where safety, service and legal contracts are difficult to enforce. The Singapore team calculated it would be able to buy cars for 12% less than at authorized Honda dealers, according to the emails." They just can't help themselves!
UPDATE The Bezzle: "This isn't your typical Uber-is-a-sh*tty-company story, either. If these claims are true, it seems Uber actually put people's lives at risk in order to save money. The company reportedly gambled with minivans that could spontaneously combust, because it would be a big pain to fix them, and well, the drivers and passengers would probably be fine. Then it had a party while these explode-y cars were still driving people around!" [Gizmodo]. "Had a party." Of course they did.
The Bezzle: "Uber Freight said it is adding features to its app that are designed to memorize drivers' preferences and proactively make load recommendations. The app will analyze drivers' personal histories and suggest loads to each driver based on which routes they like to drive, what types of loads they prefer, and where they want to go, the company said. By providing personalized recommendations, Uber Freight said it intends to "level the playing field" for truck drivers, who have traditionally had no leverage in choosing the loads or routes they prefer" [DC Velocity]. "Uber Freight said it would rely on the personalized features and ease of use of its software, according to [Eric Berdinis, Uber Freight's product lead]. 'We've found that drivers are very savvy about choosing the app that gives them a better lifestyle, lets them earn more, and lets them earn quickly,' he said. 'We know that drivers will find the app that works best for them, and that they are very loyal once they find an app that gives them attractive payment terms and access to easy-to-haul freight.'" Do we have any truck drivers in the commentariat who can explain whether this makes sense?
The Bezzle: "If you're a hedge fund analyst looking over a public company's numbers and you see a troubling financial trend making itself evident in the data (like a company burning through cash while booking revenue for a product that is seems perhaps incapable of delivering in the volume promised in the timeframe laid out), you will feel the natural urge to short that company's stock and wait quietly for the money and praise to roll in" [DealBreaker]. "But we want you to pause for a moment and look at the top of that file. Does it say 'Tesla Motors, Inc. (TSLA)'?… At this point, R Kelly has nothing on Elon Musk. And the notion that a short squeeze might put a shudder in Tesla's rise seems – like all other rational ideas that come in contact with Tesla – to be neutered by whatever Tesla investors think of Tesla."
The Bezzle: "Tesla Warns Already Burnt-Out Workforce Of Model 3 'Production Hell'" [Jalopnik]. Union organizer letter to the board: "We have raised these issues repeatedly, but they remain unresolved. Your guidance navigating them would be invaluable as we work to become the most profitable and productive auto company in the U.S." Musk: "Frankly, we're going to be in production hell. For at least six months, maybe longer." Whenever I see the word "we," I ask "who"? But the UAW letter to the board answers that.
The Bezzle: "Ethereum Scam Database" [Github].
The Bezzle: "A bipartisan group of U.S. senators is introducing legislation that seeks to address vulnerabilities in computing devices embedded in everyday objects — known in the tech industry as the "internet of things" — which experts have long warned poses a significant threat to global cyber security" [Reuters]. "'We're trying to take ," [Democrat Senator John] Warner told Reuters in an interview. He added that the legislation was intended to remedy an 'obvious market failure' that has left device manufacturers with little incentive to build with security in mind." "We're trying to take the lightest touch possible." Of course they are.
The Bezzle: Party on!
This is not The Onion: The world's first blue-tooth enabled salt shaker. Salt dispensed "manually" or using an app. https://t.co/H17ULx4Nnn

— Timothy Aeppel (@TimAeppel) August 2, 2017
Supply Chain: "Amazon.com Inc. never arrives in towns empty-handed. Whether it be pre-payment of 95 percent of employee tuition to pursue careers in high-growth industries, classroom training within its fulfillment centers, benefits that start on the first day of employment, or 20 weeks of paid maternity leave, the Seattle-based e-tailing giant will do whatever's needed to grab qualified DC [Distribution Center] labor" [DC Velocity]. "This 'PacMan' gobble-up strategy is a necessity given Amazon's fulfillment center growth." The cannibal metaphor seems apt.
Supply Chain: "Historically supply chain management positions have been considered to be tactical—more involved in operational tasks, such as making sure products get from point A to point B or making sure suppliers get paid on time and in full. However, in the past 10 years or so, supply chain management jobs have become much more strategic in nature, requiring a different set of skills and competencies" [DC Velocity]. "And this is making recruitment a challenge. DHL surveyed over 350 supply chain and operations professionals in the five major regions of the world as a basis for its research. Fifty-eight percent of the companies surveyed said that it is hard to find potential employees who possess the right combination of tactical/operational expertise and professional competencies such as leadership and analytical skills." Treating the supply chain as strategic is what TISA is all about…
Five Horsemen: "Facebook is the outlier outperformer, as the other four tech giants huddle together for warmth" [Hat tip, Jim Haygood].
Today's Fear & Greed Index: 63 Greed (previous close: 59, Greed) [CNN]. One week ago: 69 (Extreme Greed). (0 is Extreme Fear; 100 is Extreme Greed. Last updated Aug 4 at 12:36pm.
The 420
UPDATE "Banks Are Steering Clear of the Legal Pot Businesses" [Bloomberg]. "The reason: Many banks don't want anything to do with pot money for fear it could expose them to legal trouble from the federal government, which still lists marijuana as illegal – and regulates the banking industry. There is particular uncertainty over how the Trump administration will react."
Health Care
UPDATE "Big insurers have retreated from Obamacare's individual market, where fighting over the future of the health law has contributed to financial losses. They're focusing instead on Medicare Advantage, a politically popular program that's being embraced by a growing population of older Americans" [Bloomberg]. It's getting like I should just file everything under The Bezzle and have done with it.
UPDATE Twitter thread on Charlie Gard:

As one medical professional to another this is a shockingly misinformed view to take on this tragic case. https://t.co/4sy3rVgMrH

— Dr Dominic Pimenta (@juniordrblog) July 29, 2017
Big Brother Is Watching You Watch
"If you use a browser extension, your full Internet history may be for sale – and easily de-anonymized" [Privacy News Online]. We ran a brief link to this story from the BBC, IIRC, but this is far more complete, and explains the solid journalism behind the story. Do read it. The problem is that extensions are part of my workflow… Which is how they get you, I suppose. What is the simplest, most rugged, most extension-free Browser out there? 2017's equivalent of Lynx? (Lynx is a text browser, and sadly I do need images.) I'd really like to return to the 90s Internet, just about now. UPDATE Here's a list of "secure browsers." What do readers think?
Class Warfare
"Slavery, Abolition, and "Socialism" in the U.S. Congress" [Matt Karp, The Junto]. (Karp wrote the excellent This Vast Southern Empire.) "Ever since Richard Hofstadter called John C. Calhoun the 'Marx of the Master Class,' at least, American historians have pondered the relationship between the pro-slavery critique of Northern wage labor and later left-wing critiques of capitalism. One of Calhoun's great themes, as Hofstadter noted, was the inevitable 'conflict between labor and capital,' a conflict that threatened to overwhelm the 'free institutions' of the North. Unlike Marx, of course, Calhoun and other southerners believed the solution to this problem was not the liberation but the subjugation of the laboring classes. Only the system of human bondage itself had exempted the South from this dangerous class conflict, and only the slaveholding South—the 'great conservative power' of the nation, as Calhoun put it—could help preserve the delicate equilibrium between capital and labor in the nonslaveholding states."
"A 'dark store' tax loophole enjoyed by Target and Lowe's is costing American schools billions" [Business Insider]. "In what is often described as a tax loophole, these retailers utilize a legal argument dubbed the 'dark store theory' to decrease their annual property taxes. They say that their taxes should be calculated as if their stores were vacant or 'dark,' rather than when they are at full capacity. Property taxes for retailers are most commonly assessed looking at the 'best and highest use' of the store, so a fully functional store would be taxed higher than a vacant store."
"What the stock market surge is hiding" [The Week]. "The good fortune isn't uniformly spread across the economy. It's actually relatively concentrated — mainly in Silicon Valley and the tech sector…. The stock market is often treated as a catch-all metric for the health of the economy. But what it actually measures are the hopes and expectations of the relatively small and wealthy slice of the population that does most of the stock-owning and stock-trading. Job creation, wage growth for the working class, and the economic health of communities and families across the country — these play only the most tangential of roles in what drives stock indexes up and down."
News of the Wired
"Math Journal Editors Quit for Open Access" [Inside Higher Ed]. "The four editors in chief of the Journal of Algebraic Combinatorics have informed their publisher, Springer, of their intention to launch a rival open-access journal to protest the publisher's high prices and limited accessibility. This is the latest in a string of what one observer called over journal publishing policies." Good for them!
"Zilla Slab: A common language through a shared font" [Mozilla]. For typography people, or people who need to make branding decisions involving type, very interesting. I had not realized that a font for the web would need a family, like bold or italic, for highlighting, but it's so!
"How Louis CK Tells A Joke" [YouTube]. Very, very good (there's an ad, but at the end):
Ties in neatly to monopoly, too!
* * *
Readers, feel free to contact me at lambert [UNDERSCORE] strether [DOT] corrente [AT] yahoo [DOT] com, with (a) links, and even better (b) sources I should curate regularly, (c) how to send me a check if you are allegic to PayPal, and (d) to find out how to send me images of plants. Vegetables are fine! Fungi are deemed to be honorary plants! If you want your handle to appear as a credit, please put it in the subject line. Otherwise, I will anonymize by using your initials. See the previous Water Cooler (with plant) here. Today's plant (Kokuanani):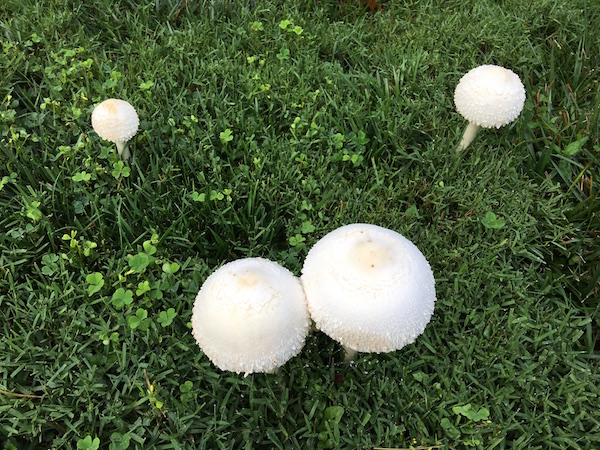 Kokuanani writes: "Suburban mushrooms. Saw these on my walk around the neighborhood this a.m." Walks are good. I encourage observational walks.
* * *
Readers, Water Cooler is a standalone entity, not supported by the Naked Capitalism fundraisers. Please use the dropdown to choose your contribution, and then click the hat! Your tip will be welcome today, and indeed any day. Water Cooler will not exist without your continued help.