The fact that the Yes Men have made the Democratic Party into a pet cause is yet another proof that the party is now an appendage of Corporate America and fully deserving of ridicule. Another proof is its sinking status. Lambert included this chart yesterday in Water Cooler: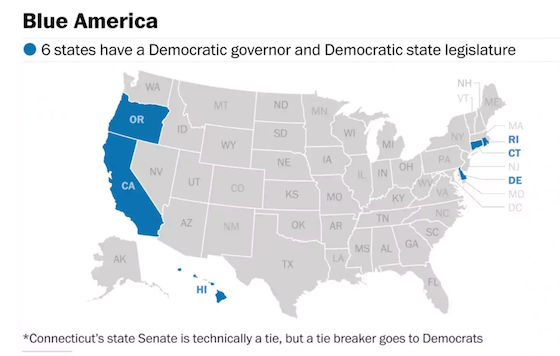 The Yes Men's target is the Dems stillborn-looking turnaround plan, the fauxgressive "Better Deal" scheme.
A Yes Man masqueraded as the DNC Deputy Vice Chairman of Civic Engagement spoke at a at a DNCTakeBack town hall last week. These meetings are yes another ruse by ostensibly to soliciting input to make the "Better Deal" even more snazzy. But these are really just large focus groups to help come up with new and improved marketing buzzwords. The Democrats have no interest in changing their program, such as it is. As Nancy Pelosi told the Washington Post about the "Better Deal":
House Minority Leader Nancy Pelosi (D-Calif.) agreed, explaining in a separate interview that the new focus "is not a course correction, but it's a presentation correction."
I must confess that I haven't gone to the effort of shredding thin "Better Deal" concept papers because the whole thing was so lame and obviously elite-serving that I was sure Team Dem would abandon the initiative and come up with something at marginally more plausible sop to middle and lower class Americans. Even if they haven't seen their standard of living decline, they know that their hold on their economic position is insecure and are correctly anxious about it. Silly me! Never underestimate the ability of Democrats to think turning up the volume in their echo chamber is a solution.
In addition, the group that is supposedly behind these gatherings, DNCTakeBack, is obviously astroturf. It looks as if an existing party appendage was upgraded, since it got its first full time president only as of July 10. I'm sure this it was just a coincidence that this corresponded with the maiden voyage of SS Better Deal. And the staffers are party hacks political pros:
Our organization was formed and is run by individuals who understand the political process from the inside out, and are now seeking to educate people about the power they have to shape the process from the outside in. Our staff members have participated in elections of all shapes and sizes across this great nation. Rather than standing idly by as those who seek to buy political favor continue to exert a disproportionate impact on our political process, we are determined to educate and engage the citizens of this great land who are both disenfranchised with and disgusted by the entire political process.
So how credible is this? A top down process ("educate") for voters to better party shock troopers by convincing them that improved followership is the road to greater freedom?
If you think I'm exaggerating, the proof is in the video, where the Yes Men show that the Democrats are incapable of even putting their old wine in something that could be mistaken for a new bottle. I was cringing before the video had even hit the 25 second mark. The journalist who was leading the session (and of course it was a journalist, to give a veneer of independence) was incapable of using anything other than fake egalitarianism ("conversation") and effectively told audience members that questioned what Team Dem was trying to sell were stupid:
As you all know, the Better Deal was announced earlier last week, though there are some elements of the Better Deal that haven't been fully understood…
I'm sure readers will highlight their favorite moments. The interviewer can see that the Yes Man is going off script at 2:35 when she gets twitchy and fiddles with her pen even before he makes it obvious that the Better Deal is an exercise in hypocrisy. And some of the phrasemaking is great.
The one thing missing is that this is so obviously what the Democrats ought to be doing that there is no shock from the audience at the speaker repeatedly saying that corporate donors have prevented the Democrats from acting in voters' interest and the party has therefore decided to throw them and the older leaders over the side. And presumably by virtue of being too well housebroken, the moderator goes along. Perhaps she thought this was just a test of some more "radical" messages.