By Lambert Strether of Corrente
Trade
"TSDS Bridges Writing Competition" [Trade and Sustainable Development Symposium]. Prize money and publication. Why not give it a go? (You need to be 18+ and enrolled in a degree program at an accredited university.)
"If President Donald Trump moves forward Friday with launching an investigation into Chinese industrial policies surrounding forced technology transfer, it wouldn't launch a global trade war right of the bat. It would, however, broadcast to Beijing that the United States is not afraid to limit imports or block Chinese investment — and it tarnishes Chinese President Xi Jinping's preferred portrayal of China as a champion of the rules-based international system" [Politico]. Note that " the rules-based international system" is what The Blob deeply believes it has created, lunatic though that seems to anyone outside its bubble. This belief also shades over into the liberal Democrat yapping about "norms." In each case, of course, the rules-makers are also, at whim, rules-breakers. Because what's the point of being a rules-maker otherwise?
"The U.S. may already be set on a collision course with its southern neighbor ahead of the upcoming renegotiation of NAFTA, after the first official glimpse of Mexico's negotiating goals this week shows a government focused on using the talks to further bolster the country's production and export platforms" [Politico]. From Adam: "Those conflicting views are balanced by the fact that many of the objectives laid out by [Mexican Economy Secretary Ildefonso] Guajardo square with what the U.S. wants out of a deal. But some of Mexico's priorities could be anathema to the Trump administration's 'America First' agenda, including demands for easing movement of workers across the border, ensuring opportunities for Mexican firms in U.S. government procurement and defending a NAFTA dispute settlement process that the U.S. has been clear it wants to jettison." NAFTA dispute settlement is Chapter 19. Canada likes it, too.
"[The seven-step trade plan that Senate Democrats outlined on Wednesday] calls for the creation of an American Jobs Security Council, a panel that could block foreign purchases of U.S. companies for economic security reasons — similar to the way the Committee on Foreign Investment in the United States can block sales on the basis of national security" [Politico]. This feels kludgey and Ptolemaic, like Schumer's "Competition Advocate"; another epicycle added onto a complex, rickety, and rapidly self-delegitimating system.
Politics
2020
"Why leftists don't trust Kamala Harris, Cory Booker, and Deval Patrick" [The Week]. "The contest for control of the Democratic Party between left and center is continuing apace. The latest battleground is over a handful of being groomed by the centrist establishment to run for office: Sen. Kamala Harris (D-Calif.), Sen. Cory Booker (D-N.J.), and former Massachusetts Gov. Deval Patrick." I don't get this. Take Booker and Patrick — please! Booker was "nauseated" when Obama gave Mitt Romney's Bain Capital the gentlest of love tops, and Patrick actually works there. Support for private equity weasels is by no means a "minority" position among "Democrats." So what's the issue, here? (atrick, arris, B: So similar they need an acronym. "PHooker"?)
2018
UPDATE "Officials in President Donald Trump's administration frequently talk about getting annual economic growth in the United States back above 3%. But they are doing more than just talking about it; their proposed budget actually assumes that they will succeed" [Simon Johnson, Project Syndicate]. "Unfortunately, left to its own devices, the economy will most likely continue to sputter. And the policies that Trump's Republican Party has proposed – for health care, taxes, and deregulation – will not make much difference." And jiggering the numbers may help with the 10% on up, but I believe that the voters who flipped from Obama to Trump in 2016 will cheerfully throw Trump over the side if he doesn't deliver, based on the material circumstances they see around them. And the voters who stayed home won't come out. Whether that translates to a "wave" election remains to be seen.
Health Care
"Capitol Shocker: Democrats and Republicans Start Working Together on Health Care" [Editorial Board, New York Times]. No mention of single payer or Medicare for All. That's odd.
Realignment and Legitimacy
"Finding Common Ground, Despite Ideological Divides" [New York Times]. Re Trump's Election Commission: "Whatever brings them there, this disparate group is sitting at the same table, and they are sitting there under a banner of states' rights. Can this be Donald Trump's one positive accomplishment?" I'm so old I remember when "States' Rights" was anathema to liberal Democrats. It's hard to keep up!

"Donald Trump drowns out Democrats' populist pitch" [Financial Times]. "Better Dealers" dealt themselves a losing hand? Say it's not so!

UPDATE "As for disturbing news out of Washington, [Donald Luskin of Trend Macrolytics] sees Mr. Trump at the center of 'an ecosystem self-perpetuated by the lust for power by politicians on both sides of the aisle, and the lust for audience by the media both liberal and conservative. The apex predator in this ecosystem is Trump, who controls it all by following Roger Stone's rule that it is better to be infamous than not to be famous at all. That's not a recipe for clarity'" [Wall Street Journal].

UPDATE "Trump and the Fate of the Administrative State" [RealClearPolitics]. "Will Trump succeed in rebuilding the democratic politics Marini believes has been dismantled by the rise of the administrative state? He is not especially optimistic, in part because even Trump's own party has proved reluctant to abandon the status quo, despite the outcome of last year's election. More fundamentally, [John Marini, a senior fellow of the Claremont Institute [ugh] and professor of political science at the University of Nevada-Reno] points out, to offer a viable alternative to the administrative state, we must not only reinvigorate our constitutional system — with its separation of powers — but also revitalize the democratic culture and therewith the civil society needed to sustain it. 'You have to really begin the process of reestablishing a ground of authority that is different than rational authority' — different from Hegel's centralized 'rational rule' — and 'that's very hard to do when you've destroyed the civil associations that were established on the older authority.'"

"Why Trump's Base of Support May Be Smaller Than It Seems" [New York Times]. Essentially, polls that track Trump support among those who identify as Republicans will miss voters driven from the party by Trump.
Stats Watch
Lambert here: Bit of a pantry clearout on The Bezzle today, since the noise of electoral politics has died down a little.
Factory Orders, June 2017: "Factory orders surged 3.0 percent in June but were skewed higher by a more than doubling in monthly aircraft orders" [Econoday]. "Excluding transportation equipment, a reading that excludes aircraft, orders actually fell." But: "This is not inflation adjusted and still well below the highs of the last cycle and below the 2014 highs" [Mosler Economics].
Purchasing Managers' Services Index, July 2017: "Markit's U.S. service sample is reporting increasingly solid conditions" [Econoday]. "The best news in the report comes from new orders, rising at a 2-year high, and employment which is at its best pace so far this year. Especially helping employment is a build underway in backlog orders. Optimism on the outlook is another a positive in this report, one that hints at a healthy second-half for the economy."
Institute For Supply Management Non-Manufacturing Index, July 2017: "Slowing is the call from ISM's non-manufacturing sample where July results show their least strength since August last year" [Econoday]. "Yet the July edition is a surprise for this report which is usually very consistent with the headline composite in the high to mid 50s and new orders and business activity in the low 60s. The contrast with this morning's PMI services report is noticeable, one slowing and one accelerating, but the story of the two samples together is positive: moderate growth for the bulk of the economy." And: "significantly below consensus forecasts of a small decline" [Economic Calendar]. And: "Both services surveys are modestly in expansion – but the trends are different" [Econintersect]. And but: "Less than expected as trumped up expectations fade further" [Mosler Economics]. And: "This suggests slower expansion in July than in June" [Calculated Risk].
Bloomberg Consumer Comfort Index, week of July 30, 2017: "[T]he best reading since June. Strength in consumer confidence points to strength in the labor market" [Econoday].
Gallup Good Jobs Rate, July 2017: "The Gallup Good Jobs (GGJ) rate rose nearly a percentage point to 47.0 percent in July, from 46.3 percent in June. The GGJ rate now ties the highest point for the measure since 2010" [Econoday]. "This is the last report of the good jobs rate. Gallop will no longer be producing it going forward." Weird, with surveys continually being contradicted by data, that Gallup, of all people, is getting out of the survey business.
Challenger Job-Cut Report, July 2017: "Layoff announcements are down in what is a positive signal for tomorrow's July employment report" [Econoday]. "Retail once again had the heaviest number of layoff announcements."
Jobless Claims, week of July 29, 2017: "Summer retooling in the auto industry hasn't been skewing jobless claims where levels are steady at historic lows" [Econoday]. Surely it should have? What am I missing here?
Chain Store Sales, July 2017: "Chain stores are reporting mixed sales rates in July compared to June in what is a flat indication for the July retail sales report. The results are similar to Tuesday's unit vehicle sales" [Econoday]. "Retail sales have been flat all year, posting declines of 0.2 and 0.1 percent in June and May."
Commodities: "Mining companies have hit the mother lode of a critical commodity—rich veins of cash. Anglo-Australian mining giant Rio Tinto PLC saw a big boost in net profit in the first half of the year to $3.3 billion, the WSJ's Robb M. Stewart reports, a strong reflection of an industry rebound that has gained momentum, benefiting from a recovery in prices of commodities including iron ore and coal as well as efforts to slash costs" [Wall Street Journal].
Supply Chain: "Several major clothing shippers including Levi's, Esprit, Next and Marks and Spencer have joined a campaign to help end the alleged exploitation of dockworkers at Madagascar's Port of Toamasina, which is operated by a subsidiary of the international container terminal operator ICTSI" [Lloyd's Loading List].
The Bezzle: "Warriors to require 30-year commitment for season tickets" [Reuters]. It's fine. San Francisco is located on high ground.
The Bezzle: "According to a new poll by Morning Consult and Money Magazine, 49% of respondents who canceled a meal kit service cited the cost (starting at $8.99 per serving on Blue Apron) as the biggest reason for their cancellation. Additionally, cost was the biggest issue for 59% of respondents who have never tried a meal kit service" [Business Insider]. "The leading meal kit delivery service is losing money on roughly 70% of the customers it attracts, according to analysis by Daniel McCarthy, an assistant professor of marketing at Emory University."
The Bezzle: From The Department Of You Can't Eat Soup With A Fork:
This revolutionary new startup will forever change the way you eat, by selling forks pre-loaded with your favorite foods pic.twitter.com/FgIMOBMWCq

— Rich Lowtax Kyanka (@lowtax) August 3, 2017
The Bezzle: "Funding for Fintech Startups Poised to Hit a Record in 2017" [Bloomberg]. "Financial technology startups are on pace to see funding reach a record as insurance, wealth management, lending and blockchain-related companies attract new dollars…. Some of the sectors seeing the biggest share of dollars were blockchain and bitcoin startups, which saw funding grow 100 percent on a quarterly basis, while bitcoin and other crypto currencies continue to generate new headlines with volatile price movements. Other winners were insurance and wealth management related startups, which each saw funding rise by more than 200 percent." All these sectors are, of course, extremely fraud- and prosecution-free IRL, and I'm sure we can expect that to continue as tech works out the skim and the vig becomes involved.
The Bezzle: "Billionaire investor Marks, who called the dotcom bubble, says bitcoin is a 'pyramid scheme'" [CNBC]. "'In my view, digital currencies are nothing but an unfounded fad (or perhaps even a pyramid scheme), based on a willingness to ascribe value to something that has little or none beyond what people will pay for it,' Marks wrote in the investor letter Wednesday." Two competing theories of value, there.
The Bezzle: "Libor: A Eulogy for the World's Most Important Number" [Wall Street Journal]. "Libor started out as a symbol of the clubby and arguably incestuous world of London banking in the 1970s and '80s. Libor was based on something resembling an honor system." In other words, Libor enabled a phishing equilibrium. Personal note: How well I remember — what's the Swedish for ersatz? — Nobel Prize Winner Paul Krugman explaining the importance of the TED spread in 2008: "The TED spread is the difference between the interest rate banks charge each other on 3-month loans (3-month LIBOR) and the interest rate on 3-month U.S. Treasury bills. It's a measure of financial jitters." Then I started reading Naked Capitalism, and came to understand that the LIBOR part of the TED spread was outright fraud. It seemed, then, quite remarkable to me that Krugman could have been unaware of this (or had not expressed his awareness). Not that I'm bitter.
The Bezzle: "Tesla is a large public company, and Elon Musk must start acting like it" [MarketWatch]. "'When we make mistakes, it is because we are stupid, not because we are trying to mislead anyone,' Musk said, when asked if he could predict capital spending in the next two quarters as the company ramps up its volume manufacturing of the Model 3." And:
Musk told reporters that Tesla had 500,000 reservations for the Model 3, an important figure that investors, journalists and analysts had been clamoring for an update on since Tesla originally announced 373,000 reservations more than a year before.

Musk admitted Wednesday that statement was inaccurate, explaining that Tesla had received 518,000 total reservations for the car, but that current net reservations stand at 455,000, due to cancellations.

"I don't think it really has much materiality," Musk said of the number.

Materiality is not for Musk to decide, however. It is up to the Securities and Exchange Commission.
No problem there, then.
The Bezzle: "Tesla's battery tech director has left the company as Model 3 enters 'production hell' (TSLA)" [Business Insider]. That seems odd.
The Bezzle: "[A] photo taken by VICE of a recent arrest in Brooklyn appears to indicate law enforcement has done more than come to terms with the existence of Uber—and may in fact be using the company's logo as a disguise for undercover work" [Vice].
The Bezzle: "Facebook shuts down AI after it invents its own creepy language" [Daily Dot]. This headline is the idea that propagated, but the lead is buried, and it's not a technical issue. Here it is:
[Facebook] then made another fascinating discovery after it got the two dialog bots speaking normally. Looking to go beyond simple imitation, researchers wanted to see if the bots could learn how to negotiate. They did so by testing them online in conversations with real people. .
In other words, if you're a human, never ever negotiate with a chatbot. (Of course, if you're up the income scale enough, you could — business model! — subscribe to your own bot negotiation app, one that had — one presumes — your own interests at, er, its heart.)
Concentration: "'This handful of companies [Apple, Microsoft, Amazon, Facebook] is writing the operating system for the new economy,' said Brad Slingerlend, lead portfolio manager of Janus Henderson's global technology fund. 'The bigger companies are both able to collect data and use that data to build into adjacent businesses'" [The New York Times]. Ugh. Economies don't have operating systems (unless they're centrally planned….) so this is a horrid category error. I hear wild rumors that the Times Business section is moving from "light touch" journalism to outright reach-arounds, and articles like this confirm me in my priors.
Concentration: "In its report, AlixPartners noted how 'whether it is making an acquisition, striking a big trade deal with a major brand, or introducing a new product or service, Amazon will never stop innovating or taking risks. Amazon's assortment and growing list of offerings continue to attract new customers, and its massive infrastructure helps it execute with speed and precision. And . Investors are betting on an Amazon future, and customers now expect the services that Amazon pioneered from all their retailers, not just Amazon'" [Logistics Management]. TINA. And therefore, a candidate for Political Risk as well.
Today's Fear & Greed Index: 61 Greed (previous close: 67, Greed) [CNN]. One week ago: 73 (Extreme Greed). (0 is Extreme Fear; 100 is Extreme Greed. Last updated Aug 3 at 1:14pm. Drifting down toward normality. So time to panic?
Health Care
"US health care debacle makes local man proud of system that's unaffordable for 10% of Canadians" [The Beaverton (EdL)]. "At press time, Canada was also patting itself on the back for selling slightly fewer weapons to Saudi Arabia than the US." If the United States had a mediocre health system, millions of people would scream with joy…
Big Brother Is Watching You Watch
"In China, internet censors are accidentally helping revive an invented 'Martian' language" [Quartz]. This is fascinating:
Martian dates back to at least 2004 but its origins are mysterious. Its use appears to have begun among young people in Taiwan for online chatting, and then it spread to the mainland. The characters randomly combine, split, and rebuild traditional Chinese characters, Japanese characters, pinyin, and sometimes English and kaomoji, a mixture of symbols that conveys an emotion (e.g. O(∩_∩)O: Happy). … Internet censorship works by filtering information for sensitive keywords. Research by Citizen Lab's Jason Q. Ng shows that a Weibo post will first be reviewed by a machine and flagged if it contains certain keywords that are blacklisted. Human censors also review published posts. Using Martian can prolong the longevity of a post. "If the Martian language [versions] of certain keywords are not on the blacklist already, it can be used to bypass censorship until a human reviewer censors it," she said… Still, as China's sensitive-terms blacklist gets refined, Martian language may become less helpful. Also Chinese Martian users trying to evade censorship shouldn't ignore the possibility that, like them, people working in internet censorship groups might once have been Martian-speaking teens too.
Hopefully, Stasi-like censorship in the United States won't become so ubiquitous and effective that we have to publish NC in Martian!
Another contribution:

.@selectedwisdom @propornot honorably lists my website as Ru propaganda. Request to add my Twitter account to your tool. @intelwire @gmfus

— Moon of Alabama (@MoonofA) August 3, 2017
"Fighting Words With the Unabomber" [JSTOR Daily]. "I';s thanks to the quirky use of idioms, oddly-placed punctuation, vocal tics, and certain other idiolectal, dialectal and stylistic markers, that anonymous speakers and authors have often been identified. Linguistic evidence left behind in wire taps, ransom notes, texts, tweets, and emails, (and even pet parrots!) has sometimes led to major breakthroughs and even the resolution of many famous cases. Just like DNA analysis, however, these linguistic markers have to be used cautiously in a forensic context."
Class Warfare
"Infinite Peepshow" [Logic]. (The print version also includes "The Mother of all Swipes" by Marie Hicks. "A working-class woman from East London invented computer dating more than half a century ago. Fascinating!)
"The Decline of the American Laundromat" [The Atlantic]. Gentrification.
"How Socialists Can Fight for Single Payer" [Jacobin].
News of the Wired
"We have unrealistic expectations of a tech-driven future utopia" [Recode]. No, "we" don't. I find the Jackpot perfectly plausible.
"Opioid Prescriptions Across The U.S." [FiveThirtyEight]. Handy map.
"Food writer Hollister Moore, 69, king of street food" [Philadelphia Inquirer].
"How a small town in Iowa is saving their school with theater" [Des Moines Register]. Alert reader TM sent in this link, and this description of the project:
[Y]ou asked about readers' pet projects a few weeks ago and we're mighty proud of this one.

Local economic development council (EDC) wanted school district to pay a demolition company $200k+ to tear down old school building, then EDC would pay school district $50k for land, and would then turn around and sell land to local builder for housing lots. Typical "public-private partnership"…

We opposed by going grassroots, appealing to the broader community for 2 years' worth of operating capital–about $50k–in order to try some things out to see if there was a sustainable route forward for one of the few remaining historic structures in town–and one close to everyone's hearts. We raised the money in about 2 weeks, drawing on over 100 alumni from 10 states.

A few months later we're in the midst of a highly successful summerstock theater program with actors and crew from across the country. Youth dance company and youth wrestlers are renting space in the building, we've a community art showroom and in process of setting up variety of art classes and an after school program.

There's life out in the colonies, yet!
Today's plant is another project, albeit on a smaller scale. More like this please!
"We're Still Here" [Power of Narrative]. I would love to hear what Arthur Silber has to say about Trump. Also, his cat is better.
* * *
Readers, feel free to contact me at lambert [UNDERSCORE] strether [DOT] corrente [AT] yahoo [DOT] com, with (a) links, and even better (b) sources I should curate regularly, (c) how to send me a check if you are allegic to PayPal, and (d) to find out how to send me images of plants. Vegetables are fine! Fungi are deemed to be honorary plants! If you want your handle to appear as a credit, please put it in the subject line. Otherwise, I will anonymize by using your initials. See the previous Water Cooler (with plant) here. Today's plant (EdL):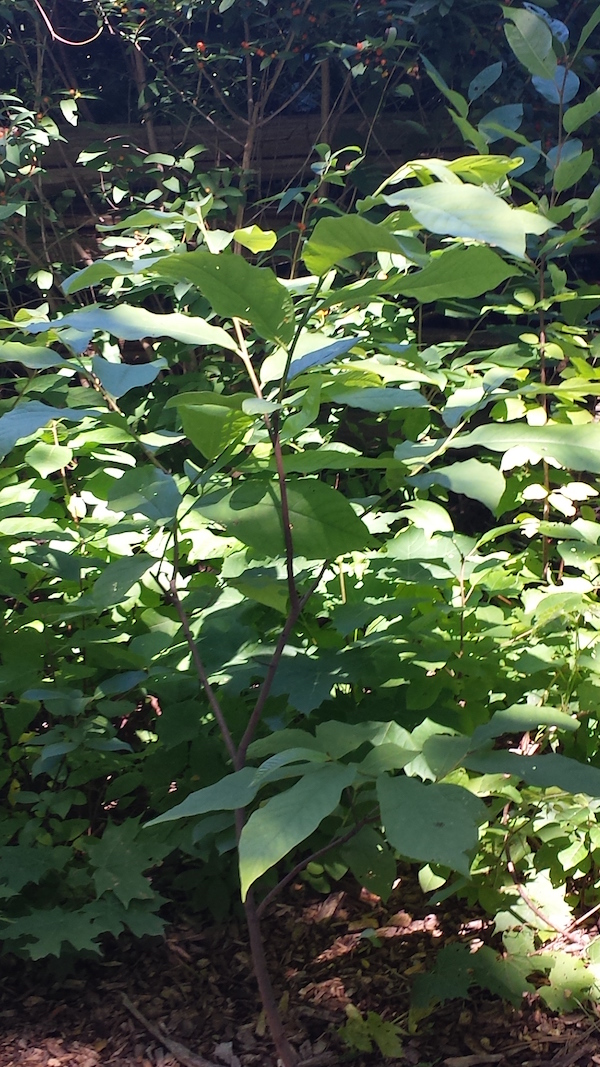 A pawpaw tree. EdL writes:
Pawpaws are supposed to be the only edible fruit bearing trees from North America. I helped plant these two a couple years ago at Black Creek Community Farm here in Toronto and you can see how much they prefer the shade – probably because indigenous people domesticated it from a tree that grew in a forest canopy. It takes 8 to 10 years before they start bearing fruit so I won't be able to taste any for a while.
Oddly, Silicon Valley stupid money is going into projects like Juicero and grilled cheese chains. You'd think they'd want to monetize edible forests. Apparently not.
* * *
Readers, Water Cooler is a standalone entity, not supported by the Naked Capitalism fundraisers. Please use the dropdown to choose your contribution, and then click the hat! Your tip will be welcome today, and indeed any day. Water Cooler will not exist without your continued help.