By Lambert Strether of Corrente
Meetup reminder: The Burlington, VT Thursday, August 17 at 8:00PM; Montreal, Quebec Friday, August 18, at 6:00PM. Hope to see you there!
Trade
"The U.S. aluminum industry scored a significant win on Tuesday when the Commerce Department set hefty duties on millions of dollars' worth of aluminum foil from China. The move, which affects about 70 percent of all the aluminum foil imported into the United States last year, is likely to resonate with President Donald Trump's base of working-class voters who elected him last year in part for his promises to get tough on China" [Politico]. Hard to imagine why there's a big demand for tinfoil…
"BUSINESS GROUPS TO THE ADMINISTRATION: KEEP ISDS IN NAFTA: More than 100 U.S. business groups and associations representing more than 1 million domestic companies are pushing the Trump administration to not only preserve investor-state dispute settlement and related provisions in an updated NAFTA agreement but to also strengthen them to further protect intellectual property and interests" [Politico].
Politics
New Cold War
"Ask a Korean" is a good Twitter account to follow:

I have no idea why Serious People ™ continue to think Kim Jong Un is unhinged. https://t.co/G9O1lPJPD6

— T.K. of AAK! (@AskAKorean) August 9, 2017
2020
"Get Off Kamala Harris's Back" [Cosmopolitan]. Harris's donor audition in The Hamptons must have been quite something.

Kamala Harris doesn't have a Bernie Sanders problem. The so-called "Sanders Left" has a black-woman problem. In fact, the entire left has a black-woman problem.

I agree. That's why Nina Turner is the head of Our Revolution. That's also why the DNC used barricades to prevent Turner from delivering the People's Platform. It all fits together!

"Mark Zuckerberg's Political Ambitions Are Grander Than You Think" [Vanity Fair]. "[O]ver and over again, various sources told me that Zuckerberg had grander plans in life and wanted to be 'emperor.'" So that's alright, then.

"Why is Harvard Professor Laurence Tribe Lying About Bernie Sanders on Twitter?" [Paste]. Excellent takedown.
2018
"Even if Democrats were to win every single 2018 House and Senate race for seats representing places that Hillary Clinton won or that Trump won by less than 3 percentage points — a pretty good midterm by historical standards — they could still fall short of the House majority and lose five Senate seats" [Cook Political Report]. This is partly attributable to the nature of House districts: GOP gerrymandering and Democratic voters' clustering in urban districts has moved the median House seat well to the right of the nation. Part of it is bad timing. Democrats have been cursed by a terrible Senate map in 2018: They must defend 25 of their 48 seats while Republicans must defend just eight of their 52." More:

In 2010, when Democrats passed the health care law Republicans are now seeking to repeal, they needed "yes" votes from all 60 of their senators, including 13 from states that then-President Barack Obama had lost in 2008. What did it take for the party to be able to obtain 60 seats? The Iraq War, Hurricane Katrina and a stock market crash, which generated a huge backlash against President George W. Bush and Republicans in 2008.

Today, it would take even more cataclysmic events under GOP rule to propel Democrats to a supermajority over the next six years.

Well, if a "cataclysmic event" is what it takes…
2016 Post Mortem
"Judicial Watch today announced that the Justice Department refuses to disclose the talking points developed by the Obama Justice Department to help it respond to press inquiries about the controversial June 27, 2016, tarmac meeting between Loretta Lynch and Bill Clinton at Phoenix Sky Harbor International Airport" [Judicial Watch]. "'It is jaw-dropping that the Trump administration is blacking out key information about how the Obama Justice Department tried to spin Loretta Lynch's scandalous meeting with Bill Clinton," said Judicial Watch President Tom Fitton. ;President Trump should order the full and immediate release of these materials.'"
Health Care
There used to be a genre of opinion column where Republicans would give Democrats sincere, well-meant advice MR SUBLIMINAL [snicker] about how to fix their party. (They've given that up recently, for some reason). Here Paul Krugman plays the same game with the left:

"What's Next for Progressives?" [Paul Krugman, New York Times]. "Progressives," apparently, doesn't include the DSA, which Krugman doesn't mention. Here is the key paragraph:

A far more important consideration is minimizing disruption to the 156 million people who currently get insurance through their employers, and are largely satisfied with their coverage. Moving to single-payer would mean taking away this coverage and imposing new taxes; to make it fly politically you'd have to convince most of these people both that they would save more in premiums than they pay in additional taxes, and that their new coverage would be just as good as the old.

This might in fact be true, but it would be one heck of a hard sell. Is this really where progressives want to spend their political capital?

If only there were some famous liberal columnist — perhaps one with a gold-ish prize medal of some sort — who would help with the "hard sell" (note the question-begging in both "hard," and "largely satisfied with their coverage"). Then the left wouldn't have to invest so much of their "political capital"! (I'm not sure about that dead metaphor. At all.) But no. Putting forth wonkish, complicated, Swiss watch-style solutions may be attractive to the Acela class — They've got their own train! Just like Europe! — but the political economy of the United States is nothing at all like Germany or the Netherlands or Switzerland. What works there won't work here. Stick with simple, rugged, proven Canadian-style single payer instead of putting the American people through another decade of neoliberal experimentation. More importantly — and Krugman shares this failing with much of the left — Krugman thinks Federal taxes fund Federal spending, which is why we can't have nice things. That is the keylog, and only the left can remove it. Anyhoo, Krugman recommends — hold onto your hats, here, folks — the so-called public option, and goes on to deploy the "Why don't they care about children?" line… Oh dear. I thought it was only corrupt Democrat hack Rahm Emmanuel who was all about the kids…

"Nina Turner: There is "Something Wrong" With Dems Who Won't Support Medicare-For-All" [Paste]. "The fact is, while certain issues may indeed be 'tough sells' in different parts of the country, it's disingenuous for any Democrat to argue that universal healthcare won't catch on in Trump country. This is not abortion, or gun ownership. It's an idea with widespread popularity, and one whose moment has come—if the Dems fail to press their advantage now, in the wake of the Republican healthcare failures, they don't deserve the title of opposition party."
Realignment and Legitimacy
"Nothing about us without us" [DSA Disability Caucus and Working Group]. Leveraging parliamentary rules. This is actually a good thing, especially (and very sadly) compared to Occupy's General Assembly. With a GA, the DSA would be in Chicago still, debating the point of order. (Another way of saying this is that the GA didn't respect people's time.)

"DSA VWG Statement Regarding Danny Fetonte and NPC" [DSA Veterans Working Group]. "The central issue at play, and the reason we feel that resignation [from the NPC] is the best way forward for our organization, is that we feel that Mr. Fetonte deliberately misled the delegation by referring to his time as an organizer with police union CLEAT by vaguely characterizing his background as 'I organized state workers.'"

"Vote or lose your rights: Justice Department sides with Ohio in controversial voter purge case" [Salon]. Legalized voter caging, so far as I can tell.
Stats Watch
Productivity and Costs, Q2 2017 (preliminary): "Second quarter productivity came in at a soft 0.9 percent annualized rate though unit labor costs, held down by a solid 3.4 percent rise in output, rose only at a 0.6 percent rate" [Econoday]. " It did take more hours to raise production, at a 2.5 percent rate from 1.6 percent, but the output gain more than outmatched the hour gain…. Unit labor costs were revised sharply higher to 5.4 percent from 2.2 percent reflecting a sharp upward revision in compensation to a 5.5 percent rate. Still, when adjusted for inflation, compensation rose a less sharp 2.3 percent with second-quarter ." But, but, but: "A simple summary of the headlines for this release is that there was significant growth of productivity while the labor costs grew less. There was too much backward revision which completely reversed trends making one wonder wtf is going on" [Econintersect]. "I only look at year-over-year data – the headline compounding distorts the view). I have issues with the way productivity is determined – as logic dictates that real productivity is growing through innovation. And this month there was significant backward revision. I would take this report with a grain of salt."
Wholesale Trade, June 2017: "Wholesale inventories rose a sharp 0.7 percent in June in what was a wanted build given a likewise 0.7 percent rise in sales. The stock-to-sales ratio is unchanged at a lean 1.29" [Econoday]. " [I]nventories of autos which rose 1.4 percent while sales fell 0.5 percent." But: "The improvement this month in the headline data could be attributed totally to durable goods. Overally, I believe the rolling averages tell the real story – and they declined this month. The current trends appear weakening recently as this series became volatile" [Econintersect]. "Inventory levels remain at recessionary levels."
MBA Mortgage Applications, week of August 4, 2017: "Purchase applications for home mortgages rose a seasonally adjusted 1 percent" [Econoday]. "[P]urchase applications point to a solid housing market, driven by low mortgage rates and high employment levels." But: "The productivity and labour costs data is prone to substantial revisions which limits the near-term impact on markets and Federal Reserve policy" [Economic Calendar].
Real Estate: "Leading Index for Commercial Real Estate "Stumbles" in July" [Calculated Risk]. Dodge Data Analytics: "The Dodge Momentum Index fell in July, dropping 3.3% to 135.0 (2000=100) from its revised June reading of 139.6. The Momentum Index is a monthly measure of the first (or initial) report for nonresidential building projects in planning, which have been shown to lead construction spending for nonresidential buildings by a full year. The move lower in July was due to a 6.6% decline in the institutional component of the Momentum Index, while the commercial component fell 1.1%.This month continues a recent trend of volatility in the Momentum Index where a string of gains is interrupted by a step backwards in planning intentions."
Real Estate: "Some analysts estimate the shift to e-commerce will lead to some 400 of the roughly 1,100 malls in the U.S. to close in the coming years, creating empty space that some believe can serve consumers in a different way. FedEx Corp. next month will open a 340,000 square-foot distribution facility on the site of a former mall, and Amazon.com Inc. is said to be considering the site of a closed mall outside Cleveland for a fulfillment center. Still, developers have to make the economics work for packages, and they have to convince communities to accept trucks rather than chain stores and food courts" [Wall Street Journal].
Shipping: "A key underlying theme of [industrial real estate firm ] JLL's research explains that one year after the opening of the $5 billion Panama Canal expansion, there has been what the firm called a 'profound effect' on industrial real estate demand. Another key theme focused on how even though West Coast ports remain naturally competitive, East and Gulf port demand is heading up. And these demand gains are being reflected in around 25.4 million square feet of industrial real estate under construction in the 14 port markets tracked by JLL in its 2017 Seaport Outlook, with 65% in East and Gulf Court ports" [Logistics Management].
Shipping: "Port of Oakland forecasts five-year record for volumes starting in '18" [DC Velocity]. "Officials at the Port of Oakland today projected a five-year record run for cargo volumes starting next year, culminating in 2022 with traffic composed of 2.6 million twenty-foot equivalent unit (TEU) containers, 8 percent more volume than the port has ever processed in a year…. Oakland's growth will be driven by demand from the booming freight markets of northern California and neighboring Nevada, the port said. New logistics capabilities such as distribution centers and freight transfer facilities should also help…"
Apparel: "Locals Blockade Uniqlo Factory in Vietnam Over Pollution Concerns" [Sourcing Journal]. "Villagers have reportedly been blockading the entrance to the Hai Duong factory, which is owned and operated by Hong Kong-based Pacific Textiles Holdings Limited, as they call for the mill to cease operations for good. According to reports, the area's residents reported a foul smell from the factory since December last year, which they eventually found to be coming from the facility's water discharge. After investigations, the spilled water was found to have surpassed the legal limits of acidity and alkalinity balance, color and suspended solids, Reuters noted in a report last month. The factory was fined $30,000 as a result. But the pollution seems to have persisted, and so have the villagers."
Auto: "The race is on to become the next big hub in the U.S. automotive supply chain. Eleven states are vying to become the site for the assembly plant that Toyota Motor Corp. and Mazda Motor Corp. plan to operate in the U.S." [Wall Street Journal]. "The southeast has become the preferred location for many foreign manufacturers because of the business-friendly labor laws of many of the region's states, and suppliers have already set up facilities near some of the region's early plants."
Auto: "A bet on Tesla and EVs is a bet on displacing oil with hardware. It's the maturation and industrialization of the electrochemical lithium-based battery that has animated some pundits and policymakers to declare the imminent arrival of 'peak oil demand.' No one seems more excited than Silicon Valley itself. Though the irony that the digital cognoscenti are making billion-dollar bets on hardware in the age of the algorithm has gone largely unnoticed" [RealClearPolicy]. "Meanwhile, and largely off the radar, companies such as Motive Drilling Technologies have developed cognitive software for drilling in shale fields…. The arrival of the digital oilfield is what should worry OPEC — not Tesla. It's not that EVs don't matter; they just matter less than most people think. The International Energy Agency predicts today's 2 million EVs will rise to 100 million in a decade…. Such an outcome would generate amazing revenues for battery makers as well as the miners supplying megatons of materials from lithium and copper to cobalt. But what losses would follow for oil? The math is easy. One-hundred million EVs would constitute 7 percent of the 1.5 billion cars expected to be on the world's roads by 2027."
Ag: "Two Trends Popping Up In Used Machinery Markets" [Machinery Pete, AgWeb]. "[T]ractors 10 years and older and tractors with less than 150 horsepower are both hot commodities." Hmm. I wonder why?
Mr. Market: "How Trump's threat of 'fire and fury' is rattling stock-market calm" [MarketWatch]. "Wall Street's 'fear gauge', or VIX, has spiked 20% over the past two sessions."
Mr. Market: "Markets Pricing In Possibility That Nuclear Armageddon Could Have Potentially Negative Impact On Corporate Tax Reform" [DealBreaker]. "[S]eemingly not content to let the early dip be just another minor market shudder covered up by quants and then forgotten as we all slipped back into illogical complacency, the Leader of the Free World decided to spend his morning reminding everyone that his bottomless pit of need to be powerful makes him potentially unafraid to unleash the horror of nuclear weapons."
Today's Fear & Greed Index: 48 Neutral (previous close: 61, Greed) [CNN]. One week ago: 67 (Greed). (0 is Extreme Fear; 100 is Extreme Greed. Last updated Aug 9 at 1:37pm. Big drop…
Gaia
"Volcanoes May Have Triggered the Last Unexplained Mass Extinction" [Scientific American]. In fact, the last five!
"Biochar shows benefits as manure lagoon cover" [Phys.org]. I suppose that's a good thing, but I prefer to put my biochar directly in the soil…
"MY PLOT OF LAND" [Swissinfo (MA)]. "Allotment gardens have not always been a place of leisure, though. In the 19th century, local farmers had to be self-sufficient just like factory workers years later. In urban areas, working families used to grow potatoes and other vegetables on small plots of land on the outskirts of the cities. Back then, it was important to offer some green areas for workers living on housing estates. Gardening was supposed to make employees work hard, to develop a sense of family and to keep them away from alcohol and politics. The German term for allotment – Schrebergarten – comes from the German paediatrician Moritz Schreber. He argued that hard physical labour would suppress lust and desire, a theory that remains quite controversial today."
Black Injustice Tipping Point
"Wounds are still raw in Ferguson, three years after Michael Brown" [Yahoo News]. A long read that focuses very heavily on the police viewpoint, and very little on systemic issues. (For example, the story notes that law enforcement for profit thorugh traffic violations primarily targeting black people was first limited by statute, then declared unconstitutional by the state Supreme Court. OK, how did Ferguson make up the lost revenue in the interim? And what are the effects of the court decision? And so forth.
Water
Speaking (above) of cataclysms:
I find it hard to believe that the city pumps were working. If they were, they weren't good enough or weren't functioning as they should. pic.twitter.com/VZZ98A1Kah

— Suzanne Wallace (@iamasnarkypants) August 7, 2017
No mainstream coverage at all…
Class Warfare
"Alcoholism epidemic: More than 1 in 8 Americans are now alcoholics" [International Business Times]. Another painkiller, though socially sanctioned.
"[T]he majority of Americans will experience at least one year below the official poverty line at some point during their adulthood. As I considered this finding, I had an idea. What if we could use this body of research in developing a tool that would allow individuals to estimate their own risk of poverty in the next 5, 10, or 15 years?" [Contexts]. "[W]e have created the website, "Confronting Poverty: Tools for Understanding American Inequality," and the tool, the poverty risk calculator."
"Multiple Jobholders Are Not A Weak Spot In The Employment Report" [Tim Duy's Fed Watch]. Maybe not. But they sure are a weak sore spot in the lives of people.
News of the Wired
"Fellow parents, it's time for us to consider another possible explanation for why our kids are increasingly disengaged. It's because we've disengaged ourselves; we're too busy looking down at our screens to look up at our kids" (charts) [JSTOR].
"Re-identifying folks from anonymised data will be a crime in the UK" [The Register]. Hopefully.
"The US military can now shoot down consumer drones it considers a threat" [The Verge].
"'The devil's rope': How barbed wire changed America" [BBC]. "Until [barbed wire] was developed, the prairie was an unbounded space, more like an ocean than a stretch of arable land. Private ownership of land wasn't common because it wasn't feasible." So, an enclosure movement….
And then there's this:
A concise argument for copy editors. pic.twitter.com/n6yuGkIqb3

— Naomi Schalit (@Naomi_Schalit) August 9, 2017
* * *
Readers, feel free to contact me at lambert [UNDERSCORE] strether [DOT] corrente [AT] yahoo [DOT] com, with (a) links, and even better (b) sources I should curate regularly, (c) how to send me a check if you are allegic to PayPal, and (d) to find out how to send me images of plants. Vegetables are fine! Fungi are deemed to be honorary plants! If you want your handle to appear as a credit, please put it in the subject line. Otherwise, I will anonymize by using your initials. See the previous Water Cooler (with plant) here. Today's plant (KH):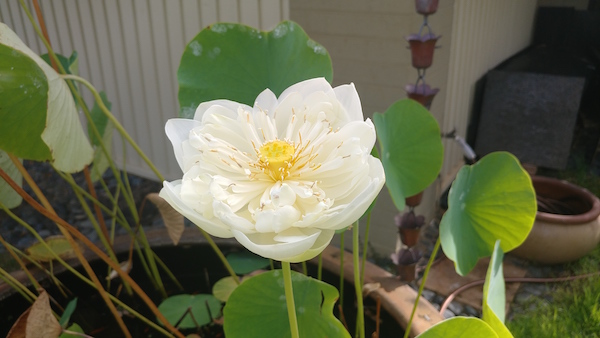 KH writes: "Lotus blooming happily in Hawaii."
* * *
Readers, Water Cooler is a standalone entity, not supported by the Naked Capitalism fundraisers. Please use the dropdown to choose your contribution, and then click the hat! Your tip will be welcome today, and indeed any day. Water Cooler will not exist without your continued help.