The Wall Street Journal published an excellent, sympathetic, in-depth article on why residents of rural America who want to leave to get better jobs as their local economies wither can't get out. Some will no doubt seem obvious to readers while I suspect others will be surprises.
Even though mobility has fallen generally in the US, it has decreased more in rural areas than urban ones. The number of people in rural counties who moved across county lines in 2015 was 4.1% compared to 7.7% in the late 1970s. This is despite the fact that rising poverty and other social stresses mean even more people want to get out than ever. See the geographic distribution: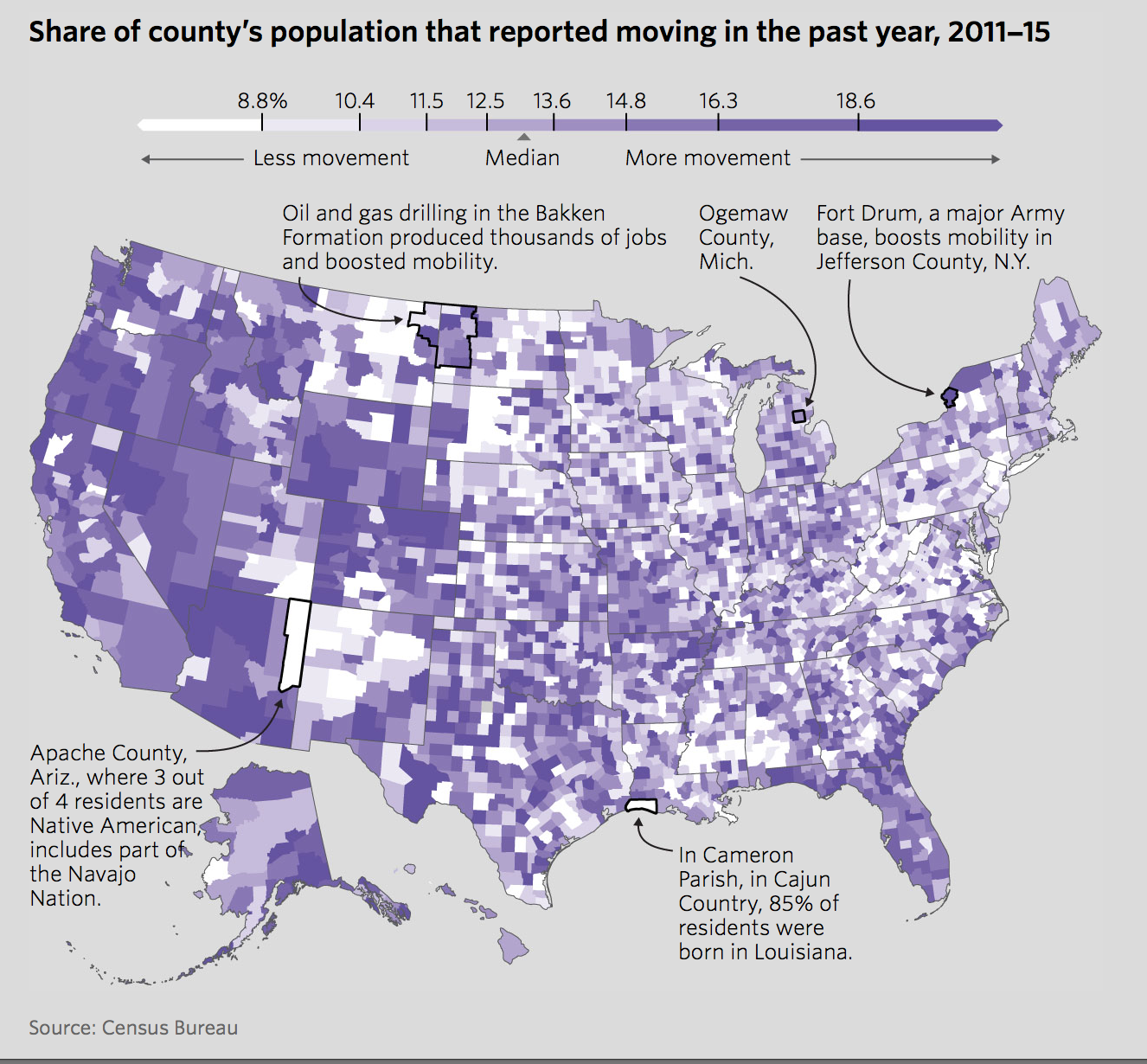 But "getting out" means moving to a city, even if just a mid-sized one. And many small town denizens find it harder than ever to make the jump. The Wall Street Journal story focuses on West Branch, Michigan, a town with barely over 2000 people hit hard by the closure of manufacturers and changes in farming. But even with its economic distress, hardly anyone leaves. The county, with about 21,000 residents, loses only one person per 1,000 each year. The photos convey that the members of the town live in a beautiful area and care about the community. This shot is from a resident's patio. Notice the carefully tended lawn and the tidy houses across the lake: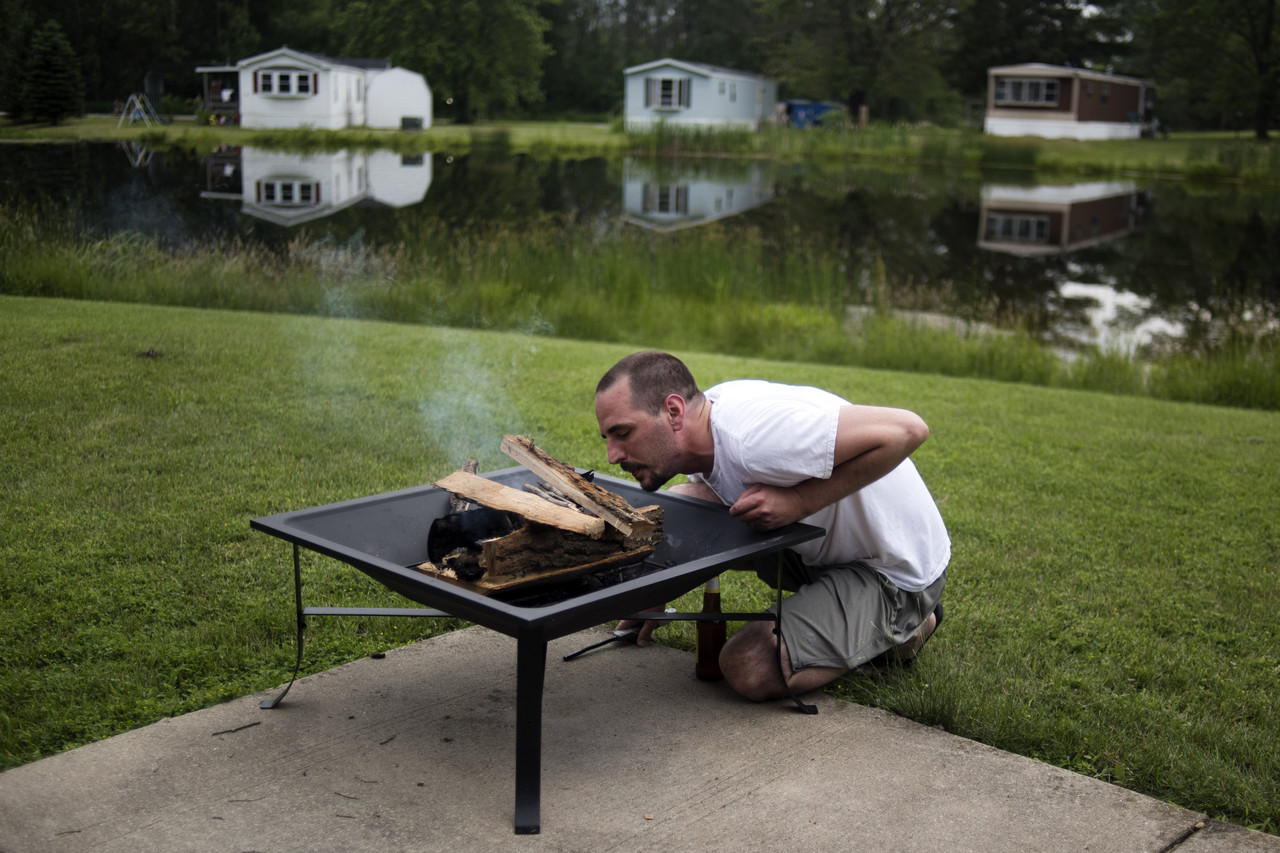 While economic barriers loom large, social and cultural factors also play a big role.
The most obvious hurdle is high housing costs. The gap between rural and urban housing prices has become a yawning chasm. While professionals could make the transition, the article points out that less skilled workers can't. A janitor who left Alabama, Mississippi or South Carolina for the New York City metro area would wind up paying 52% of his paycheck on housing. 1
But other impediments aren't as widely recognized:
Another obstacle to mobility is the growth of state-level job-licensing requirements, which now cover a range of professions from bartenders and florists to turtle farmers and scrap-metal recyclers. A 2015 White House report found that more than one-quarter of U.S. workers now require a license to do their jobs, with the share licensed at the state level rising fivefold since the 1950s.
Age discrimination plays a role too. One of the vignettes in the article is of a a 38 year old graphic designer, a college graduate, who wants to move to Grand Rapids to be closer to her daughter. She's been repeatedly turned down in favor of younger applicants.2
But the cultural barriers are significant. The Journal leads with the story of Taylor Tibbets, a high school standout who seemed poised to succeed in the wider world: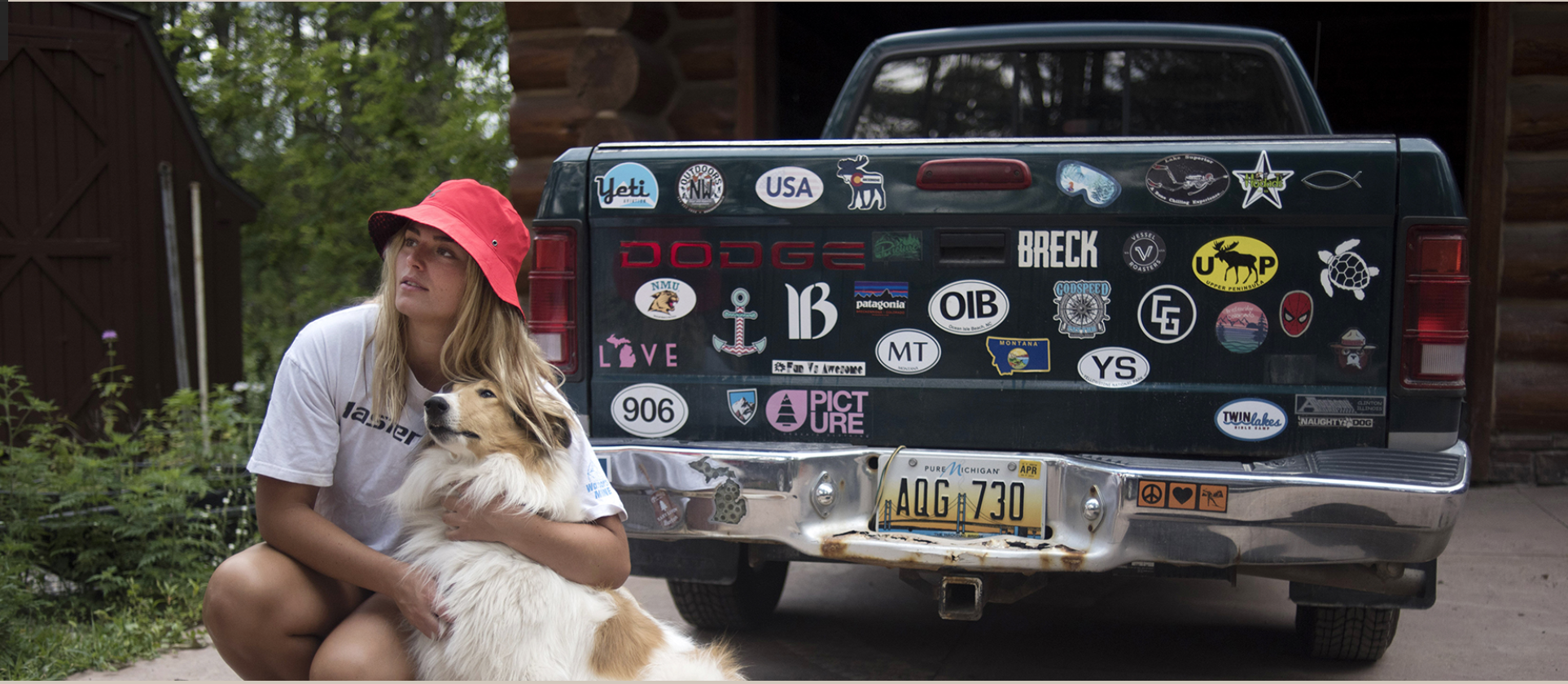 But she was so intimidated by her first week at Converse College in Spartanburg, S.C. that she came home. The following year, she went to Lincoln College in Lincoln, Ill. but dropped out after a semester and had yet another failed go at college:
…she clashed with her swim coach. As a conservative Christian, she also found the cultural divide on campus difficult to bridge. Students smoked pot, engaged in casual sex and had parties at their parents' homes behind their backs…

Determined to try again, she started at Olivet College in south central Michigan in 2016. But she struggled to fit in there, too. She felt uncomfortable when a professor asked students to write about why Donald Trump would make a bad president. Ms. Tibbetts began racing back to work at the pizzeria on weekends to avoid roommates who threw up in the shower after excessive drinking. She eventually moved home.
Another factor that keeps people in West Branch and Ogemaw County are the formal and informal social safety nets and the strength of the community. An overview plus one of several anecdotes:
Civic leaders here say extended networks of friends and family and a tradition of church groups that will cover heating bills, car repairs and septic services—often with no questions asked—also dissuade the jobless and underemployed from leaving…

Many West Branch residents say that the town's economic woes aren't enough to make them leave. They point to the safety net the community provides—a helping hand to pay bills, or the way people come together when a neighbor is diagnosed with cancer. "One of the big cultural divides when people move from small towns to cities is this feeling that you can't be involved in your community," says David J. Peters, associate professor of sociology at Iowa State University. "You feel powerless to change large cities."

Christopher Palazzolo grew up just north of Detroit, but after living in West Branch for 26 years, he can't imagine going back. The 49-year-old father of three has watched his income slide to $11.63 an hour as a retirement home cook, down from the $15 per hour he paid himself when he co-owned a nearby restaurant until 2009. He calls the skinnier wage "rough."

The bank foreclosed on his family's home, and for the past eight years they have lived in a low-income housing development, where black rubber tires are strewn around the sand-filled playground, and early-model Pontiac Grand Am cars fill the parking lot. About 70 applicants are on a waiting list for units there.

"I don't need a fancy car or a bigger house," Mr. Palazzolo says. "I have no interest whatsoever in dealing with the city, the congestion. I like my little corner of the world."
Palazzolo has come to terms with his situation while most of the others featured in this article want to leave but can't find a way to make the break. Another factor operating against getting out is that places that has as little in and out migration as West Branch is that their level of trust in other people (which presumably is people generally as opposed to people they know personally) has fallen more dramatically than in the US overall. That sort of guardedness would lead to a tendency to interpret any bad experiences in living in a new place as confirming their suspicions, as opposed to trying to shrug it off as bad luck.
The Journal's basis for concern is that having more workers stuck in place is bad for groaf. But despite providing a good window into the problem in a compressed space, there are no suggestions as to what to do, nor any indication that the paper might address those issues in a later companion piece. One reason is that many of them would fly in the face of conservative ideology. Better national safety nets would reduce the dependence on neighbors and the community as sources of support, and reduce the risk of having a go in a new location. More subtly, media fragmentation and the diminished role of national broadcast networks has played a role. When I was a kid, you had ABC, NBC, and CBS, plus a local public broadcasting station. All the networks reinforced cultural norms. There might still be parts of the country that were vehemently opposed, but having lived in four small towns among the many places we moved while I was growing up, from what I saw of the indoctrination, it was generally well received. The lack of national glue of this sort increases the already large gaps between various parts of the US.
Unfortunately but predictably, the comments on this article are overwhelmingly hostile, accusing the residents of West Branch of laziness, lack of willpower and guts. And many chest-thump about how they got out of small town America, airbrushing out of the picture that they escaped when college was cheaper and good jobs were easier to land. So despite the Journal getting close enough to its subjects to show the complexity of rural distress, its subscribers have force fit the picture into their framework that only losers are poor.
____
1 An aside: even though Alabama has high unemployment overall, it has seen net migration from the stagnant parts of the state to the fastest-growing counties, most important, the ones around Birmingham. So the rural to urban move is happening to a degree within lower-income states.
2 Another barrier to moving is lack of a network. A dirty secret seldom discussed is most jobs never appear on the job market. An employee wanting to move lets his contacts know he's up for a change. He's in a position to land a job before it is officially posted or have someone in a growing business who likes his background create a position for him.