Yves here. If you look at Richter's inflation-adjusted chart (the second one), you'll see a stronger parallel to the crisis era  than his horizontal line placement indicates. Restaurant sales flattened out right before the recession officially took hold. Recall that in the first half of 2008, commodities prices, particularly oil, skyrocketed and hit consumer budgets. Here we have no immediate trigger for the stalling of spending, save consumers just being out of budget. And remember, this bit of belt-tightening is taking place despite consumer confidence reports being at high levels.
By Wolf Richter, a San Francisco based executive, entrepreneur, start up specialist, and author, with extensive international work experience. Originally published at Wolf Street
Households at lower 80% of income scale are maxed out.
"July proved to be a tough month for chain restaurants," the report said.
Foot traffic at chain restaurants fell 4.7% in July year-over-year. Same-store sales fell 2.8%, the 17th month in a row of year-over-year declines, the longest downturn since 2009.
On a two-year basis, same-store sales fell 4.2% from July 2015, and traffic fell 8.7%.
Sales rose in only 12 markets and fell in 183 markets. California was once again the least bad region, with same-store sales down 0.7% and foot traffic down 3.6%. In other words, no region had positive results. The Midwest was the "worst region" with sales down 3.6% and foot traffic down 5.2%.
"While the economy keeps growing at a moderate pace and job gains remain strong, the consumer seems to be on vacation – literally and figuratively," said the report by TDn2K whose Restaurant Industry Snapshot tracks sales at 27,000 restaurant units from 155 brands, generating $67 billion in annual revenue. That's about 10% of total "eating and drinking places" revenues as tracked by the Commerce Department. The report added:
"One of the clearest indicators that households are spending cautiously is the softening of big-ticket purchases. In July, for the eleventh month out of the last twelve, vehicle sales were below the rate posted the year before. Home sales, while still trending up, are now expanding at a decelerating pace."
Food sales were down, and alcohol sales were down. Prices were up — the average amount per check rose 1.8% in July – but it wasn't enough to make up for the decline in customer count. The report blamed consumers that were maxed out:
"[H]ouseholds are currently maintaining their lifestyles by reducing their savings rate, and that is likely restraining spending on discretionary goods. We may have to wait until the fall or early winter, assuming wage gains accelerate by then, to see any pick up in restaurant sales."
So everyone is waiting for wage increases for the lower 80% of the wage earners that will finally outgrow inflation. That's all it would take to crank up the economy, and even the restaurant business. People have been waiting for years for these real wage increases. But it's just not happening.
The report pointed out that those at the higher end of the income scale, those that can afford high-end chain restaurants, were pulling their weight in the fine dining segment:
Fine dining and upscale casual continue to outperform other industry segments. Fine dining was the only segment up in July (0.4%) and upscale casual was down fractionally. The slowdown in fast casual sales noted in the past continued in July, as did softness for quick service.
Chain restaurants are getting hit by a combination of factors, including:
The surge of independent restaurants, from high-end to delis.
"Grab-and-go" prepared foods available at every grocery store.
VC-funded meal replacement kits, such as Blue Apron, one of the most anticipated IPOs this year that has now totally crashed.
Convenience stores.
Food trucks.
This data is based on restaurant chains, representing about 10% of total restaurant and drinking places sales. But the numbers are starting to show up in the overall sector of "food services and drinking places," as the Commerce Department calls it. This includes taco trucks and the like.
Sales in June, at $56.0 billion adjusted for seasonal variations but not inflation, were flat with November 2016, a period of 8 months without growth. They were down 0.6% from January but still up 1.7% year-over-year. In the chart, note the two-year period without growth during the Great Recession – and how sales have surged 49% since: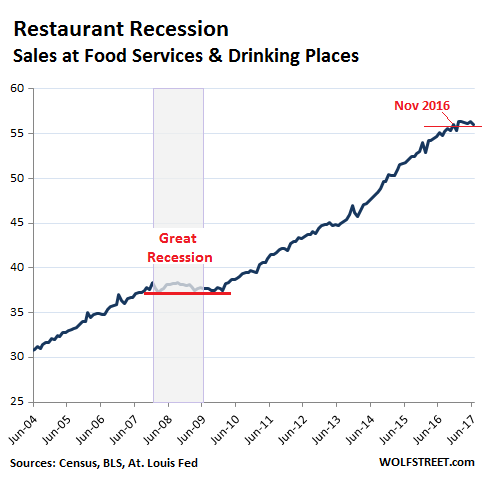 But once inflation is taken into account, the difficulty of the overall sector becomes clearer. I adjusted the sales at "food services and drinking places" (by the Commerce Department) for price changes as reflected in the Consumer Price Index for "food away from home" (by the Bureau of Labor Statistics). And suddenly the dreariness of the sector moves into the foreground.
During the Great Recession, total sales adjusted for inflation (in today's dollars) fell about 7% from November 2007 through December 2009. Since then, sales have grown merely 22% (as opposed to 49% not adjusted for inflation).
In June 2017, sales were back where they'd been in December 2015 – that's 19 months of no growth, with the past six months in decline: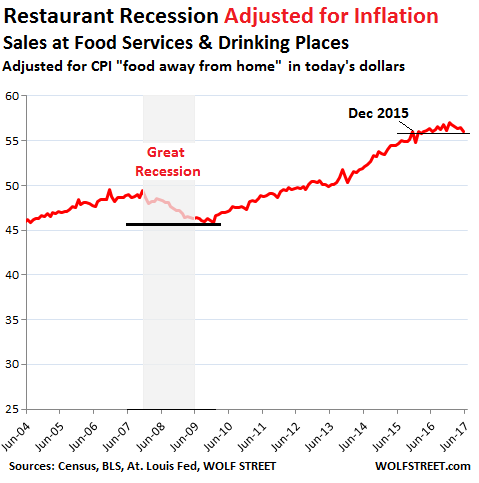 As the TDn2K report pointed out, households are having trouble maintaining their lifestyles, and those that have savings dip into them. But over half of US households don't have savings to dip into.
So credit card debt, at $1.02 trillion, has hit an all-time high. Auto loan balances, at $1.13 trillion, have far surpassed any prior all-time high. Housing costs are eating up an ever larger share of incomes. Healthcare costs are soaring. Households with kids in college are paying a big price. Many millennials, even those with good jobs, are buckling under their student loans, which have skyrocketed 164% over the past ten years to $1.45 trillion. And inflation-adjusted discretionary spending such as for restaurants by people at the lower 80% of the income scale is taking a hit. Something has to give. It's the description of a messed-up economy.
Are we blinded yet by the brilliance of corporate earnings? Read…  Stock Market Warning Siren is Blaring