By Lambert Strether of Corrente
Patient readers, this Water Cooler is a bit abbreviated. I had to finish up this post on BernieCare, and now RL has intervened! –lambert
Trade
"Chief of staff John Kelly has been credited with bringing order to a chaotic West Wing. As a result, one close adviser has been increasingly sidelined and cut off from his once-regular access to the president: Peter Navarro. Navarro, who leads the White House Office of Trade and Manufacturing Policy, has still managed to maintain a close personal relationship with President Donald Trump, whom he won over with his reputation as a warrior against open trade" [Politico]. "'I get the sense that the president is tired of being told that he can't do X,Y or Z in the trade space,' one White House official said. 'I think he's lost patience with it. I don't see how the free trade camp in the West Wing can continue to put the brakes on this stuff. I think they're going to have to choose what they want to prioritize.'"
Politics
2020
UPDATE "Allies of Donald Trump have begun plotting to take down or weaken potential Democratic challengers in 2020, including several who will be on the ballot in next year's midterms" [Politico]."The 2018-focused work ranges from a major donor-funded super PAC designed to blemish Massachusetts Sen. Elizabeth Warren's image, to a full-scale effort to defeat Ohio Sen. Sherrod Brown outright before he gets the chance to take on Trump. Beyond that, after months of monitoring dozens of potential challengers, Trump allies are building research files and crafting lines of attack on Democrats seen as most threatening to Trump and who will be on the ballot next November." Sherrod Brown hasn't endorsed BernieCare yet. He'd better. Moving to the center won't help him.
2018
"[A] party that is ontologically parasitic on the unpopularity of another can technically never run out of things to be against. As long as Paul Ryan doesn't come out in favor of same-sex marriage, small plates, and Ghostbusters (2016) in an op-ed for Verrit, Democrats will probably manage to survive. Too bad that isn't the same thing as winning House seats" [The Week].

"As McCaskill touts record on seniors, donor and family friend runs troubled nursing homes" [McClatchy]. "The lakefront vacation property in Missouri where McCaskill goes to escape the partisan chaos of Capitol Hill is owned by her husband, Joseph Shepard, and Rick DeStefane – a close family friend, a regular campaign donor, and a nursing home executive with a track record of serious safety problems in an industry the senator has vowed to clean up."
2016 Post Mortem
"Beware the Smart Campaign" [Zeynep Tufekci, New York Times]. From 2012. "Mr. Messina is understandably proud of his team, which included an unprecedented number of data analysts and social scientists. As a social scientist and a former computer programmer, I enjoy the recognition my kind are getting. But I am nervous about what these powerful tools may mean for the health of our democracy, especially since we know so little about it all… These methods will also end up empowering better-financed campaigns. The databases are expensive, the algorithms are proprietary, the results of experiments by campaigns are secret, and the analytics require special expertise. The Democrats have an early advantage partly because academics and data analysts tend to be Democrats. Money will solve that problem. This will shift power in both parties even more toward the richer campaigns and may well be the final nail in the coffin of public financing for presidential campaigns." In other words, the whole moral panic about Facebook is yet another one of the horrors that liberal Democrats discover only when the other guy does it. In fact, they've elevated "Just look at the other guy!" from a heuristic to an epistemology.

"Abedin's mom made sure Clinton's Saudi speech omitted 'freedom' and 'driving for women,' emails show" [FOX], Ka-ching.

"Interestingly, dislike of Clinton and Trump wasn't due to the increased polarization of our country either. If their strongly unfavorable ratings were just a byproduct of polarized politics, they would have had high 'strongly favorable' ratings too but they didn't. Voters just didn't like them" [Political Wire].

UPDATE "Bernie Sanders' campaign was indelicate from its very inception" [Medium]. I picked the quietest passage… .
Obama Legacy
"Obama Goes From White House to Wall Street in Less Than One Year" [Bloomberg]. "Goes"? Really? More: "Last month, just before her book "What Happened" was published, Barack Obama spoke in New York to clients of Northern Trust Corp. for about $400,000, a person familiar with his appearance said. Last week, he reminisced about the White House for Carlyle Group LP, one of the world's biggest private equity firms, according to two people who were there. Next week, he'll give a keynote speech at investment bank Cantor Fitzgerald LP's health-care conference." I wonder if anybody brought pitchforks?
Realignment and Legitimacy
"What's 'Proportional Voting,' and Why Is It Making a Comeback?" [Governing].
Stats Watch
Housing Market Index, September 2017: "Optimism is easing this month among the nation's home builders whose housing market index fell 3 points" [Econoday]. "Today's report hints at weakness for tomorrow's housing starts & permits where another set of mixed results are the expectations. The housing market, now hit by the impacts of Hurricane Harvey and Hurricane Irma, looks to have a difficult time accelerating into year end."
Retail: "The holidays already are taking a tough turn for Toys 'R' Us Inc. Nervous suppliers are tightening terms and may start withholding shipments…, as the debt-laden chain tries to stave off a potential bankruptcy filing that could come in the next few weeks" [Wall Street Journal].
The Bezzle: "HP once again caught sneaking code into printers to reject third-party ink" [Boing Boing]. "But on the first anniversary of its PR debacle, HP has once again been caught pushing out a fake "security" update for its printers that secretly turns on the anti-feature of checking for and rejecting third-party ink." Both Bill Hewlett and Dave Packard are idolized in Silicon Valley as "Founders." I wonder what they would think of what their company has become.
The Bezzle: "Equifax Stock Sales Are the Focus of U.S. Criminal Probe" [Bloomberg]. "U.S. prosecutors in Atlanta, who the people said are looking into the share sales, said in a statement they are examining the breach and theft of people's personal information in conjunction with the Federal Bureau of Investigation. The Securities and Exchange Commission is working with prosecutors on the investigation into stock sales, according to another person familiar with the matter."
The Bezzle: "Lurid Lawsuit's Quiet End Leaves Silicon Valley Start-Up Barely Dented" [New York Times]. "n contrast to the venture capitalists who were knocked off their perches this summer by harassment complaints, Upload was scarcely dented by the publicity surrounding Ms. Scott's suit. Mr. Freeman and Mr. Mason were not forced to resign. The company's events continued, if in terms that were a bit more muted."
The Bezzle: "Google hit with class action lawsuit over gender pay" [AP]. "Charges of gender discrimination have swirled at Alphabet Inc.-owned Google since the U.S. Labor Department sued in January to bar Google from doing business with the federal government until it released thousands of documents related to an audit over its pay practices. The sides have been battling in court over how much information Google must turn over."
The Bezzle: "The most disturbing stat in business? Since 2008 Walmart has paid $64B in corporate income tax, while Amazon has paid $1.4B This is despite the fact that, in the last 24 months, Amazon has added the value of Walmart to its market cap" [L2]. "The most uncomfortable question in business, in my view, is how do we pay our soldiers, firefighters, and teachers if a firm can ascend to $460B in value (#5 in the world) without paying any meaningful corporate taxes."
The Bezzle: "Can a Vending Machine Replace a Bodega? A Start-Up's Plans Draw Fire" [New York Times]. You'd think that Silicon Valley could invent something new in, say… tech. But no. They reinvent the vending machine.
The Bezzle: "Sex doll sharing app launches in Beijing" [Global Times]. With home delivery.
Climate Risk: "Black Knight: Preliminary Assessment Shows Over 3.1 Million Mortgaged Properties in Hurricane Irma Disaster Areas" [Calculated Risk]. "Delinquencies will rise in both Texas and Florida in the next few months. Unfortunately it looks like Puerto Rico will take a direct hit from Hurricane Maria this week."
Rapture Index: Closes unchanged [Rapture Ready]. Record High: 189, October 10, 2016. Current: 184.
Today's Fear & Greed Index: 81 Extreme Greed (previous close: 77, Greed) [CNN]. One week ago: 53 (Neutral). (0 is Extreme Fear; 100 is Extreme Greed). Last updated Sep 18 at 1:52pm. Still cruising!
Health Care
UPDATE "'Single Payer Is a Rational Health-Care System': An Exclusive Interview With Bernie Sanders on His 'Medicare for All' Plan" [The Nation]. This:
[SANDERS:] So what I think you're seeing now is this:

A. The savage Republican attack, this effort to throw over 20 million people off the health insurance they have, people are resisting that.

B. People also understand that the Affordable Care Act did not go far enough. No one will tell you that deductibles are not too high, that co-payments are not too high, that premiums are not too high. The price of prescription drugs is totally unacceptable. Everybody acknowledges that. The Affordable Care Act did not resolve those issues.

People are saying, OK, we made some progress. Twenty million more people have health insurance, that's important; in states like Kentucky and West Virginia, the number of uninsured plummeted, that is a good thing. But has health-care reform gone anywhere near far enough? The answer is that it has not.

So now people are saying: What is the alternative? And then, suddenly, a lot of people are saying: You know what, maybe we should join every other major country on earth in guaranteeing health care for all people. The good news for us is, we're not proposing some kind of radical idea. I live 50 miles away—five zero—50 miles away from Canada; they, without any big deal, under Liberal governments, under Conservative governments, they have a health-care system that is far more cost-effective than ours, that guarantees health care to all people with prescription-drug costs that are far lower.

It's not just Canada, obviously. It's every major country in Europe. Each system is different, but they all have the characteristics of being universal [everybody is covered], private insurance companies are not involved in the basic health-care package for the purpose of making profits, prescription-drug costs are much lower.

People hear that—and they increasingly do hear that—and they say: Yes, we have got to move in that direction.
"Understanding the Medicare For All Act of 2017" [PNHP]. Especially:
Fund hospitals through global budgeting: A "global budget" is a lump sum paid to hospitals and similar institutions to cover operating expenses, thereby eliminating wasteful per-patient billing. Global budgets could not be used for expansion or modernization (which would be funded separately through capital allocations), advertising, profit, or bonuses. Global budgeting minimizes hospitals' incentives to avoid (or seek out) particular patients or services, inflate volumes, or upcode. Without global budgets, the national system has little power to constrain long-term cost growth.
Conyers on BernieCare:
I applaud @sensanders' introduction of the Senate companion to my #MedicareforAll bill. Healthcare should be a right https://t.co/VgniA2I1Eo

— John Conyers, Jr. (@RepJohnConyers) September 13, 2017
"EDITORIAL: Bernie Sanders conveniently omits funding mechanism from his single-payer plan" [Las Vegas Review Journal]. Sheldon Adelson weighs in.
" Before supporters of universal health coverage get all wrapped up debating a single-payer system, they need to focus on a dire threat to the Affordable Care Act likely to come up for a vote in the Senate before the end of the month" [E.J. Dionne, WaPo]. No. Just because liberals can't walk and chew gum at the same time, that doesn't mean the left has to follow their lead.
Guillotine Watch
"New York women are dropping thousands to look like Ivanka Trump" [New York Post].
Class Warfare
"Income inequality is the norm, not the exception, author says" [MarketWatch]. "Walter Scheidel, a professor of Roman History at Stanford University, in his new book, 'The Great Leveler,' says only the so-called "four horsemen" of war, disease, state collapse and revolution have succeeded in leveling income. And as soon as the devastation is over, income inequality builds again."
Moar Juggalos:
It's all happening pic.twitter.com/Mc1S47aQIX

— Daniel Dale (@ddale8) September 16, 2017
News of the Wired
"Why verbena has captured our garden hearts" [Guardian]. "V. bonariensis has captured our garden hearts because it can also thread together a scheme, add height without too much distraction, please pollinators and flower well into autumn. It will self-seed, particularly if you give it a free-draining substrate; it loves cracks in paving and gravel gardens. Although it's a short-lived perennial, if the conditions are right, it will seed itself just as the parent plant is giving up the ghost."
"The 46 hottest cars at the 2017 Frankfurt Motor Show" [Business Insider]. Why is it that the dominant automobile designs today all look like bloated, sharkish predators?
* * *
Readers, feel free to contact me at lambert [UNDERSCORE] strether [DOT] corrente [AT] yahoo [DOT] com, with (a) links, and even better (b) sources I should curate regularly, (c) how to send me a check if you are allergic to PayPal, and (d) to find out how to send me images of plants. Vegetables are fine! Fungi are deemed to be honorary plants! If you want your handle to appear as a credit, please put it in the subject line. Otherwise, I will anonymize by using your initials. See the previous Water Cooler (with plant) here. Today's plant (Re Silc):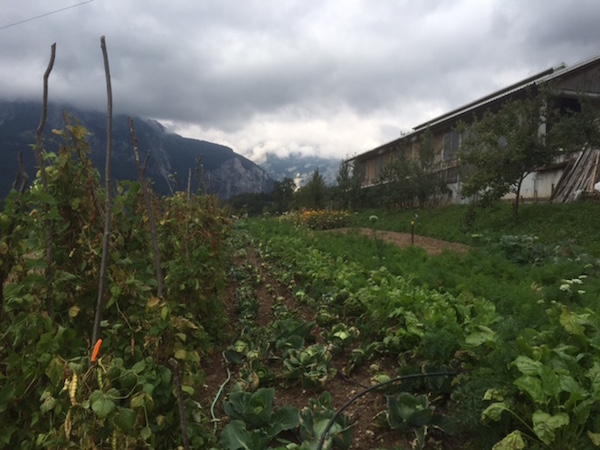 Re Silc writes: "Refugees view in Slovene alps."
Readers: Do feel free to use the dropdown and click the hat to make a contribution today or any day. Here is why: Regular positive feedback both makes me feel good and lets me know I'm on the right track with coverage. When I get no donations for five or ten days I get worried. More tangibly, a constant trickle of small donations helps me with expenses, and I factor that trickle in when setting fundraising goals. So if you see something you especially appreciate, please click the hat!