This is Naked Capitalism fundraising week. 496 donors have already invested in our efforts to combat corruption and predatory conduct, particularly in the financial realm. Please join us and participate via our donation page, which shows how to give via check, credit card, debit card, or PayPal. Read about why we're doing this fundraiser, what we've accomplished in the last year and our current goal, more meetups and travel. 
Trade
"South Korean Trade Minister Kim Hyun-chong had a stark message for lawmakers and other officials he met with last week: Seoul is willing to let President Donald Trump kill the [KORUS trade] pact, rather than bow to unreasonable U.S. demands for concessions to bring bilateral trade more into balance" [Politico]. "'He's not going to beg and grovel to stay in this,' a source familiar with one of Kim's meetings told Morning Trade."
"Hollywood has been whining about the DMCA's safe harbors quite a bit in the past few years (yes, the same safe harbors that are from the DMCA that it forced the US to pass via international trade agreements). So far, however, heavy lobbying by the RIAA and MPAA to do away with the DMCA's safe harbors has failed to convince Congress (in part because Congress has seen through this game and, in part, because Congress still remembers what happened with its attempt to undermine the internet through copyright law with SOPA)" [TechDirt]. "But, hey, with the reopening of NAFTA, Hollywood saw an opportunity, and has pushed for language that will undermine the DMCA's safe harbors and fair use — things they can't get through Congress alone. Unfortunately, the latest reports are that the USTR has agreed to support this move."
Politics
2020
"At Iowa steak fry, Bustos, Moulton and Ryan call on Democrats to refocus on Midwest working class" [Des Moines Register]. "'We let those people down. We let 'em down,' Ryan, an eight-term Ohio congressman, told the crowd. 'We didn't see them. We didn't listen to them. We didn't hear them. If we want to be a national party, not a coastal party, a national political party in the United States, we've got to get those workers back from Iowa, Ohio, Wisconsin, Indiana, Pennsylvania, Kentucky… Those are our people. We gotta go and get them.'… 'Frankly, my fellow Democrats, they don't want resistance; they want results,' Bustos said of Midwest voters, twisting the "Resist" mantra often heard among liberals since Trump became president." Sounds like centrists trying to steal Bernie's clothes… Also, "folks." Ugh.
2018
"Collins agonizes over decision to ditch the Senate" [Politico]. "'I'm from the northern part of the state, which needs a lot of help … two-thirds of the state is losing population and opportunity,' [Collins] said. 'I have some ideas for economic development that only a governor can pursue.'" Challenging.

"Conservatives furious about Gov. Bruce Rauner's expansion of taxpayer-funded abortion in Illinois are threatening to put up a challenger against the first-term governor in next spring's Republican primary" [AP].
2017
[The Moore v. Strange] race [in Alabama] was yet another sign of the realignment that is taking place within the Republican Party (there's one underway among Democrats, too) because of a culture war within the GOP. The battle pitted the populist, antiestablishment Moore, the candidate of downscale whites as well as evangelical and other social and cultural conservatives, against the traditional, upscale, business-oriented Strange, the candidate of the country clubs and Episcopalians and Presbyterians" [Cook Political Report]. "To lose, Moore would likely have to make a gigantic faux pas, something along the lines of then-Rep. Todd Akin's comment about "legitimate rape," which handed the 2012 Missouri Senate election to Sen. Claire McCaskill and cost the GOP a precious seat. Moore's track record of explosive comments has to make Republicans nervous, and at least on paper, Jones, the Democrat, looks pretty good, but Alabama is still Alabama, and he needs a huge break to win."

Oh dear:

All hope is lost for #alsen. Jones is using @teammothership so it will be another abusive email program ala @ossoff with zero winning.

— Melissa Byrne (@mcbyrne) October 1, 2017

Mothership Strategies were last seen collecting millions of dollars in the Ossoff debacle. Ka-ching.
2016 Post Mortem
The Resistance in Tribeca (hat tip AM):

Nice plates on that Tesla…

Wish I'd thought of this:

Like this? pic.twitter.com/iMWTXfNzgQ

— Nurse Ratched (@veggie64_leslie) September 29, 2017
New Cold War
Last week, the Russians were responsible for Black Lives Matter. This week, they're responsible for the NRA:

The NRA spent $30m to elect Trump, standing by him after other GOP groups left him. Why? The answer may be in Moscowhttps://t.co/LkP4UnXPyZ

— Brian Fallon (@brianefallon) October 3, 2017

Damn. What's that warbling sound?
Health Care
"House candidates back single-payer healthcare plan in Virginia" [Inside NOVA]. "Lee Carter, a Democrat running for a Manassas-area seat in the House of Delegates, is leading a crop of House candidates pledging to push for a state-level, single-payer healthcare system if they reach Richmond. Carter joined 15 other Democratic hopefuls in announcing the new initiative Oct. 2, which is aimed at radically reforming Virginia's healthcare system to cover all of the state's 8.4 million residents." This is great, but the currency issuer really needs to run #MedicareForAll. Do we really want to be cutting health care budgets in recessions? Because that's what will happen with state-level funding.
Realignment and Legitimacy
"Justices Split on Voting Maps Warped by Politics" [New York Times]. "In extended remarks, Chief Justice John G. Roberts Jr. expressed worry that the court's authority and legitimacy would be harmed were it to start striking down voting districts in favor of one political party or another. 'That is going to cause very serious harm to the status and integrity of the decisions of this court,' he said." After Bush v. Gore — without which, Roberts might not even bee on the Court — the Court has no integrity.

"Focus Group Reveals Democrats 'Have a Lot of Work to Do' With Black Millennials" [NBC News]. "[T]hey were divided about whether the Democratic Party was 'for' them — or neither for nor against them. 'I think the Democratic Party took [our] votes for granted,' said one participant." That's true, but the Democrats take everybody's vote for granted. Except wealthy suburban Republicans, of course.

"Every Member of Congress Who Took Money From the NRA and Tweeted 'Thoughts and Prayers' to Las Vegas" [Splinter News]. On prayer, see Matthew 6:5-8.
Stats Watch
Gallup US Economic Confidence Index, September 2017: "Confidence in the economy declined slightly to plus 4 in September, down from August's plus 6. While the ECI climbed past the plus 10 mark in January, September's score of plus 4 represents a continuation of economic attitudes that have held since May, apart from a brief increase in early August after the Dow hit 22,000" [Econoday]. "Even if overall confidence in the economy has stagnated recently, confidence remains notably higher compared with any month between 2008 and November 2016."
Coincident Indicators: "Philly Fed: State Coincident Indexes increased in 27 states in August" [Econintersect]. "The reason for the recent sharp decrease in the number of states with increasing activity is unclear – and might be revised away." And but: "More data that shows we may already be in recession, and in line with the deceleration in bank lending" [Warren Mosler].
Employment Situation: "The jobs report provides an important high-frequency feel for the state of the U.S. labor market, the consequences for consumption (the biggest component of gross domestic product, with domestic and international effects), and the implications for policies (both what is likely to occur and what should happen)" [Mohamed A. El-Erian, Bloomberg]. "More recently, however, there has been a breakdown in these relationships. Neither the rate of growth in wages nor the labor participation rate has responded well to the historic run of high job creation and to the decline in the unemployment rate to historically low levels. In addition, wages, in particular, have evolved into an indicator of a broader economic phenomenon that speaks directly to the notable level of social discontent and feeds into political polarization and the erosion of trust in institutions and expert opinion." Read to the end, and you'll see that El-Erian is notably light on solutions.
Commodities: "Why lithium, why now?" [Mining.com]. "Bloomberg reports that global battery-making capacity is set to more than double by 2021, topping 278 gigawatt-hours a year compared to 103 gigawatt-hours at present…. There's a looming problem[:] There isn't enough lithium currently being mined to supply all those gigafactorys." A round-up, well worth a read.
Shipping: "Worldwide air freight maintained its strong growth momentum throughout the summer, with a further double-digit year-on-year volume increase in August" [Lloyd's Loading List].
Retail: "More than half of Americans don't think stores should be open for business on Thanksgiving Day. More than another quarter don't care whether stores are open, and just 16% think stores should be open on the holiday" [247 Wall Street]. "As of Monday morning, 56 retailers, including some of the country's largest and best-known companies, have confirmed that stores will be closed on Thanksgiving Day." Sensible. The less hysteria over shopping the better. Maybe the online sites can shut down too….
Retail: "[Under Amazon, Whole Foods] price cuts were by as much as 43%" [MarketWatch]. "What's important here is that after the Whole Foods acquisition — and the price cuts — foot traffic jumped by roughly 33% in the first week, according to the research firm Thasos Group. The firm also noted that Walmart regulars accounted for the largest percentage of first-time customers. During this week, 24% of new Whole Foods customers were previously loyal Walmart customers…. [T]he firm said that Trader Joe's saw about 10% of its regular customers go to Whole Foods, and Sprouts saw roughly 8%."
The Bezzle: "Amazon will be slapped with tax fine by the EU on Wednesday, report says" [CNBC]. "The European Union is contending that Amazon used Luxembourg as a tax haven and that it had established unfair partnerships with the country in an effort to skirt European taxes on 3 billion euros ($3.5 billion) in royalties. Such moves were seen as unfair by rivals, the FT said. The level of the fine was not reported."
The Bezzle: "Exclusive: U.S. mulls further Wells Fargo sanction over sales abuses – source" [Reuters]. Wake me when an executive is criminally charged.
The Bezzle: "[Tesla,] the Silicon Valley electric-car maker built just 260 of its new automobile in the third quarter… with "production bottlenecks" undercutting Tesla's plans to move 1,500 Model 3s to the market" [Wall Street Journal]. Looks like Musk's "production hell" isn't working out so well for him. 260. That's not a lot.
The Bezzle: "'The most shocking thing about this report isn't even the low Model 3 production number,' said Mark Spiegel of Stanphyl Capital. 'It's that Model S and X sales were only up 4.5% year-over-year despite massive discounting and before all the luxury EV competition arrives next year from Jaguar and Audi and in 2019 from Mercedes and Porsche. This is supposed to be a hypergrowth company'" [Los Angeles Times]. "Although sales are tiny compared with the major auto companies and Tesla has spent billions in cash without profit, its stock price has exceeded that of Ford and General Motors."
The Bezzle: "Anthony Levandowski and Travis Kalanick first meet at a TED Talk" [Recode]. I believe it.
The Bezzle: "[T]esting of trains and driverless trucks has been plagued by problems such as software glitches. Rio Tinto's success this week highlights the near-term potential of autonomous transportation technology in 'closed-loop' systems where vehicles won't have to move in bigger and more unpredictable transport networks" [Wall Street Journal]. And when the developers can't get to Level 5 Autonomous Vehicles in open systems, which they won't, you can bet they'll try to turn open systems into closed loops, because that's how programmers think, and that's how Silicon Valley thinks. So, billions of dollars to make our roads safe for robot cars. Why not build trains?
The Bezzle: "Goldman Sachs Might Be Desperate Enough To Start Trading Bitcoin" [DealBreaker]. "Bitcoin may be a bubble. It sure looks like one to Ray Dalio. Even its most ardent admirers think so. But as the dot-come bubble and subprime mortgage bubble and, well, every other bubble in history teaches, there is money to be made on bubbles. And Goldman Sachs? Yea, it needs to make some more money. So where Jamie Dimon sees a stupid fad and firing offense, Lloyd Blankfein sees an opportunity."
The Bezzle: "Equifax auditors are on the hook for data security risk controls" [Francine McKenna, MarketWatch]. "A company's external auditor is supposed to be an objective independent watchdog, the first line of defense for shareholders and the public when company executives and the board fail to protect them…. [B]efore [Equifax's auditor Ernst & Young (EY)] even thinks about reviewing and testing the numbers, it must make sure that company executives set the right "tone at the top" about controls, including of its IT systems, to ensure Equifax is protecting its biggest asset—the consumer information it sells to banks and other organizations that generates most of its revenues."
Private Equity: "The COO at BlackRock explains why the $5.7 trillion investment giant is a 'growth technology company'" [Business Insider].
Five Horsemen: "Facebook sails serenely on, as Amazon writhes with Whole Foods heartburn" [Hat tip, Jim Haygood].
Today's Fear & Greed Index: 88 Extreme Greed (previous close: 89, Extreme Greed) [CNN]. One week ago: 67 (Greed). (0 is Extreme Fear; 100 is Extreme Greed). Last updated Oct 3 at 11:35am.
Our Famously Free Press
"After Las Vegas shooting, Facebook and Google get the news wrong again" [Engadget]. Looks like Google needs to tweak that algo…
Gaia
"Can ice structures solve a Himalayan water crisis?" [BBC]. "'We are freezing water that goes unused in winter and, because of the geometric shape it doesn't melt till late spring,' says [engineer Sonam Wangchuk]. In late spring the artificial glacier starts to melt and water can be used for drip-irrigation of crops."
Guillotine Watch
"Former congressman Anthony Weiner cried when a judge sentenced him to 21 months in prison last week for sexting with a 15-year-old girl. Prison is tough and most felons have no idea what to expect. For a few thousand dollars, however, high-profile felons like Weiner can hire a 'prison consultant' to help smooth the transition to life behind bars" [MarketWatch]. Idea: … Oh, forget it.
Class Warfare
"Argument analysis: An epic day for employers in arbitration case?" [SCOTUSBlog]. "In the first oral argument of the new term, a divided Supreme Court seemed likely to uphold employment agreements that require an an employee to resolve a dispute with an employer through individual arbitration, waiving the possibility of proceeding collectively." More:
The conflict among the justices could be captured by two exchanges this morning. The first came when Chief Justice John Roberts, in a back-and-forth with University of Virginia law professor Daniel Ortiz, who represented one of the employees in the case, observed that a decision in favor of Ortiz's client would invalidate employment agreements covering 25 million people – a step that several of the justices would be reluctant to take, particularly given the court's strong support of arbitration in recent years. Justice Stephen Breyer, on the other hand, had a very different concern: He told Paul Clement, who represented the employers in the case, that he had not seen a path for Clement's clients to win without "undermining and changing radically" the labor laws that are the "entire heart of the New Deal."
That's not a bug. It's a feature.
"Is the Rise of Contract Workers Killing Upward Mobility?" [Knowledge@Wharton]. "'[A]ll of the net employment growth in the U.S. economy from 2005 to 2015 appears to have occurred in alternative work arrangements,' write Katz and Krueger in 'The Rise and Nature of Alternative Work Arrangements in the United States, 1995-2015.'… Using data from the Current Population Survey and the Survey of Income and Program Participation, [Wharton management professor Adam Cobb and University of Texas at Austin sociology assistant professor Ken-Hou Lin] find that in 1989, although all private-sector workers benefited from a firm-size wage premium, the premium was significantly higher for individuals at the lower end and middle of the wage distribution compared to those at the higher end. But between 1989 and 2014, the average firm-size wage premium declined markedly. Significantly, the decline was exclusive to those at the lower end and middle of the wage distribution — while there was no change for those at the higher end. They conclude that the uneven declines in the premium across the wage spectrum could account for about 20% of rising wage inequality during this period."
"The Rise and Nature of Alternative Work Arrangements in the United States, 1995-2015" [Lawrence F. Katz and Alan B. Krueger, NBER]. Amazingly, I linked to this exactly one year ago, so here it is again.
News of the Wired
A blivet:
Apple now sells an iPhone dongle with a headphone jack and charging port https://t.co/FcSkDw9ePT pic.twitter.com/PRTt29rvB5

— The Verge (@verge) October 3, 2017
Not so slim after all, eh?
"Facebook Lies" [Iain R. Learmonth]. Apparently, you can't actually "delete" your Facebook account.
"Nobel Prize goes to researchers who figured out how our cells tell time" [Ars Technica]. "Microbes, plants, and animals all run on a 24-hour cycle, one that's flexible enough to gradually reset itself, although it can take a few days after transcontinental travel. The biological systems responsible for maintaining this circadian clock require a lot of proteins that undergo complex interactions, and the new laureates are being honored for their use of genetics to start unraveling this complexity."
"Technology is destroying the most important asset in your life" [Quartz]. "The most important asset in your life isn't time, but attention. The quality of the experiences in your life doesn't depend on how many hours there are in the day, but in how the hours you have are used." But it's not your asset any more, is it?
* * *
Readers, feel free to contact me at lambert [UNDERSCORE] strether [DOT] corrente [AT] yahoo [DOT] com, with (a) links, and even better (b) sources I should curate regularly, (c) how to send me a check if you are allergic to PayPal, and (d) to find out how to send me images of plants. Vegetables are fine! Fungi are deemed to be honorary plants! If you want your handle to appear as a credit, please put it in the subject line. Otherwise, I will anonymize by using your initials. See the previous Water Cooler (with plant) here. Today's plant (AE-L):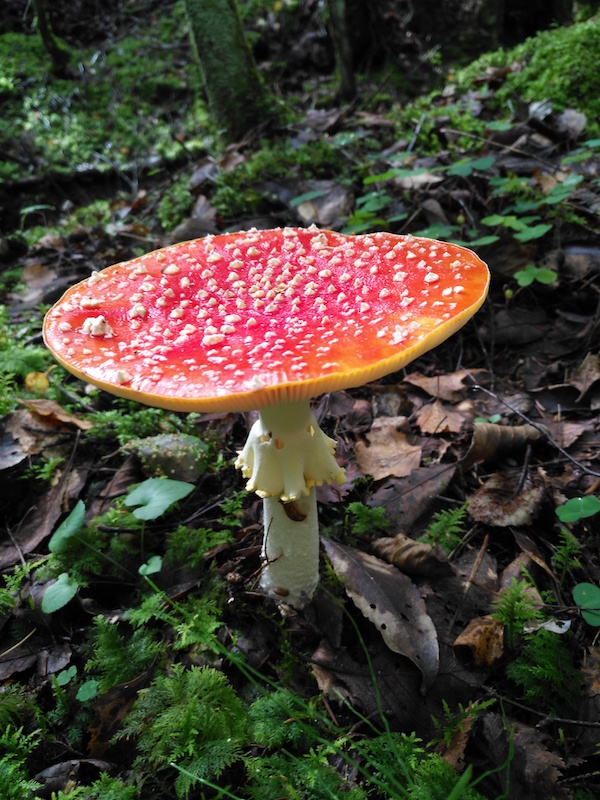 AE-L writes: "A beautiful but poisonous mushroom photographed in a forest near Oslo, capital city of Norway."