This is Naked Capitalism fundraising week. 952 donors have already invested in our efforts to combat corruption and predatory conduct, particularly in the financial realm. Please join us and participate via our donation page, which shows how to give via check, credit card, debit card, or PayPal. Read about why we're doing this fundraiser, what we've accomplished in the last year and our current goal, funding our guest bloggers.
By Lambert Strether of Corrente.
Trade
"The Trump administration decided to avoid antagonizing China ahead of the president's trip to Beijing next month. The Commerce Department late Thursday said it would defer announcing preliminary anti-dumping duties on imports of Chinese aluminum foil until Nov. 30" [Politico]. "China has argued the United States and other WTO members no longer have the right to use a non-market methodology to calculate anti-dumping duties on its goods as of December, the 15th anniversary of its entry into the WTO. However, the United States has resisted changing China's status, which could lead to lower duty rates on Chinese goods, arguing that China is not truly an economy driven by free market forces. If the United States decides in the context of the aluminum case to continue treating China as a non-market economy, Beijing is likely to challenge that decision at the WTO." Crazypants. China is as much a market economy as we are!
"The Trump administration has a new trade tool in its kit aimed at reviving U.S. manufacturing. The U.S. International Trade Commission approved a petition from Whirlpool that it is suffering 'serious injury' from competition from foreign washing machine makers…, opening the door to potential sanctions against South Korean rivals Samsung Electronics Co. and LG Electronics Inc. in the near term and potentially to more aggressive tactics in broader trade battles" [Wall Street Journal].
"TiSA impact assessment report ignores crucial human rights concerns" [European Digital Rights]. "In 2013, the European Commission decided to subject the draft Trade in Services Agreement (TiSA) to a Trade Sustainability Impact Assessment (SIA) in support of the negotiations. The Final Report, which was published in July 2017, fails to address several key fundamental rights concerns," among them freedom of expression and opinion, data protection and privacy, and "contradictions with regard to data flows."
Politics
Puerto Rico
"Much of Puerto Rico has no running water – and the problem is not just cleanliness" [McClatchy]. "As the island thirsts for more water, medical experts say it is one of the factors that make them deeply concerned over a possible spike in infectious diseases in coming weeks. Nine out of 10 homes on the island still have no electricity, meaning fans and air conditioning units aren't available to stave off pesky mosquitos carrying illness in the storm's aftermath."

"Air services to Puerto Rico, as well as small-package and some freight services, have been restored to all but 27 of Puerto Rico's ZIP codes, UPS said. The company is also operating in the domestic Puerto Rico market" [DC Velocity]. That speaks well for the condition of Puerto Rico's roads, and the availability of drivers and fuel. More: "Recovery efforts have been additionally hamstrung by a myriad of problems that prevented ocean containers stuffed with relief supplies from moving off the docks in San Juan, the capital. Kathy Fulton, executive director of the American Logistics Aid Network (ALAN), which connects logistics resources with relief agencies, said today that boxes are in the process of leaving the port and are headed to their destinations." Note lack of agency in "boxes are in the process of leaving." What the heck was the story there?
New Cold War
"Mueller Tasks an Adviser With Getting Ahead of Pre-Emptive Pardons" [Bloomberg].
Trump Transition
"I asked 5 House Republicans what Congress could do about the Las Vegas shooting" [Vox].

"The Justice Department Is Investigating Harvard's Admissions Practices" [Buzzfeed].
2016 Post Mortem
"Here's How Breitbart And Milo Smuggled Nazi and White Nationalist Ideas Into The Mainstream" [Buzzfeed]. Must-read. I can't recall ever having linked to Brietbart, not once, and my goodness, was I right. Fascinating to see the squillionaire Mercers protected from the bottom feeders by layers of cutouts, and also fascinating to see Bannon's management style.
2020
"Democrats' Leftward Shift and Its Impact on 2020" [Cook Political Report]. "On the issue of economic inequality there is literally almost 100 percent agreement among Democrats (OK, it's 93 percent) that this issue is a 'very big or moderately big' problem. Among Republicans it is a large, but not as universal, 69 percent." So, it would make sense to make that issue the heart of Democrat appeal, no? And maybe pick up some Republican votes that aren't in wealthy suburbs, Clinton and then Clinton 2.0, Ossoff, having proven that's not possible?

"Top Trump donors jump into next nasty GOP primary fight" [McClatchy].
Following the success of his preferred candidate in Alabama, Bannon and his hardline allies are ramping up their engagement in other primary races nationally, seeking to boost other insurgent candidates who embrace his more populist, nationalist views and subscribe to Trump's 'America First' philosophy [sic]. The New York Times reported that the Mercers plan to be heavily involved in Bannon's challenges to the establishment." Except in West Virginia, the Mercers and Bannon are at odds.
Realignment and Legitimacy
"The Supreme Court's Gerrymandering Case and Strategies for Winning Justice Kennedy's Vote" [Jeffrey Toobin, The New Yorker]. "The secret to advocacy before the contemporary Supreme Court is no secret: it's all about pandering to Justice Anthony Kennedy…. That means, for the most part, talking about the First Amendment. In his thirty years on the bench, Kennedy has displayed an almost Pavlovian receptivity to claims of infringement on the freedom of speech…. 'It's just a two-sentence description of our claim," [Paul Smith, who represented the Democratic challengers to Wisconsin's gerrymandered legislative map this week, in Gill v. Whitford], told the Justices (one of them in particular). 'First Amendment concerns arise where a state enacts a law that has the purpose and effect of subjecting a group of voters or their party to disfavored treatment by reason of their views. In the context of partisan gerrymandering, that means that First Amendment concerns arise where an apportionment has the purpose and effect of burdening a group of voters' representational rights.'"

"The Supreme Court discussed my research on gerrymandering. There were some misconceptions" [WaPo]. "I invented a measure of partisan advantage in redistricting — the 'efficiency gap' — that the plaintiffs in the case have relied on. I also filed a lengthy brief in the case that sought to inform the court about the available metrics and the relationships between them." Shorter: Alito is a tool and a Philistine who doesn't understand statistics or scholarship. Film at 11.

"How Canada ended gerrymandering" [Vox].

"Top House Democrat: 'I think it's time' for Nancy Pelosi, Steny Hoyer and James Clyburn to go" [WaPo]. "The comments by Rep. Linda T. Sánchez (Calif.), who as vice chairman of the House Democratic Caucus ranks fifth in the 194-member body, are the most explicit by a senior congressional Democrat and a member of the California congressional delegation about Pelosi's political future… "They are all of the same generation, and, again, their contributions to the Congress and the caucus are substantial. But I think there comes a time when you need to pass that torch. And I think it's time," she said." Whatever that means.
Stats Watch
Employment Situation, September 2017: "The Department of Labor can't quantify September's hurricane effects on payrolls or the unemployment rate but they appear to be very dramatic nonetheless. Nonfarm payrolls were negative in September and, at minus 33,000, were well below Econoday's low estimate" [Econoday]. "But the big surprise in today's report are sudden indications of excessive labor market tightness as the unemployment rate fell 2 tenths to 4.2 percent and average hourly earnings spiked 0.5 percent with the year-on-year rate jumping 4 tenths to 2.9 percent. This report on the surface — and needing confirmation from the October employment report to follow next month — appears to change the dynamics for the labor market and suggests that the Federal Reserve, the decline in September payrolls aside, has fallen behind the inflation curve." This is rich:
The 4.2 percent unemployment rate, derived from a separate set of data that also include the self-employed who are not on payrolls, is not only lowest of the expansion but of the prior expansion as well, going all the way back to January 2001. Here employment, likely reflecting a jump in those now actively looking for work, rose 906,000 at the same time that the number of unemployed fell 331,000. The pool of available workers which includes those who can work but aren't pounding the pavement fell a very sizable 547,000 to 12.429 million. This reading is a sleeper in this report and points squarely at . The labor participation rate, reflecting the move toward employment, rose 0.2 percent to 63.1 percent to exceed Econoday's high estimate by 2 tenths. The hurricanes are one factor that may or may not have skewed payrolls sharply lower, and probably did, but it's the wage pressures that will make everyone on the FOMC, even the most dovish, suddenly concerned that has arisen from the dead.
After thirty years of flat wages engineered under neoliberalism and a brutal recession, a few pennies more in the paycheck morphs into "a wage flashpoint" — what the heck is that? — and there's panic in the boardroooms. A punchbowl the size of a thimble, so far as I'm concerned. That said, a dash of cold water: "The household and establishment surveys were extremely out of sync from each other. There was no good news in the establishment survey (the household survey was excellent)" [Econintersect]. And but: "One key issue that stood out was that employment in food services and drinking places declined by 105,000 in September" [247 Wall Street].
Wholesale Trade, August 2017: "If overheating is suddenly an issue for the economy, as it may be given in this morning's employment report, then wholesale trade data offer confirmation" [Econoday]. "Inventories in the sector surged 0.9 percent in August following July and June's already outsized surges of 0.6 percent each. Sales in the sector are even stronger, up 1.7 percent in August which, despite the jump inventories, pulls the stock-to-sales ratio down one notch to 1.28. Strength in autos is a major factor boosting the data though ex-auto data also show unusual strength, up 0.8 percent for inventories and 1.5 percent for sales." You say "spike in average hourly earnings" like it's a bad thing (and if you don't want Trump to been seen to deliver to his working class voters on the margin (as opposed to his suburban base) or steal working class Democrat voters, this is a bad thing. Unless you want to outbid him on policy, which the Democrat establishment most definitely does not want to do). But: "The improvement this month in the headline data was primarily due to automotive and petroleum. Overally, I believe the rolling averages tell the real story – and they declined this month. The current trends appear flat (little acceleration or deceleration). Inventory levels remain elevated but below recessionary levels. To add to the confusion, year-over-year employment changes and sales growth do not match" [Econintersect]. Another dash of cold water…
Motor Vehicle Sales: "Nice spike after the hurricane lull" [Mosler Economics]. "In the strongest monthly sales performance in 12 years, unit vehicle sales shot up to a hurricane-fueled 18.6 million annualized rate in September vs a hurricane-depressed 16.1 million rate in August. September's rate points squarely at replacement demand following Hurricane Harvey's flooding of Houston just as the weak August rate pointed to the initial negative effects of the hurricane."
Commodities: "The U.S. may have reached peak shale. American shale drillers who upended traditional oil markets by increasing production in the face of lower prices are finally showing signs of slowing down. …[T]he U.S. oil-rig count grew 6% in the third quarter, a marked deceleration from average growth of more than 20% in the previous four quarters" [Wall Street Journal].
Shipping: "Will Amazon dominate last-mile delivery? Consensus, right now, is probably not" [DC Velocity]. "Is Amazon.com Inc.'s rumored move to start 'last mile' deliveries for non-fulfillment customers in the U.S. another step in its plans for logistics domination, or is it an effort to keep up with ever-increasing demand by supplementing its current delivery network with its own capacity?
The Bezzle: "The $65,000 Pyramid: Electric Autojournos Pump Tesla Stock, Receive Massive Gifts" [The Truth About Cars (MK)]. "Our readers have often expressed a bit of ennui with TTAC's occasional insistence on showing you how the autojourno sausage is made. But this should make you sit up and pay attention. What's the right thing for Electrek to do? I suggest that they sell their "gifts" from Tesla and donate the money to charity. That would be a good start. And it would provide a strong counterpoint to the people who will say that electric auto journalism is nothing but advertorial content under another name." And then there is this post, which seems to be in response to the TTAC post, and appears to be an hommage to moi, Lambert, by a long-time NC reader since (a) it's an "I Am the Very Model of a Modern Major-General" parody and (b) actually uses the word "squillionaire"! This doesn't happen often, so permit me a happy dance!
The Bezzle: "Nothing Could Possibly Go Wrong If Elon Musk Is Chosen To Rebuild Puerto Rico's Power Grid" [DealBreaker]. "Elon will get this done because he never overpromises and always delivers. In fact, we see Puerto Rico's new power grid being so dope that it becomes the envy of the world and makes things better than they were before the storm, and we see the bond issue soaring like one of those SpaceX rockets…"
"The Lawyer Who Beat Big Tobacco Takes On the Opioid Industry" [Bloomberg]. So, on Case-Deaton's deaths of despair, the political class — in particular, its neoliberal theorists — has a Get Out Of Jail Free card.
Today's Fear & Greed Index: 91 Extreme Greed (previous close: 95, Extreme Greed) [CNN]. One week ago: 85 (Extreme Greed). (0 is Extreme Fear; 100 is Extreme Greed). Last updated Oct 6 at 12:20pm. Musical interlude: Hot, hot, hot!
Gaia
"Stephenson and his colleagues have spent decades studying thousands of dead trees—digging up roots to check for fungus, scraping away bark to search for beetle tunnels, looking for patterns among the dead. Since 1982 field crews have spent summers visiting plots scattered around Sequoia National Park. Each year they record the condition of all the trees in those plots; every five years they measure the diameter of the trunks. If a tree dies, they give it an autopsy. All told, they have tracked the lives of more than 30,000 individual trees" [Scientific American].
Black Injustice Tipping Point
"The [second] amendment itself is not the problem. Yes, it's vague, poorly worded, lacking nuance. But the intent is clear with the opening clause: "A well regulated militia, being necessary to the security of a free State" [New York Times]. "The purpose is security — against foreign invaders and domestic insurrectionists." And, of course, slave revolts.
Guillotine Watch
"Why fake islands might be a real boon for science" [Nature]. On seasteading. The conclusion is precious: "Time will tell whether the Seasteaders' island becomes a refuge for Polynesians facing rising seas and an incubator for Polynesian science and business, or merely a playground for wealthy foreigners who want to dodge bothersome regulations. That is, if it materializes at all." Let me know how that works out.
Class Warfare
"Primitive comnmunism and the origin of social inequality" (PDF) [Richard B. Lee]. I don't know if anybody takes "the Asiatic mode of production" seriously any more, but if you like this sort of thing, you'll like this.
"Cleaning up 'Methadone Mile' and other drug havens" [Associated Press].
"How Unions Are Already Gearing Up for a Supreme Court Loss" [Governing]. "The lead plaintiff, Mark Janus, is a child support worker in Illinois who argues his free speech rights are being violated by the requirement that he pay the American Federation of State, County and Municipal Employees (AFSCME), the largest public employee union in the country, even though he chose not to join it and does not support its political views and positions." But suppose unions got out of electoral politics entirely, and focused exclusively on workplace organizing. Would the First Amendment issues even arise?
News of the Wired
"How Ludwig II's love for Richard Wagner inspired the world's greatest work of fan art." [Lapham's Quarterly].
"How to use Tweetdeck and advanced search to make Twitter useful again" [Poynter]. "Depending on whom you ask, Twitter is either a cavernous vault of useful information or a wretched hive of scum and villainy. The truth is, it's both. But those who assume the latter could find Twitter to be a more useful tool by employing filters to surface the good stuff."
"Algorithms have already gone rogue" [WIRED]. An interview with Tim O'Reilly, whose book WTF is just out:
In WTF you talk about a specific out-of-control algorithm: the capitalist impulse to maximize profits regardless of societal consequences. The way you describe is reminds me of Nick Bostrom's scenario of an AI machine devoted to making paper clips—because that's its sole mission, it winds up eating up all the materials in the world and even killing those who would turn it off. Corporations whose sole justification is shareholder value seem to be working on a similarly destructive algorithm.

Yes, financial markets are the first rogue AI.
* * *
Readers, feel free to contact me at lambert [UNDERSCORE] strether [DOT] corrente [AT] yahoo [DOT] com, with (a) links, and even better (b) sources I should curate regularly, (c) how to send me a check if you are allergic to PayPal, and (d) to find out how to send me images of plants. Vegetables are fine! Fungi are deemed to be honorary plants! If you want your handle to appear as a credit, please put it in the subject line. Otherwise, I will anonymize by using your initials. See the previous Water Cooler (with plant) here. Today's plant (Rex):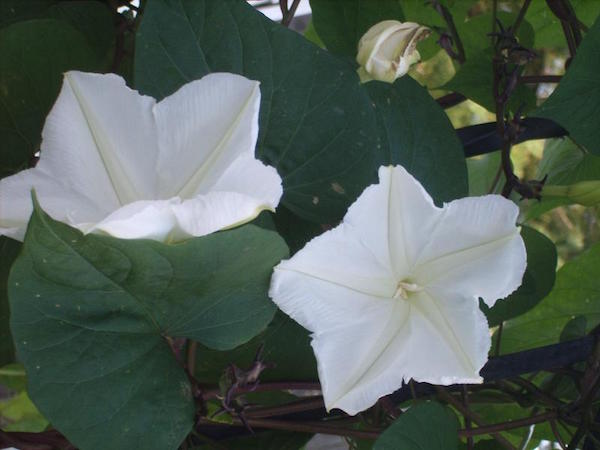 Readers, some of you have helpfully contacted me to send in pictures of plants, but I'm still running a little short. Thank you!