Yves here. Lambert and I for the last week or so have both noticed how odd the news flow is. At least in the US, the grist for commentary has gotten very thin. It's as if this were late August, not October.
Big and brilliant: complex whale behaviour tied to brain size Reuters (David L)
Burrowing Owl Surfaces After the Fire Medium (dcblogger)
Man saves disabled roommate from fire KTVU. EM" "Very smart in his unusual choice of safe place … He saved the disabled woman from whom he was caregiver and her cat, but lost his dog. :(". Moi: I hope the media coverage leads them to get some donations.
ESO Telescopes Observe First Light from Gravitational Wave Source ESO. UserFriendly: "More than just a press release."
Ophelia became a major hurricane where no storm had before ars technica
This is what America's eco city of the future looks like Guardian (resilc)
Long-Term Marijuana Use Changes Brain at the Cellular Level, Say Scientists Inverse News (David L)
Malta car bomb kills Panama Papers journalist Guardian (Adrien)
Car bomb kills journalist behind Panama Papers offshore tax evasion investigation 'days after she received threats to her safety' Mirror Online (Brian C)
Daphne Caruana Galizia Politico (Richard Smith)
Caruana Galizia son hits out strongly after his mother's murder, describes the scene Times of Malta (Richard Smith)
Her last tweet:
That crook Schembri was in court today, pleading that he is not a crook https://t.co/46pV1mXEw9

— Daphne's blog (@dcgblog) October 16, 2017
Experts at US hearing warn N. Korea EMP attack could kill 90% of Americans in year Asia Times. Resilc: "And I could win Powerball."
Rajoy gives Catalonia last chance to come clean on independence Politico
Why Austria's Election Should Worry Liberals New York Magazine. Reslic:
1. Do not create more refugees
2. See number 1
One in three Greeks live in poverty or social exclusion, Eurostat shows Defend Democracy
Brexit
Brussels trip by PM fails to unblock stalemate as both sides harden stance Guardian. Here we see yet another repeat of Greece, which I think can be generalized into a Rule of Negotiations: If two sides do not have an overlap in their bargaining position, more interaction makes their interpersonal relations worse.

Brexiteers fear 'Swiss Trap' trade deal Politico. Lambert ran this link yesterday, but I wanted to make an observation or two. The fact that the Brexit boosters are even having this conversation reflects their continuing refusal to accept basics. I'm simplifying but not by much: he EU has said over and over and over again that if the UK is going to have to have access to the Single Market, it has to accept all sorts of things it does not like, which EU leaders have enumerated. If you are going to have seamless trade with the EU, you have to accept EU rules. Harmonization does not happen on a real-time basis. So you have to accept EU law, and that includes the jurisdiction of EU courts on relevant matters. This is not hard to understand, save the UK wants not just a pony but a herd of ponies, a stable, and staff too.

Read the entire tweetstorn:

1. Thread on the state of Brexit

The main reasons that I once thought Article 50 would never be notified were the very problems UK now has.

— Law and policy (@davidallengreen) October 16, 2017

'Accelerate' – the word the Tories need BBC. Ouch!

It's a folly to dismiss City warnings over Brexit transition deal delay Guardian. Note that "transition deal delay" assumes there is a transition deal to be had.
Corbyn: Hammond right to say Labour threatens whole economic system Guardian (Charlie)
Syraqistan
Big Brother is Watching You Watch
Facebook Is Looking for Employees With National Security Clearances Bloomberg (JTM)

Supreme Court to consider major digital privacy case on Microsoft email storage – The Washington Post

Philips' latest IoT proposition: Manage your city and office lights, from India LEDs Magazine (Glenn F)
Imperial Collapse Watch
108 U.S F-35s Won't Be Combat-Capable War Is Boring. JTM:

A giant F— YOU to us mopes. How stupid do they think we are? "Concurrency orphans," indeed. Well, the canopy on the 30-year-old F-16 up on the pedestal at a local park is yellowing from the Florida sun– an "unconcurrent F-35 would shore look swell up thar, give us peasants a view of what America stands for…
Trump Transition
Judge refuses to dismiss corruption charges against Dem senator The Hill
GOP candidate claims her lifelong conversations with UFO aliens have revealed ancient secrets Raw Story (furzy). Let us not forget that John Podesta is also big on UFOs….
Hillary Channels Nora Desmond
California Burning
Should We Rebuild Homes in Wildfire Zones? New Republic

California inmates paid $1 an hour to battle wildfires Statesman (Martine)

Il Diablo in Wine Country London Review of Books (guurst)
Disclosure Framework – Changes to the Disclosure Requirements for Income Taxes (File Reference No. 2016-270) FASB. Letter to the Senate. Quite the shot across the bow. But it may be intended to help lobbying against the Big Bad Eu, which in fact is na ga be moved by things like this.
When It Comes to Trade, the NYT is Far More Confused Than Iowa Voters Dean Baker (Livuis Dursus)
SoftBank's giant investment in Uber will be finalized 'very likely in the next week' Business Insider. I don't discount the possibility that a deal might get done, but I've never seen a remark like this apropos an investment under negotiation this long: "'We are waiting at the moment on what is going to transpire with the price,' Huffington said Monday. 'It's all about the price.'" HUH? This is letter of intent stage stuff. They've been at this for four months and still don't know if they are on the same page as regards the most important term?
Taylor Impresses Trump for Fed Chairman, Warsh Slips Bloomberg. The Taylor rule has been discredited but that won't stop him from pushing him model on the Fed…
Class Warfare
Out of Control: A Brief History of Neoliberal Deregulation in the USA TruthOut (Richard R)

49 percent of the income Republicans claim as "small business" already goes to the top 1 percent Economic Policy Institute

Could 85% of America Unite Against Corporatocracy? Lee Camp, YouTube
Antidote du jour. Tracie H: "Say Don, when did you get those cool Halloween costumes for the cats?"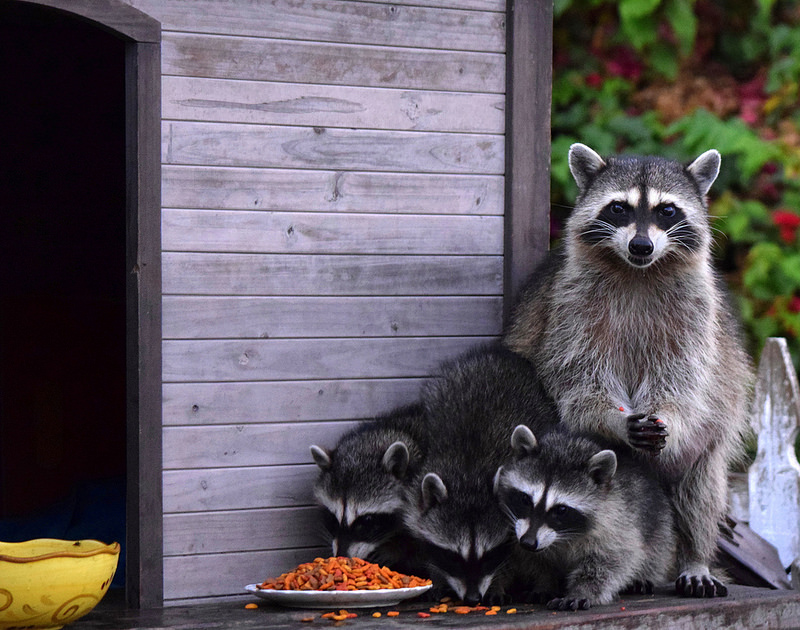 See yesterday's Links and Antidote du Jour here.
.