By Lambert Strether of Corrente.
The narrative of how we "lost" four special forces soldiers in Niger — four Nigerian[1] soldiers were killed as well — has rapidly devolved into a culture war skirmish over whether Trump insulted the troops; the more fevered sort of Democrat seems to think they have Trump by the Benghazis. Along with the culture war main comes a side of wonkish, tactical scrutiny: Were the troops ambushed, why weren't they evacuated more quickly, and so on. There will, of course, be an investigation, in which the FBI has now involved itself. All this conveniently obscures the question of why we have a military presence in Niger to begin with (assuming that there is a reason other than the creation of yet another endless and profitable war). So why do we?
The Scene
First, let me apologize because this piece is a bit sprawling; I'm feeling my way into the topic, as I suspect most readers who don't simply take what we read i the papers for granted.
Now let's look at Niger's geography, economy, and resources. Niger (which is not Nigeria) is the largest country in West Africa. Here is a handy map of Niger from ReliefWeb (PDF for full-sized version):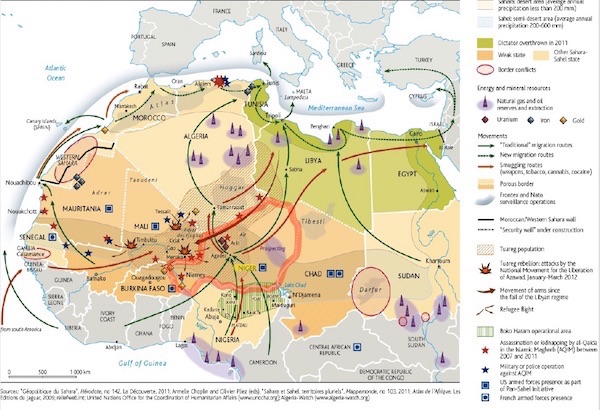 Translating the map into prose:
From East to West, the south of Niger is in the Sahel; the north is in the Sahara; the climate is said to be very hot and very dry.
Agadez, a city of 78,000 in the center of the country, is a waystation for migrant and smuggling routes
Niamey, the capital, in the far southwest of the country, has been subject to at least one assassination by a (putatively) Al Qaida affiliate
The United States has military presence
Uranium is found in the North
Since I think we know about the Sahara, a word on the Sahel from the United Nations (2017):
The Sahel region is vulnerable to desertification due to global warming. Additionally, unstable climatic patterns makes sustainable agriculture difficult. Soil erosion and overgrazing have also contributed to the expansion of the Sahara desert conditions into the relatively mild Sahel region. Over-population in the marginal areas result in exerting pressure on the productive areas. Desertification has led to threats of food security to the residents of these areas while endangering the existing animal and plant species. Despite efforts by various international organizations such as UN, the region remains under threat. Dust storms are a common feature in the region.
Expanding on food insecurity from Africa Renewal (2013):
When the Sahel is in the news, it is often because millions of people are at risk of going hungry. A humanitarian crisis usually unfolds on the back of a food crisis. In 2012, the lives of up to 18 million people were put at risk following a major food crisis in the region. This year, more than 11 million are facing the same plight, while 1.4 million children are threatened with severe malnutrition. Even in normal years, millions are in a permanent state of food insecurity. Over the past five decades, persistent droughts have contributed to famine episodes.
(Readers will be reminded by the drought conditions in Syria, where food security may have caused, and certainly intensified, the civil war.)
The CIA World Factbook provides a summary of the Niger Economy:
[Niger's] economy centers on subsistence crops, livestock, and some of the world's largest uranium deposits. Agriculture contributes approximately 25% of GDP and provides livelihood for 87% of the population. The UN ranked Niger as the second least developed country in the world in 2016 due to multiple factors such as food insecurity, lack of industry, high population growth, a weak educational sector, and few prospects for work outside of subsistence farming and herding… [A]s of April 2017, there were no US firms operating in Niger.
The word that comes to my mind is "grim," especially when I imagine overgrazing in the Sahel. And the word that leaps out from the background "uranium."[1] From Barry Lando at HuffPo:
[Niger] has huge deposits of uranium, and the largest uranium miner is Areva, a sprawling French energy conglomerate, in which the French government has a major interest. Areva's Arlit mine is in a desolate northern region of Niger and the mission of the [French] Special Forces is to protect it. After all, France depends on nuclear reactors to provide 80 percent of the country's electrical power.

[T]he Chinese have huge interests of their own in the region — including their $300 million SOMINA uranium mine at the desert outpost of Azalik in northern Niger.
Not to be monocausual…
The Players
Aside from the Nigeriens themselves, the major players seem to be the Jihadists (whatever that means), the United States plus France plus Nigeria, and the Chinese. Let's take each in turn.
First, the Jihadists (whatever that means). From CNN:
CNN has reported that 50 fighters of the regional ISIS in the Greater Sahara [whoever they are] were responsible for the attack.

The Pentagon has claimed the group emerged in Niger [speaking one of Niger's eleven official languages, no doubt] because of defeats suffered by ISIS in Syria and Iraq.

"We do have information on the group that did it, their nature, their disposition and so on and so forth and appropriate organizations within the United States military are digging deeper into that and will take appropriate action if required," Army Chief of Staff, Gen. Mark Milley, told reporters last week.
Translating Milley: "Nobody knows anything." That's not unreasonable; we didn't know anything in Syria, Iraq, or Afghanistan either. You can read the Guardian for an important qualification: "[N]o Islamic extremist faction in the Sahel currently has a fixed base, making it very difficult to track the whereabouts and evolution of any individual group." This too translates to "Nobody knows anything." Secretary of Defense Mattis says only that the attackers were "new to the area." Same. As with Syria, I'm inclined to distrust all the reporting on general principle.
Next, the United States — AFRICOM address: Ashstraße, 70567 Stuttgart, Germany — and its mission. From Quartz:
The US Africa Command (AFRICOM) has 800 military personnel stationed in Niger, running a drone operation, and supporting the government in intelligence, surveillance, and reconnaissance efforts. And as the threat of terrorism looms over the entire Sahel region, Niger has become an indispensable Western ally, closely working with the over 3,500 French troops based in the region
Drones. Great. Let's hope we don't whack any more wedding parties. And apparently we also do training. Reuters:
The U.S. military organizes an annual, high-profile U.S. drill as well as longer-term, more discreet training of regional forces. But experts say U.S. involvement in the fight does not stop there.

"It is likely that there are other operations going on aside from just the training operations," said Andrew Lebovich, a visiting fellow at the European Council on Foreign Relations.
So, training. And other stuff. Boots to clean, pots to mend. Always a thing going.[3]
Finally, from GlobalSecurity.org, the Chinese presence is commercial (very commercial) and not military at all:
China is building a major portfolio in Niger's resource sectors and will probably replace France as Niger's top foreign investor when projects under construction are fully operational. Chinese investments include oil and gas production, refining, uranium mining, and infrastructure. On the Nigerien side, the bilateral relationship was [***cough***] managed directly from President Tandja's office, and there is a striking lack of transparency in the terms of investment agreements, most of which had been negotiated without direct involvement of professional staff from the Ministry of Mines and Energy.

There were no examples of US-China collaboration in Niger. There was little scope for US-China collaboration when the comparative advantage of the Chinese was their willingness to ignore international standards of transparency and commercial viability.
Interestingly, there's no indication the Chinese have been attacked, either.
Conclusion
So far as I can tell, there are only two reasons for us to have a military presence in Niger:
1) To help France hang on to its uranium supply, a vital national interest for them, and
2) The self-licking ice cream of the Global War on Terror, or whatever we're calling it these days.
Since the political class seems to be lusting for war — whether with Russia or in North Korea — a war in Niger would have much to recommend it, since the only nuclear powers involved would be the United States and France (since its hard to see that China would have vital national interests involved; Niger's uranium would constitute some fraction of one-third of China's uranium supply).
If the United States runs true to form (and at this point we have form) a war in Niger would:
0) Never be declared;
1) Last for many years;
2) Not produce a victory (if victory be defined as parades and politicians claiming victory);
3) Be extremely expensive;
4) Cause enormous civilian suffering and many refugees;
5) Destabilize West Africa;
6) Strengthen the mercenary elements of the military-industrial complex;
7) Produce blowback, should adversaries once again focus, as Bin-Laden did, on the "far enemy." In this regard, it would be interesting to see the social effects if the blowback operatives were Africans, and not from the Middle East, as were Bin Laden's.
What could go wrong?
NOTES
[1] "Nigerian" means from or of Nigeria, as opposed to "Nigerien," which means from or of Niger.
[2] Niger produces 80,000 barrels of oil per day; the Chinese-owned oil refinery produces 20,000 barrels a day for domestic consumption. If Niger is the next Saudi Arabia — reserves discovered by China are said to be one billion barrels; Saudi "proven" reserves are said to be 268 billion — the information is closely held. It doesn't seem likely that Niger would be a "war for oil," unlike Iraq.
[3] summary of all the Western players in Central Africa, from the Weekly Standard:
The plethora [nobody knows anything] of salafi-jihadist groups has prompted a massive multinational counterterrorism effort throughout the region, consisting of not only the 4,000 French troops under Barkhane, but also 15,000 U.N. peacekeepers in Mali and numerous EU advisers—to say nothing of the militaries of the "G5 Sahel" nations (Chad, Niger, Mali, Burkina Faso, and Mauritania) who are set to stage their first joint operation later this month. In addition, of course, are American special operations forces under U.S. Africa Command (AFRICOM) which have operated in the region with some frequency since 2012. Roughly 800 American soldiers are currently stationed in Niger alone, the majority of them Air Force personnel involved in the construction of a massive drone base in Agadez, as well as about 100 special ops forces under Joint Special Operations Task Force-Trans Sahara, whose stated mission involves training and advising Nigerien forces in addition to conducting what is referred to intelligence, surveillance, and reconnaissance, or ISR in Pentagon jargon.