By Lambert Strether of Corrente.
Once again, I struggled to complete a post in time. Please check back in an hour or so, since I want to do a pantry clear-out on politics, which continue as volatile as ever (predictable and predicted). –lambert. UPDATE 4:00PM And here we go.
In the meantime, talk amongst yourselves and be excellent to each other!
Trade
"'Army' of Lobbyists Hits Capitol Hill to Preserve Nafta" [New York Times]. "Automakers, retailers and other business leaders stormed Capitol Hill on Tuesday in an extraordinary show of force against a Republican president they fear will cripple or kill the North American Free Trade Agreement, an outcome business leaders said could devastate their profits and harm the United States' ability to compete in a global market." And then there's this curious statement on a sunset clause:
"Any proposals that would risk a crisis every five years on Nafta wouldn't provide the certainty our members need to bring these investments forward," said Greg Skelton, who heads the global affairs division at the American Chemistry Council, a lobbying group. "."
Huh? (If only there were some way to increase aggregate demand….)
"[A] late September ruling by the U.S. International Trade Commission could raise the price of solar modules and threaten [Tesla's] SolarCity's installation business" [247 Wall Street]. And see below at The Bezzle.
Politics
Get out the brain bleach! From Hillary Rodham Clinton: Some Girls Are Born to Lead (Hat tip, DK):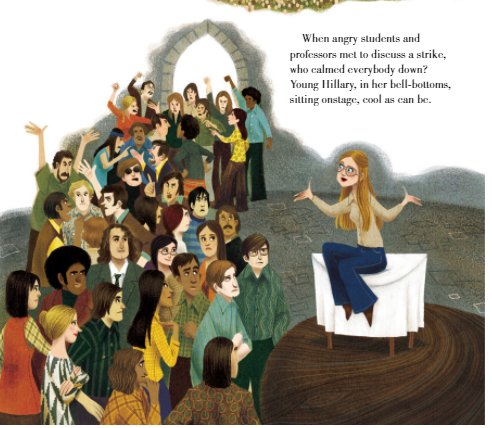 Never forget that Bill and Hillary Clinton crossed a picket line on their first date.
2017
"After crying foul for weeks over the severity of Republican gubernatorial nominee Ed Gillespie's attack ads, Virginia Democrats have responded with a harsh mailer of their own that connects Gillespie and President Donald Trump to the string of white nationalist rallies in Charlottesville" [Richmond Times-Dispatch]. "The back of the mailer — which features a photo of the entire Democratic ticket, made up of gubernatorial nominee Ralph Northam, lieutenant governor nominee Justin Fairfax and incumbent Attorney General Mark Herring — says that on Nov. 7, voters can 'stand up to Trump, Gillespie and hate.'"

"The Obsession With White Voters Could Cost Democrats the Virginia Governor's Race" [The Nation]. But see above.
2018
"Arizona Senate: Flake Retires, Race Remains in Toss Up for Now" [Cook Political Report]. "Part of what made Flake vulnerable was a primary challenge to his right from former state Senator Kelli Ward, who has gotten former White House aide Steve Bannon's endorsement. If Ward is the nominee, the GOP's fight to hold the seat becomes much more difficult, especially since Democrats have recruited a solid candidate in U.S. Rep. Kyrsten Sinema. Democrats would like nothing more than a Sinema-Ward general election."

Flake was, of course, immediately hailed as a Hero of the Republic by The Resistance. But sadly:

Six hours later Flake voted to deny people the right to sue payday lenders who ripped them off https://t.co/RlFL3gbyMk

— James Hell Brooks (@BobbyBigWheel) October 25, 2017
2020
"[H]ere in the U.S., we might want to pay attention to Abe's victory for another reason: The circumstances that enabled it could easily be replicated here in 2020 and help carry Donald Trump to a second term in the White House" [New York Magazine]. "For one thing, neither Abe nor his policies are particularly popular. Just a few months ago, Abe's approval rating was in the gutter, dipping as low as 20 percent in the wake of a series of corruption scandals… North Korea's nuclear brinkmanship changed all that, however: After the regime in Pyongyang overshot Japan with a ballistic missile and tested an apparent hydrogen bomb in early September, Abe's popularity surged as he was seen handling the situation proactively. In addition to his North Korean poll bump, Abe's main weapon going into Sunday was the total disarray of his opposition…. In case they didn't learn this last year, Democrats need to be acutely cognizant of the fact that under the right set of (fairly likely) circumstances, Trump, like Abe, can win even with relatively bad fundamentals."
Democrats in Disarray
"Democrats need political power, and they can only get it if they win more votes. That needs to be the goal relentlessly, ruthlessly, and fearlessly pursued by every Democrat in every district of every state from now until it becomes a reality. All the rest is fantasy" [The Week]. But in an environment where the Democrats have resolutely refused to expand their base by making voter registration a core party function, where they refuse to challenge Korbach purging the rolls for legitimate voters through CrossCheck, where the main assault on gerrymandering is a Supreme Court case of uncertain outcome, and where the Clintonian "This is why you can't have nice things" remains the mantra on policy, where are those votes to be won? I'd argue wealthy/professionalsuburban Republicans, who are already registered and who vote. Hence the rehabilitation of Bush, for example, and the excoriation of Trump on personal and rhetorical grounds. Never mind that this strategy has been tried twice, and failed twice: First, in Clinton's post-Convention 2016 run, and second, in the Ossoff race. I'll see how this theory pans out, but right now I'm rather taken with it. (It jibes with moving up the California primary to March to help Harris, simultaneously bypassing the "Southern Firewall." For example—

"Bush and Obama get the giggles during Clinton speech" [USA Today]. No worse than Clinton sucking up to war criminal Kissinger, I suppose. And then there's this straw in the wind–

"Black Executives Join Forces, Forming a PAC to Back Them Up" [New York Times]. "By early 2018, the group hopes to start a political action committee, creating a new fund-raising model for corporate executives of color. The group would support candidates of any political party who fit the PAC's agenda." So they're worried about losing influence, presumably with Democrats. Eh?

"Zogby and other commission members claim that without a mechanism to force the DNC to follow its own bylaws, it essentially operates however the chair sees fit, which has repercussions for everything from how the party selects its nominee to how it distributes funding" [Mic]. Fun fact: "Zogby, told Mic that in his 25 years on the DNC he has never once seen a budget, despite bylaws that he claimed mandate that DNC and executive committee members access the budget and evaluate its effectiveness. Zogby had served on the executive committee since 2001, before being demoted ahead of the DNC meeting in Las Vegas" in Obama hatchet man Perez's purge of Sanders supporters.

The purpose of superdelegates, explained. Listen to the whole thing:

#DNC Unity still supporting Super-Delegates everybody should listen very carefully. #SaturdayMorninghttps://t.co/3A6vygguhR ???????? pic.twitter.com/qb8iUXI6qs

— StarLord35 ? (@StarLord35) October 21, 2017

So the purpose of superdelegates is to veto a popular choice, if they decide the popular choice "can't govern." But this is circular. Do you think for a moment that the Clintonites would have tried to make sure President Sanders couldn't have governed? You bet they would have, and from Day One.
Puerto Rico
"The government needs to get its act together in Puerto Rico" [Editoral Board, WaPo]. WIth not the slightest hint of what that woud mean, operationaliy.

I lift my lamp beside the golden door:

Here is where @CentroPR predicts Puerto Ricans will move to. FL surpasses NY with the largest Puerto Rican population pic.twitter.com/SzGDfLijgH

— Michael McDonald (@ElectProject) October 23, 2017

And of course:

The Center for Puerto Rican Studies at Hunter College/CUNY estimates 200,000 ppl will leave Puerto Rico & largely resettle in FL.

Hi 2020.

— Jennifer Bendery (@jbendery) October 23, 2017

New Cold War

"Russian 'troll farm' created fake Instagram account rallying followers against Dakota Access Pipeline" [New York Daily News]. So, liberal Democrats are on to blaming the Russkis for creating "division" over DAPL, after blaming them for Black Lives Matter…

Trump Transition

"Trump goes to Capitol Hill to set tax strategy, but feuds with his own party dominate the day" [USA Today]. In most of the coverage, the press presents Trump's adversaries (Corker, Flake) as moral exemplars, as the winners of the exchange, and as harbingers of Trump's inevitable defeat in the party, But Trump's detractors (Corker, Flake) are the ones leaving politics!

"Trump's latest big interview is both funny and terrifying" [Matt Yglesias, Vox]. Generally, I filter for stories whose editors use the gaslighting vocabulary for the headline ("terrifying") but this is interesting, from a legitimacy crisis standpoint or, more precisely, from the standpoint of what Yglesais considers legitimacy.

"Wackadoodles, Establishment Hacks, And The Big, Ugly, Local Battle For The Heart Of The GOP" [BuzzFeed(UserFriendly)].

Realignment and Legitimacy

"Political Typology Reveals Deep Fissures on the Right and Left" [Pew Reseach]. "The political typology reveals that even in a political landscape increasingly fractured by partisanship, the divisions within the Republican and Democratic coalitions may be as important a factor in American politics as the divisions between them." I think the typology has issues. Take this chart — please!

Do you see anything there about economics? No?

"SOMERVILLE, Mass. (Reuters) – U.S. Senator Bernie Sanders brought his strategy of trying to reenergize the Democratic Party by lending his star power to lower-level races to a small city just outside Boston on Monday, with a stop to endorse candidates for alderman and city council." [Reuters]. Somerville, the compost heap behind Harvard Yard!

"Listen to what socialist women are saying about misogyny on the left" [Vox]. On Chapo. I read it, and I don't see Marcotte's name in there, so I guess it's a serious, i.e. not Clintonite, piece. That said, this seems a lot more like a survey of "the left," the DSA, and some podcasts, as opposed to a tracing of causal connections.

Stats Watch

Durable Goods Orders, September 2017: "Business investment is picking up sharply based on capital goods orders" (important to maintain your stock of fixed capital, whether you be a capitalist or the other thing) [Econoday]. "Durable orders jumped 2.2 percent in September which is right at Econoday's high estimate. A second straight strong month for commercial aircraft, up 64 percent following a 52 percent gain in August, skewed the headline higher but when excluding transportation equipment, orders still managed a strong 0.7 percent gain. But its core capital goods orders (nondefense ex-aircraft) that show the most important strength, up 1.3 percent with the two prior months also at 1.3 percent. Shipments for this series, which are direct inputs into the business investment component of the GDP report, are building momentum… One soft spot is vehicle orders which rose only fractionally." But: "Our analysis is more negative than the headlines as the rolling averages declined. Civilian aircraft were the main tailwind this month.This series has wide swings monthly so our primary metric is the unadjusted three month rolling average" [Econintersect].

New Home Sales, September 2017: "Volatility tied to low sample sizes is what the new home sales report is known for, proving its reputation again as September surged " [Econoday]. "The volatility that this report is subject to makes today's results feel uneasy. The 3-month average tells a less dramatic story, at 603,000 which is roughly where the trend line has been much of the year." And: "This month the backward revisions were upward, but the rolling averages modestly improved" [Econintersect].

FHFA House Price Index, August 2017: "Home prices remain very firm" [Econoday].

MBA Mortgage Applications, week of October 20, 2017: "After several weeks of strength, purchase applications for home mortgages took a tumble" [Econoday]. "strength here has translated poorly into strength of government housing data, which has been disappointing and shows a gradual slowing on most fronts." The scandal of the divergence between survey and data emerges here, now, as well.

Coincident Indices: "The reality is that most of the economic indicators have moderate to significant backward revision – and this month most are showing moderate and stable growth" [Econintersect].

Retail: "Amazon's New Plan for Home Deliveries: Hand Over the Keys" [Wall Street Journal]. Just like Walmart. What could go wrong? I'd let a neighbor I trusted — and that's not all neighbors — have the key to my house. Not an app. Is this something kids these days take for granted, and I'm not getting?

Retail: "Sears has been scrambling to keep suppliers from abandoning the retailer as its financial position has deteriorated as the retailer has closed hundreds of stores amid the growth of big competitors and new online sales. The company this year sued two makers of Craftsman tools to keep goods flowing, and those lawsuits were resolved with the manufacturers continuing to ship to Sears. Whirlpool told Sears in May that it won't ship any more dishwashers, refrigerators and other appliances, leaving Sears only to deplete the inventory that's in its stores" [Wall Street Journal]. Eesh. Sears without Craftsman wouldn't be Sears. And Whirlpool isn't what it used to be, but still.

Retail: "Southeast Asian convenience chains leading a retail revolution" [Nikkei Asian Review]. "The most distinctive feature of VinMart Plus stores, including the one on Le Duan street, is the product display, which changes according to the time of day." Amazingly, the article doesn't mention 7/11 in Thailand, which is amazingly successful. You can actually refill your contract phone at the register, for example — and pay cash! A technological miracle the convenience store in my home town, Circl-K, can only dream of.

Shipping: "Industry research group the American Transportation Research Institute says its annual survey of trucking executives ranked the supply of drivers as the top concern for the first time since 2006, and several big companies say they expect the problem to grow in a tight U.S. labor market" [Wall Street Journal].

Supply Chain: "Inside Apple's Struggle to Get the iPhone X to Market on Time" [Bloomberg]. "The 3-D sensor has three key elements: a dot projector, flood illuminator and infrared camera. The flood illuminator beams infrared light, which the camera uses to establish the presence of a face. The projector then flashes 30,000 dots onto the face which the phone uses to decide whether to unlock the home screen…. The dot projector is at the heart of Apple's production problems…. To boost the number of usable dot projectors and accelerate production, Apple relaxed some of the specifications for Face ID, …. The 3-D sensor shortage is expected to end in early 2018. Even so, signs of weakness in iPhone 8 sales means Apple could sell fewer handsets than last year—despite all the fanfare surrounding the iPhone X."

Tech: "[A]fter 21 quarters with falling year-on-year revenues (see chart), doubts had been growing about whether IBM would manage the latest big shifts: the move into the cloud, meaning computing delivered as an online service; and the rise of artificial intelligence (AI), which is a label for all kinds of digital offerings based on insights extracted from reams of data" [Economist]. "According to some estimates, although mainframe sales generate only 2% of the firm's revenues, related software and services account for a quarter of its revenues and more than two-fifths of its profit."

The Bezzle: "Tesla: Firings to Continue Until Morale Improves" [247 Wall Street]. Why the heck didn't I think of that headline?

The Bezzle: "Tesla's mass firings spread to SolarCity as employees say they were blindsided" [CNBC]. "The total number of dismissals could not be determined. However, former employees estimate around 1,200 people have been fired in the company's wave of dismissals at Tesla including SolarCity. That figure does not include previously announced layoffs…. Three recently fired SolarCity employees (who worked in disparate city offices, and were contacted separately by CNBC) said they asked HR at Tesla for a copy of their performance reviews. But those never materialized. In some cases, HR never acknowledged their requests but went ahead and sent them separation agreements. These agreements force ex-employees of Tesla into arbitration if they want severance pay. In other words, they have to sign away the rights to sue the company for two weeks' worth of salary." Looks like Tesla, just like Uber, is wrong to the core.

The Bezzle: "[Apple co-founder Steve] Wozniak says Tesla's promotions about its cars' self-driving capabilities are overblown and lead people to trust the 'autopilot; feature more than they should" [CNBC]. ""Tesla has in people's mind that they have cars that will just drive themselves totally, and it is so far from the truth, so they have deceived us,' says Wozniak." If Woz says Level 5 isn't happening, it's not happening.

The Bezzle: "Artificial intelligence: Silicon Valley's new deity" [Financial Times]. Literally. "The founder of [the religion called] Way of the Future is Anthony Levandowski, the notorious engineer at the centre of a lawsuit between Alphabet's autonomous car unit, Waymo, and Uber. In the case, which has riveted Silicon Valley, Waymo accuses Levandowski, a former employee, of stealing trade secrets related to self-driving sensors and taking them to Uber. (He has asserted his Fifth Amendment right to avoid self-incrimination in the case.)… Levandowski's quirky religion is only putting a name to something that is already practised here. Plenty of people in tech are working on creating a god, through artificial intelligence, or becoming a god (by living for ever)." It makes a lot of sense that the engineer behind robot cars is crazy pants (or a fraudster (or, like Kalanick, both)).

Fodder for the Bulls: "The industrial world may be taking a bigger role in the global economic rebound. Construction and mining bellwether Caterpillar Inc. is forecasting stronger sales and profits this year" [Wall Street Journal].

Five Horsemen: "Microsoft pips Facebook in late morning trade to claim the lead for the first time" [Hat tip, Jim Haygood].

Today's Fear & Greed Index: 74 Greed (previous close: 86, Extreme Greed) [CNN]. One week ago: 82 (Extreme Greed). (0 is Extreme Fear; 100 is Extreme Greed. Last updated Oct 25 at 1:51pm. Hoo boy. Huge drop to mere greed.

Health Care

"MEDICARE OPEN ENROLLMENT: BE A SMART SHOPPER" [Medicare.gov]. *.gov, mind you. Medicare's neoliberal infestation is far gone, indeed.

"Neurologists' Role in Nazi 'Racial Hygiene' Only Now Comes to Light" [Scientfic American].

Class Warfare

"Expelling Immigrant Workers May Also Send Away the Work They Do" [New York Times]. "[F]armers are very unlikely to raise wages and improve working conditions to attract American workers instead."

News of the Wired

"Rebel Rock: The story of Harlan County, Kentucky's Civil War legend and the KKK" [Medium]. Fascinating family history. I had no idea Harlan County was a Union hotbed. And that's just for starters:

The crackdown on the KKK was led by Deputy Sheriff "Devil" John Wright (1844–1931) — a Democrat, polygamist, brothel punter, moonshiner, circus performer and serial killer in his own right — who served in both armies during the Civil War but made a small fortune by repeatedly joining and deserting the Union Army as a paid substitute for wealthier drafted men.

I long for the days when American politics was marked by comity.

"The Neuroscience of Bass: New Study Explains Why Bass Instruments Are Fundamental to Music" [Open Culture]. From 2015, but still germane to this Phil Lesh fan.

* * *

Readers, feel free to contact me at lambert [UNDERSCORE] strether [DOT] corrente [AT] yahoo [DOT] com, with (a) links, and even better (b) sources I should curate regularly, (c) how to send me a check if you are allergic to PayPal, and (d) to find out how to send me images of plants. Vegetables are fine! Fungi are deemed to be honorary plants! If you want your handle to appear as a credit, please put it in the subject line. Otherwise, I will anonymize by using your initials. See the previous Water Cooler (with plant) here. Today's plant (MF):

Here is another lovely portrait of a poppy from MF; I have had this color of poppy in my wildflower mix, and it's very difficult to avoid blowing out the red, for some reason.

Also, it would be nice to have some pictures of people's gardens buttoned up for the winter, for those of you for whom winter is coming. And fall foliage, ditto.

* * *

Readers: The Naked Capitalism fundraiser is over, and let me express my personal thanks to all those who have helped keep Naked Capitalism getting better and better. Water Cooler, however, is a standalone entity not covered by the NC fundraiser. So do feel free to use the dropdown and click the hat to make a contribution today or any day. Here is why: Regular positive feedback both makes me feel good and lets me know I'm on the right track with coverage. When I get no donations for five or ten days I get worried. More tangibly, a constant trickle of small donations helps me with expenses, and I factor that trickle in when setting fundraising goals. So if you see something you especially appreciate, do feel free to click the hat!