By Lambert Strether of Corrente
Puerto Rico's road system, devastated by Hurricane Maria, despite being not as newsworthy as its power situation, or providing as many heart-tugging photos[1] — here is a fine write-up from Vox — may in the end prove more intractable.
To begin with, Puerto Rico is almost completely dependent on the automobile for transport. Bloomberg:
Puerto Rico has one of the highest rates of car ownership in the world, thanks to urban sprawl and the government's failure to build public transportation that commuters might actually use…. Puerto Ricans are isolated without cars… About 931,000 Puerto Ricans drive or carpool to work out of 3.4 million total residents, according to U.S. Census data. … [T]he island has the fifth-highest number of vehicles per capita in the world.
So, a working road system isn't simply required to get the containers off the docks in San Juan[2], it's required for every phase of life in Puerto Rico as an economic and social entity (getting to work; taking care of your grandmother). But I found this post a little dispiriting to write, not only because of the suffering I imagined, especially up-country, in the mountains, but because getting basic facts and figures was so hard. I'll start with one set of figures, then move through maps, then photos, and finally to positive measures that I found being taken (which seem rather small, and ill-coordinated, when set beside the requirements). A lot of this post ultimately depends on assumptions and knowledge about road construction, as well as potential miliary involvement, and I hope readers who have knowledge of either topic will jump in.
Here is the most basic figure of all, from Axios, which I quoted on October 13:
Only 392 miles of Puerto Rico's 5,073 miles of roads are open
(The Axios post was "updated 19 hours ago" — how I hate this fad of never giving an actual timestamp — as of this writing, and the figure has not changed.) Axios says that its figures come from FEMA and the PR government site, so I went to both places to look. The PR "dashboard" has no figures for roads, so I assume the figure comes from FEMA, and after I clicked the "Expand All Sections" link, there it was, with a key disclaimer not mentioned by Axios or any of the other venues that quoted the figure[3]. As of October 18:
392 miles of Puerto Rico's 5,073 miles of roads are open, .
(No notes on how that figure was derived; I can imagine some contractor driving round the island on a Humvee, and then writing off the interior entirely). Here is a map from FEMA showing the status of that passable 392 miles of outer ring road: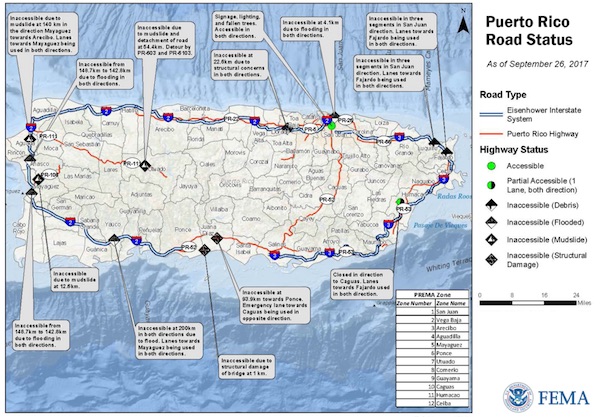 (This is from September 26, but it's the latest available from on the FEMA site). And here is a map from MapHill showing the remaining 5,073 – 392 = 4681 miles of road: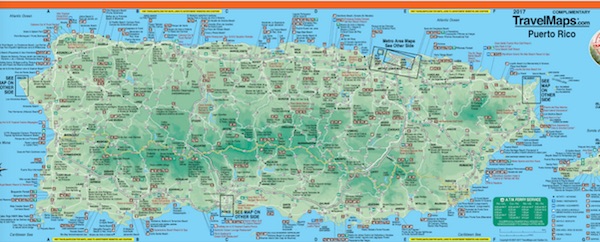 Of course, some of those 4681 miles of road in Puerto Rico will be passable. But we just don't know how many, which I find, as I said, dispiriting. However, I think we can assume that the damage was uniform, since Hurricane Maria engulfed the entire island: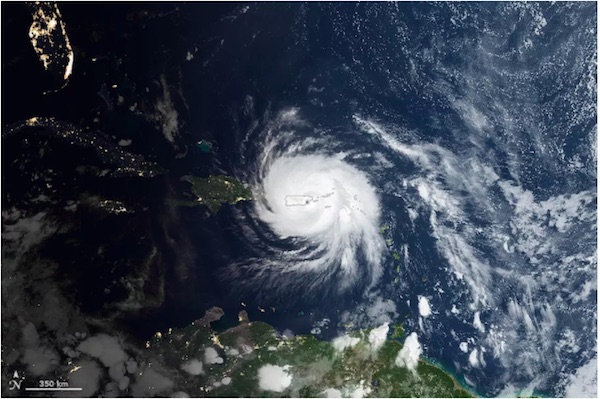 Here are some photos of what roads look like in the interior. First, some wind damage in Toa Alta, west of San Juan: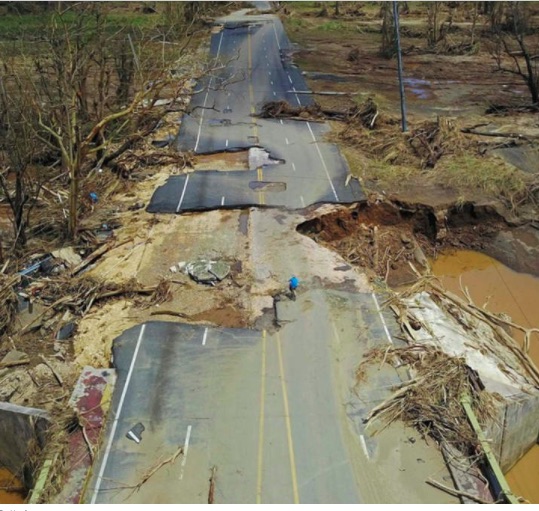 It looks to me like Maria found an exposed edge of tarmac, and lifted it into the air. If indeed the damage is uniform, we can expect a lot of cases like this.
Next, some erosion in Utuado, along the Río Grande de Loíza, the largest river in Puerto Rico by volume: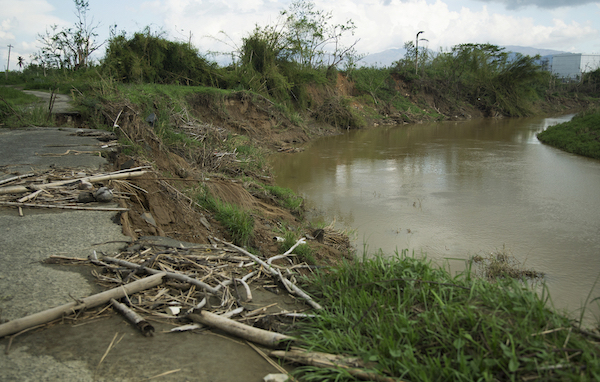 No doubt we can expect a lot of damage like this, along every river and stream.
Finally, washed out roads and mudslides in the mountains, again near Utuado: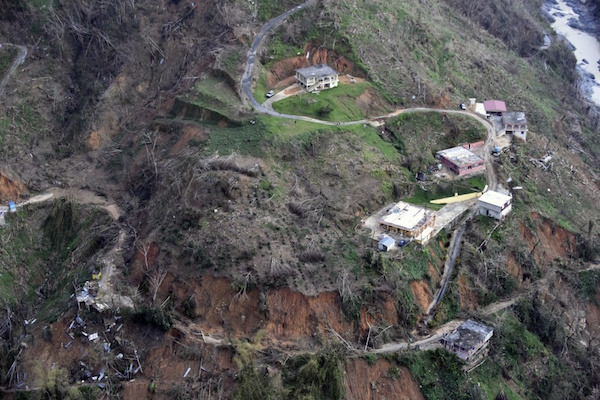 Again, we can expect a lot of damager like this, since Maria engulfed the entire island, and one mountain road is much like another in its vulnerability.
Besides roads, we have bridges. From the Times:
More than 100 bridges in Puerto Rico were damaged by Maria and 18 have been closed indefinitely, according to Ivonne Rosario, a spokeswoman for Puerto Rico's transportation department. An unknown number collapsed during the storm, leaving entire communities like Charco Abajo stranded.
I don't understand how this census could be made, given that most roads are impassable. And how is it that 18 have been closed, but an "unknown number" have collapsed?
After this dispiritingly crude approximation of a sitrep, let's look at some efforts being made. The first is actually encouraging. From the U.S. Forest Service:
If you can hear the speaker over the sound of chainsaws, you'll hear him say (paraphrasing) that the locals had done a great job clearing the roads of brush and debris. (Of course, they'd need machinery to rebuild the roads, and that's another matter.)
The second is mildly encouraging, for what it is:
NIAGARA FALLS AIR RESERVE STATION, N.Y. – 125 Soldiers of the New York Army National Guard's 152nd Engineer Support Company headed for Puerto Rico from the air base on Oct. 18-19, the latest installment in the New York National Guard's support to the island. The Buffalo, N.Y. based engineers are prepared to conduct debris removal, clear roads, and get lines of communication open, according to Capt. Nathan Attard, the company command.
If we can generalize from the experience of the Forest Service, debris removal and clearing is under control, but getting lines of communication open will be something else entirely, if the wind, erosion, and mudslide damage in the interior is as bad as I think it is:
The Soldiers of the 152nd construct things like roads, airfields and helipads, so his men and woman actually trained in the skills Puerto Rico needs, Attard said. Not only do we do this as Guardsmen but also a lot of us are professional construction workers, he added.
Great! But I'm guessing the scope of the project will require more than 125 soldiers. And more than one team of chainsaw-wielding Forestry Service workers.
* * *
According to the Republicans, everything is fine, or as fine as possible. Democrat Schumer has called on Trump to appoint a czar:
Schumer, along with Representatives Nydia Velàzquez and Jose Serrano, said a "CEO of response and recovery" is needed to manage the complex and ongoing federal response in the territory, where millions of Americans remain without power and supplies.

"This person will have the ability to bring all the federal agencies together, cut red tape on the public and private side, help turn the lights back on, get clean water flowing and help bring about recovery for millions of Americans who have gone too long in some of the worst conditions," he said.
I find Schumer's call for a CEO dispiriting, too. My first thought was to get the Army Corps of Engineers onto the island, and have them build some roads, but apparently they do waterworks and dams. My second thought was the Seabees ("Construction Battalions") who do that kind of work.[4] This may not be the best of all possible ideas — although I haven't heard of private equity pushing Puerto Rican toll roads they would own — but at least I'm, well, trying to deliver a universal concrete material benefit to the people of Puerto Rico. While Trump blusters, all Schumer can do is call for a Man on a White Horse to come up with a plan, he himself having none of his own. The political class seems to have lost the capacity to mobilize on behalf of its citizens (although looting and internecine warfare proceed as normal). This too is dispiriting.
NOTE
[1] I loathe disaster porn. Please don't hate me.
[2] As of October 19, Crowley Maritime: "Crowley's Isla Grande Terminal in San Juan continues to experience high volumes of cargo on the terminal, though the dispatch rate is returning to close to the normal rate of 500 per day. The company has reported that increased terminal throughput has reduced the significant backlog resulting from on-island disruptions due to the hurricane, but that additional commercial and relief cargo reaching Puerto Rico is creating 'unusually high' loads awaiting dispatch." I can't decrypt that to arrive at a figure of how many containers are actually still on the docks, but I take it that there is still a backlog, though it's not as bad as it was.
[3] FEMA seems to have obfuscated power and water figures, but not, apparently, roads.
[4] Too bad we don't have a Jobs Guarantee….