By Lambert Strether of Corrente.
Readers, I'm going to presume on your indulgence and return in an hour or so with actual content, and before 2:00PM Pacific Standard Time! –lambert. UPDATE 4:14PM Make that two hours. Hello, California!
In the meantime, talk amongst yourselves! And be excellent to each other.
* * *
Trade
"At a time of great peril for our democracy and deepening public opposition to Donald Trump on many fronts, he wins high marks from voters on handling trade and advocating for American workers: 46 percent approve of his handling of trade agreements with other countries, 51 percent, his 'putting American workers ahead of the interests of big corporations' and 60 percent, how he is doing "keeping jobs in the United States" (PDF) [Greenberg Research]. Well, naturally. That's what Putin wants.
"Groups including the U.S. Chamber of Commerce, National Association of Manufacturers, Coalition of Service Industries, American Farm Bureau Federation and others are planning to spend an intensive day on the Hill in November. The coalition will aim to hit every Senate office to explain why they believe some of the U.S. proposals on the table — including a five-year sunset provision, tighter auto rules of origin and making investor-state disputes optional — would be harmful to cross-border business, according to sources familiar with the effort" [Politico].
"Airbus-Bombardier deal: Mobile may get another jet assembly line" [Birmingham News].
Politics
2016 Post Mortem
"Selective Feminism and the Myth of the Bernie Bro: The Backlash to Sanders and the Women's Convention" [Katie Halper, Paste]. Nice round-up.
2017
"Virginia Democratic gubernatorial hopeful Ralph Northam omitted any mention of Justin Fairfax, the party's African American candidate for lieutenant governor, from about a thousand pieces of campaign literature, which Fairfax called a "mistake." The incident has stoked tensions within the Democratic ticket, threatening to alienate African American voters three weeks before Election Day" [WaPo]. "The palm cards with photos of Northam and Attorney General Mark R. Herring (D) were produced for canvassers with the Laborers' International Union of North America (LIUNA), which asked that Fairfax be excluded because it did not endorse him. Fairfax has spoken critically of two proposed natural gas pipelines that the union supports."
2018
"The country hates the GOP Congress: Why don't Democrats have a knock-out lead?" (PDF) [Greenberg Research]. "The Democrats are ahead by just 8-points among registered voters, and 5-points among likely 2018 voters in Democracy Corps' most recent national survey. That is marginally down from the 10-point and 7-point advantages (among registered and likely voters, respectively) Democrats held in our June polling… There has been no growth in identification with the Democratic Party, as there was in going into 2016. … [W]hen it comes to the measures used to gauge interest and intention to vote, Democrats and Republicans are showing equal engagement. That will not produce the landslide election Democrats are hoping to achieve."

"Trump's small-dollar donors fuel surge in GOP fundraising" [McClatchy]. "The Republican National Committee raised more than $100 million in the first nine months of 2017, marking the first time it has raised that much, that fast, in a non-presidential election year. The record-breaking fundraising can be largely attributed to a flurry of small-dollar donors responding to fundraising appeals by the first Republican president in eight years…The numbers give Republicans a large cash advantage over Democrats as they look to retain control of both chambers of Congress in the midterm elections next year."

"Senate Republicans started the cycle with a good electoral map that gave them some hope that they could gain seats, even in a mid-term election when history strongly suggests that they should lose them. But, a growing schism in the Republican Party is threatening to erode many of the advantages Senate Republicans have" [Cook Political Report]. "Trump has successfully sold the message to his base that the GOP-controlled Senate is responsible for the failure of his legislative agenda. The result is that Trump voters are angrier now than they were when they voted for Trump almost a year ago, but instead of being angry at Hillary Clinton or Democrats, they are now turning their rage on the establishment, and anyone who can be associated with it." However, of the 8 Republican seats on the ballot next year, Cook believes only two (Jeff Flake in Arizona and Dean Heller in Nevada) are competitive. So, 52 Republicans – 2 = 50 in Cook's worst case scenario.

"The Democrats we met with are all running in [competitive swing] districts held by Republicans. Hillary Clinton won some of these districts. Some were narrowly carried by Trump. Yet, all the candidates were more focused more on Congress and its lack of progress than on Trump and his lack of composure" [Amy Walter, Cook Political Report]. "One Democratic candidate from the Midwest said, 'all I hear back in my district is 'Just get me some results.' When I asked one candidate if he was running for Congress because of Trump, he said. 'I don't know if I'd be running if Trump weren't President, but I do know that the incumbent is voting the wrong way for the district.' Another challenger running in a swing suburban district told us that voters in his district care more about paying the rent and student loan debt than the Russia investigation. The problems the country is facing, says the Democrat, 'didn't start with Trump…but it's career politicians who haven't solved them.'" The conclusion: "Where both sides are unified, however, is a belief that in this time of disruption and chaos, pitching their candidates as problem solvers instead of trouble makers will resonate with a weary, frustrated and disillusioned electorate." Oh gawd. The "problem solvers"/"no labels" crowd are as weaselly a bunch of centrists as you will ever encounter, and they never win anything.
Realignment and Legitimacy
Gotta appeal to those suburban Republicans, since you don't want to expand the base:

At @LATimesEvents Summit @NancyPelosi says, "Wouldn't it be nice if @MittRomney was President today?!" Huge applause.

— Lynn Vavreck (@vavreck) October 19, 2017

Because that's how they rigged the ballot: "California's unusual open primary in which all candidates run on a single ballot has frustrated some liberals because it can favor more centrist candidates like Feinstein. This allows the state's dwindling number of Republican voters to join moderate Democrats and ensure Feinstein makes the November runoff with whoever challenges her from the left" [Business Insider].

For example:

Barbara Bush, the daughter of former President George W. Bush said she voted for Hillary Clinton:https://t.co/V3AsfxxORD pic.twitter.com/mZLlutvKbI

— Women in the World (@WomenintheWorld) October 20, 2017

DNC Deckchair Perez is too funny (1):

Perez now publicly apologizing for not reaching out in advance to a few members left off his DNC at-large list. "You're part of the family."

— Gabriel Debenedetti (@gdebenedetti) October 21, 2017

DNC Deckchair Perez is too funny (2):

Tom Perez on purge: "I simply ran out of time" to notify long-standing #DNC officials that they had been removed from their positions. pic.twitter.com/8ZUcHqq2JI

— liking online (@likingonline) October 22, 2017

"[A] party claiming to be standing alone against an existential threat to the republic should be willing to move somewhat, to compromise somehow, to bring a few of the voters who have lifted the G.O.P. to its largely undeserved political successes into the Democratic fold" [Ross Douthat, New York Times]. "Instead, the Democrats are still relying on arc-of-history beliefs and long-term demographic trends…. As much as the country needs a conservatism with some idea of what it's doing, some theory of the common good, it needs a liberalism that stops marinating in its own self-righteousness long enough to compete effectively for rural, Southern and Midwestern votes."

"The battleground [in the Republican Civil War] can be seen in the rural, rolling hills and evangelical congregations of Wilkes County, North Carolina, and the upscale suburban sprawl of Delaware County in Ohio" [NBC News]. "On the struggling streets and in the crowded pews of Wilkesboro, N.C., voters sense that a conservative revolution has arrived, and Republicans here relish the thought of overthrowing the Washington establishment and remaking the party in their own faith-driven image…. Meanwhile, in wealthy exurban Columbus, Ohio, there is hope that Republicans will do what they always do, fall back in line for the good of the party, leaving plenty of room for the country club set that has long dominated its upper echelons."

"The 'governing wing' of the GOP is running for the hills" [Chris Cilizza, CNN]. "[Ohio Rep. Pat Tiberi] is the 18th House Republican to announce plans to leave Congress sometime between now and January 2019. More importantly, he joins a rapidly swelling list of House GOPers with influential committee assignments, close ties to the party leadership and pragmatic approaches to governing to walk away. In recent months, Reps. Ileana Ros Lehtinen (Florida), Dave Trott (Michigan), Dave Reichert (Washington) and Charlie Dent (Pennsylvania) have all decided to leave. On the Senate side, Sen. Bob Corker of Tennessee, another member of the pragmatic establishment within the Republican conference, announced his plans to retire earlier this month."

"Socialist Ginger Jentzen is the greatest city council fundraiser in Minneapolis history" [City Pages]. "Jentzen sees her campaign as part of a national movement, name-dropping U.S. Sen. Bernie Sanders and Kshama Sawant, the Socialist Alternative politician elected to Seattle's city council in 2013. Jentzen's campaign finance records reflect that socialists are eager to support a promising candidate, regardless of proximity: The pre-primary report her campaign filed in July (by which point she'd already raised upwards of $60,000) showed donations from California, Washington, Massachusetts, Texas, and other states… with plenty of Twin Cities donations mixed in as well."

"Statement on the DSA Funds for Victims of Terrorism in Charlottesville" [DSA Richmond, Medium]. "Our plan for vetting claims was simple; we would appoint officers from DSA locals that were positioned to reach those who had been injured."

"The untold story of the 4 O'Clock Caucus: Bipartisan basketball in a bygone era" [Yahoo News]. 1988…

"Voter ID public hearing was anything but public; I barely got in" [Des Moines Register]. "[I]t's sad that a process intended to give people a voice in government turned so divisive. It's even sadder that the gulf of trust is so great that something everyone should want — clean, fair and accessible elections — should generate so much distrust." Iowa nice…

"Voter rights advocates are pushing Illinois election officials to withdraw from a longtime multistate voter registration database over questions of accuracy, security and voter suppression" [AP]. "The Interstate Voter Registration Crosscheck Program is aimed at cleaning voter records and preventing voter fraud. States voluntarily provide their voter lists and the program searches for duplicates." No, it's not, because the deduping algo is rigged.
Stats Watch
Chicago Fed National Activity Index, September 2017: "The national activity index improved noticeably in September" [Econoday]. "Despite September's overall improvement, the 3-month average, pulled down by the sharp weakness in August [hurricanes], held at minus 0.16 which is the weakest reading for what has been a weak year for this indicator." And: "Chicago Fed 'Index Points to a Pickup in Economic Growth in September'" [Calculated Risk]. That is the headline. The body:
"[The chart] suggests economic activity was close to the historical trend in September (using the three-month average)." A little different… But: "The economy's rate of growth was unchanged based on the Chicago Fed National Activity Index (CFNAI) 3 month moving (3MA) average – but economic growth is significantly below the historical trend rate of growth" [Econintersect]. "See the three month rolling average for the last 6 months – it had been staying within a very tight range around the trend rate of growth of zero." FWIW, that's how this Maine bear feels: The real economy is like a car up on blocks in Janet Yellen's front yard, and if it moves, that's because something dragged it. Now, on the bright side, and switching metaphors: Uou can't fall down if you're flat on your back. So there is that.
Existing Home Sales (last Friday): "Now down year over year, and in line with the deceleration in bank mortgage lending" [Mosler Economics].
Real Estate: "Rental rates for U.S. industrial property hit their highest levels ever in the third quarter" [DC Velocity]. "The multi-year bull market in industrial property has been fueled by the dramatic demand for space from e-commerce companies and retailers needing greater capacity to execute omnichannel fulfillment services. About one-fourth of total leasing demand in the third quarter came from e-commerce companies expanding their presence in markets where they already were. In 2016, that figure was 14.7 percent… Demand for U.S. industrial property extends beyond America's borders. Annual cross-border investment in the U.S. has increased by 67 percent, on average, since 2010, according to data published today by real estate and logistics firm CBRE Inc. Year to date, the cross-border share of the total investment stands at 14.5 percent, compared to 1.9 percent in 2010. Foreign investors have acquired nearly $61 billion in U.S. industrial real estate since then."
Commodities: "Hedge fund sues Barclays Bank for £650M over alleged copper market rigging" [Mining.com]. "Red Kite, the largest metals hedge fund in the world run by UK Conservative Party donor Michael Farmer, is alleging that Barclays Bank attempted to rig the copper market through insider dealings with the London Metal Exchange." What fun!
Shipping: "Shippers face some tough choices with the introduction of the 2020 Sulfur Cap" [Seeking Alpha]. "This [International Maritime Organization] mandate requires shippers to invest in expensive retrofits to continue burning HFO, Heavy Fuel Oil, or to consume more expensive MGO, Marine Gas Oil…. This will affect as many as 70,000 ships."
Supply Chain: "Haribo gummy bear ingredients made by modern slaves, documentary shows" [Deutsche Welle].
Supply Chain: "It's no wonder Tesla wants to build its cars in China: the country is setting itself up to provide the power that makes the electric-vehicle business go. Batteries have emerged as a critical front in Beijing's bid to be the global leader in electric cars, and foreign auto makers and experts say it's doing that by rigging the supply chain to favor domestic suppliers. Foreign batteries aren't banned in China, but auto makers must use ones from a government-approved list of 57 manufacturers to qualify for generous subsidies—all of them Chinese companies" [Wall Street Journal].
The Bezzle: "SoftBank's big checks are stalling tech IPOs" [Reuters]. "These deep-pocketed financiers, which have traditionally invested in the public markets but are seeking better returns from private tech companies, have enabled startups to raise more money, stay private longer and spurn the regulatory hassles of an IPO even as they become larger than many public companies."
The Bezzle: "The quality scandal at Japanese parts supplier Kobe Steel Ltd. is deepening, with new revelations reaching into the construction business. The company that this month disclosed problems in its supply of steel for auto parts now says one of its copper plants is under investigation for possibly violating Japan's industrial standards…, focusing new scrutiny on pipes used in plumbing and air-conditioning systems. The growing problems facing one of Japan's largest producers of steel and aluminum, and a major auto supplier, is bringing new attention to raw materials that are critical in industrial supply chains and in the production of goods from big-ticket items including automobiles and aircraft" [Wall Street Journal]. "Around 500 companies have received shipments of substandard products from Kobe Steel." The number of companies is less useful than a list of the finished goods that used Kobe's "substandard" products. Fake news is one thing, but fake aluminum is quite another, especially if you do any flying.
The Bezzle: "Tech Giants Are Paying Huge Salaries for Scarce A.I. Talent" [New York Times]. "In the entire world, fewer than 10,000 people have the skills necessary to tackle serious artificial intelligence research, according to Element AI, an independent lab in Montreal."
The Bezzle: "Palantir Will Struggle to Hold On to $20 Billion Valuation, Study Says" [Bloomberg]. "If Palantir Technologies Inc. pursues plans for a public offering and follows through by 2019, it will need to rein in spending and woo corporate customers just to be able to hang on to a $20 billion valuation it was awarded two years ago, according to a new study. It could also be worth a lot less." On Palantir, see Mark Ames.
The Bezzle: "How the video game industry tricks players out of money" [The Week]. "A 2014 study found that half the in-game purchases for free-to-play games came from 0.15 percent of the player base, and other studies have found similar results. As casinos, alcohol manufacturers, and drug dealers found out long ago, the way to make money with these sort of manipulative products is by identifying the people who are psychologically vulnerable (e.g. a child with their parent's iPhone), and getting them hooked."
The Bezzle: Can this Calvin & Hobbes possibly be legit?
Calvin's parents were always closeted anarcho-socialists at heart. pic.twitter.com/tks9CPCY6p

— ?RIPM ????? (@IPM_Tweets) October 19, 2017
The Bezzle: "To those who have been praying for a fridge that comes to you instead of you making several trips to the kitchen while your favorite game is on can now partially rejoice. Panasonic has heard your cries. The company has included in their product line up the voice-activated fridge that "walks" to you when called" [InStash (Re Silc)]. Until somebody hacks it. Or until the AI-enabled version hacks itself…
The Law: "Variation in Boilerplate: What Does it Mean?" [Credit Slips]. Are variations in the language of commercial contracts due to random mutations in random mutation in the drafting process? I can't find the link, but I recall a study of Nigerian 409 scams that came to the same conclusion.
Rapture Index: Closes unchanged [Rapture Ready]. Record High, October 10, 2016: 189. Current: 185.
Five Horsemen: "Amazon has underperformed the S&P 500 since April 26th, as punters flee its dual headquarters boondoggle" [Hat tip, Jim Haygood].
Today's Fear & Greed Index: 90 Extreme Greed (previous close: 89, Extreme Greed) [CNN]. One week ago: 79 (Extreme Greed). (0 is Extreme Fear; 100 is Extreme Greed. Last updated Oct 23 at 1:51pm. Whoop-de-doo! Back in the 90s!
Our Famously Free Press
"Not a revolution (yet): Data journalism hasn't changed that much in 4 years, a new paper finds" [Nieman Labs]. So what? Everybody's pivoting to video now, anyhow.
Health Care
"Medicaid Enrollment & Spending Growth: FY 2017 & 2018" [Kaiser Family Foundation]. "Medicaid provided coverage to about one in five Americans, or about 74 million as of June 2017.1 Total Medicaid spending was $553 billion in FY 2016 with 63 percent paid by the federal government and 37 percent by states. Medicaid accounts for one in six dollars spent in the health care system, but more than 50 percent of long-term care spending and 10 percent of prescription drug spending. The key factors affecting total Medicaid spending and enrollment changes over the last decade have been the lingering effects of The Great Recession followed by the implementation of the Affordable Care Act (ACA)…. Medicaid enrollment and spending growth are counter-cyclical, influenced by broader changes in the economy. For example, during and after the 'Great Recession,' which began in 2008, states experienced high unemployment and major declines in revenue along with significant increases in Medicaid enrollment and spending."
"Single-payer would drastically change health care in America. Here's how it works." [WaPo].
Class Warfare
"The shape of work to come" [Nature]. Important. "The [Udacity] team was able to handle twice as many prospects at once and convert a higher percentage of them into sales." Udacity is a Silicon Valley MOOC, and it's not clear whether MOOCs provide education or merely disrupt it. Assuming the latter to be the case, what AI did was make a boiler room operation much more efficient. That's a good thing why?
"A Driver-Owned Alternative to Uber Is Not Wishful Thinking – We'Re Building It Right Now" [New Economics Foundation]. "It's an idea which is attracting more and more support. We are already working with drivers in Bradford and Leeds to set up their own taxi service platform. Now we want to bring that effort to London. We're working with drivers, tech companies, unions and civil society organisations to build the support and resources for a real alternative. Uber is facing reputational problems not just in London, but all over the world. A co-operatively owned alternative would avoid that trap."
"Who's the Boss? Union Organizers Target Private Equity Owners" [Bloomberg]. "As private equity firms become more prominent as owners and bosses, labor organizers are tailoring their tactics to confront some of the world's richest executives. The industry's multimillionaires and "vulture" reputations make firms ripe targets for public shaming, said Stephen Lerner, a former strategist for the Service Employees International Union who now works with several unions on such campaigns." I remember SEIU campaigning hard against single payer in 2009. Not that I'm bitter.
"Patterns Of Death In The South Still Show The Outlines Of Slavery" [FiveThirtyEight]. "The Black Belt was the origin and center of not only Black America, but also of rural Black America. Today, more than 80 percent of rural black Americans live in the states that form the Black Belt. Black men in the region routinely have mortality rates 50 percent higher than the national average."
"Cities chasing Amazon's headquarters should be careful what they wish for" [TreeHugger]. "It's all probably a sham anyway. Jeff Bezos has likely already decided where he wants to be. But what the hell! Let's have dozens of cities spend tens of thousands of dollars and hours putting together bid proposals. Who says Amazon doesn't create local jobs in your community?"
"Fentanyl blamed as overdoses, deaths race ahead of 2016 pace in Hamilton County, Cincinnati" [Cincinatti Enquirer]. "Addiction experts see medication-assisted treatment is a standard treatment and note its success is backed by evidence. The American Society of Addiction Medicine, the National Institutes of Health and other addiction experts, including those with the World Health Organization, recommend these FDA-approved medications: methadone, buprenorphine and injectable naltrexone (better known by its brand name, Vivitrol)." So Big Pharma wins coming and going. It's a self-licking ice cream cone!
News of the Wired
Opium is the opium of the people:
"The morphine of today is cube morphine!*" American Druggist, March 1900.

(*the great taste of oblivion that's easy to stack…) pic.twitter.com/fmae07uvUz

— Pulp Librarian (@PulpLibrarian) October 22, 2017
"When this week's KRACK wi-fi vulnerabity hit, I saw a series of tweets from Emin Gür Sirer, who's mostly tweeting on bitcoin topics but seemed to know something many didn't about this particular Wi-Fi vulnerability: it had been in plain sight, but behind paywalls with corporate level fees, for thirteen years. That's how long it took open source to catch up with the destructiveness of a paywall" [Private Internet Access]. "Apparently, WPA2 was based on IEEE standards, which are locked up behind subscription fees that are so steep that open source activists and coders are just locked out from looking at them. This, in turn, meant that this vulnerability was in plain sight for anybody who could afford to look at it…. [W]hile ordinary activists and coders were locked out of reviewing these documents, the NSA and the like had no shortage of budget to pay for subscriptions to these specifications. Thus, the IEEE's paywall was lopsiding the security field toward mass surveillance, away from security."
"Opinion: A Disturbing Trend in Photography" [PetaPixel] MFAs + digital = meta-text + photo = crapification, since the image can no longer stand alone as art.
"My Smartphone Died, and I Didn't Miss It. Well, Maybe a Little." [New York Times]. " I waited three days before breaking down and (again) borrowing a cellphone to check email. But to gain access to my email from an unfamiliar device required a code sent via text to — where else? — my dead cellphone."
* * *
Readers, feel free to contact me at lambert [UNDERSCORE] strether [DOT] corrente [AT] yahoo [DOT] com, with (a) links, and even better (b) sources I should curate regularly, (c) how to send me a check if you are allergic to PayPal, and (d) to find out how to send me images of plants. Vegetables are fine! Fungi are deemed to be honorary plants! If you want your handle to appear as a credit, please put it in the subject line. Otherwise, I will anonymize by using your initials. See the previous Water Cooler (with plant) here. Today's plant (Re Silc):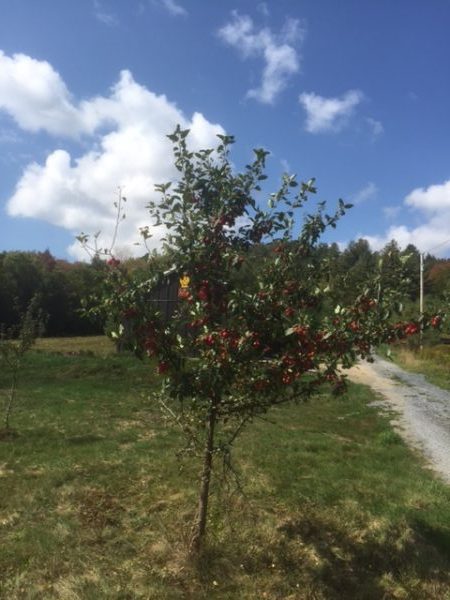 Re Silc writes: "Lots of crab apples in Vermont. Bumper crop for deer."
Deer are pests! But the black-nylon fishing line trick worked for me!
* * *
Readers: The Naked Capitalism fundraiser is over, and let me express my personal thanks to all those who have helped keep Naked Capitalism getting better and better. Water Cooler, however, is a standalone entity not covered by the NC fundraiser. So do feel free to use the dropdown and click the hat to make a contribution today or any day. Here is why: Regular positive feedback both makes me feel good and lets me know I'm on the right track with coverage. When I get no donations for five or ten days I get worried. More tangibly, a constant trickle of small donations helps me with expenses, and I factor that trickle in when setting fundraising goals. So if you see something you especially appreciate, do feel free to click the hat!