By Lambert Strether of Corrente.
Trade
"In the same White House briefing where a senior Trump official discussed the Section 232 investigation, the administration criticized China for what it called "a trajectory of moving away from market-based principles" [Politico]. ""Progress on a range of bilateral economic issues [with China] has become increasingly difficult,' the official told reporters. 'We believe this reflects a slowdown and even a retreat in China's move toward a market-oriented economy. China is now so large that its distortionary practices not only have effects within the U.S. market, but in markets around the world.'"
"Across the Political Spectrum, Trade and Legal Experts Agree: ISDS Must Be Eliminated From NAFTA, Revealing Unusual Consensus" [Public Citizen]. "Lori Wallach, director of Public Citizen's Global Trade Watch and long-time progressive critic of U.S. trade policy, noted: 'The corporate lobby's crazed campaign to protect the expansive privileges they slunk into NAFTA is unsurprising, but the more they scream about the administration proposals to limit their use of ISDS tribunals to grab millions in taxpayer funds and grease the skids to outsource American jobs, the more the public realizes NAFTA's rigged rules need replacing.'"
Politics
2016 Post Mortem
From the circus hearings on Facebook, Google, Twitter, and "Russian meddling": "Not a single one of the three tech giants would commit to supporting Sen. Amy Klobuchar (D-Minn.), Mark Warner (D-Va.) and John McCain (R-Ariz.)'s Honest Ads Act, which would require disclosures about political advertising on their platforms" [Politico]. That doesn't seem too hard. Unless, that is, your whole business model consists of confusing organic content with "organic content."

"Thousands attended protest organized by Russians on Facebook" [The Hill]. The lead:

Thousands of Americans attended a march last November organized by a Russian group that used social media to interfere in the 2016 election.

The demonstration in New York City, which took place a few days after the election, appears to be the largest and most successful known effort to date pulled off by Russian-linked groups intent on using social media platforms to influence American politics.

Sixteen thousand Facebook users said that they planned to attend a Trump protest on Nov. 12, 2016, organized by the Facebook page for BlackMattersUS, a Russian-linked group that sought to capitalize on racial tensions between black and white Americans. The event was shared with 61,000 users.

So scrutinize those "divisive" protest groups very carefully! (And if the Russkis had a millionth of the influence on US elections that AIPAC has….)
2018
This:

the only way out is through. Win the 2018 midterms, defend the 2020 census, kill Trumpism dead at the (paper!) ballot box in 2020

— Pinboard (@Pinboard) October 31, 2017

"The only way out is through." I like it, but will Democrats listen?

Rehabilitation of George W. Bush by Liberal Democrats Now Officially Complete:

President Trump, where is your leadership? The contrast btwn Pres Bush's actions after 9-11 & Pres Trump's this am couldn't be starker.

— Chuck Schumer (@SenSchumer) November 1, 2017

Could there be a reason Schumer is taking this line? Why, yes. Yes there could. Senator Schumer again:

'For every blue-collar democrat we lose, we will pick up two moderate Republicans in the suburbs of Philadelphia and you can repeat that in Ohio, Illinois and Wisconsin'

Can't win over those suburban Republicans if you keep harping on torture, Iraq, and warrantless surveillance. After all, Obama didn't, and who are we not to follow his example?
New Cold War
"[T]hese indictments convey important information about the path forward for Special Counsel Robert Mueller and his team. Early indictments send signals about the course of the investigation. The indictments against Manafort and Gates suggest , encompassing more than an immediate interest in 'collusion' during the campaign. This could indicate that the investigation has a long way to go" [The Conversation]. But not, one would hope, as broad as a fishing expedition. Recall that "collusion" is already much more broad than Clinton's original accusation that Trump is a Russian "puppet."

"Russia Inquiry Fails to Unite a Nation" [New York Times]. Merits of the issue aside, we see Liberal Democrats furiously turning the crank, which no longer seems to be connected to anything. More: "And while skepticism is a virtue in all journalistic endeavors, there is no evidence to support the assertion that the Democrats hired Fusion GPS with the purpose of getting Russians to spread "wild allegations" about Mr. Trump." Holy moley. That's what oppo is, and oppo is what Steele was peddling (modulo the semantics of "wild").

"Rich people like Manafort and Trump have learned that they can get away with just about anything. Why even bother trying to hide things, if nobody will even try to catch you?" [The Week]. "If nothing else, perhaps the investigation of Special Counsel Robert Mueller will put some long-overdue fear into the huge population of upper-class American criminals." Look on the bright side! More: "[E]lites have lately gotten away with a staggering amount of lawbreaking. This is the result: an absolute plague of dimwitted swindlers, liars, and two-bit cheats in the highest circles of government."
Realignment and Legitimacy
"Why the Minneapolis Political Establishment Is Scared of Ginger Jentzen" [In These Times]. "Despite refusing to accept corporate money, Jentzen has outraised her three opponents—two Democrats and a Green Party candidate—by historic numbers, raking in over $140,000 as of mid-October, and is now the target of an outside spending spree by business interests. These corporate interests are seeking to combat her efforts to fight for affordable housing in a working-class district that in recent years has seen a dramatic shift from homeowners to renters."

"Americans Are Officially Freaking Out" [Bloomberg]. "Almost two-thirds of Americans, or 63 percent, report being stressed about the future of the nation, according to the American Psychological Association's Eleventh Stress in America survey, conducted in August and released on Wednesday. This worry about the fate of the union tops longstanding stressors such as money (62 percent) and work (61 percent) and also cuts across political proclivities. However, a significantly larger proportion of Democrats (73 percent) reported feeling stress than independents (59 percent) and Republicans (56 percent)." Gaslighting works! I'd go long anti-anxiety remedies…
Stats Watch
ADP Employment Report, October 2017: "ADP is calling for a limited snap back in the October employment report" [Econoday]. Whatever the heck "limited snapback" means. Who the heck invented that one? More: "ADP sees private payrolls rising 235,000 which is just on the high side of ADP's usual estimates." But: "When the goods sector of the economy is gaining more workers than historically – it is a warning that something is wrong. This is the third month in a row of the service sector weakness" [Econintersect]. "ADP employment has not been a good predictor of BLS non-farm private job growth."
Purchasing Managers' Manufacturing Index, October 2017: "The manufacturing PMI had been lagging other private and regional data but is now signaling solid and accelerating growth for the sector" [Econoday]. "Production is up, inventories are up, costs remain elevated, and selling prices are showing traction. Hurricane effects haven't yet passed and are still working through the supply chain with delivery times still slowing. The past two durable goods reports out of Washington have been very strong and gains among the softer data, like today's report, hint perhaps at substantial acceleration for the factory sector going into year end."
Institute for Supply Management Manufacturing Index, October 2017: "ISM manufacturing's sample reports only slight cooling, at a still unusually strong composite of 58.7 in October vs September's 13-year high of 60.8" [Econoday]. "New orders remain the stand-out positive in the report…. Export orders, like those in this morning's earlier PMI manufacturing report, are a strong positive. Employment is also unusually strong." But: "Based on these surveys and the district Federal Reserve Surveys, one would expect the Fed's Industrial Production index to be modestly improved. Overall, surveys do not have a high correlation to the movement of industrial production (manufacturing) since the Great Recession" [Econintersect]. And: "While we have used 50.0 as a metric to define growth or contraction — above being growth and below being contraction — the ISM's report now shows that a PMI reading above 43.3%, over a period of time, generally indicates an expansion of the overall economy. Based on that observation, the October PMI represented growth for 101 consecutive months in the overall economy, and it was the 14th straight month of growth in the manufacturing sector" [247 Wall Street]. Hmm.
Construction Spending, September 2017: "Year-on-year, this reading is down 3.8 percent with weakness most evident in manufacturing and office building that offsets gains for commercial building" [Econoday]. "The residential side, though unchanged in September, shows much more strength with a year-on-year rise of 9.6 percent. … Public spending improved in the month led by a 5.2 percent gain for educational building." And but: "Private residential spending has been increasing, but is still 24% below the bubble peak. Non-residential spending is now 3% above the previous peak in January 2008 (nominal dollars). Public construction spending is now 15% below the peak in March 2009, and 5% above the austerity low in February 2014" [Calculated Risk].
MBA Mortgage Applications, week of October 27, 2017: "Purchase applications for home mortgages fell by a seasonally adjusted 1.0 percent in the October 27 week, posting the second weekly decline in what may be a reaction to another uptick in mortgage rates" [Econoday]. "Despite the weekly decline, purchase applications remain a very solid 10 percent above the year ago level and give a positive signal for underlying home sales."
Commodities: "Gold demand from China picks up again" [Mining.com]. "Total gold consumption, including jewellery and bullions but excluding the central bank's purchases, went up 16% to 815.9 tonnes in the period, the association reported Wednesday according to Xinhua news agency. That's a positive turnaround from the same period last year, when demand dropped by almost 13%." China watchers?
Real Estate: "Paying For Dirt: Where Have Home Values Detached From Construction Costs?" [BuildZoom]. "This study illustrates the disparity between the appearance and price tag of homes, identifying the places in which home buyers pay mostly for the dirt. For each of the largest U.S. metros – and for each zip code area therein – it estimates average home values and replacement costs: the cost of building existing homes anew at current quality standards and construction costs. The estimates help infer the breakdown of home value between the value of improvements – primarily the structure – and the value of the land."
Real Estate: "Smallest home in Los Angeles: 264 square foot studio selling for $550,000 highlights collective insanity." [Dr. Housing Bubble]. "People have once again lost their collective marbles when it comes to real estate. There is now a massive trend with momentum for non-stop housing appreciation. In other words, our housing bubble sins are now fully washed away making way for more aggressive risk taking. I've been traveling and seeing real estate from many different locations and thanks to ubiquitous sites like Zillow, virtually every large metro area is seeing massive housing appreciation detached from income growth and people are tracking real estate down like starving hyenas after an injured wildebeest." What could go wrong?
Retail: "The letter sent to Amazon [from the city of Chicagp] was signed by Emanuel, Rauner, Cook County Board president Toni Preckwinkle, and the four Republican and Democratic leaders of the statehouse, among them house speaker Michael Madigan and senate president John Cullerton. Apparently, the only thing this bunch agrees on is that it's a good idea to give away prime real estate and at least a couple of billion dollars in tax breaks, grants, and other incentives to one of the world's richest corporations" [Chicago Reader (DG)]. The whole piece is well worth a read.
Retail: "The era of easily faked, AI-generated photos is quickly emerging" [Quartz]. "Last week research released by Nvidia, a manufacturer of graphics processing units that has cornered the market on deep learning hardware, shows that [Generated Adversarial Networks (GANs)] can now be used to generate high-resolution, believable images of celebrities, scenery, and objects. GAN-created images are also already being sold as replacements for fashion photographers—a startup called Mad Street Den told Quartz earlier this month it's working with North American retailers to replace clothing images on websites with generated images." Over one hundred household uses…
Retail: "Bleeding cash and losing customers, Sears is scrambling to keep the companies that provide its products from bolting, even as the suppliers cut off credit lines, toughen payment terms and withhold shipments…. Sears is paying some companies including LG Electronics Inc. and Samsung Electronics Co. in cash to guarantee shipments, signaling the declining confidence suppliers have in a retailer that once accounted for nearly a full percentage point of U.S. economic output" [Wall Street Journal]. The lone and level sands stretch far away…
Retail: "Inside the Anything-Goes World of Instagram Fast-Fashion" [GQ]. Big supply chain issues, and IIRC Amazon wants to get into this business….
Shipping: "Cass Freight Index turns in another solid performance in September" [Logistics Management]. "Freight shipments and expenditures in September each saw annual increases, according to the most recent edition of the Cass Freight Index Report from Cass Information Systems, which was released today…. Throughout the U.S. economy, we are continuing to see a growing number of data points suggesting that the economy continues to get incrementally better. The 3.2% YoY increase in the September Cass Shipments Index is yet another data point which confirms that the first positive indication in October (before the election) was a change in trend." And but: "It should be pointed out that although the data seems to be improving, it is nothing to write home about" [Econintersect]. "It is also interesting that the current trucking employment pattern shows little growth over the last few years."
Shipping: "UPS to outfit 5,700 trucks with collision-avoidance technology" [DC Velocity]. "Transport and logistics giant UPS Inc. will equip more than 60 percent of its tractor-trailer fleet with a suite of collision-warning sensors and technologies that could help drivers avoid accidents, the company said Tuesday. The company plans to add the systems to more than 5,700 of its fleet of 11,000 trucks." So they're not expecting robot trucks to happen before this equipment has been amortized?
Shipping: "50% of ships due for 2017 delivery have yet to hit the water" [Splash 247]. "'Vessel deliveries typically slow down towards the end of the year. If the owners wait a few weeks, allowing the delivery to slip into the new year, the vessel is considered a whole year younger. Many sectors can expect a high proportion of the orderbook to hit the water in future years,' VesselsValue observed in a release."
Tech: "Snap Maps offered real-time coverage of Tuesday's terror attacks in Manhattan (plus a lot of emoji)" [Neiman Labs]. Interesting, especially the passing mention of the Algo.
The Bezzle: "Tesla Inc.'s bid to crank up production of a mass-market electric car is hitting a critical hurdle in the company's supply chain: labor" [Wall Street Journal]. At last! They said it! " [Tesla] is wrestling with mounting signs of labor unrest…There have already been disputes between the UAW and Tesla, raising questions of whether the factory will struggle with the demands of a leader whose vision of Tesla bucks tradition and who sees the business more as a Silicon Valley software pioneer than as manager of auto plants."
The Bezzle: "Panasonic CEO Kazuhiro Tsuga gave everyone a better understanding of why Tesla missed its target for Model 3 production in the third quarter" [Business Insider]. "Tsuga said during an earnings briefing that there have been delays to automating the battery production line at Tesla's Gigafactory, which has slowed Model 3 output, Reuters' first reported. Some of the battery packs have had to be assembled by hand, according to the report." No. Tesla assembled 260 — that right, three (3) digits — Model 3s manually, via metal-bashing. Now we learn, which is new, that the batteries were assembled by hand. Wouldn't it be simpler for Mush to be open about this, and move the whole shebang to Bangla Desh, were "hands" are cheap?
The Bezzle: "A bad year for Japan Inc. got worse last week after Subaru Corp. joined Nissan Motor Co. in saying it was recalling cars that were signed off by uncertified vehicle inspectors. The revelations follow Kobe Steel Ltd.'s admission that it cheated on quality control tests and Takata Corp.'s bankruptcy filing following its airbag debacle" [Bloomberg]. I'm not sure whether this is a tempest in a teapot or not. Didn't Deming say that you can't inspect quality in?
Five Horsemen: "Microsoft and Facebook jockey for the lead" [Hat tip, Jim Haygood].
Today's Fear & Greed Index: 67 Greed (previous close: 65, Greed) [CNN]. One week ago: 86 (Extreme Greed). (0 is Extreme Fear; 100 is Extreme Greed. Last updated Oct 30 at 8:00pm. Gradually deflating…
Health Care
"Are Payers the Leading Cause of Death in the United States?" [MedPage Today]. Rather remarkable that a medical news service would run such material. It concludes: "Are payers the leading cause of death in the United States? If you think this is a crazy question, please think again."
Our Famously Free Press
"Facebook Vice-President and General Counsel Colin Stretch told the hearing that the company plans to double its current staff of 10,000 people working on security issues by the end of next year. For a company that reported 20,658 employees at the end of June, that's a big commitment" [247 Wall Street]. Imagine the difference 10,000 reporters could make…
Class Warfare
"The U.S. Isn't Prepared for the Next Recession" [The Atlantic]. Sure it is! The next recession will be handled exactly as Puerto Rico was handled after Hurrricane Maria! Kidding….
News of the Wired
"China Just Unveiled The Most Futuristic Library Ever" [NextShark (TF)]. The photos look intriguing, but I'm almost as suspicious of "sleek and futuristic design" as I am of squillionaires with bright ideas. See the second comment: "Looks beautiful, but how do they shelve and retrieve items from those insanely high shelves on a regular basis?" Many of the comments are interesting, moreso than the article.
"Daylight saving time ends on the first Sunday in November, when clocks are moved back an hour at 2 a.m. local daylight time (so they will then read 1 a.m. local standard time)" [LiveScience]. First Sunday, not first of the month. Oh-kaay…
"Researchers from the University of Pennsylvania say the number of assaults go up by nearly three percent right after the country sets their clocks back one hour" [CBSPhilly]. I'm surprised it's that low.
'"Without End: Documents of Research" [London School of Economics Review of Books]. "At my present point in the process, there has been a return, a recall to one site of interaction I know well. This site is my desk. Notwithstanding their standard stock build, there is something specific about a desk and its ancillary components. Bruised with ink, blemished with coffee rings, this desk bears witness to scuffles with the new. This computer has played upon all vulnerability, participating in both the feat and folly of searching. This chair, with its peeling arms, has been a support through nights of angst and labour, of toil. There have been so many times that I have been lost into these objects and these activities that our difference has blurred. To enter this site, I feel my constitution shift; I exist somewhere between these objects. The return to this interaction is awash with histories that recall their loves, desires and ambitions to the present and inform what I am here to do." PoMo, but fun. Dr. Hunter Thompson's National Affairs Desk was a lot smaller. And, no doubt, differently blemished.
"The Upside of Being Ruled by the Five Tech Giants" [New York Times]. "Ever since I started writing about what I call the Frightful Five, some have said my very premise is off base. I have argued that the companies' size and influence poses a danger. But another argument suggests the opposite — that it's better to be ruled by a handful of responsive companies capable of bowing to political and legal pressure. In other words, wouldn't you rather deal with five horse-sized Zucks than 100 duck-sized technoforces?"
"The Web began dying in 2014, here's how" [André Staltz]. "The War for Net Neutrality in the USA won a battle in 2014, but in 2017 we are seeing a second battle which is more likely to be lost. Internet Service Providers (ISPs) are probably soon going to dictate what traffic can or cannot arrive at people's end devices. GOOG-FB-AMZN traffic would be the most common, due to their popularity among internet users. Because of this market demand, ISPs will likely provide cheap plans with access to GOOG-FB-AMZN, while offering more expensive plans with full internet access."
* * *
Readers, feel free to contact me at lambert [UNDERSCORE] strether [DOT] corrente [AT] yahoo [DOT] com, with (a) links, and even better (b) sources I should curate regularly, (c) how to send me a check if you are allergic to PayPal, and (d) to find out how to send me images of plants. Vegetables are fine! Fungi are deemed to be honorary plants! If you want your handle to appear as a credit, please put it in the subject line. Otherwise, I will anonymize by using your initials. See the previous Water Cooler (with plant) here. Today's plant (PH):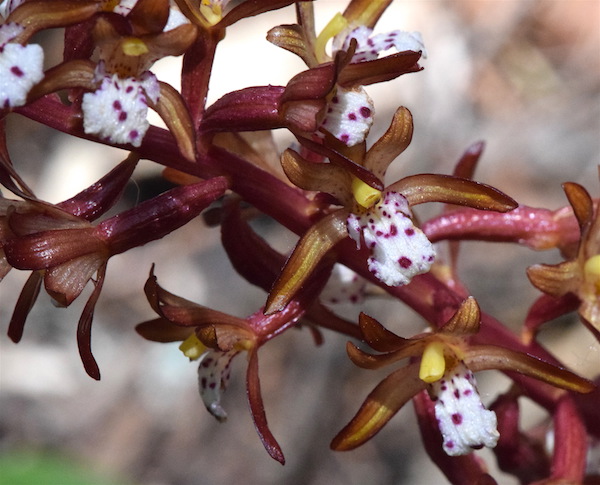 Corallorhiza maculata, Spotted Coralroot Orchid. I don't know if orchids flower in the Fall, but the colors are certainly appropriate!
Also, it would be nice to have more pictures of people's gardens buttoned up for the winter, for those of you for whom winter is coming. And fall foliage, ditto.
* * *
Readers: Water Cooler is a standalone entity not covered by the NC fundraiser. So do feel free to use the dropdown and click the hat to make a contribution today or any day. Here is why: Regular positive feedback both makes me feel good and lets me know I'm on the right track with coverage. When I get no donations for five or ten days I get worried. More tangibly, a constant trickle of small donations helps me with expenses, and I factor that trickle in when setting fundraising goals. So if you see something you especially appreciate, do feel free to click the hat!