By Lambert Strether of Corrente.
Trade
"President Donald Trump and his administration are worried that foreign dominance in the solar manufacturing sector could pose a national security threat, which might influence the decision of whether to levy import barriers on the technology" [Politico].
Politics
2017
"Virginia Governor – Gillespie vs. Northam" [RealClearPolitics]. The average of all polls: Northam 3.3% (Yesterday: 3.3%). Nothing new.

"Democrat Ralph Northam and Republican Ed Gillespie combined to raise a record-smashing $20.6 million between Oct. 1 and Oct. 26, as national money poured into Virginia's marquee election for governor" [Richmond Times-Dispatch]. "The combined haul was nearly twice the record that Democrat Terry McAuliffe and Republican Ken Cuccinelli raised in the same time period four years ago, according to the Virginia Public Access Project, a nonpartisan tracker of money in state politics." Ka-ching.

"Northam raised $11 million and ended the period with $1.7 million on hand. Gillespie raised $9.7 million and reported $1.4 million in the bank" [WaPo].
New Cold War
A sampler of punditry:

"Thus we have Free Beacon neocons, never-Trump Republicans, the Hillary Clinton campaign, the DNC, a British spy and comrades in Russian intelligence, and perhaps the FBI, all working with secret money and seedy individuals to destroy a candidate they could not defeat in a free election" [Patrick Buchanan, Real Clear Politics].

"It sure looks like there was collusion between the Trump operation and Russia" [Ezra Klein, Vox]. "Two things are true about the indictments unsealed by special counsel Bob Mueller Monday: They don't provide a "smoking gun" proving collusion between Donald Trump's operation and Russia. They make it almost impossible to believe that there wasn't collusion between Trump's operation and Russia."

"Hillary Clinton Shouldn't Go Away. She Should Embrace Her Role as Trump's Nemesis." [Jeet Heer, The New Republic]. "With the Mueller investigation now besieging Trump, there's no better time for Clinton to deploy her special gift of enraging Trump. More than any other politician, she can speak to the legitimacy crisis in his government, and the success of her bestselling memoir What Happened proves that there is a vast audience eager to listen." Please kill me now.

"It is surely a scandal, and not just in the political sense, when the former chairman of a presidential campaign is indicted for work related to a corrupt foreign government. At the same time, it's important to remember that Paul Manafort's indictment is not evidence that President Donald Trump or his campaign colluded with Russia to influence the 2016 election" [Editorial Board, Bloomberg].

* * *

"How Manafort lost $600,000 in a shell company the government now says was used for money laundering" [Francine McKenna, MarketWatch]. The shell company was Lilred. "Lilred is an investment vehicle that was set up by Manafort to invest in a strategy that involved stripping the interest payments from a group of high-yield Ginnie Mae insured mortgages to create a collateralized mortgage obligation. Investors could buy those CMO securities, on margin, and use the high-yield interest payments to service the debt and capture a positive difference between the interest rates, or spread." They call it an investment vehice because it's designed to drive off with your money…

"Tony Podesta stepping down from lobbying giant amid Mueller probe" [Politico] Whoopsie. That was fast.

"Washington's Legions Of Lobbyists See Danger In Special Counsel's Indictment Of Manafort" [Buzzfeed]. "The threat of serving hard time for failing to disclose foreign lobbying work is rattling Washington's multi-billion dollar influence industry following Monday's 12-count indictment against Donald Trump's former campaign chairman Paul Manafort and his deputy, Rick Gates. And although the charges have largely been seen as a blow to the White House, Monday's actions by special prosecutor Robert Mueller also sent shivers down the spines of Washington's lobbyists, both Democrats and Repulicans."

The mysterious (and 30-year-old) Papadopoulos: "[C]ourt documents unsealed by the special counsel's office on Monday show that he was in communication with the highest-ranking officials on the campaign" [RealClearPolitics]. "Papadopoulos came to the Trump campaign in March of 2016 with little experience in the foreign policy realm compared to advisers on more traditional campaigns. Trump's unconventional campaign did not attract the high-level foreign policy experts typically drawn to presidential contenders…. [T[he lack of a substantial foreign policy team created risks, some that might be coming back to bite him." And: "[I]t's the final footnote of the special counsel's now-unsealed document on Papadopoulos that has all sides interested, and likely concerned: 'Following his arrest, defendant PAPADOPOULOS met with the Government on numerous occasions to provide information and answer questions.'"
Realignment and Legitimacy
"Autopsy: The​ ​Democratic​ ​Party​ ​in​ ​Crisis" (PDF) [Karen Bernal, Pia Gallegos, Sam McCann, Norman Solomon]. Fun stuff, especially since the DCCC buried theirs. (This comes from a Nation article, but you might as well just read the real thing.)
Stats Watch
Employment Cost Index, Q3 2017: "Wage pressures are emerging, led by average hourly earnings in the monthly employment report and also including the employment cost index which rose 0.7 percent in the third quarter in what is the third strongest showing of the expansion" [Econoday]. "employment cost index which rose 0.7 percent in the third quarter in what is the third strongest showing of the expansion. The year-on-year rate, up 1 tenth at 2.5 percent, is the second strongest showing…. With the unemployment rate at 4.2 percent, there's not much slack, if any at all, left in the labor market which points to a possible flashpoint for wage inflation."
Chicago Purchasing Managers Index, October 2017: "Overheating is the possible theme from the Chicago PMI" [Econoday]. "The lack of available labor means the Chicago PMI needs to cool before imbalances, including wage-push inflation, begin to appear. This report covers both the manufacturing and non-manufacturing sectors." And: "The results of this survey continue to correlate to district Federal Reserve manufacturing surveys – and generallly aligns with the overall trend of the ISM manufacturing survey" [Econintersect].
Consumer Confidence, October 2017: "strong throughout" [Econoday]. "The assessment of October's jobs market is unusually favorable with only 17.5 percent of the sample saying jobs are hard to get, which is very low and down 1/2 percentage point from September. This reading will firm expectations for strength in Friday's employment report. Another positive is confidence in the outlook for the jobs market where pessimists are making up an increasingly smaller share, at only 11.8 percent. The strong jobs market is translating into expectations for rising income. Here too pessimists are making up a smaller share, at only 7.4 percent." And: "On a percentile basis, the latest reading is at the 91st percentile of all the monthly data points since June 1977, up from the 90th percentile the previous month" [Econintersect].
State Street Investor Confidence Index, October 2017: "Global institutional investor appetite for equities continued to diminish in October" [Econoday]. "The month's sentiment shift shows risk appetites diminishing to the lowest level since March of this year, with all three sub-indexes dropping below the neutral 100 point reading, indicating institutional investors are paring down their equity holdings. Investors may be factoring in the effects of monetary policy normalization and the potential for a more hawkish chair at the Federal Reserve, State street noted."
Personal Income (Monday): "Personal income growth continues to be depressed, which tends to keep spending down as well over time, though this month it had a nice one time increase due to the hurricanes, and the drop in the personal savings rate tells me it's entirely unsustainable. Also the low inflation readings also support the notion of a general lack of aggregate demand" [Mosler Economics].
S&P Corelogic Case-Shiller Home Price Index, August 2017: "Case-Shiller home prices continue to move gradually higher" [Econoday]. "Home price appreciation is an increasingly important source of household wealth in what has been a low interest rate, low wage growth economy." Home ownership is not weath. How many times do I have to say this? And: "Compared to their peak in the summer of 2006, home prices on both 10-city and 20-city indexes remain down about 4.3% and 1.8%, respectively. Since the low of March 2012, home prices are up 47.8% and 51.3% on the 10-city and 20-city indexes, respectively. On the national index, home prices are now 5.6% above the July 2006 peak and 45.6% higher than their low-point in February 2012" [247 Wall Street].
Retail: "As if Amazon.com Inc.'s assault on the retail industry weren't already bad enough for traditional retailers, the e-commerce behemoth is also the low-price leader. On average, Amazon's prices are 11% lower than the online prices offered by such competitors as Wal-Mart Stores Inc., Target Corp., Walmart's Jet.com subsidiary and other specialty retailers" [247 Wall Street].
Retail: "Retail analysts say nearly a third of online purchases are returned, triple the rate of returns for in-store sales" [Wall Street Journal]. Fun fact!
Energy: "The rapid growth of renewable energy has reached a new milestone, with renewable sources contributing more than two-thirds of new power added to the world's electricity supply in 2016" [Transport & Environment]. "Renewable energy, particularly solar power, has made massive strides in recent years, but the figures from the [International Energy Agency (IEA)]'s medium-term renewables market report took even experienced observers by surprise… [Bloomberg New Energy Finance's Seb Henbest] added: 'We see two tipping points ahead. The first is when a new solar or wind project can compete directly with a new coal or gas plants in the absence of subsidies. The second is when that new solar or wind project is cheaper than continuing to run coal and gas power stations that are already built.' He says tipping point one is either already, or almost, upon us in all major markets, and tipping point two could be just 10 years away."
Commodities: "Solid demand for large stones" [Mining.com]. Maybe I should have filed this under "Realignment and Legitimacy"….
Commodities: "The London Metal Exchange plans to launch futures contracts for battery metals as soon as early 2019" [Wall Street Journal]. "The LME will work with battery producers and car makers on contracts for minerals such as cobalt and lithium that are used in batteries that power electric vehicles. Manufacturers are trying to manage risk in the mining of cobalt in particular."
Shipping: "Unless carriers seriously commit to reducing capacity as the major east-west trades enter the slack shipping season, they could see significantly reduced annual contract rates in 2018" [The Loadstar]. Yes, what's a cartel for, after all? More: "In spite of the recent rate weakness, load factors and vessel utilisation levels have been counter-intuitively strong for the best part of the year, which Drewry suggested may be one reason why carriers have been reluctant to pull services." But also: "Container freight rates on the main east-west trade routes rebounded this week after nearly two months of continual decline" [The Loadstar].
Shipping: "Ship Glut Clouds Long-Awaited Recovery" [Wall Street Journal]. "Container shipping is emerging from a painful six-year slump, but a glut of tonnage that will hit the water over the next two years threatens to derail the nascent recovery." Shipping fans here at NC will have seen that the trade press wringing its hands over this weeks ago.
Shipping: "Cosco raises $1.94bn to fund 20 boxships" [Splash 247']. "Cosco said the new mega ships will help the company expand the scale of its business, and the layout of shipping capacity and support for terminals along the routes under One Belt One Road initiative will also strengthened."
Shipping: "Three U.S. private-equity firms have submitted bids to take over troubled German lender HSH Nordbank…, extending restructuring in a banking sector still weighed down by the heavy debt load left from the downturn in global shipping. The Royal Bank of Scotland RBS struck agreements earlier this year to sell some $600 million in shipping loans as it moved away from the sector. Now, state-owned HSH is rushing to find a buyer after suffering massive losses on shipping debt" [Wall Street Journal].
The Bezzle: "Loot Boxes Are Designed To Exploit Us" [Kotaku]. I'm not a gamer, which means I'm rapidly being left behind, culturally; but loot boxes look horrid.
Five Horsemen: "After last Friday's eye-popping melt-up, the Fab Five have left their S&P 500 benchmark (SPY) far in the dust" [Hat tip, Jim Haygood].
Today's Fear & Greed Index: 74 Greed (previous close: 71, Greed) [CNN]. One week ago: 89 (Extreme Greed). (0 is Extreme Fear; 100 is Extreme Greed. Last updated Oct 26 at 8:00pm. Newly sedate.
Our Famously Free Press
"Everyone loves push alerts, but there are problems. Like: What if readers don't actually open them?" [Neiman Labs]. I hate notificaitions; they jumped the species barrier from iOS to OS X. I managed to turn them off on the Mac, but I haven't figured out how to do that on iOS (I don't want to turn them off app by app; I want to disable the entire functionality. My computers are my workspace, and I don't want people yammering at me in it.)
Gaia
Does anybody jog any more?
Jogging pic.twitter.com/bHXQMJvCQL

— jake likes onions (@jakelikesonions) October 18, 2017
Class Warfare
"The Unseen Threat of Capital Mobility" [The Boston Review]. "Two new books link rising inequality to unseen forces: tax havens in economist Gabriel Zucman's case, and overseas labor and environmental exploitation in historian Erik Loomis's. The adverse consequences of the free movement of capital suffuse both narratives. Loomis recognizes that the threat of offshored jobs and outsourced supply chains is wielded to discipline the domestic workforce in the United States, and Zucman points out that tax havens have effectively allowed the wealthy to choose their own tax system and regulatory regime. They each question received wisdom and ideologically charged models in which "globalization" is an inexorable force innocent of politics or power, which operates to either universal benefit or at worst whose ill effects can be compensated. In fact, thanks to globalization, the economic body—what its ideological affiliates call 'The Market'—is able to transcend the national body politic, to the benefit of multinational corporations and the wealthy individuals who own them."
"Why You're Not Getting a Raise" [The Minskys]. "A sure way to speed up wage growth again is fiscal stimulus. Government spending lifts aggregate demand directly and effectively. If enough spending is injected into the economy, it will create enough jobs to bring full employment. The momentum and labor scarcity created by the stimulus will force wages up and give workers and labor unions more bargaining power. A Job Guarantee Program, if ever implemented, would effectively set a wage floor in the economy, since any person working at a lower wage than the Job Guarantee offers will be given work in the public sector.:
"One of Arkansas' top politicians relies on unpaid workers from a local drug rehabilitation center at his plastics company, which makes dock floats sold at Home Depot and Walmart" [Review News]. "Hendren Plastics, owned by Arkansas State Senate Majority Leader Jim Hendren, partners with a rehab program under scrutiny for making participants work grueling jobs for free, under the threat of prison, according to interviews with former workers and a new lawsuit." That reminds me of something…
"What makes me tired when organising with middle class comrades" [Guardian]. "What I've observed over and over again is this inherent need for middle class people to censor, control and mediate emotions. There's a deep fear of conflict, loosing status and control. I've been told to be less angry on demos, less emotional at events and more serious. Stop telling me how to feel. When you've had a life of teachers, social workers and probation officers telling you how you should act, you don't need the same mediating middle class behaviour in your collectives."
News of the Wired
Zeitgeist watch:
Saw a throne of phones in Göteborg. pic.twitter.com/wE6M5e2WPa

— Mikko Hypponen (@mikko) October 17, 2017
"Inside the Mind of Thru-Hiking's Most Devious Con Man" [Outside]. "For more than two decades, Jeff Caldwell has lured in hikers, couchsurfers, and other women (and they're almost always women), enthralling them with his tales of adventure. Then he manufactures personal crises and exploits their sympathy to rip them off. Our writer corresponded with Caldwell while he was still on the run, and came away with an intimate look at the life of a serial scammer who's found his easy marks in the outdoor community."
"'Dollhouses of Death': NH woman's crime-scene dioramas have taught investigators" [Manchester Union-Leader]. "They're no ordinary dollhouses. Using a magnifying glass and dental and jewelry tools, [Frances Glessner Lee] created startlingly realistic crime scenes, with blood-spatter patterns on floors and furniture, victims in rigor mortis, and details such as real tobacco in miniature cigarette butts. Many of her 'victims' were women."
"We're in a 'Dream Deprivation' Epidemic" [The Cut]. "To [University of Arizona psychologist Rubin Naiman], dreams are equal parts magic, science, and mystery. Mostly, he defines dreams by what happens in their absence: irritability, depression, weight gain, hallucinations. Erosion of reason, memory, and immune system functions. A loss of spirituality. In the paper, Naiman notes that we've known of these consequences since the 1960s: When researchers ran experiments depriving subjects of only REM sleep, they found that most of the negative side effects mirrored those of total sleep deprivation. Alarm clocks are a common enemy of dreams, Naiman notes, because waking up to the trill of an alarm clock 'shears off' our dreaming periods ('Imagine being abruptly ushered out of a movie theater whenever a film was nearing its conclusion,' he writes)."
* * *
Readers, feel free to contact me at lambert [UNDERSCORE] strether [DOT] corrente [AT] yahoo [DOT] com, with (a) links, and even better (b) sources I should curate regularly, (c) how to send me a check if you are allergic to PayPal, and (d) to find out how to send me images of plants. Vegetables are fine! Fungi are deemed to be honorary plants! If you want your handle to appear as a credit, please put it in the subject line. Otherwise, I will anonymize by using your initials. See the previous Water Cooler (with plant) here. Today's plant (CR):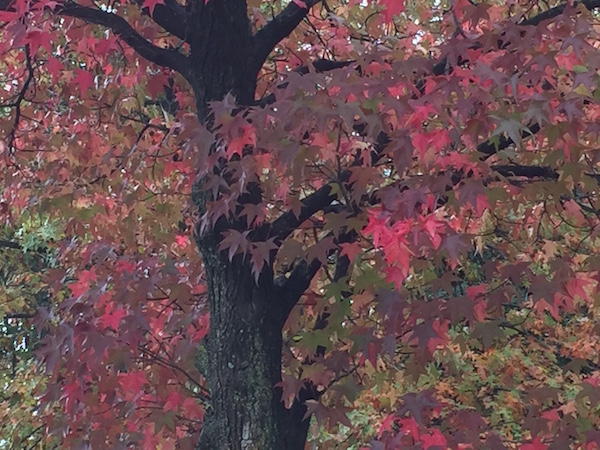 Northeast Ohio Maple.
Also, it would be nice to have more pictures of people's gardens buttoned up for the winter, for those of you for whom winter is coming. And fall foliage, ditto.
* * *
Readers: Water Cooler is a standalone entity not covered by the NC fundraiser. So do feel free to use the dropdown and click the hat to make a contribution today or any day. Here is why: Regular positive feedback both makes me feel good and lets me know I'm on the right track with coverage. When I get no donations for five or ten days I get worried. More tangibly, a constant trickle of small donations helps me with expenses, and I factor that trickle in when setting fundraising goals. So if you see something you especially appreciate, do feel free to click the hat!